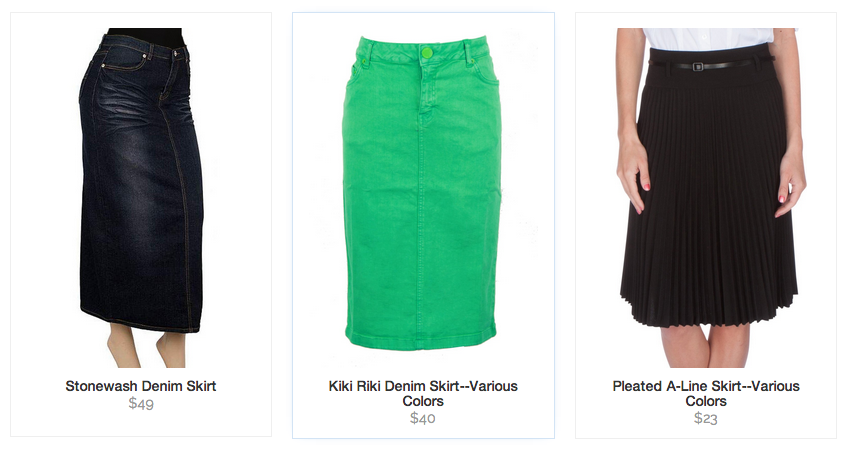 My husband. That man is a true gem. Brandon is a software engineer; that's fancy schmancy talk for computer programmer. Basically, it's his mission in life to create products that will make people's lives easier. He's the CTO at  a San Francisco based startup called Instacart, and now he's the creator of a website called Modestskirts.co.
If you're an online shopper, you know that it can be annoying to find modest skirts on a variety of websites. I've always had this idea to have all of the skirts in one central location, but since I'm not a computer programmer I could never actually build my ideas. Since I live with a top-notch programmer, I posed the idea to him, and he had a site up and running in a couple of days.
Here's how it works:

So, there you have it! There are several things that I want to add to the site (the ability to save skirts as favorites and search by type of skirt), and I hope to get those changes live in a few weeks.
You can like the our site's page on Facebook and follow along on Instagram.
When I first started this blog I had zero intentions of ever posting pictures of myself.
1. I am NOT photogenic. I hear that you can learn to be photogenic, but c'mon now. Ain't nobody got time for that (unless of course you do have the time).
2. I HATE taking pictures. HATE IT.
One or two months into my blogging life I ended up getting an email or two asking why I never took pictures of the items I described. I used to simply post modest clothing items, and I would direct people on where to find the clothing. Somehow someone convinced me to take photos, and here we are.
I'm on my way out the door to parent-teacher conferences (as the teacher, not the parent), and I decided to snap a photo or two for the blog. I set up my tripod and camera, stood still, and then heard someone behind me. Apparently my backyard neighbor decided to peek through the fence to see what I was up to. I'm sure my mountain hair and the clackety sound of my tall boots got her curiosity going. Because I knew she was watching I wrapped it up pretty quickly.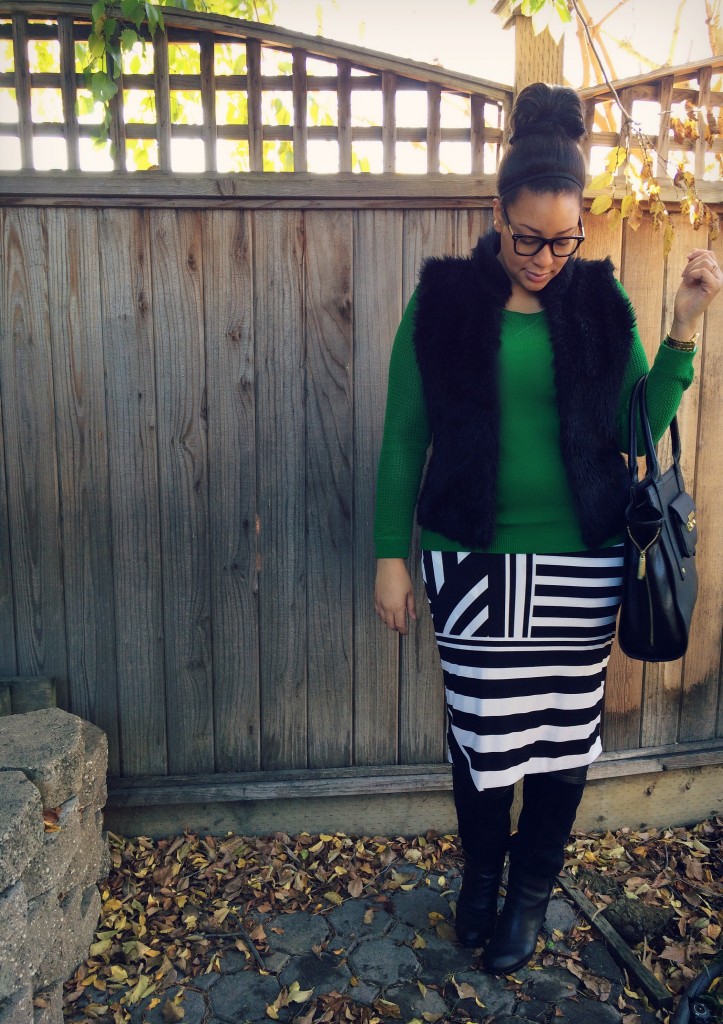 These boots and this faux fur vest are my fall staples. I bought these boots nearly six years ago, and I love them. I'm always on the hunt for skirts, so when I stumbled upon ShelleyBee Originals on Etsy I was excited to find her handmade skirts.
Do you have any Thanksgiving plans? I do! I'm going to see my mom and dad! I haven't seen them in two or three months, and I can't wait!
Wearing: Gap sweater (similar), Style and Co. fur vest (similar), ShelleyBee skirt, Nine West Boots (similar), Phillip Lim for Target purse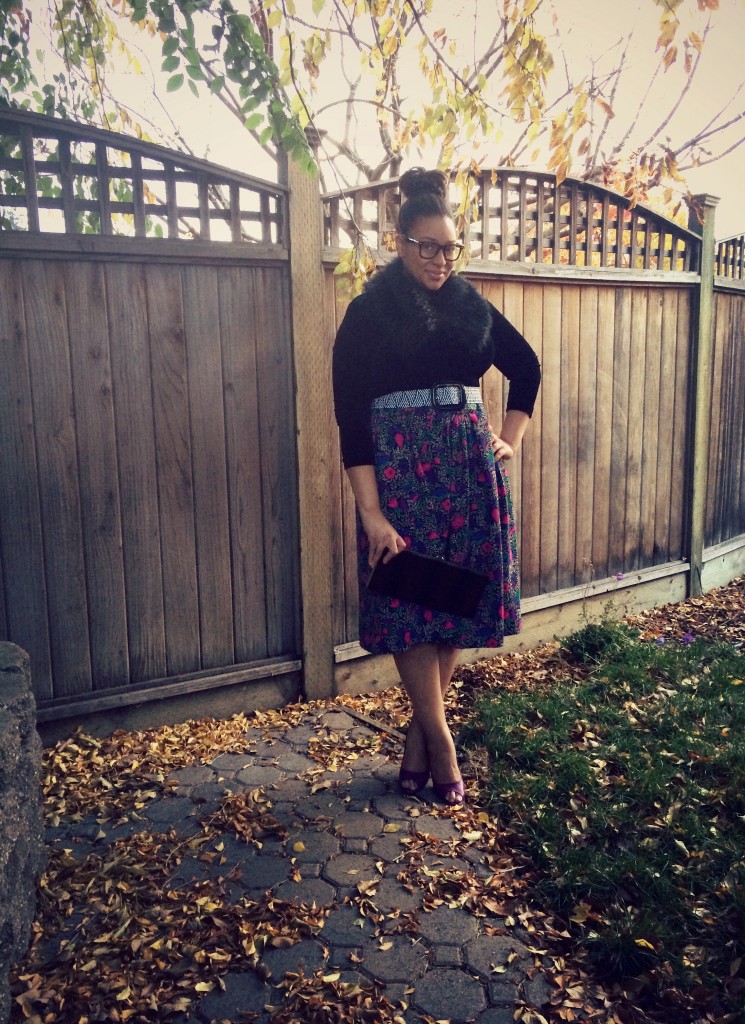 Today was the day that I felt like a busted can of biscuits. Just…doughy and blah.It's no secret that I've packed on some post-marital weight, and I've made up my mind to stop being a lazy woman and get rid of this extra baggage. It's highly unfortunate that I've decided to get all kinds of determined right around Thanksgiving.
 I don't think this old school 80s skirt is doing me any favors, but its stretchy waistband has brought me comfort. My friend Natalie and I hit up some thrift stores last weekend, and I came away with several items. The waistband of this skirt is too big, but whenever I come across vintage printed skirts I just feel like I HAVE to have them–even if they are too big. Usually what I'll do is cinch the waist with a belt and it works until I go to my tailor.
Wearing: velvet top (thrifted/vintage), fur stole from a coat, thrifted Worthington belt, thrifted clutch, thrifted skirt, Gucci heels
It's funny how things I refused to wear as a kid have somehow made their way into my closet. For instance, I HATED wearing hats. I remember my mother trying to get me to wear a hat to a Christmas banquet at church, and I cried. I thought the hat was absolutely hideous. My sister ended up wearing the hat, and I remember her thinking she was the cutest thing. I wanted to knock that hat off of her head.
When I was in middle school, my skirts HAD to cover my shoes. I did not want any part of my legs showing. At all. When I was a sophomore in high school I tried a knee length skirt on, and I've pretty much been wearing knee length skirts ever since.
I also avoided paisley print. Paisley was the epitome of "ancient lady" in my eyes. I just couldn't do paisley printed anything.
When I saw this paisley printed J. Crew blouse on eBay, I wanted it! However, I did not want to pay $65 for it. The seller dropped the price to $29.99, and I still avoided bidding. I ended up finding it on Poshmark, the seller agreed to lower it to $15, and ta-da! Here it is.
I'm sorry I despised you in times past, Paisley!
What are some things (clothing related) you used to hate, and you wear them now?
Wearing: J. Crew Talitha blouse, faux fur from this coat (can't wait to wear this one!), ASOS skirt, and Target heels