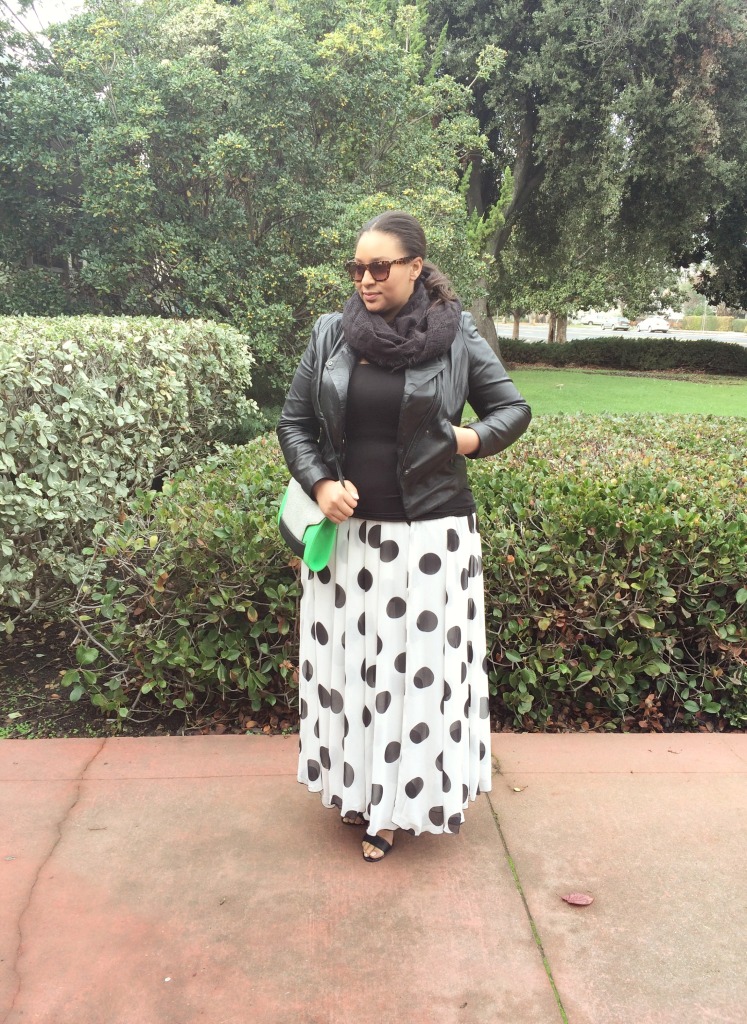 Over the summer I nabbed two maxi skirts from
Jane.com
; I wore the
green one in this blog post
, and I finally pulled out the polka dot skirt and wore it to church yesterday. We've actually had some rain here in the Bay Area over the past week, but you wouldn't even know it (drouuuuught!). I went from boots to opened toed shoes like the rain hadn't ever showed up!
Our quick trip to New York City was great! My husband is always so good about planning spur of the moment trips, and I was super happy (and grateful) that we were able to take our trip. Initially I was worried about being away from my classroom for two days, but everything went a-okay.
In my last blog post about New York City, I wrote about what I planned to pack on our trip. You can read that post right here. I ended up making a few minor changes.
I've been on a J. Crew and a J. Crew Factory kick lately. I found out sometime last year that both stores allow you to use your teacher I.D. for a discount, so if I decide to make a purchase in store, I definitely use my I.D.! My
top,
skirt
, and
shoes
are a mix of J. Crew and J. Crew Factory.
I've talked about J. Crew and J. Crew Factory several times; if you're someone who balks at the idea of paying full (or even sale price) for items from J. Crew, then J. Crew Factory might be a better option for you. And if you still want deeper discounts? eBay and thrift stores. It might take you a bit longer to find a specific item, but I don't think that really matters.
I'll be taking a four day trip to NYC with Brandon this weekend, so of course I've got what-should-I-pack on my brain. This will be my third trip to New York City, and I kind of know what to expect weather wise. I've only been to NYC in November and December, so this California girl knows to expect extra cold temperatures.
My first trip to New York involved heavy suitcases and way too many clothes. I packed several skirts and dresses, seven pairs of shoes, five tops, four scarves, and two coats. My second trip involved clothing in bright colors, and while I packed considerably less than trip #1, nothing really meshed well together. I'm hoping to pack considerably less for trip three, and here's my game plan.
Wear Black
I'm leaving my bright colors at home. New Yorkers are known for wearing black, and that's what I'm packing. Not only is black easy to pair other things with, if I happen to get dirty, it won't be as noticeable.
Basic Skirt
I'm taking two skirts, and it's the same exact skirt. Eek! This Old Navy jersey skirt is all kinds of amazing, and I love it. At night I'll turn my skirt inside out, spray with Febreze, and spot clean with a wash cloth, warm water, and soap.
The Tops 
My Old Navy plaid shirt (worn here) can be worn underneath my cable knit sweater. The same can be said for my GAP chambray top.
My one fancy sequin top can be worn solo, or over my chambray top.
My long open front cardigan can be paired over any of my button ups and topped with a scarf.
Cozy Coat
A coat is a must (of course). I went back and forth with my coat decision; I almost took my red vintage coat, but I realized that it wouldn't go well with every outfit. My black coat won!
Comfortable Shoes
My tall black Sam Edelman Pierce boots are comfortable, and good for walking. It will be cold, and since I don't wear pants, tall boots are a must. Since stiletto heels are out of the question, I'm packing one pair of wedge booties as my going out shoes.
Must Have Accessories
Gloves are important, and since I'll actively be using my phone as a map and camera, touch screen leather gloves are my gloves of choice. Check out these touch screen gloves from Target.
I almost nixed my hat idea, until I saw this YouTube video about how to pack a hat. I packed a hat when I went to Belize, and it was a massive headache holding on the plane and from one destination to the next. My pompom beanie and black wide brim fedora will add an extra layer of protection from the cold weather. ASOS is my go to spot for awesome wide brim hats!
Scarves are another layering must have. The black scarf will go well with any outfit I wear, and the leopard scarf will add a nice print mix with the plaid shirt.
When traveling, big tote bags and massive purses are out of the question for me. I took an oversized tote bag on my first trip, and it was a hassle with a capital UGH. I like to have my purse in front of me and crossed over the front of my body. For extra security I bundle it underneath my coat instead of over.
Legging, Tights, and Socks
I have some over-the-knee socks that I plan to wear over leggings. I also plan to pack a pair of opaque tights and will wear those with the wedge booties on our fancy night out.
If you've got any hints or tips for me, please be sure to let me know!
Items pictured in the collage: black coat, long cardigan, chambray shirt, plaid shirt, sequin top, cableknit sweater, leggings, socks, skirt (used for picture), wedge booties, tall Sam Edelman Pierce boots, touch screen gloves, crossbody purse, black hat, black scarf, beanie, leopard scarf