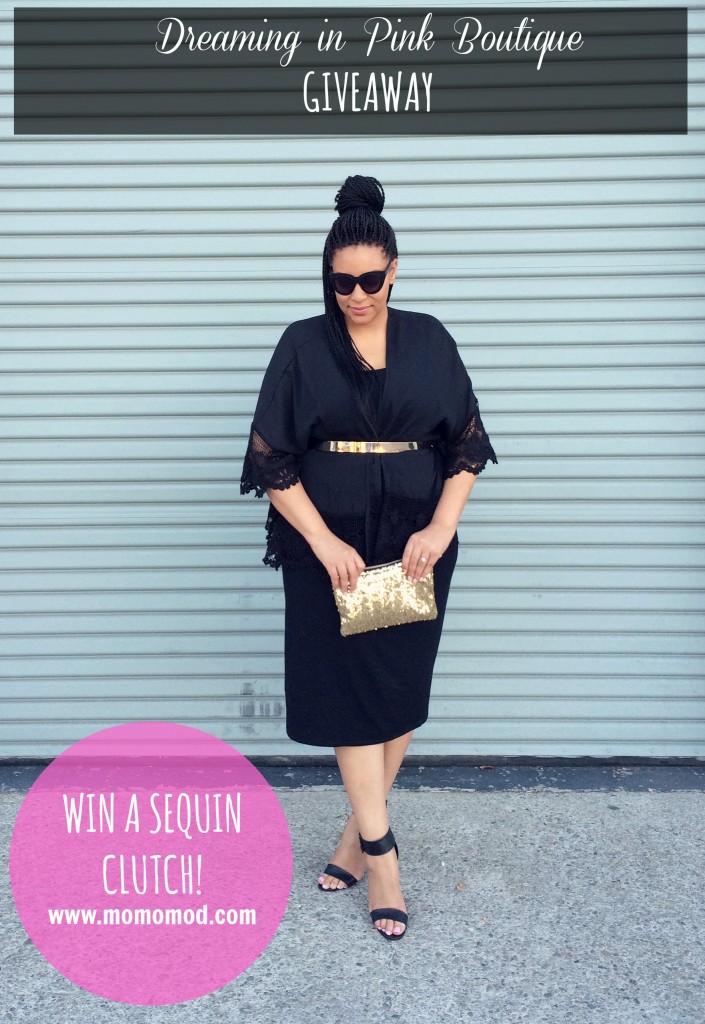 Is there anything easier than wearing an all black outfit? I wore this outfit to Sunday morning and evening church services, and guess what? I'll be wearing it to work today with my black flats.
My gold ASOS belt helped me keep the kimono closed, and this super cute sequined clutch purse from Dreaming in Pink Boutique added a touch of pizzazz.
The post below contains affiliate links and I will be compensated if you purchase through my links. All opinions are my own.
I've never been a handbag kind of girl. I've always professed a love for shoes, but when it comes to purses, I tend to buy inexpensive massive handbags that can support 115 student papers, folders, pens, and a variety of other teacher items. The only bag that I've been using for the past several months is this Harper reversible tote bag that I blogged about over the summer. My tote bag can get overwhelmed with stuff, and when Brandon and I go out on the weekends–let's just say I might as well be lugging around my suitcase.
(affiliate links are used in this post)
For the past three years, I've nabbed a sequined skirt or two around the holiday season, and I always get asked, "WHERE DID YOU GET THAT?" The holidays are still a month away, but now is a great time to score a sequin skirt before they are all sold out!
OKAY. Tulle skirts. I wore one
here
, 
here
, and
here
, and for some reason I wanted to risk looking like a five-year old, sooooo I decided to try one of
ASOS's tulle skirts
.
The thing about tulle skirts is that if you're not careful, you can look like a lil' girl. I asked Brandon three times before leaving the house if I looked like I was six. Seeing that I'm approaching my 30th birthday in January, I'm way far away from little girl status. I decided to give my tulle skirt a bit o'edge and wore it with my leather jacket and my new Shoedazzle heels.