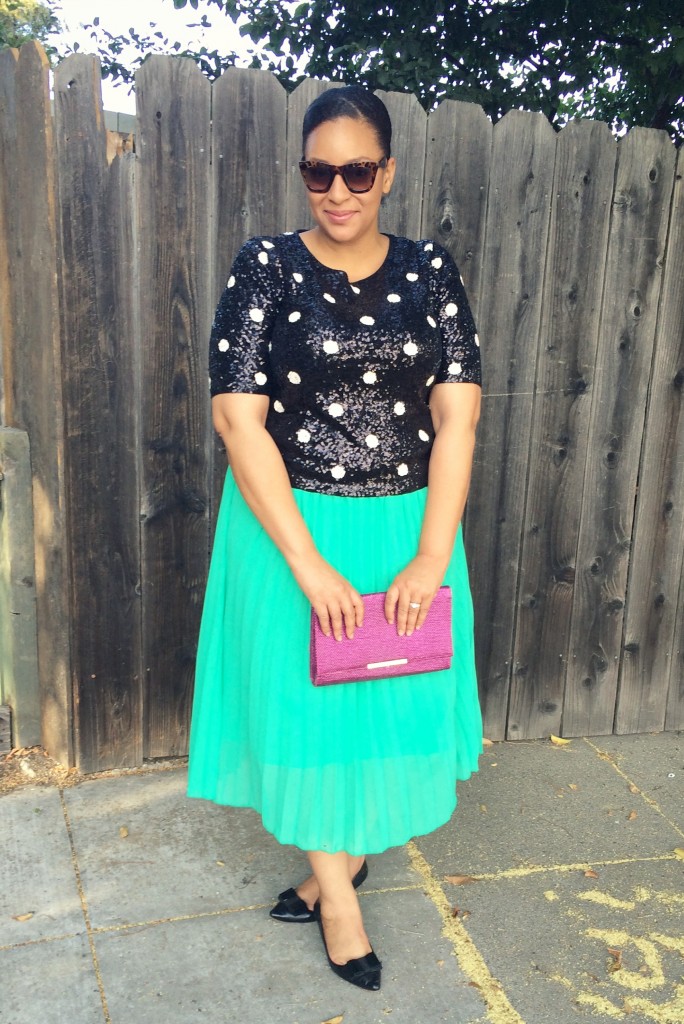 After spending the day with my mom and sister at the
Gilroy Garlic Festival
, we all drove up to San Francisco to introduce my mom and sister to
Thai food
.
I decided to combine two days of the style challenge, and wore my polka J. Crew sequined top with my pleated ASOS midi skirt.
This is a really fun top, and if you
Google J. Crew polka dot sequined top
, you'll find plenty of ladies that have worn this top their own way. I also own the white and black version of this top, and I wore it with a chambray top underneath it. This time around I didn't want to bother with layers and wore the top on its own.
I'm wearing a
J. Crew
sequined top (sold out, I bought mine on eBay), an
ASOS pleated skirt
, an H&M clutch purse, and
J. Crew Factory Emery flats
.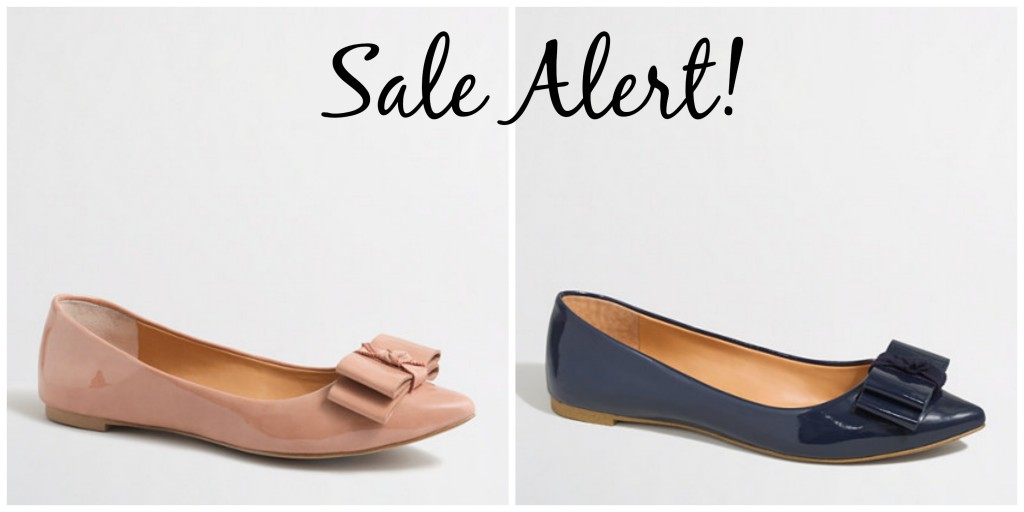 (affiliate links used)
 I've sang the praises of J. Crew Factory's Emery flats for over a year. I own them in black and bronzed clay, and they are my go-to flats. I do have a wide foot, so I tend to size up in any kind of flats and did the same with the Factory Emery flats. I wear my Emery flats at least three to four times a week. I teach, so you know that means I stand all day long. I was iffy about buying the flats last year, but I'm so glad I did!
These flats are versatile, comfortable, and fashionable. J. Crew Factory recently added the navy version (shown above) to their product line, and I had to make sure I nabbed them for the new school year!
These shoes retail for $98, and they are currently listed for $78. Last night they were $60, so I was bummed when the price increased today! However, I just got an email about a flash sale! If you enter SWIM at checkout you get FREE shipping and 30% off! Plus, if you use EBATES you get 1.5% cashback.
Check out a few ways I've worn my flats here: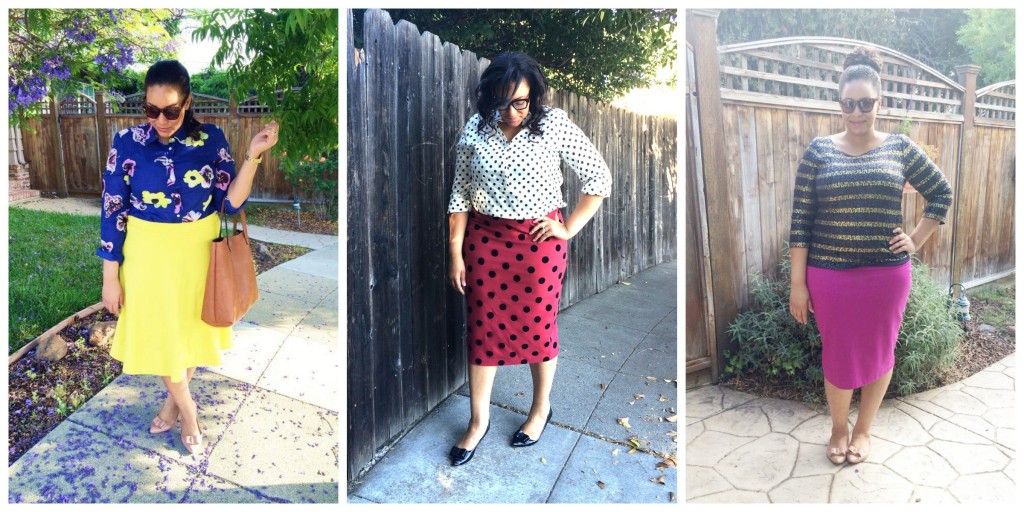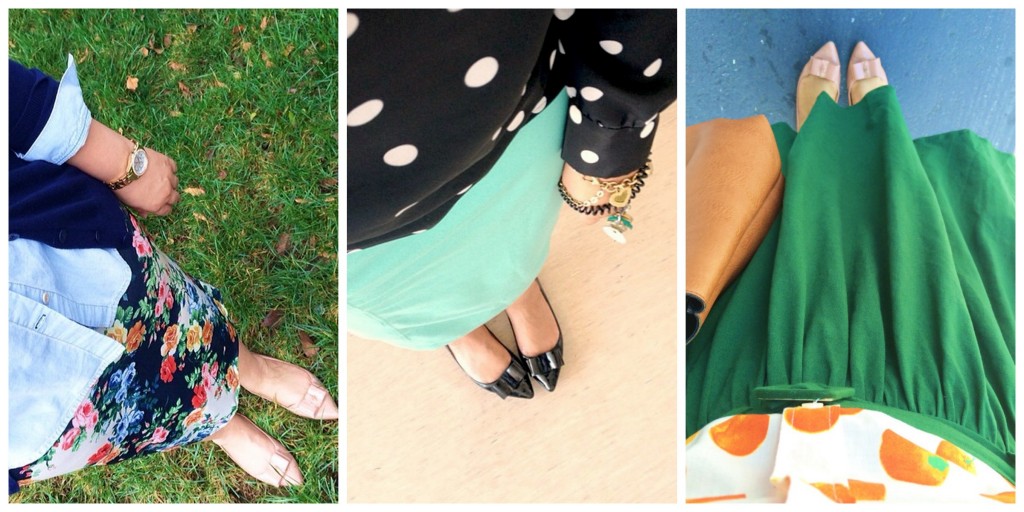 Let me know if you buy these, and if you already own them, let me know if you like them! Clicking the images below will take you directly to the website.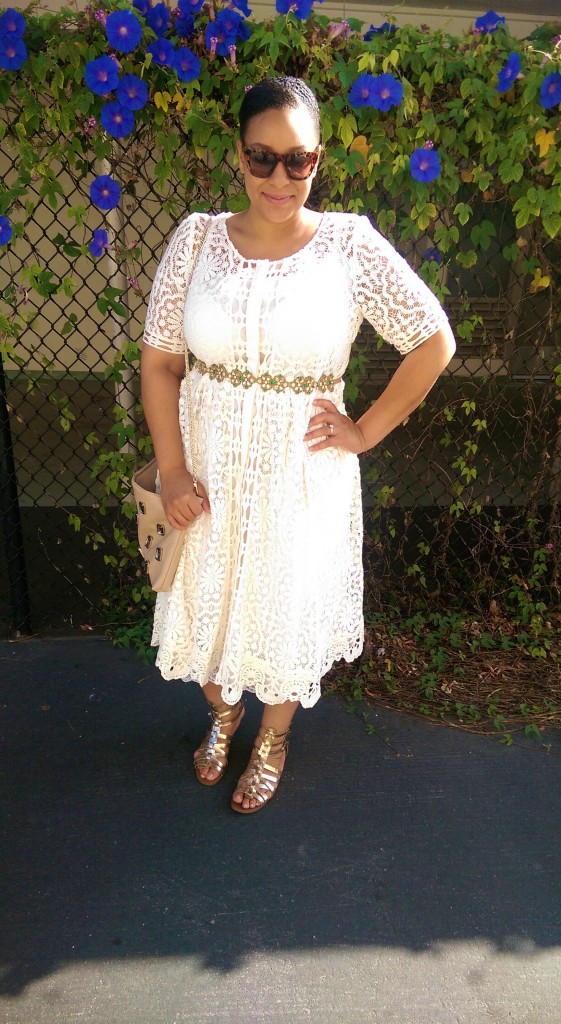 If you've read this blog for any length of time, you know that I'm head over heels for
My mom and sister spent a couple of days with us, and we had a great time. My sister and I can still finish each other's sentences, and my husband looked at me with wide eyes when my sister and I would sing every part of a Disney song (instruments included) in unison.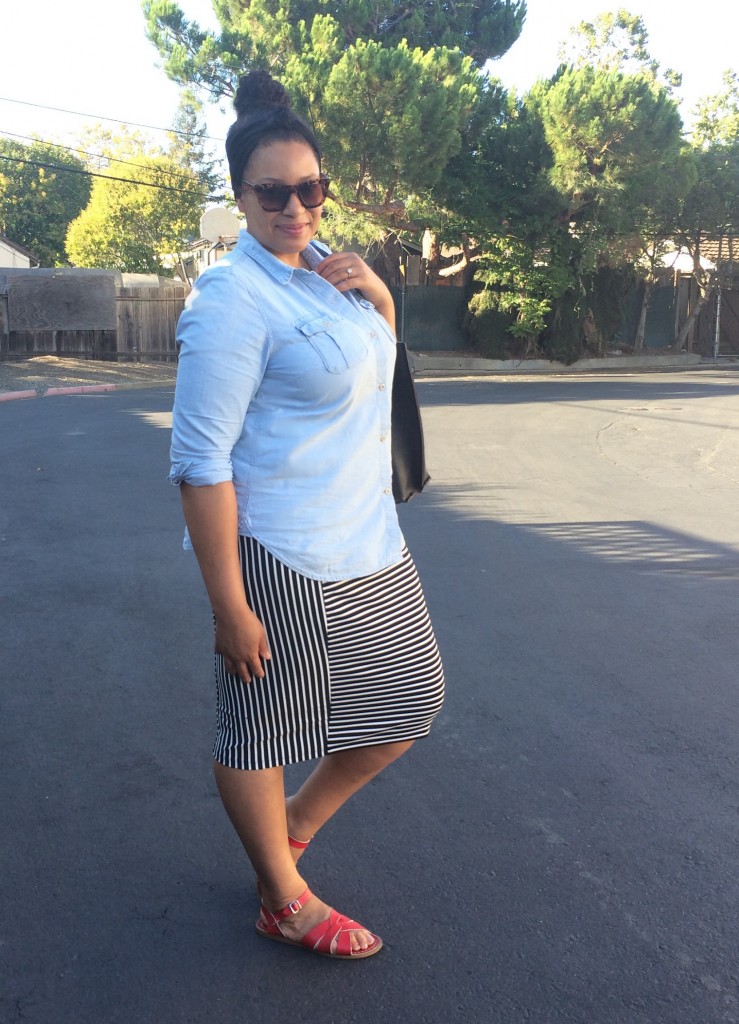 This week has been a busy week for me; my mom and sister are coming to visit for the next few days, so I've been attempting to prepare for their arrival. That means a bunch of cleaning, purging, and organizing–stuff I've been meaning to do for awhile, but I never got around to doing it (nothing like yo' mama's arrival to make you go into a cleaning tizzy).
A few weeks ago
I placed an order for an adult sized pair of Saltwater Sandals from Zappos
. However, when they arrived I go a size kids' size 9! I called Zappos, they were sold out of the red (OF COURSE!), and they sent me a
gold pair of Saltwater sandals
for FREE and told me to keep the pair they sent! I'm planning on giving those to my friend's daughter.
I do like my gold pair, but I really wanted a red pair of Saltwaters; I ended up getting them at a local shoe store and I love them! I remember wearing Saltwater sandals as a kid, and about six or seven years ago my friend Cheric wore her Saltwaters to church camp, and I fell in love with them again! Salwater sandals have been on my mind every summer since then, but I didn't buy a pair (or two) until this summer. They seem to be everywhere and I almost didn't buy them.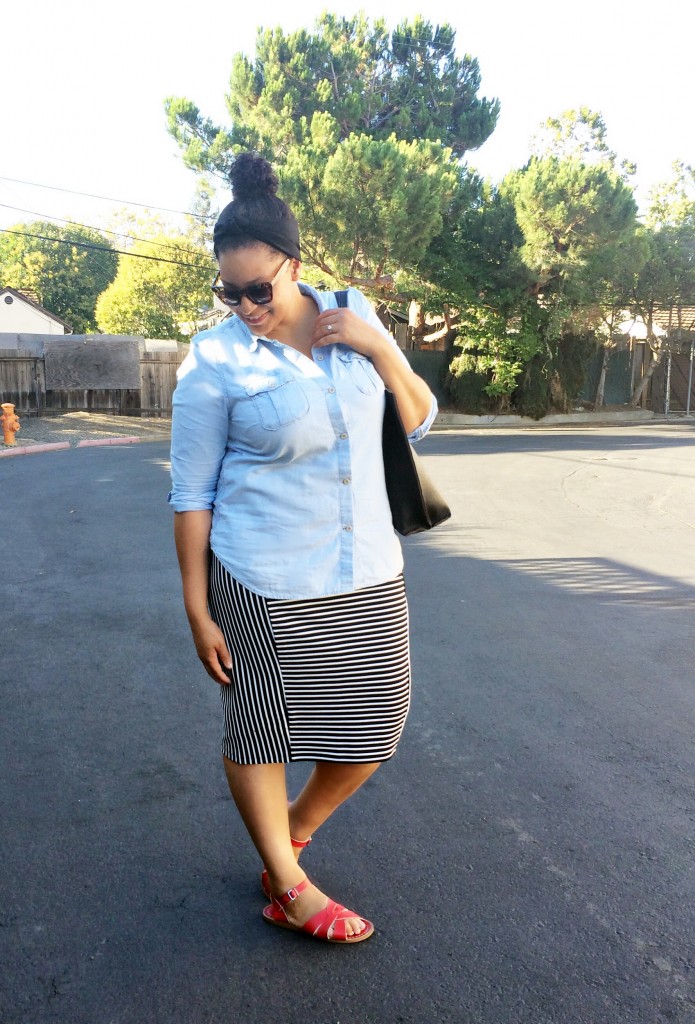 I'm glad I got them, and if you're interested in a pair for  yourself, here are a few things you should know:
When ordering online, be sure to order the big kid/adult size.
The shoes run large; I ordered my normal size, but I could have gone down a full size.
They are made for water; when we were in Carmel a couple of weekends ago, I wore these into the ocean with no problem. They dried quickly, but they also stretched out and got a little loose.
I'm wearing a GAP chambray shirt (similar, Day 23 of the Style Challenge!), a Dorothy Perkins skirt, Saltwater Sandals, and a Harper Reversible Tote.