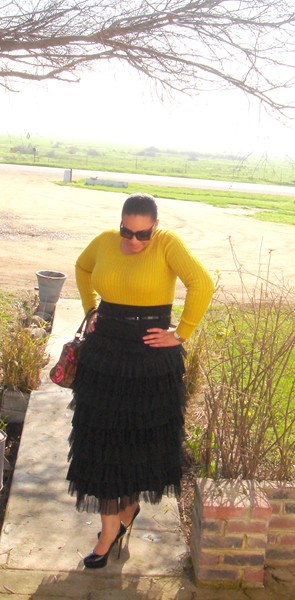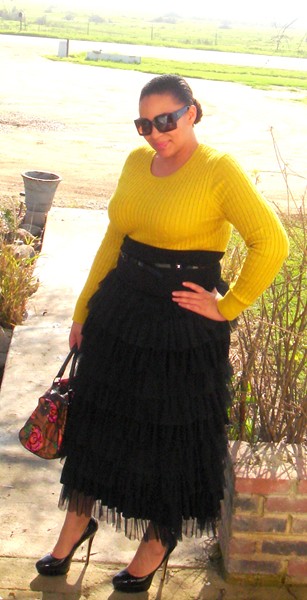 I've briefly talked about my battle with having my picture taken. I understand that "fashion" blogging must be visual. It's not enough to talk about how to do something; readers want to see pictures, proof! I have professed that I am unphotogenic. I'm self conscious. I feel funny posing in front of a camera. I know most people laugh at these truths. How can a blogger that talks about clothing be self conscious? SHAM! FAIL! MOCKERY! LIAR! Oh, but it's true.
One of my blogging goals for 2011 was to have a few more pictures of myself to complement my blog posts. I realized that begging people to take pictures of me gets old, so I knew I had to invest in a–wait for it–tripod! So I did. I would like to introduce you to a few of my first pictures taken with the aid of my new tripod. *applause*
My last blog post discussed my love for tiered and drapey long skirts. On Friday evening my sister and I had a dinner date and stopped by the outlets very briefly before dinner. I stumbled across a long ruffled/tiered skirt and I immediately thought, "Birthday cake!" With my excellent "luck" the skirt was not tagged and it was the last skirt of its kind on the rack. I just knew that the sales clerk would tell me, "Sorry. We can't sell merchandise without a tag." After she searched high and low for the skirt's sibling, she told me that the skirt was $19.99 with an extra 50% off. The skirt doubles as a tube dress, and while I've never worn a tube dress, Lydia and Chanel left comments on my long skirt post stating that they wear long skirts as dresses.
I really love this skirt; it's very much over the top and it's not your typical boring black skirt. I paired the skirt with a sweater that I picked up at Target for $4.50, my patent leather BeBe Bailey pumps, and a black skinny belt.
19 Responses to Modest Inspiration: Long Skirt Part Deux (and other ramblings)