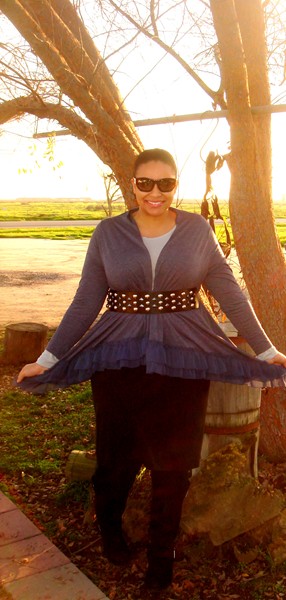 One of the things I enjoy teaching my students is new vocabulary. This year the new vocabulary happens to deal with—fashion. My students know the difference between faux fur and real fur, a brooch and a headband, and ruffles and lace.
Yesterday (Wednesday) I wore an H&M sweater with elbow patches. One student looked at me in alarm, "Ms. L, are your elbows bleeding?" I had no idea what he was referring to. Then another boy spoke up, "Yeah, you have big band-aids on your shoulders." Another student said, "No, she has band-aids on her elbows. Are you hurt Ms. L.?" I couldn't help but laugh. I briefly explained the purpose for elbow patches and then explained that I bought the shirt because I have a "thing" for elbow patches. The boys couldn't understand why someone would wear something they didn't need, and the girls just nodded as if they understood my "silly purchase".
Today they were reintroduced to grommets and studs. Their first grommet teachable moment occurred several months ago when I unveiled a grommet/studded belt during the early fall months. Today I wore a different studded belt around a ruffle hem cardigan, a pencil skirt, and some motorcycle boots. I guess they're getting used to my outlandish ways, because I have no silly student commentary to report.
Have a great weekend. Check back on Monday for a Winsday blog post featuring a gift certificate by the wonderful ladies of ShoeClips!
Wearing:
JCrew Blouse $6
Ruffled Cardigan $5
Victoria's Secret Pencil Skirt $40
Target Boots $13
Forever 21 Sunglasses $5
Target Belt $10
6 Responses to Teacher Thursday: Studs, Grommets, and Ruffles