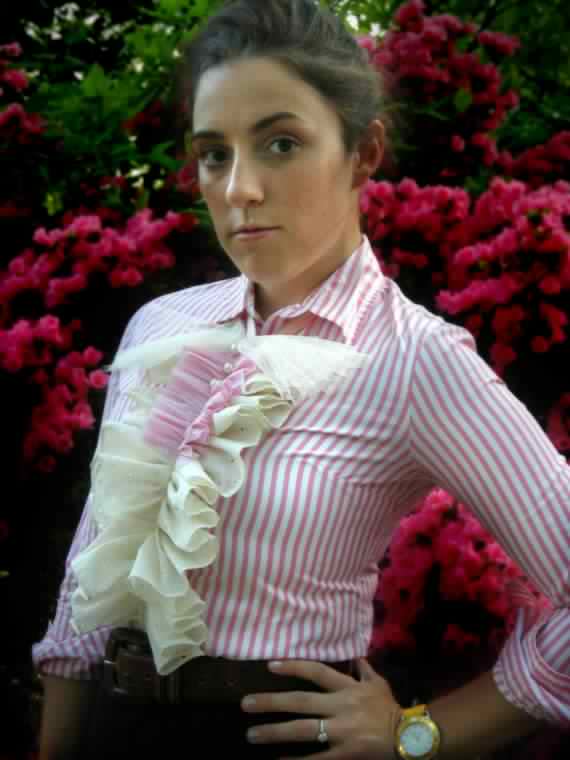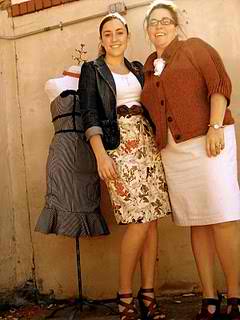 After discovering the fantastic neck ruffs and ruffle fronts by EW McCall in late December, I fell in love with their fanciful designs. I did not realize that one of the designers was actually featured as a model for the products. Once I found this out, I knew that I had to feature the model/designer in a modest beauty post.
Meet Morgan. Morgan is a newly married (almost one year) young lady that hails from Atlanta, Georgia. Morgan's style is a mixture of playfully updated pieces and playful flair. I'm always intrigued by girls that simply make things work. Morgan has inspired me to think outside the box when getting dressed.
Many people assume that dressing modestly is a huge burden and many ladies are quick to give up on a modest lifestyle. These Modest Beauty segments prove that there are women that are committed to dressing modestly and are unashamed to showcase their own personal style. Here's what Morgan had to say:
MoMoMod: Where are you from? Where did you grow up?
Morgan: Well #1, I have the greatest family in the world!  I was born in Atlanta, GA in 1988. I have a beautiful younger sister, Megan. I also have 2 younger brothers, Jordan and Judah. Jordan is the most unique person I know; he is a true artist. My brother Judah is my heart. He has the kindest old soul. My family has been involved in ministry since I can remember. When I was about 10 our family was called to the evangelistic field! So off we went traveling and preaching all over the country. Needless to say we are a very close knit family and my brothers, sister, and I are constantly inspired by our parents. I got married on July 31, 2010 to my perfect match in everyway.
MMM: What does modesty mean to you?
Morgan: Modesty to me is a result of my relationship with God. Because I am in relationship with Him I do things that please Him. I think modesty starts on the inside with my spirit.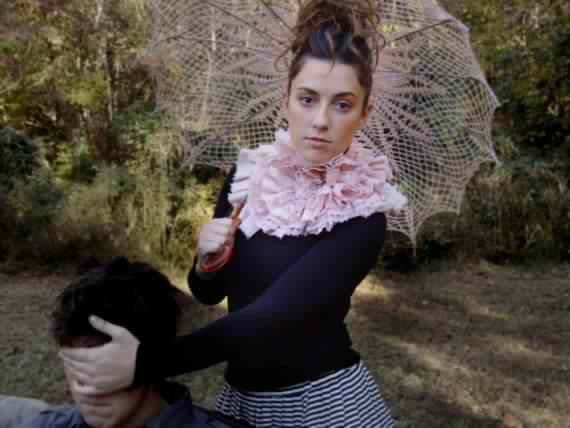 MMM: Do you have trouble finding modest clothing? If so, what problems do you have? If not, how do you make immodest clothing modest?
Morgan: Honestly, no. I know what looks good on me and I love to change up my look constantly. There are a lot of options when it comes to finding clothes and making them work modestly for you. Use your imagination and come up with different ideas that look good on your body type. Fit goes a long way!
A)    Buy tanks in a larger size than you actually wear so you can take the straps up and make the neckline higher (just make sure you don't take up too much that you have no room in the arm hole).
B)    Shop vintage! A lot of times the hemlines are longer and the necklines higher. You can update vintage pieces by altering them at a tailor to have a more modern silhouette.
C)    Invest in a nude "Spanx" style tank to help hold things in. These types of tanks are perfect for wearing under button ups, dresses, or even t-shirts to keep your undergarments from showing through. I also have a problem with button up shirts gaping in all the wrong places. A tighter undershirt can help with this if it is a small gap. I have also used our "faux fronts" to cover up a gaping button up (plus, they look great with a crisp button up).
D)    Layer, layer, layer! Even in summer there are ways to layer that won't make you too hot. Don't feel like the only thing you can layer is thick jackets and chunky sweaters. Thin sweaters and summer boleros are everywhere these days and they can look great layered!
MMM: What made you decide to start EW McCall? How long has EW McCall been in business and how are you inspired?
Morgan: My mom and I are business partners together in EW McCall. We have been creating together for years now. We made and sold accessories for about 10 years before we decided to have an online boutique and build a brand. Our online store has been open almost 2 years now and we are loving the opportunity to sell or product on a greater stage to more diverse people! My brother Jordan recently joined our business. He helps us with our menswear line.
We are so inspired by our family (that is where the name EW McCall comes from). Our southern heritage is a huge draw for us as far as what inspires us. Feminine and crisp details are found through out our designs. Also we are inspired by having a one of a kind pieces at a price we can all afford! We very rarely do two of the same design and we are always changing things up. Right now I cannot get enough floral print cottons and bows!
MMM: Your floral prints, ruffles, and bows are what made me love your store! You ladies are doing a fabulous job! Where do you see your business in the next year?
Morgan: We are steadily growing our business and our brand, so in a year I hope we can do enough business for the shop to become our full time jobs! We have already been featured in a few magazines and my hope is that avenue would continue to grow. We are also open to the idea of an actual physical shop somewhere in the US. So who knows what can happen!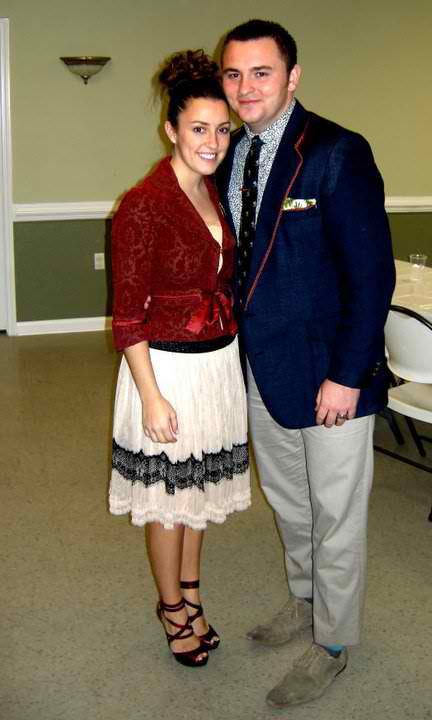 MMM: You're going on a trip. What three things must accompany you (toiletries and undergarments are a given)?
Morgan:
1) My husband. I love quality time, so if I'm going on a trip I need a partner in crime!
2) My jean blazer (I am always cold and rarely seen without a jacket/sweater of some kind).
3)My ipod… (self explanatory)
Browse EW McCall's Etsy Store. Like the EW McCall Facebook fan page for updates. Please check back tomorrow for a giveaway featuring one of a kind EW McCall designs!
3 Responses to Modest Beauty: Meet Morgan