Our lives can be busy and hectic; occassionally it can be difficult to manage all of the the commitments we have in our lives. When I come across women that manage to be excellent mothers, employees, friends, and wives I make sure to take mental note of these ladies. Meet Amber. Mommy? Check. Employee? Check. Wife? Check. Pastor's wife? Check. Busy? CHECK!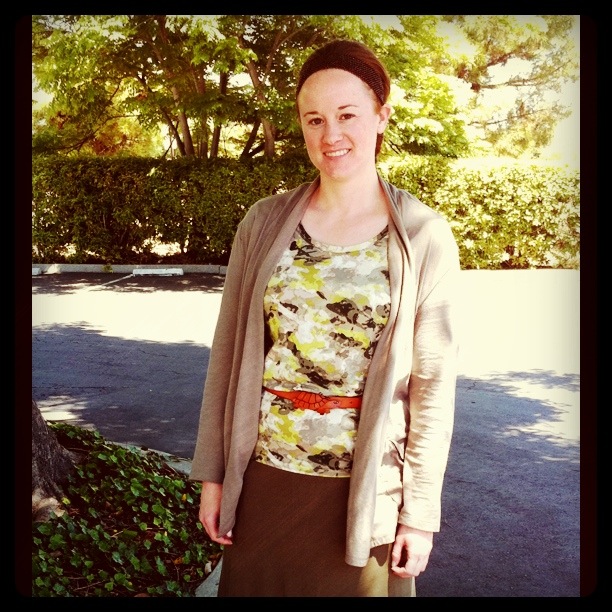 1. Where you are from, where you currently reside, family, career.
I grew up in Oklahoma and have lived in the Bay Area (San Jose) for the last 9 years. I have an 8 year old son, Jon, and a 19 mo old daughter, Ella. My husband, Trent, is an evangelist and we also pastor a Home Missions church in South San Francisco. During the week, I am an administrative assistant/office manager.
2. Define what modesty means to you.
Modesty is so much more than the way we dress. It is our attitude and our lifestyle. I try to consider that in ALL things, not just in how I dress.
3. What struggles have you encountered when attempting to dress modestly? How did you overcome those struggles?
The most common challenges are neckline and sleeve length. I tend to layer (alot) and all year long. So far, that is working out because I live in a pretty mild climate. So, a tank or a 2nd shirt underneath isn't too warm or uncomfortable for me in the summer months. Skirt lenght is NO LONGER AN ISSUE FOR ME! Yes, I am sooo thrilled about it too! I have started layering my skirts/dresses with other skirts and most recently a slip from A Slip Shop found on Etsy. Many, MANY thanks to Chandra for the introduction. These slips have changed my life.

4. As a friend of yours on Facebook I noticed your updates about your journey with losing weight by joining Weight Watchers. Describe to your readers why you chose to use Weight Watchers and how you became so successful.
I first joined Weight Watchers about 18 months after my son was born. My mom and I joined together and within 16 weeks I had met my goal weight. It has been the ONLY diet that has ever worked for me and worked most consistently. This time around, I have lost 36 lbs using the new Points Plus Program and I really LOVE the new program. Basically, I am learning what to eat all the time, not just for a short period of time to lose weight only to gain it back. This is a lifestyle change for me and one I feel like I can adopt for the rest of my life and be happy. I also started a little group on Facebook (Weight Loss Winners Who LOVE Being Losers). It has really helped me stay motivated and focused on weight loss, not to mention help keep me accountable.
5. You have a daughter. How do you intend to teach her modest values?
Again, I feel that modesty is not only about the outward appearance. It comes from within. I hope to teach her to be so in love with God that modesty isn't an issue for her. She will want to dress to please the Lord, not me or her daddy. I am sure there will be challenges as she reaches pre-teen and teen years, but I feel that a deep and true love of God will help her navigate her way through that and be a modest and godly example to her peers.

6. Describe your personal style. Where do you like to shop?
This is the most difficult question for me. I think my style is a little of this and a little of that. I love classic, tailored, bohemian, girly, sparkly and comfy. I tend to wear what feels good–regardless of whether it is "in style". I know my body type and what clothes work for me. I prefer skirts to dresses and try to keep things classic so that they will be timeless. I rely heavy on accessories to jazz things up. I used to be really into shoes, now that I am older, I am more of a bag girl.
I love to shop at thrift stores. Most of my favorite pieces have come from the thrift, and they are generally the ones I keep the longest. I am kind of a tightwad when it comes to clothes, so I don't mind shopping Target for basics. I also frequent TJ Maxx or Marshall's and my favorite (and most affordable!!) department store is Macy's.
7. You're going on a trip. What three items must go with you?
1. A great (big) bag. Right now I am carrying the Dooney & Bourke Flourentine Satchel. It was a gift from my husband for my birthday.
2. Comfy shoes. Now that I am older (34!), I am less about style, more about comfort. My best shoe investment was a pair of black strappy flat sandals from Ecco. I bought them last summer and they are like walking on air. I paid full retail (unheard of for me) and do not regret the purchase one bit. I will have these a LONG time.
3. Goody Spiral hairpins. These have seriously been a lifesaver. I have really long hair (almost to my knees!) and I keep it up almost every day. Since my hair is so long and heavy, traditional pins give me headaches, pinch and pull, and in general drive me crazy all day long. Not the spiral hairpins. They are GENIUS!!
You can follow Amber on Twitter and read her blog here.
Nominate yourself or someone you know for the next Modest Beauty segment.
5 Responses to Modest Beauty: Meet Amber