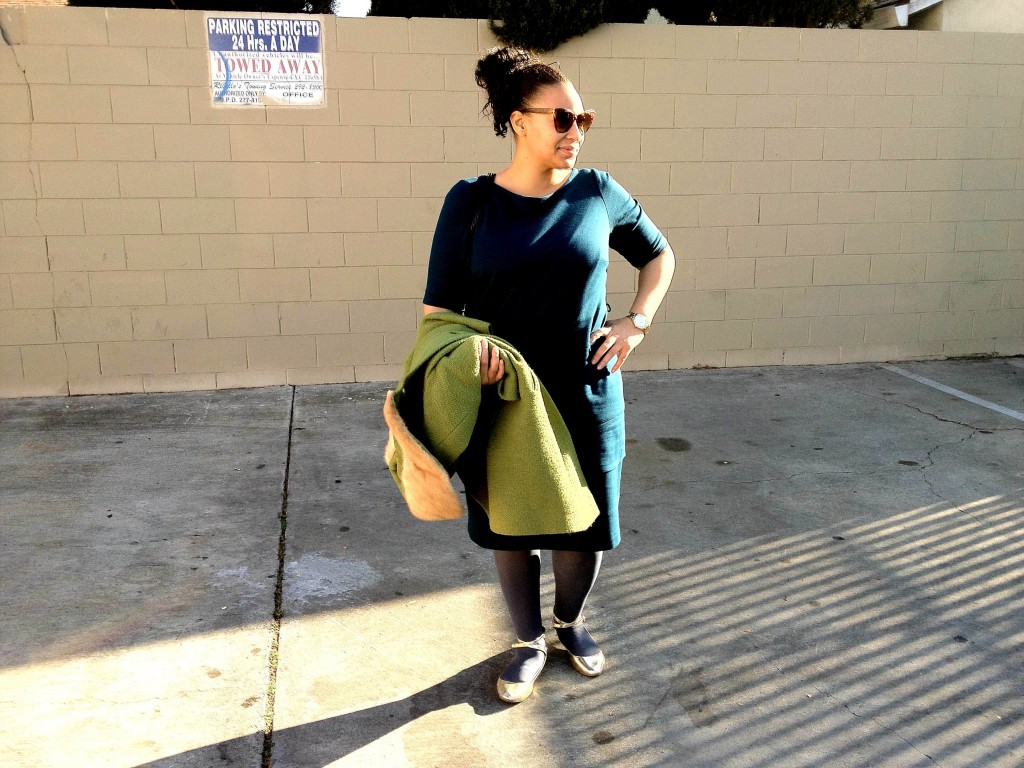 Blogs have made thrifting  (and the term) popular and trendy. You can't go two clicks without someone boasting about their thrifted treasures (yes, I include myself in that group).
When I was a kid I'd hit garage and yard sales with my mom and sister before the crack of dawn on Saturday mornings. The thrill of the hunt was enough to keep us going, and by the time I entered high school I'd traded "yard sale-ing" for thrifting. I remember finding a denim skirt at my local Goodwill and when I told someone where I bought it her response was a sneer and a scoff. "Goodwill? You've got to be kidding me!" Let's get serious. Goodwill's clientele didn't often consist of 15 year old high school kids rifling through the racks.
Times have changed. These days thrift stores are packed with people from all walks of looking to find a bargain or two.
I'm no thrifting guru and I don't profess to know all the ins and outs of thrift store diving. However, I've been thrift store digging, searching, and diving for awhile and I've come up with a few tricks of the trade. I know I frequently post how I found this blazer for $3 and that skirt for $5 and I figured that it was about time that I fill you in on a few of my "secrets" and my STP (Strategic Thrifting Plan). I'll periodically come back to the topic, but today I'll answer two Frequently Asked Questions about thrifting.
FAQs about thrifting:
1. What does it mean to thrift? Are thrifted clothes and vintage clothes the same thing?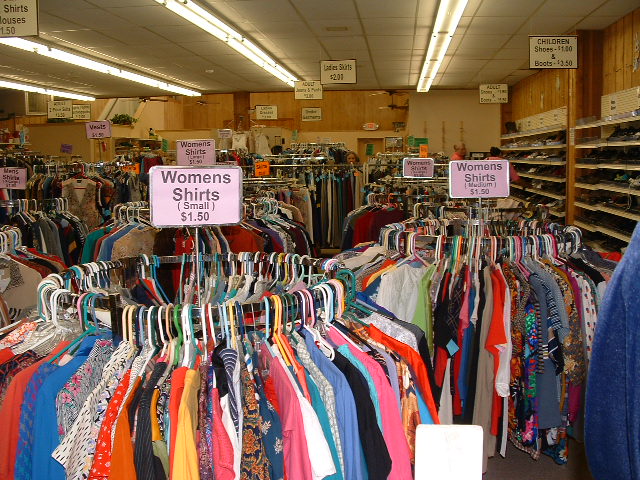 Thrifting is a verb, an action. The term thrifter is a noun. A thrifter is someone who frequents second hand stores (stores with vast majority of its product being used and donated by community members) and purchases goods from second hand stores. Thrifting is what thrifters do. Vintage clothing typically refers to any type of clothing made and manufactured before 1990. As time progresses you'll see that clothing from the 1990s will be referred to as vintage. Personally, vintage for me is anything from 1989 and earlier. Vintage inspired is NOT the same as vintage. Vintage inspired clothing is simply inspired from an earlier time period. For example, the dresses on Bettie Page Clothing and Stop Staring are not vintage. They are inspired by the pinup era. While thrifting a thrifter might stumble across vintage clothing. However, thrifted clothing simply refers to clothing purchased while shopping at a second hand store. You may or may not find vintage clothing at a second hand store. When a blogger states that X was thrifted they are simply stating that they purchased the item at Goodwill, Salvation Army, St. Vincent de Paul, or any number of thrift stores that populate the land. However, there are stores that specialize in vintage clothing. When you purchase vintage clothing from an antique or vintage store that's an entirely different area of shopping. Why? The price range is different. Antique and vintage clothing stores know exactly what they have and price things accordingly. Most people pricing items at thrift stores are unaware of the gems they are pricing and every now and then you'll score something fabulous for the fraction of the price that you would find it anywhere else. These days, however, second hand stores are cashing in on their expanding customer base. They are becoming cognizant of brand name, style, and era and are increasing the prices of their items.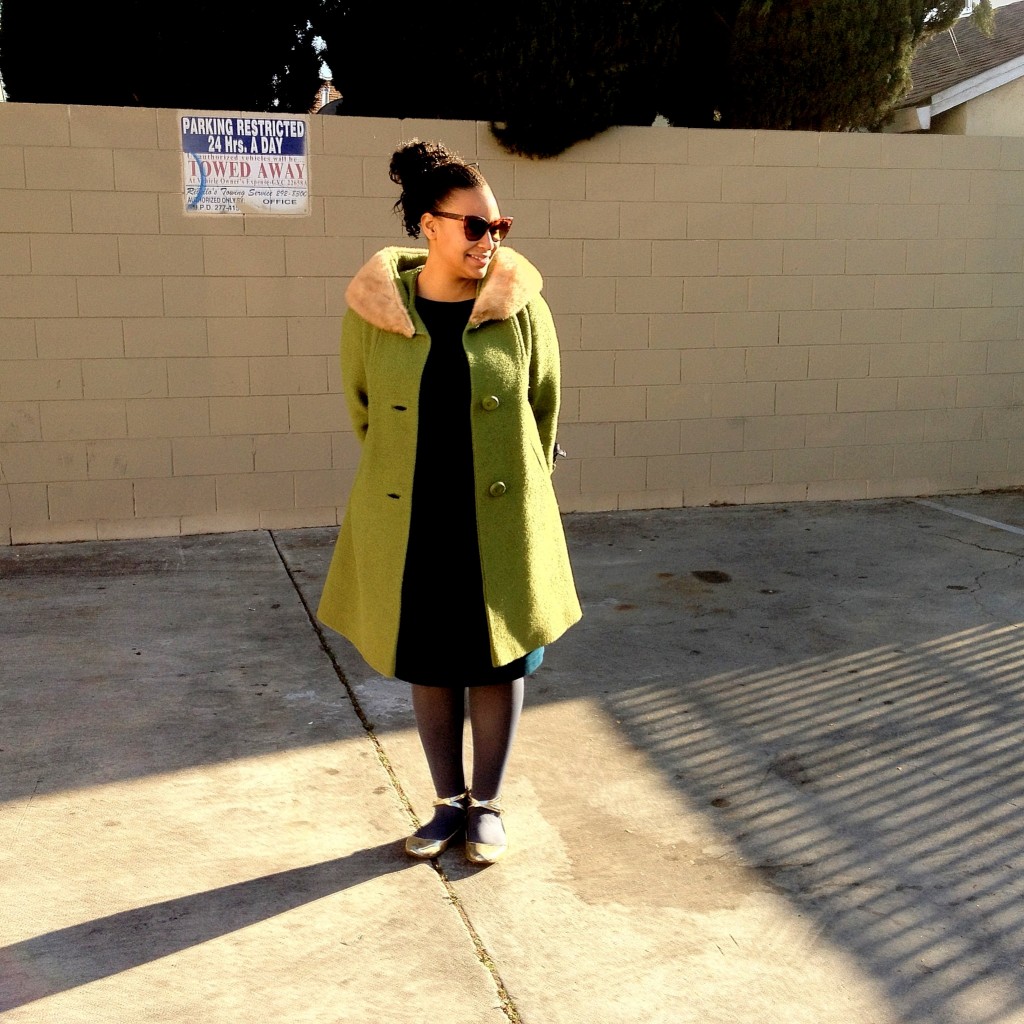 2.How are bloggers (i.e. me and this vintage coat for $2) able to find such stellar deals?

I can't speak for the blogosphere, but I will speak for myself.
a. I shop during the off season. I have many wonderful vintage coats in my closet because I shop for coats in spring and summer. People clean out their closets when a season comes to a close because they tend  to make room for items for the pending season. When most people shop they purchase for the current season. When thrifting I think ahead. Back in July I purchased 6 vintage fur coats for under $15 each. When I checked the price tags the coats had dates as far back as April. This means that someone donated the clothing back in late March/April, the coats hit the racks, and had been sitting there for a good three months. Like any other store, second hand stores have sales and like to clear out their merchandise. How do they do this? SALES. See bullet b.
b. I'm not afraid to ask about sales. I know that Salvation Army has a Moonlight Madness sale (store opens from 5pm-9pm) on the 3rd Thursday of the month (check your local Salvation Army for dates) and they mark everything in the store down by 50%. Salvation Army has some of the best thrift store pricing around. You can generally get a skirt their for less than $6; on their 50% off days you can get an entire outfit for under $20. Many thrift stores also have sale of the day items; items with a certain color sticker are on sale. When I walk in the store I immediately look for signage indicating the current day's current special.
c. Goodwill+Target=Amazing finds. Target donates their unsold merchandise to Goodwill. Never, and I mean NEVER, will you find me purchasing clothing at Target unless I absolutely have to have it. I won't do it. Target frequently collaborates with designers to produce X for Target clothing lines. It cracks me up when people flock to the Target website or wait in line for products that are cheaply made and overpriced. PEOPLE, THOSE SAME PRODUCTS WILL BE AT YOUR LOCAL GOODWILL IN DUE TIME. There is no harm in waiting. Nearly three weeks after the Missoni for Target line launched and sold out I scooped up Missoni gloves, tights, and shoes for $6 each at my local Goodwill. Keep in mind that Goodwill prices are dependent on your location. Another person blogged about finding the same products, but she paid WAY more than I did. Why? SHE WAS IN NEW YORK CITY. See bullet d.
d. Location, location, location. If I'm looking to spend less than$20 on a thrifting excursion I know I'm not going to find it thrifting in San Francisco, Beverly Hills, or off Santa Monica Boulevard. Why? Major cities know their products and everybody and their mama are at the same spots clamoring over each other looking for great deals. There is no way that Metro area thrift stores are going to sell a vintage Lanvin dress for $5. I went to San Francisco and found vintage Lanvin for $60–that's still an amazing deal. However, I went to my local Goodwill two months later and found a vintage Lanvin dress for $5. Five dollars. F i v e d o l l a r s.  Less populated cities and hole in the walls stores are where you will find your treasure.
Next week I will answer these questions:
What kind of plan should I have when thrifting?
How do you know if an item is vintage?
When is the best time to thrift?
What lessons have you learned while thrifting?
Leave a comment: Do you thrift? What are your feelings about thrifting? Do you have any words of wisdom?
Wearing: Vintage coat–thrifted, $2 Dress–thrifted $10 Metallic ankle strap flats–Gap $5  Vintage Inspired Sunglasses–Dollar Store (HAHA!)
9 Responses to FAQs About Thrifting