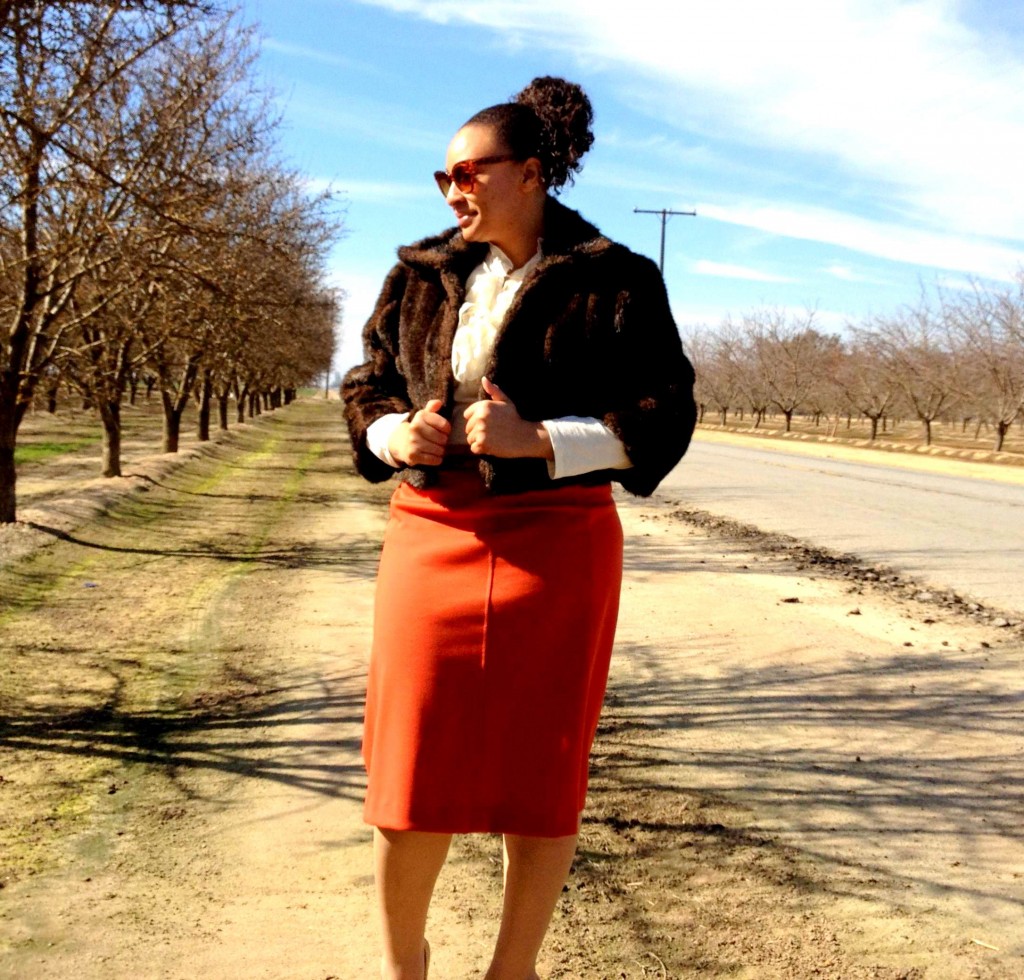 I'm not sure how this is going to make me sound, but I'm going to say it anyway. When I get my clothes back from the dry cleaner I feel a lil' giddy. It's as though I have new clothes. Back in October I bought three vintage skirts and three blazers from Savers and I didn't take them to be dry cleaned until December. I didn't go and get the items until Thursday and when the dry cleaner brought out several plastic bangs and hung them up in front of me, I am almost positive he classified me as "not all there" when he caught my sly, goofy smile.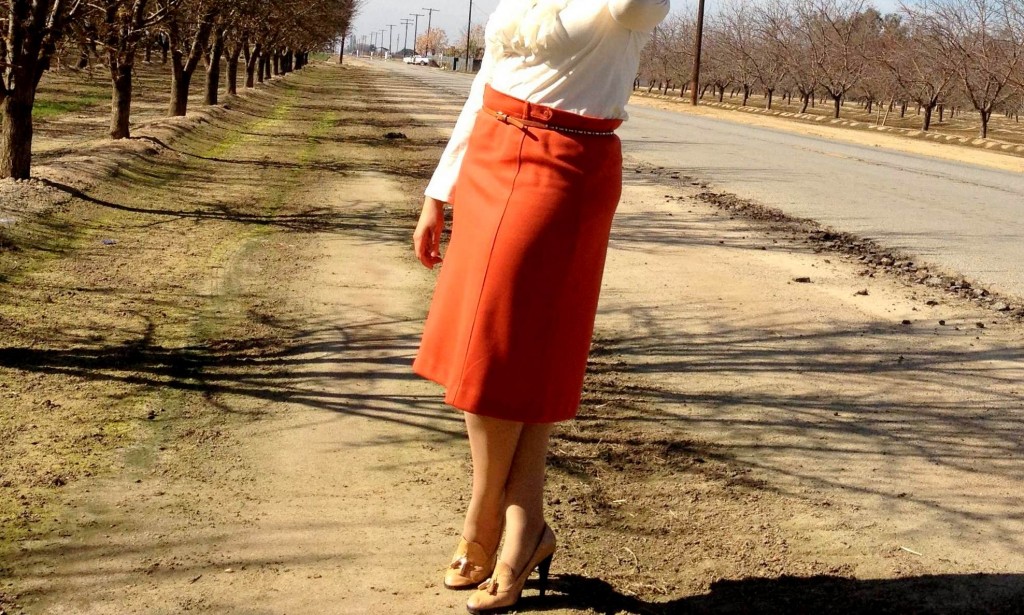 This orange polyester skirt from the 1970s was part of the dry cleaning stash and I knew I wanted to wear it with this faux fur coat I bought from Savers (same time as the skirt…brand new with tags…straight from Marshall's…$16!) and this cotton ruffle blouse I picked up from JcPenney for $4.
Speaking of JcPenney, have you been there lately?! After their MNG by Mango launch a year or so ago they have really updated their look. They offer many modest skirts, dresses, and blouses. Their prices are also reasonable. When I bought this ruffled shirt the sales associate told me that they slash prices down the 1st-3rd of every month. They had racks dedicated to clothing priced at $2, $4, $6, and $10. I didn't buy much because I didn't want I spend past my monthly budget.
The budget. I've decided to spend no more than $60 a month on clothing/shoes/beauty products. I've gone months where I haven't spent any money on clothing, and then other months where I've spent more than $60.
I want to really think about my purchases this year and make sure that whatever I purchase is something of good quality, sustainable, and has the potential to be worn for several seasons.
Starting in March I will actually publicly list the things I purchased (at the end of the month) so that I can keep myself accountable and look back on my expenditures at the end of the year.
I also mentioned here that I wanted to focus on maintaining a healthy lifestyle. Parent Teacher conferences threw me off (excuse number one) and I failed to eat dinner and breakfast several days that week. I'm not going to beat myself up over it. Tomorrow is a new day (yay!) and week; I'll get on the good foot tomorrow and keep on pressing on.
Here are two things I need to research:
1. Shakeology
2. Body By Vi
I have friends left and right promoting both products on Facebook, Twitter, text message, and email. Have you heard of these products? Have you tried them? What are your thoughts?
I took these photos down the road from my house and the farmer that owns these orchards now just nods knowingly: here comes that weird girl again with her tripod and iPhone. HA!
This week:
Tomorrow I blog about wearing blazers.
D'Rae and Tiffany contribute. Visit their blogs here and here.
Check out the "new" items in the Shop MoMoMod store.
Faux Fur $16, Vintage Skirt $3+$7 dry cleaning, American Living for JcPenney Blouse $4, Sam Edelman shoes $45
13 Responses to Sunday Best: Ruffles, Faux Fur, Polyester, JcPenney, Budget, and Healthstyle