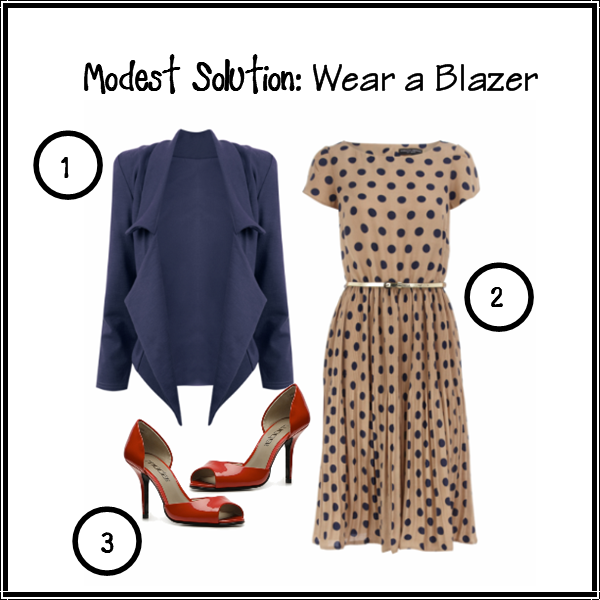 1. Waterfall Crop Blazer 2. Stone Spot Pleat Dress 3. Spana MODA Pump
You're surfing the web/you're combing the racks of your favorite shopping establishment. Something catches your eye. You gasp. It looks perfect. The length is right. The item is so you! You click on the item/you pull it off the rack. You turn it around. BAM! IT'S BACKLESS! *cue sad trombone*
While browsing Dorothy Perkins' dress selection last night (it's my second favorite British shopping site; ASOS is my favorite), my eyes were quickly drawn to this seemingly Kate Middleton inspired dress. The "Stone Spot Pleat Dress" has a pleated skirt, a neckline that covers the collar bone, a waist belt, and a gaping hole in the back.
No worries. This is nothing a tapered blazer can't handle. Blazers are a wardrobe staple–READ->necessity for covering up short sleeves and backless dresses and tops. Blazers aren't always comfy in summer months, but you can definitely get the most wear out of your blazer(s) from fall through spring.
Tailored blazers work when you want to achieve a tailored pulled together look. I noticed last week that I pretty much wore a blazer every day of the week. I have masked spaghetti straps, sheer blouses, over-the-top prints, and sleeveless shirts and dresses because of a wonderful blazer. Tuxedo, unstructured, boyfriend, or tailored–I love them all.
I'm not going to purchase this Dorothy Perkins dress just yet (let's pray for a sale), but I am keeping my eyes wide open for the perfect navy blazer (be good to me Goodwill/Salvation Army/Savers/Thrift Town) to complement this dress when I do decide to purchase it.
What are your thoughts on blazers? Are you a believer?
Buy blazers from the MoMoMod Store
Search for blazers:
5 Responses to Modest Solution: Wear a Blazer