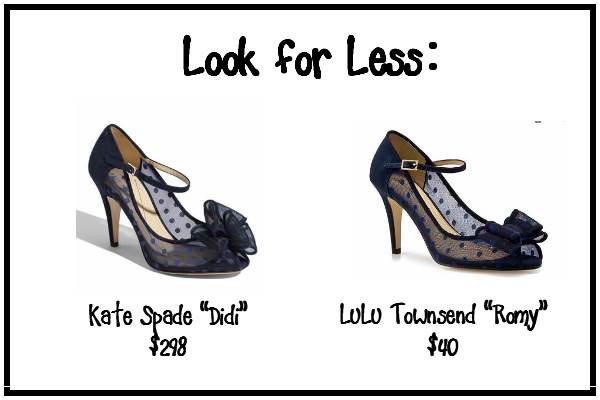 Are you in a dainty, delicate feminine polka dot patterned Mary Jane ankle strap shoe kind of mood? On the left we have the exquisite Kate Spade "Didi" heel going for $298 dollars. In the opposite corner, Didi's cousin, Romy stands at a smooth $39.95–okay, $40.
Differences:
The price (I mean, really?! A $258 difference here, folks!).
Romy's bow is a tad bit smaller.
Didi is nearly sold out.
Note: If you're a DSW Rewards member you can get Free shipping on orders over $35! Plus, if you're like me you can apply your DSW Rewards coupons and get these shoes even cheaper! Read how I scored a pair of Gucci heels for under $60.
Wear them with:
Are you a fan of this style of shoe? Would you purchase Didi or Romy?
One Response to Look For Less: Kate Spade "Didi" Mary Jane Pump