This year Brandon and I decided to save our pennies and make Valentine's Day gifts for each other. Well, I suggested the idea and he agreed. I decided to make him Scrabble cufflinks and two handmade cards. I was excited about my cufflinks and when he came to town last Saturday I made him open his gifts within 20 minutes of his arrival. He assured me that his handmade gift was awful and he didn't think he'd do better than my gifts.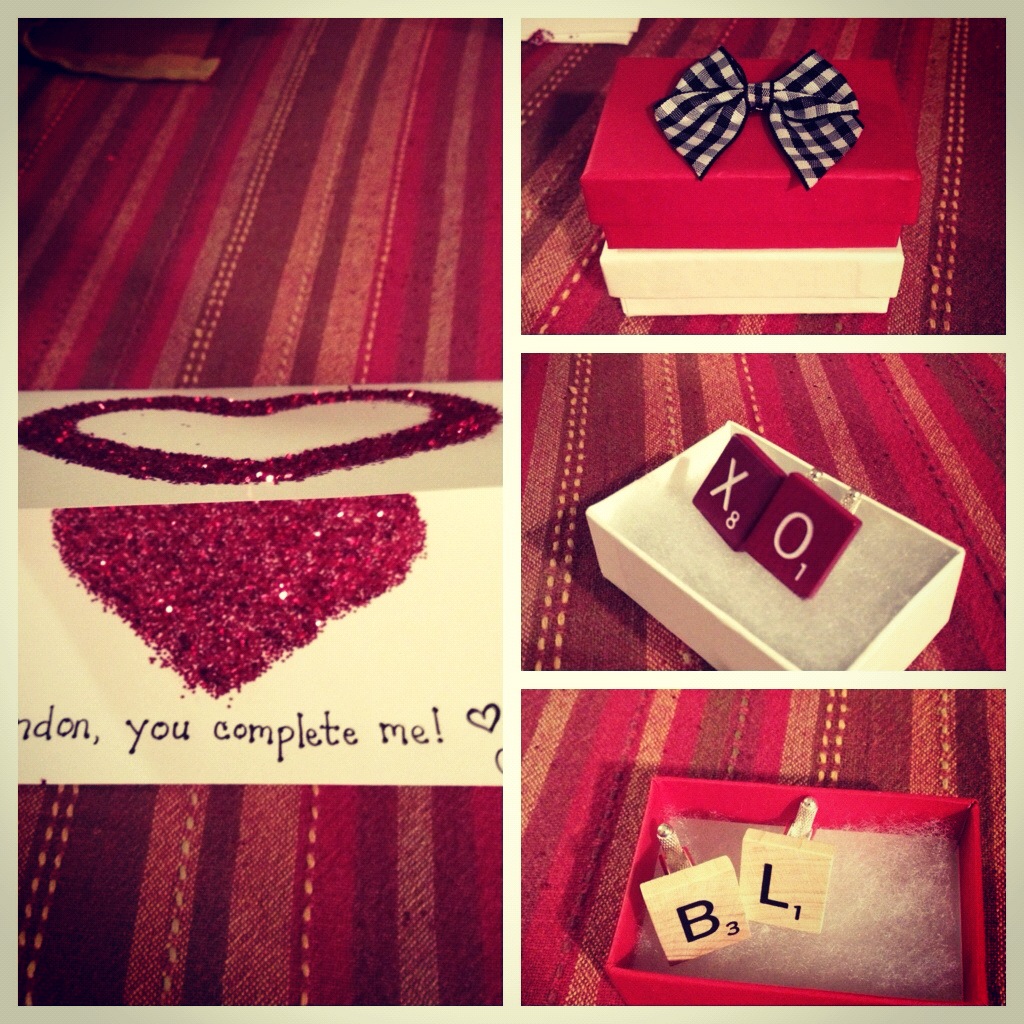 We had an enjoyable weekend; we went to church, I had Monday off for Lincoln's birthday, and we decided that we'd have Valentine's Day dinner after I got off of work.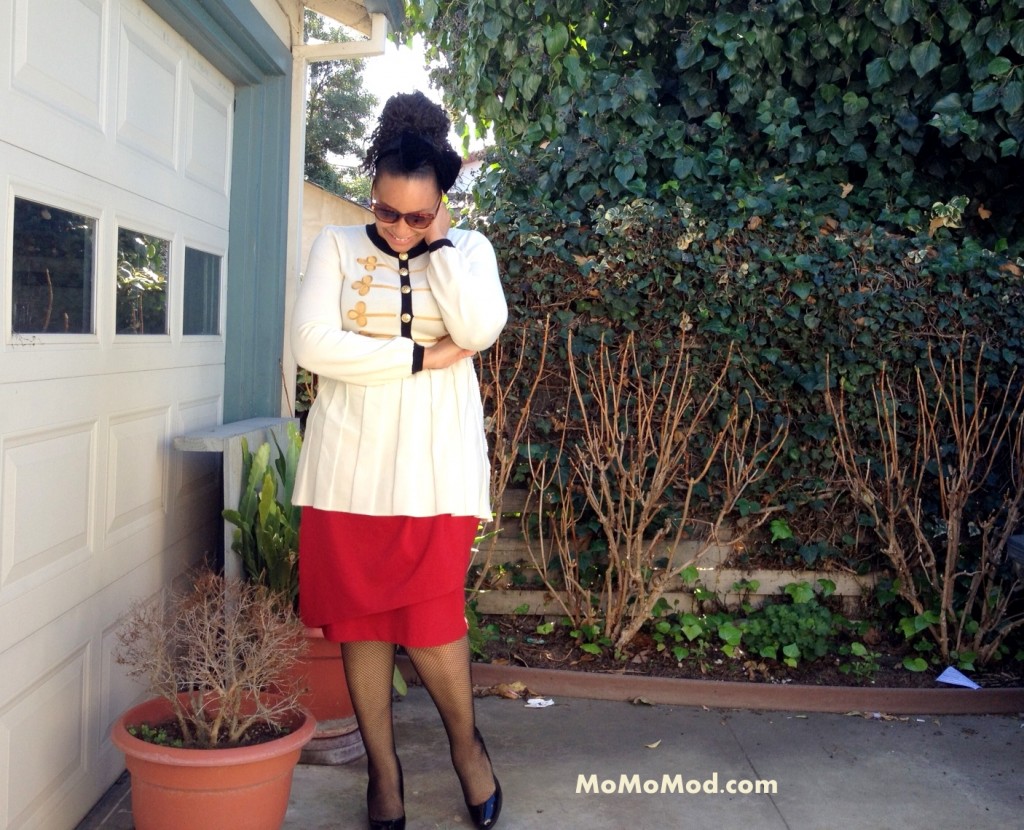 Brandon made a huge deal about getting dressed up and NOT GIVING ME MY HANDMADE GIFT until AFTER dinner. I nudged, begged, pleaded, and whined to no avail.
We enjoyed our dinner, ate some dessert, and he decided to drive me home. Of course I fell asleep and when Brandon told me to wake up I was very agitated. I said I would wake up when I got to my house and he insisted that I wake up. I was annoyed and grumbled and complained–okay, I was super rude.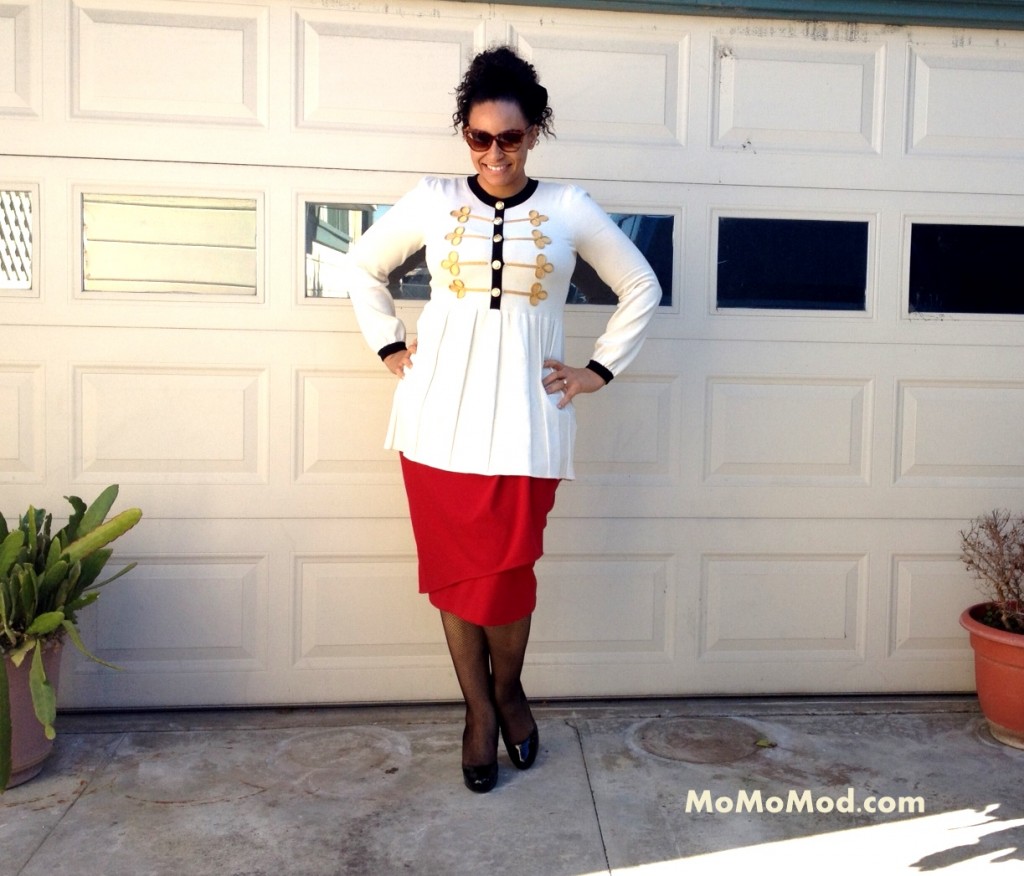 We got inside the house and Brandon made me face the front door because he didn't want me to see his card. "Seriously?!" I moaned. After two minutes of my whining and his fumbling around, he told me to walk over to the table and read his card (no picture! Argh!). It was handmade and he had cut out figures of us walking down a road and made a pop up card. It was cute! I finished reading the card and turned to find Brandon on one knee asking me if I would be his wife.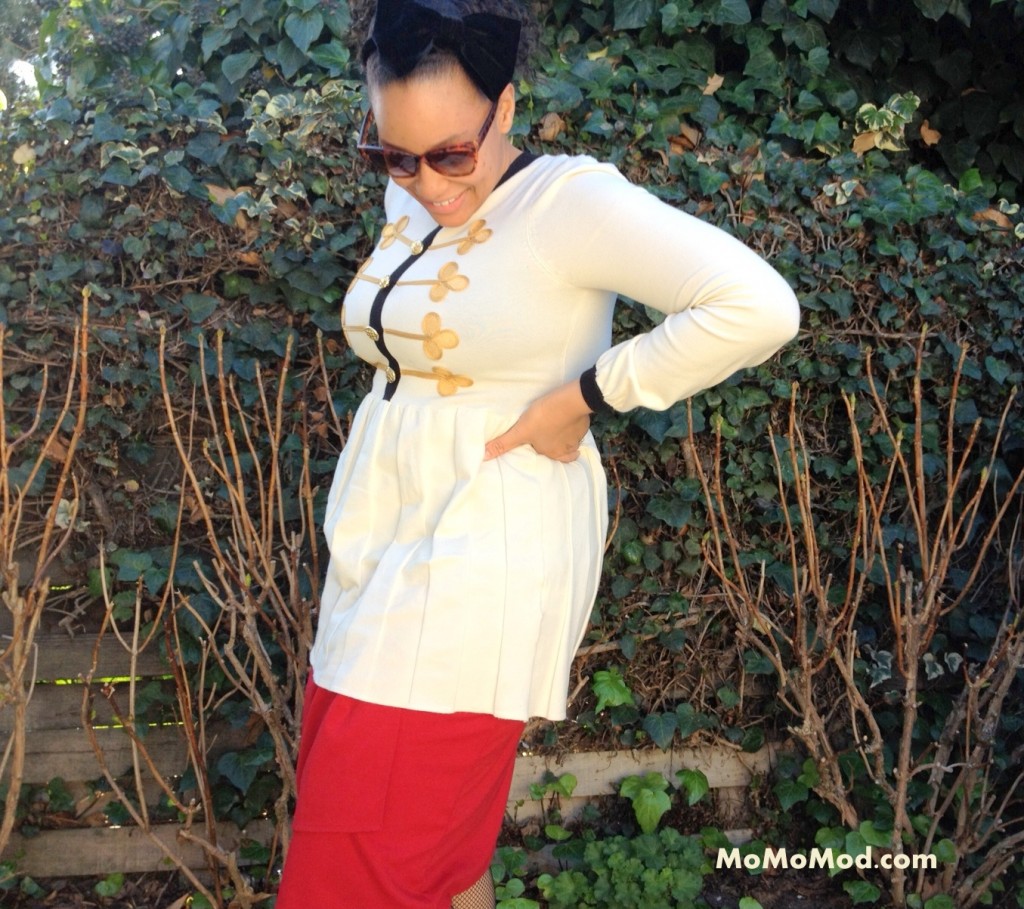 Yes, I cried and blubbered. I inundated him with questions: Did you ask my mom? When did you talk to my dad? Did you talk to your pastor? Have you spoken to my pastor? How long have you wanted to do this? After he answered those questions (Yes, yes, yes, yes, over a year)  he asked me if I was going to say yes. I did.
So, yes, friends. I am engaged to my boyfriend of 3 years. I am planning a wedding. I am no longer a non-engaged girl pinning things to a wedding board on Pinterest.
I am still in shock and very much excited. No, I have no plans to  make this a wedding blog (applause!); I have been wanting to start a Wedding Wednesday series and I might still do that. Anyway, I will blog about my road to the wedding, but it will be on another blog and I will share it with you once Brandon has finished getting it all set up.
Today I wore a Forever 21 dress as a top ($8), a thrifted red skirt ($10), a velvet bow headband ($3), and Style & Co. patent leather pumps ($60).
Shop MoMoMod
Like MoMoMod on Facebook
22 Responses to Sunday Best: Engagement Bliss