By Guest Blogger, Ressie Malone, Owner of Outfit 31
Since the 1940's, women have been enjoying the narrow, tailored shape of the pencil skirt.  It was originally designed by Christian Dior as a contrast to his historic A-line full skirt.  Since it's invention it has become an iconic piece in most women's daily work/casual attire.  Mine included.  I probably own more pencil skirts than any other wardrobe item. It's equally cute with a bare leg/textured tights/sheer hosiery;  flats, boots, oxfords, pumps or booties/shooties.  The same with tops!  You see this skirt paired with sweaters, denim shirts/jackets, blouses, blazers.  It is probably one of the most flexible investment pieces in your closets!  In my last office it was affectionately know as, "the bootay skirt," due to it's figure enhancing properties.  My opinion is that  it only becomes that if it is worn short and tight  allowing little room for movement.
When asked to do a guest post styling a pencil skirt 5 ways my immediately thought was, "only five?"  You see, when I shop for any piece of clothing, I brainstorm before making a purchase about how to wear it with 5 other pieces already existing in my wardrobe.  The desire being to get the most bang for my buck!  Customizing a color other than black was a way to increase the challenge factor for this classic skirt.  Hopefully, one of these 5 looks will appeal to you!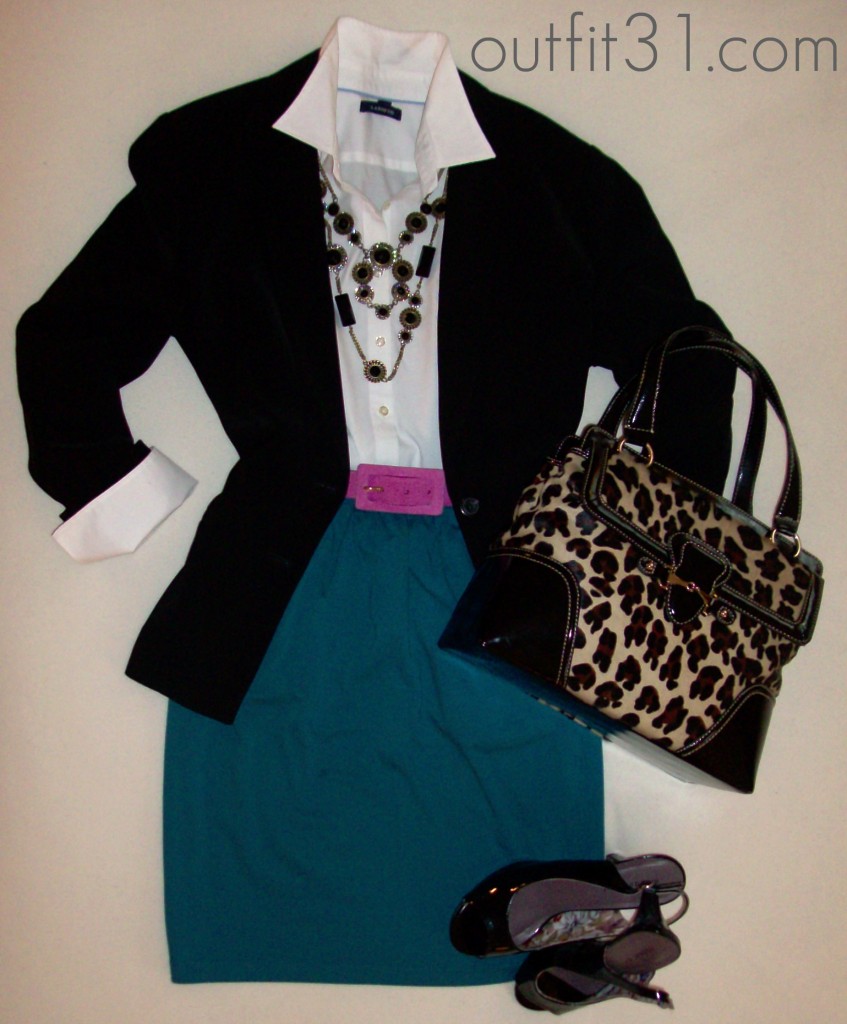 Wear it with a blazer, a classic white shirt, and a bright belt.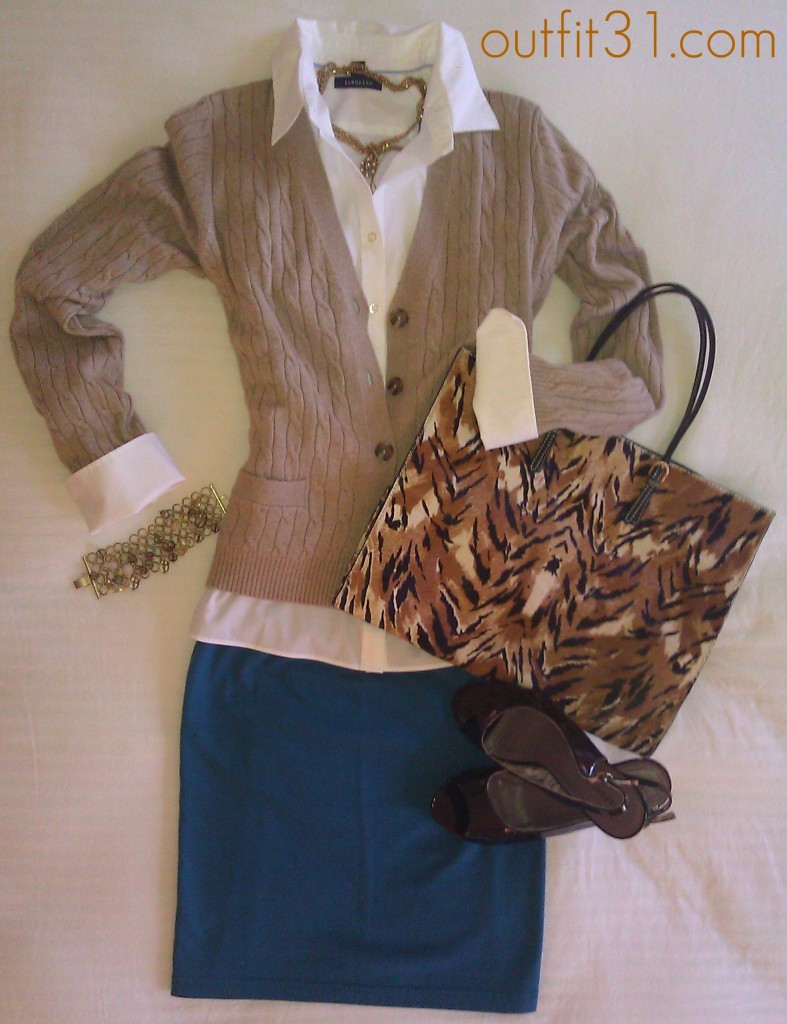 Wear a button up cardigan sweater layered up over a white button up shirt;
cuff the shirt's sleeves over the cardigan's sleeves.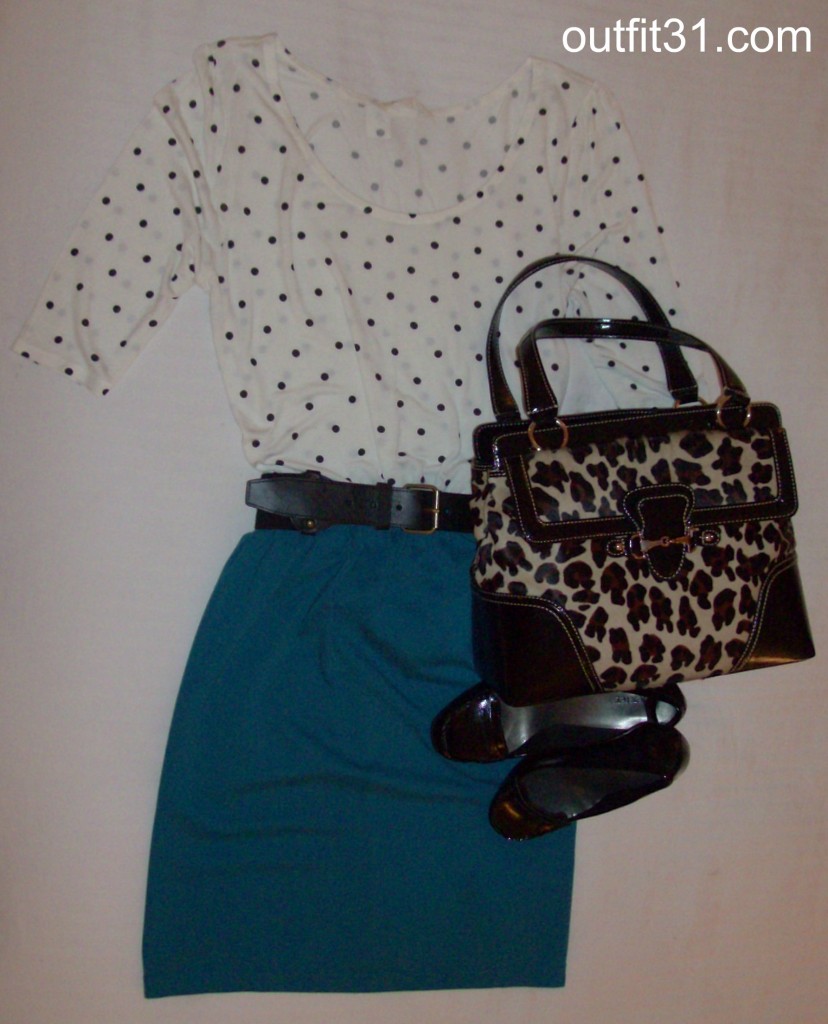 I hope you enjoy this Outfit 31 inspiration and stop by if you're ever in the neighborhood!  Thanks for reading and allowing me the honor of being your MoMoMod Guest Blogger today!  Hopefully this will be the first of many times!
Buy this skirt at Target; assorted color. Available in-store and online for $18
Search for pencil skirts and classic white shirts:
Biography:
Ressie Malone of Outfit 31 is passionate about her faith and is intent that fashion should reflect the confidence of the woman wearing it!  She is concerned about the hearts and minds of women everywhere who want to dress well and know that true beauty is reflected from the heart–not what you wear.  Ressie searches for quality bargains; her desire is to cross many socioeconomic/multigeneraltional levels and to unite them.  Outfit 31 features model-less outfit presentations that appeal to women of all shapes/sizes/ages. Ressie's succinct and funny writing style are what keep readers visiting  Outfit 31 every day. Join Ressie and have fun dressing from the inside out without having to turn your purse inside out.  Before founding Outfit 31, Ressie enjoyed (and still does) much success as a professional freelance calligraphic artist. She worked for celebrities, businesses, and U.S. Presidents-resulting in the honor of a Presidential Appointment.  Her professional career, imagination, use of color and style have made it easy for her to transition into the world of fashion blogging.  "Like" Outfit 31 on Facebook and also follow on Twitter where there is much laughter, reader inspirations, style chats and sale alerts!  YOU, the reader, are what's most important about Outfit 31!
4 Responses to Outfit 31 Guest Blogger Post: One Humble Pencil Skirt 5 Ways