The obvious truth: men and women are different. Night and day. Up and down. Left and right. Every now and then Brandon will question the method to my madness. "What are brooches for? Why did you wear leggings instead of tights?" Months ago he visited me and he forgot his "nice" belt at home. He pulled out his "casual" belt and with a shrug he explained that he would have to wear this canvas-woven-type belt with his nice black suit. I shook my head from left to right and pointed out that the belt did not match. His response, "So? No one will see it." I was determined to not let him enter church with that belt and went so far as to call my dad and text a friend to see if they could offer up a suitable belt for Brandon to borrow. No luck. The casual belt was worn. Life went on. No big deal.
Brandon happened to like this outfit. ;o)
Women are vocal about what their significant other/husband wear and it seems to be a-ok for a woman to voice her opinion about her husband/boyfriend's attire. Female counterparts are quick to nitpick, analyze, judge, change, and modify their companion's wardrobe with the blink of an eye.
What happens when men nitpick? Oh, it's deemed as unloving, rude, and so-not-nice. Over the summer I bought a stunning (I thought) pair of Jimmy Choo shoes (they were on MAJOR sale and I liked them!) and when I presented them to Brandon he shook his head. I was crushed. I went on for several minutes explaining my purchase, why the shoes were awesome, and how I found them, blah blah blah. He wasn't convinced. He. Thought. The. Shoes. Were. Ugly.
I wish I could say that I was bold enough to ignore his input and wear the shoes anyway, but they are still sitting in their box–unworn. He didn't say I shouldn't or couldn't wear the shoes, but his opinion of the shoes really did change the way I thought of the shoes. Since we live four hours apart from each other I could wear them when he's not present, but I am not sure if I will.
There have been times that I've picked up the granniest of vintage dresses and Brandon cannot see a diamond in the rough. When I finally wear the item he gives a knowing nod, "Ahhh. I see what you did! Nice!" I guess it depends on the item. If I know that I can modify or make something work for me I can bypass his inquisitive looks; I just can't understand why the Jimmy Choo shoes thing had SUCH an impact on me!
As a kid I would hear my dad rant and rave about trends he did not like and in an effort to silence him (and show respect) my mom would typically avoid purchasing those items or get rid of the items if she had them.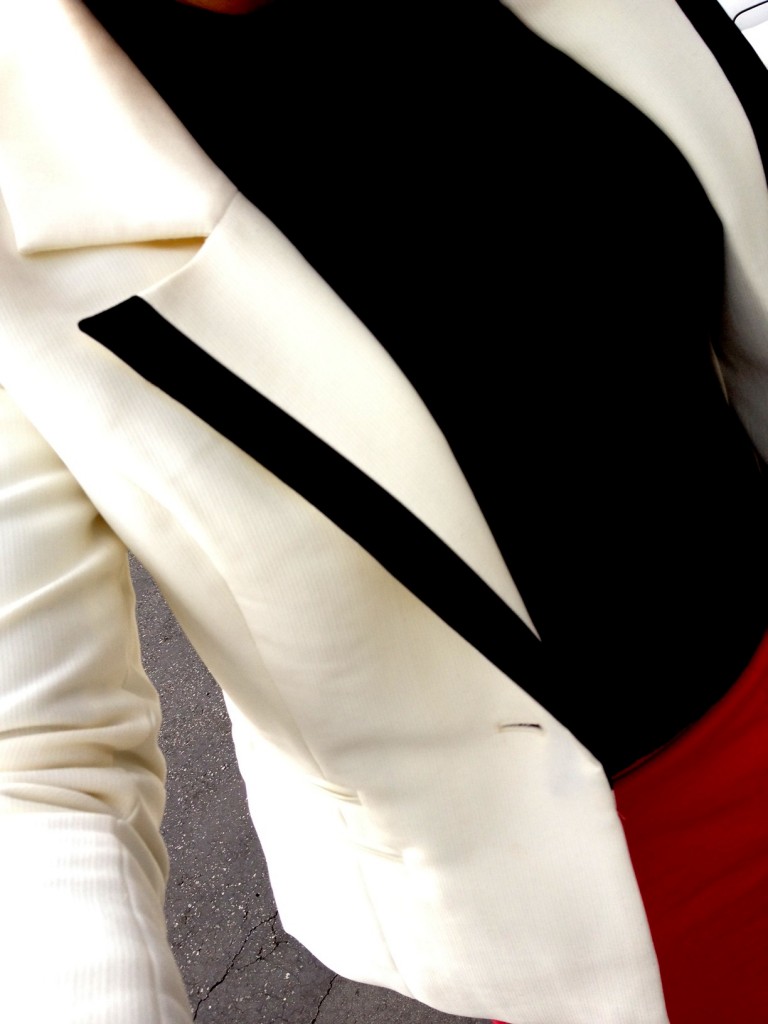 I was reading D'Rae's blog post (please keep her in prayer! She is job hunting!) and she mentions that she found out her husband doesn't like animal print. The cardigan she's wearing is not an outlandish animal print and so-not-gaudy. D'Rae acknowledged her husband's opinion and moved on.
Which leads me to today's questions:
When your husband/boyfriend/fiance doesn't like your clothing selection, what do you do?
A. avoid wearing the item/items or
B. laugh it off and keep on wearing the item
What clothing items and accessories does your husband/boyfriend NOT like?
Wearing: W.D.N.Y. blazer, Target knit pencil skirt, Target turtleneck, and Rachel Roy Pumps
21 Responses to Modest Conversation: A Man's Opinion