Yesterday was one of those days. You know the kind. Nothing fits. Easily irritated. You feel like a heffalump.
BOO.
Salvation Army had one of their oh-so-awesome 50% off sales the other day, and I snagged this skirt for $4. It's my first pleated skirt; I don't own any pleated skirts because I always thought my hips were too wide to wear an accordion pleated skirt. Oddly enough, I wore this skirt because it had a comfy flat elastic waist and it was loose enough to hide my heffalump status. I bought the skirt because I figured I could try it out and see if I liked it.
I did.
You'll definitely be seeing more of this skirt around these parts.
Wearing: Tunic tucked into the skirt as a blouse ($12), orange Forever 21 skinny belt ($3), Zara heels featured here, and vintage skirt ($4).
Also featured in these photos? The home I'll be living in after I get married. It's Brandon's grandmother's old house and we'll be residing there after September 8. I currently live on 5 acres of land (love country livin'!), so I'm going to have to get used to having neighbors and living within city limits.
Other Things of Interest:
My wedding website can be found here and my wedding blog can be found here. Modupe of Hephzibah Bride asked me to guest post on her blog (about wedding ramblings) and you'll find me there starting Wednesday of this week.
Bekki Leigh and I are putting together a Modest Clothing Swap in El Monte, Ca. If you're a Southern California girl you don't want to miss this event! Bring all your unwanted clothing and swap them for other new/gently used clothing. Paulina of Austenland Hair Accessories has agreed to sell some of her items and there will be giveaways from eShakti, Style J, Paulina Carmel, Style Me Fashions, and Apostolic Clothing! Tickets are $12 and you can purchase them here.
Use code MoMoSpring to get 20% off entire order: Shop MoMoMod.
Linky Partay!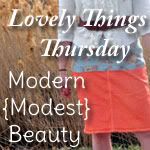 9 Responses to Sunday Best: $4 Make You Hollllla