I don't know about you ladies, but wearing my hair down in this summer heat is killing me! High temperatures already, y'all! Today I decided to put my hair in a loose braid to keep it up and away from my face. Braids are all the rage right now, don'tcha know?
Items needed: Volumizing hairspray (I use TRESemme'), bobby pins, and a rubber band.
Step 1: Spray all of your hair with a light hairspray to create volume.
Step 2: Take two sections from the center of your hair, and loosely braid them.
Step 3: Take the front section of your hair, twist it back, and pin.
Step 4: Take your remaining hair and create another loose braid, and secure.
Done! This doesn't have to be neat or perfect, it is just a fun, yet simple way to keep your hair back.
I don't wear braids very often, but I loved this!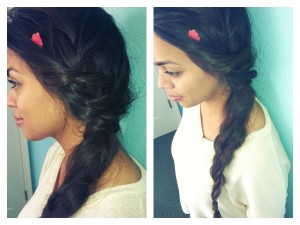 Hope you enjoyed! Happy Friday!
Visit my blog, Pretty is This
My Facebook
My Twitter
7 Responses to Pretty Is This: Summer Braid