Last week I mentioned on MoMoMod's Facebook page that I was contacted by a company asking me to stop using the words "Sunday Best" because they have trademarked the terms "Sunday's Best". The email further stated that customers searching for the company's golf apparel might get confused by my blog posts.
When I first I got the email I was in my classroom (busy with teacher things) and I made the mistake of sending an abrupt email stating that that I didn't use the words Sunday's Best; my blog post titles are Sunday Best. The reply to my email was that it didn't matter; the company just had a similar incident with Nike and they found out that they can basically rule the world when it comes to the age old term Sunday Best. After I got home and realized that my first email was a little short (i.e. rude) I replied with a nicer email stating that I would seek a new title for my blog posts. I definitely didn't want to appear rude/mean/so not nice.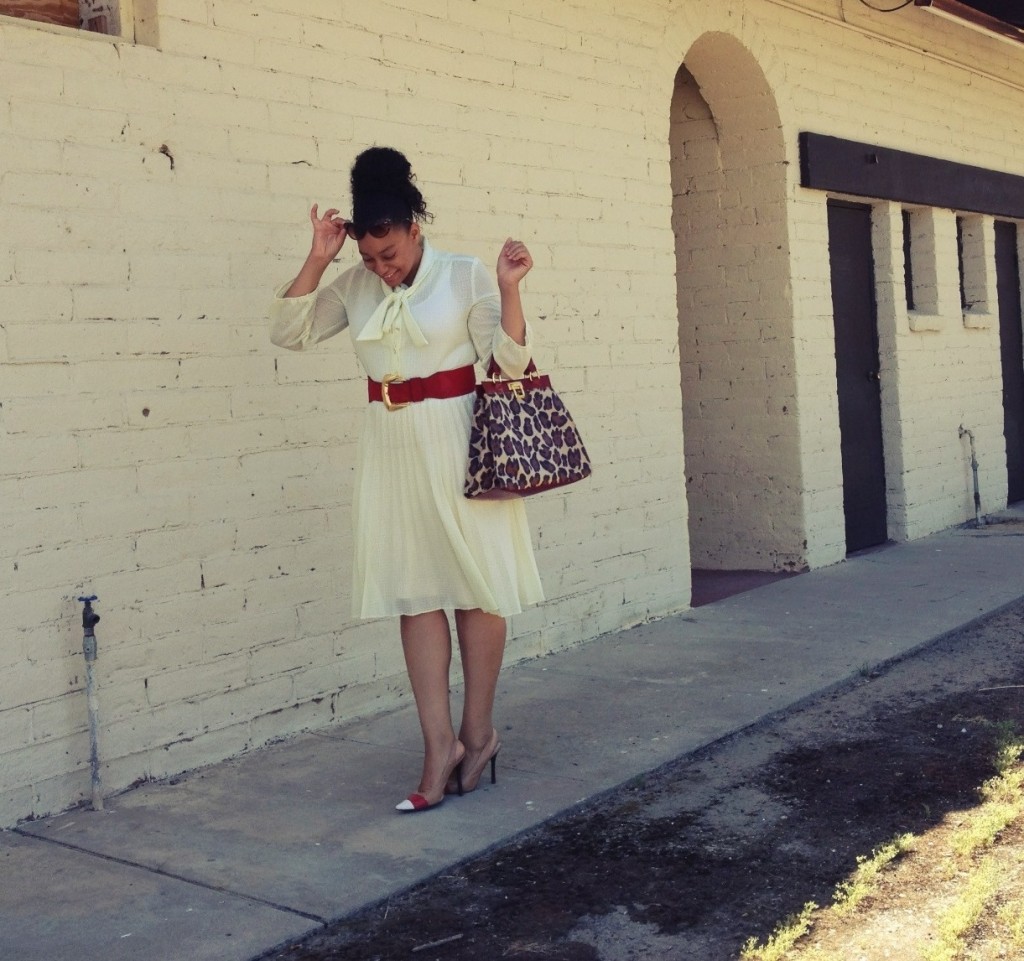 My internet search revealed that I am most likely okay to title by blog posts "Sunday Best"; I am not using the term Sunday Best to sell golf clothing, nor do I reference golf attire in my blog posts. However, since the company has trademarked the term for "Fashion information; Fashion trend consulting for the fashion industry; Providing fashion information; Providing information about fashion", and that's kind of the purpose behind MoMoMod, I decided to play it safe and update my Sunday blog titles.
So, I turned to FB and asked readers to help me find a new name for my blog posts. Honestly? I wish I could ignore the whole thing; when you search Sunday Best BET's Gospel Singing Competition is listed in the results. If you search "Sunday's Best" women's golf attire is nowhere to be found (you have to literally type Sunday's Best golf for the website to appear!). Now that I think about it I just increased the chances of my blog appearing in Google results by mentioning the sport and words simultaneously. OOPS. At any rate I didn't/don't want to be hit with cease and desist letters–or a lawsuit! Here are a few of the comments left on MoMoMod's Facebook status:
Christa: Maybe, "Sunday Best, suck it, it's a fee country, golf is lame"? Heh, heh??

"7th day Attire" "Seventh's Finest" "Pretty Sunday Attire" good luck, I hope it goes away soon.
Sarah: I'm sorry, but I don't think you should change the title. It's kind of ridiculous of them to ask you to.
Can't think of a better title than the one you already use.
Jenna: Sunday Best, because Sunday is the Lord's day, not golf's day!
Kelly: How about Sunday's Worship Wear?
Krista: Sundae Best ha
So, dear readers, my Sunday Best blog posts shall now be entitled: Sunday Morning Best. Yahoo. Applause. Are you excited? HA!
Saturday was spent with my friends Natalie and Mieshia. We went to a plant sale to purchase succulents for my wedding and after the plant sale we went to a few thrift stores and we snagged some major deals. I've been cautious about my spending (hello, wedding); plus, I'm preparing to move and I am getting ready to CONDENSE my closet in a major way.
We went to a stinky thrift store called RAD and we all laughed about how our significant others would probably have fire exploding from their ears if we had dragged them into the store with us. Natalie is due to have a baby girl in May and she scored some really cute baby clothes for under $3! I found the dress I was wearing for $1.33! I tossed it into the washing machine Saturday evening and let it hang dry overnight. It was clean and dry by Sunday morning.
After RAD we went to Salvation Army and they were have a 50% off sale on all women's clothing. I initially passed up the shoes I'm wearing in these photos; Mieshia didn't know I had passed them up and she brought them to me while I was paying for a cardigan that I stole from her. Mieshia convinced me to get the shoes; I paid $3 for them. I found the belt last month while thrifting with another friend (hi, Yvette!).
The dress is VERY much see through, but I wore a stretchy skirt and camisole underneath it
$1.33+$3+$3=$7.33. YAHOO!
Mieshia found several dresses at Sally's Army that are undoubtedly vintage. Some vintage dresses can be very difficult to pull off, but Mieshia has eclectic style and I know she'll own these dresses like nobody's business! Her grand total? $11.
Some have questioned how to wear dresses like these and I can only provide you with information about how I would wear them. Since prints can be overbearing, I like to break up prints with belts and cardigans. I wouldn't wear the polka dot dress in the spring/summer. I would wear it with a blazer like the dress I wore here in the fall or winter months. Dress number three can be worn in the spring or summer if you wear short sleeves; since I don't wear short sleeves I'd wear a long cream colored cable knit sweater and tall riding boots.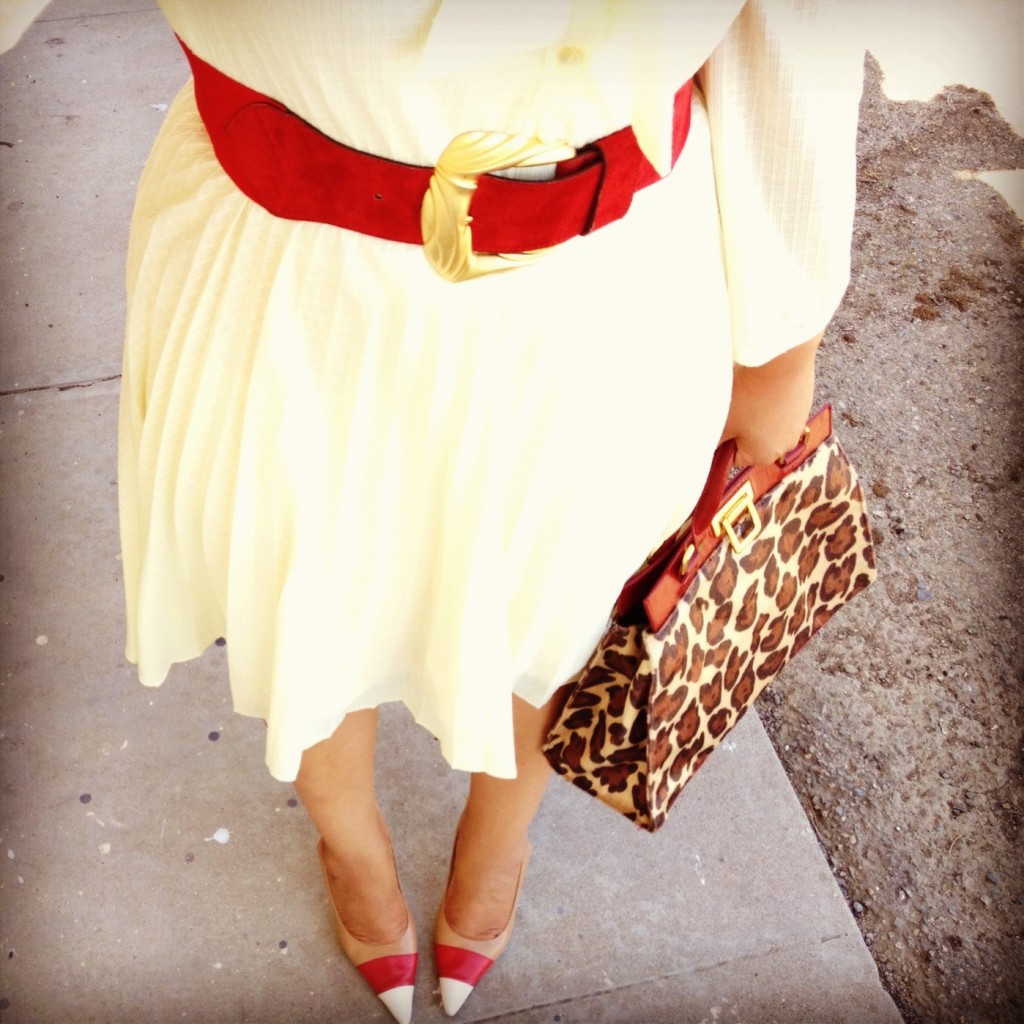 Follow me on Instagram as ChandraD
Don't forget to…
19 Responses to Sunday Morning Best: Thrifted Vintage for Under $10