Several weeks ago I posed this question on Facebook: what do you wear when you workout?
Most responses were pretty standard: stretchy pants, t-shirts, and sweatshirts. Other women noted that their workout gear was dependent on their workout (running, kickboxing, walking) or their workout location (indoors, outdoors, in the privacy of one's home).
One question that popped up during the discussion: Where can I find modest workout skirts?
Three ladies tell us how they purchased/purchase their workout skirts: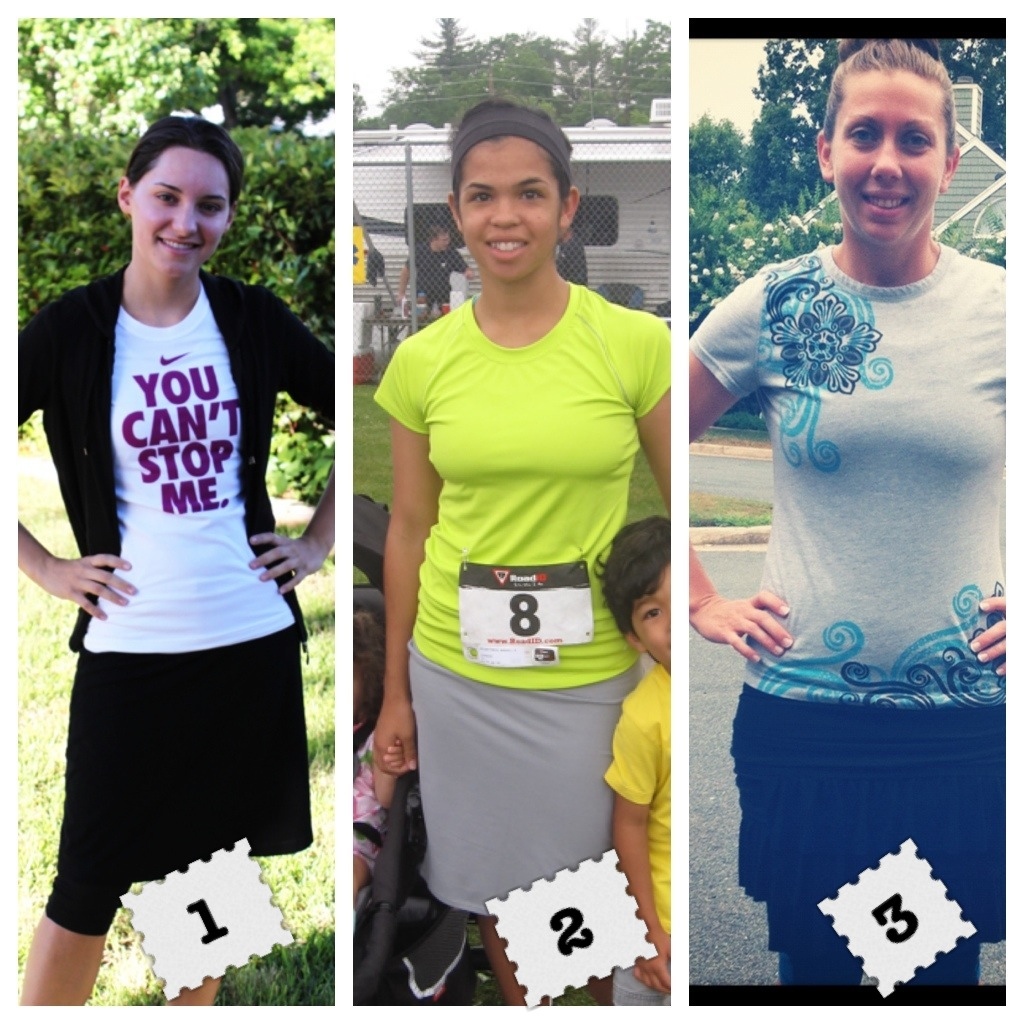 1. Brittany:Brittany recently completed a 21 day walk from Houston to Dallas in support of the Back to Life Movement. From Brittany: "I am wearing [a skirt] from Target; I found it in the regular clothing section. I also have a few similar ones that I found in Marshall's regular clothing section also. I have a hard time finding fitness skirts that are long enough. I highly recommend scouring eBay with search terms such as "fitness skirt", because you will find skirts that are long enough. I have a few knee-length Puma skirts I bought from eBay, but they all came from France! I cannot seem to find them here, even at Puma outlet. I also found skirts by "Skirtsports" that are perfect for running, gym, etc. They are around $70 and you can find them at Luke's Locker (and other running/sports stores) and online."
1. Misha: Misha is MoMoMod's running and fitness expert. She's completed several races and half marathons and completes all of her races and training in a skirt. From Misha: "The skirts I purchased were through Athleta and they do not sell them anymore. I've tried making my own but I can't seem to find the right fabric. Athleta is the way to go, though, if you're looking for skirts. Mine are a little tight, because the size up falls off when I run. They do have knee length A-line skirt available, as opposed to the pencil skirt version I have. The skirts are not cheap, but well worth it because they are MADE for athletics. They have wicking and the stretch needed so your clothing doesn't stay wet from sweat and it works with you as you move."
Michelle: Michelle works out with a group 4 times a week and she's rocked 12 races (no longer than a 10K) in skirts. From Michelle: "I find a lot of [my skirts] at the thrift store. If they have Lycra in them or stretch I snatch them up! I have some cotton blend ones which are great for winter time. Due to sweating in the summer the Lycra/spandex ones are best. I have found some swimsuit cover ups that are meant to be up around your chest, I put them on my waist & they work just fine & dry quickly." The skirt Michelle is wearing is made by Max Studio – 92% viscose and 8% spandex. She went up one size because the skirt is form fitting.
Me: I tend to spend less cash on the skirt and more money on the items I put under the skirt. When I find inexpensive printed Lycra or stretchy cotton blend skirts I buy them. I make sure that my leggings a durable, comfortable, and have the proper wicking. I've taken kickboxing, spinning, and yoga classes wearing stretchy a-line skirts and leggings. I've purchased Athleta and LuLu Lemon leggings at TJ Maxx and Marshall's. I've also purchased workout leggings from Wal-Mart, Target, and Old Navy.
1. Tabeez This is not listed as a workout skirt, but can be worn as one $24.99 Check out all of the skirts on Overstock. They have several skirts that might make your workout skirt list.
2. Old Navy: You can find these comfy fold over skirts online and in-store. I was recently in Old Navy and found these fold over skirts to be comfortable; I just didn't purchase the skirt because it's a little short for me, but figured it should make the list because it comes in regular, tall, and petite sizes online. $12-17
3. Kosher Casual: This skirt has built in leggings, a light stretchy fabric, and has seven 5-star reviews. Kosher Casual also has a section of its site devoted to workout clothing. $42
4. Athleta: The Crescendo skirt was introduced to me by a friend, and while I don't own it, she promises it that is her favorite workout skirt because it is lightweight, stretchy, and breathable. $64
Other sites to consider:
Forever 21 (hit or miss; usually they'll have stretchy knee length skirts that are comfortable and pretty durable. They also have affordable leggings.)
Dressing for His Glory (Thanks, Kathy! Kathy is a runner and completed a marathon this year!)
Modest Swim and Activewear (Thank you, Dionna!)
What do you wear when you workout? If you wear skirts, can you add your favorite brands of workout skirts in the comments? Where do you buy your skirts?
LINKS LAST UPDATED: July 20, 2014
31 Responses to Tips for Finding Modest Workout Skirts