Every once in awhile, when I'm feeling fancy, I do my hair like this. It is vintage inspired, just like my first hair tutorial on MoMoMod.
You are guaranteed  to get plenty of compliments and "how did you DO that?!" questions.

(My apologies for a couple of blurry pictures)
Items needed: Hairspray, hair ties, and a few bobby pins.
Step 1: Take the front section of your hair, and split that section in half.
Use hairspray to define strands and tame flyaways.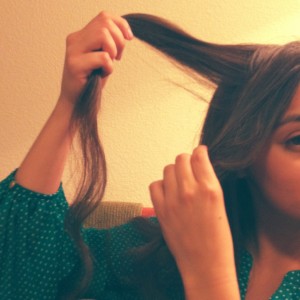 Step 2: Start at your ends, and roll up and inward.
Once you have rolled your strand all the way up, secure with bobby pins.
Tip: if you keep the pins hidden, it will look better in the end!
Step 3: Secure the rest of your hair into a ponytail, and twist into a bun
And you're done! Enjoy your vintage inspired do!

Happy Friday!
Follow my blog, Pretty Is This
My Facebook
My Twitter