Last Saturday I created an Instagram account specifically for the blog (I'd been using my personal Instagram feed…oops)! Luckily the hashtag #momomod had never been used and I decided to claim it and use it. I've been encouraging followers to tag their outfits with #momomod so anyone can get some styling inspiration or options by looking at others' photos. The great thing about the hashtag is that you can go back and tag old photos! So, if you're on Instagram you can go back to your old pictures and tag them with #momomod and they'll come up in the feed.
2 Tips: 
Make sure your pictures are clear and not too overdone. I can't use photos with text, labels, and all kinds of fancy schmancy cutesy things because I want to make sure readers can clearly see what you're wearing!

If your account is set to private your photo will not show up in the feed! If you go to the #momomod feed it says there are 66 photos, but only 52 show up! Where are those other 14 photos?! They are protected from those that are not following you!
Without further ado…the photos!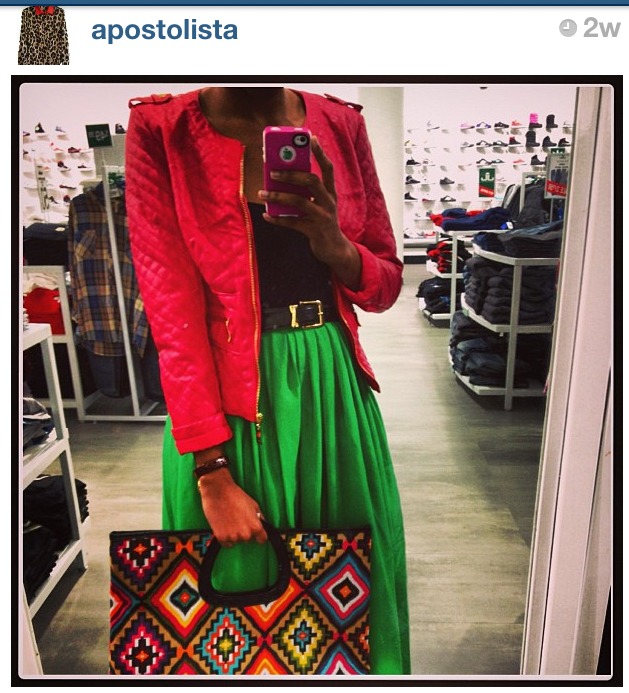 Apostolista is a thrifting goddess with a knack for vibrant colors and pairing super cool prints together.
Why I'm inspired: I have two Kelly green skirts, but now I've got my thrifting eyes open wide for a flowy maxi or midi version. I'm a fan of belting skirts and just mid-size or thin belts in general, so I can definitely  get on board with the balancing act that she achieved here (flowy on bottom, slim on top). Don't EVEN get me started on that purse! LOVE. Similar skirt: here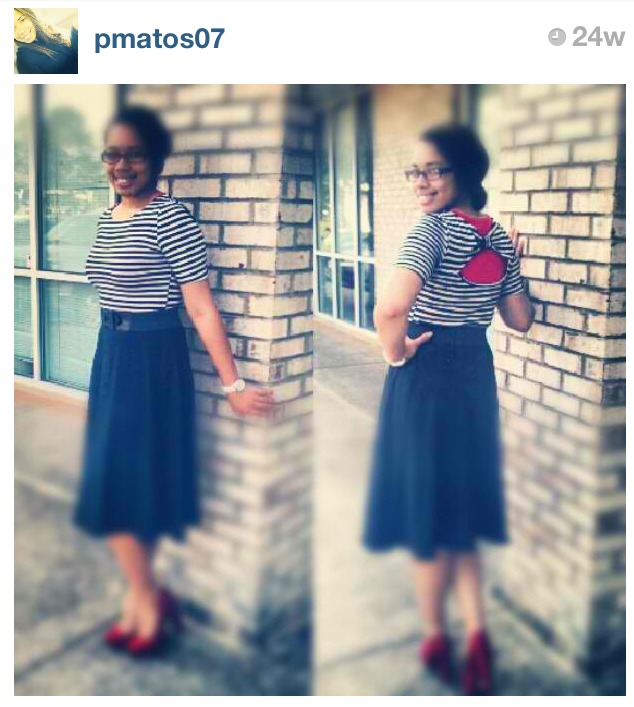 I reached out to Paoloa to see if she had a less blurry picture for ya'll, but she said this photo was on her old phone and she no longer has it. *weep* Good thing you're still able to see why I got inspired by pmatos07!
Why I'm Inspired: When I see backless shirts I pretty much bypass them. I've seen plenty of cute shirts and it's like, "Business in the front, PARTAY in the back!" So, since I pretty much only get my party on at church (have you been to an Apostolic Pentecostal church?) and since I don't think it would be a partay for the sets of eyes that are behind me while I'm at church…no party shirts for me. I DID by a backless shirt once and wore it under a blazer, but if I run into another backless shirt I just might buy it and wear a contrasting colored shirt underneath it instead.
Paralegal lache1 is always looking so cute that I have to feature two of her photos! Here's the first one.
Why I'm Inspired: GINGHAM. I've associated gingham print with picnic blankets, and I've just never felt confident enough to wear it without looking like a picnic blanket. But this? This I can do! More gingham here, here, here, and here.
lache1 again!
Why I'm Inspired: I've got a mustard skirt and a ruffle shirt and methinks I shall pair them up! Similar skirts: here and here
The lovely imbonkkers tagged a photo of an outfit she planned to wear.
Why I'm Inspired: The colors. Coral, taupe, and turquoise. This color scheme is something I'm stowing away for spring!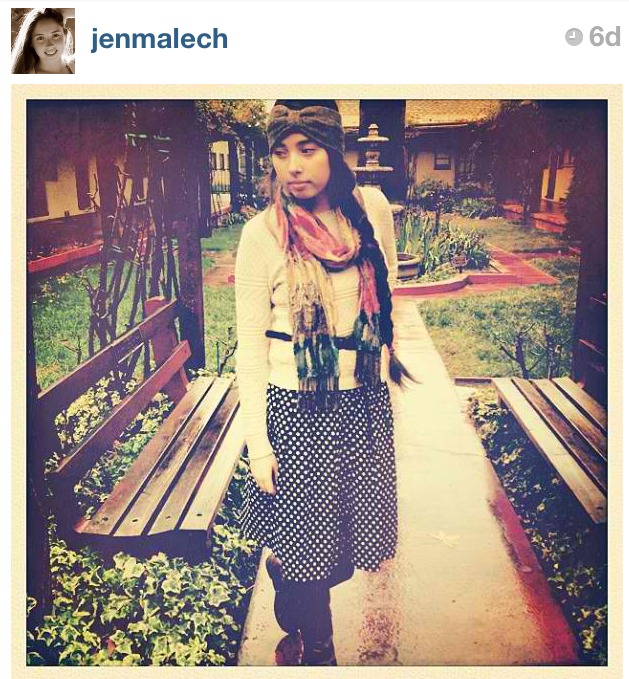 Hey, jenmalech! I like your style!
Why I'm Inspired: This is an easy way to mix up some patterns. Throw on a scarf! Scarves I like: here, here, and here.

So, what do you think of the first post for this series? Let me know! Thanks to all of these ladies for allowing me to use these photos with their permission!
4 Responses to Modest Fashion Inspiration: Instagram Edition