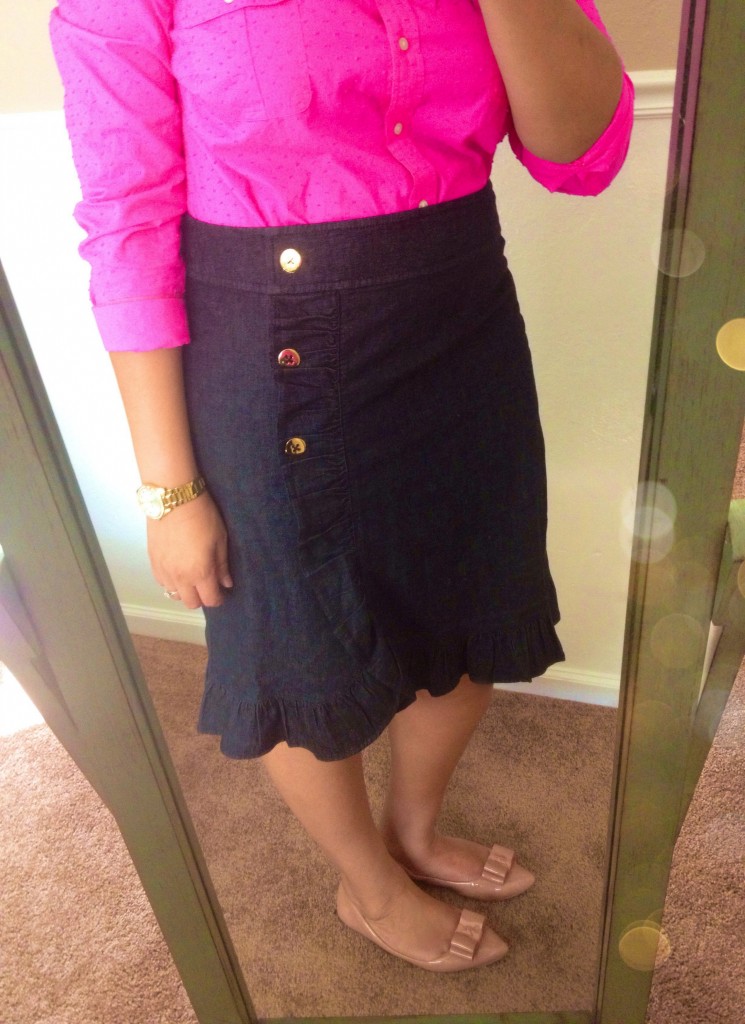 After searching for a knee length denim skirt (not too short, not too long, not frumpy, no rhinestones, no frayed hems/edges, no slits…the list goes on…), I finally found one! Of course it was at Salvation Army!
I've had a handful of denim skirts throughout my life and used to wear them often. If you know anything about Apostolic Pentecostal women, then you know that they pretty much go nuts for denim skirts.
My major problem with the denim skirts I've come across is that they usually look…frumpy. They're either sweeping the floor, frayed at the hems (what IS that all about?!), or they are bedazzled on the pockets (NO!). As soon as I think I've landed the perfect denim skirt I seem to also find a slit up to the hip bone and that's no bueno.
The tag has been cut out of the skirt I found, so I'm not sure about the brand.
Why did this skirt make the cut?
a. The length
b. The gold buttons
c. The ruching along the hem and to the side
d. The color
What's your take on denim skirts? If you can lead me in the right direction to more denim skirts, please fill me in!
Wearing: Gap button up, thrifted denim skirt, J. Crew Emery flats
11 Responses to Thrifted Thursday: A Denim Skirt…FINALLY!