Oh, you know. Here I am. Just chillin' in my hallway while B snaps a pic of me in my teacher outfit of the day! Ha!
After wearing my navy blazer to church last week, I wore the exact same outfit to school the following day. Several of my seventh graders asked why I was wearing a "suit". I had to dive into the differences between a suit and a blazer, and I'm happy to report these lovely students understood the difference as made evident by their proclamations today, "Hey! It's not St. Patrick's Day, Mrs. Leo! Why are you wearing a green blazer?" <insert all kinds of prepubescent giggling and hoo-hahing.
The cooler temperatures makes it easier for me to justify layering a blazer over a dress, blouse, or top. I pretty much avoided blazers during the summer, but over the weekend I moved several of my blazers to the forefront of my closet for easy and convenient access.
Why you should opt for a blazer:
Unless you're in snow country, chances are that your temperatures may be cool, but not freezing. A blazer can be worn as a lightweight jacket to warm you up, and you can easily remove it once you're indoors.
A blazer is a great way to "winterize" summer clothing. I've got several sleeveless and short sleeved dresses that I wore over the summer that will easily transition into fall and winter with the help of a blazer and a scarf.
A blazer can easily take an outfit from day to night and vice versa. I do this OFTEN. A blazer that I wear to church Sunday evening can be worn Monday morning.
Three blazers I like: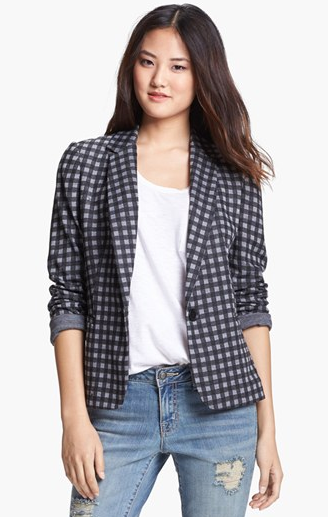 Olivia Moon Blazer  I like blazers in both bright colors and prints. When I'm in a rush I like to throw on a printed or colorful blazer over a very basic dress, or top and skirt. This particular blazer can be worn with the sleeves pushed/rolled up or pulled down.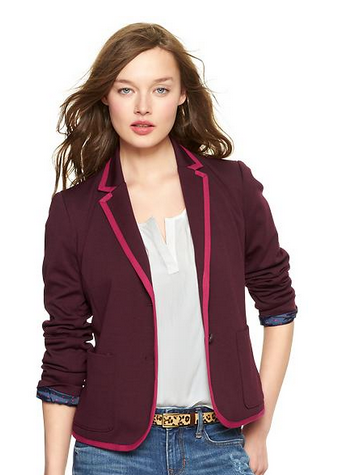 Gap Academy Blazer I own three of these Gap Academy blazers and they are great. The fit is true to size, the material is not too heavy or light, and like the "academic" look it conveys. I purchased mine over the summer for $8-$15 each, so I would suggest going to your local Gap/Gap Outlet to see if you can find one of these blazers on sale. It looks as though they continue to update the blazer every season!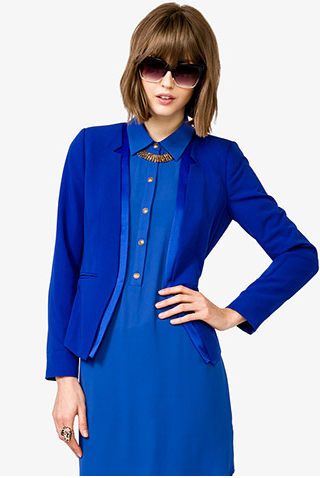 Forever 21 It's no secret that Forever 21 items aren't the best quality, and you totally get what you pay for. HOWEVER, I've not had any problems with the blazers I've purchased from Forever 21; I have one blazer that has lasted a good seven years. I'm particularly fond of this blazer because of the vibrant cobalt blue color and the nice "satin" finish along the lapel.
Happy blazer hunting (or wearing)!
Wearing: Halogen Blazer from Nordstrom, J Crew long sleeved tee, ASOS skirt, J Crew Emery flats
6 Responses to My Go To Covering: A Blazer