I'm a self professed wrapping paper simpleton. I can blame it on my butterfingers. No, no. I can blame it on my mom (she hated wrapping gifts), but my dad is a wrapping paper pro–I could have picked up some skills from him (I didn't). The side of the brain that produces the creative juices and tenacity to tackle wrapping paper? Yeah, that side has a blinking sign that says NO WORKY. It's odd. I can manage 35 prebuscent students, but the thought of wrapping a present makes me cry. UNTIL THIS YEAR!
For the past year or so, I've been stocking up on all kinds of wrapping paper (proof here and here). Why would a wrapping paper simpleton stock up on wrapping paper? Well, I knew at some point I would have to face my fear. Brandon LOVES to have wrapped gifts; the thought of getting a present in a gift bag gives him the sads. One time I tried to give him his gift in a plastic Walgreen's bag. He didn't really care for it. I digress. After using Kraft paper for table runners at our wedding, and using wrapping paper to line the envelopes of our wedding invites, I got hit by a wrapping paper hoarding bug. I've used the wrapping paper to create easy table runners, but this year I decided to face my wrapping paper fears.
I was inspired by this photo by A Pair and A Spare, so after work on Thursday I came home and got busy. I ended up watching several tutorials on YouTube, and I preferred this tutorial.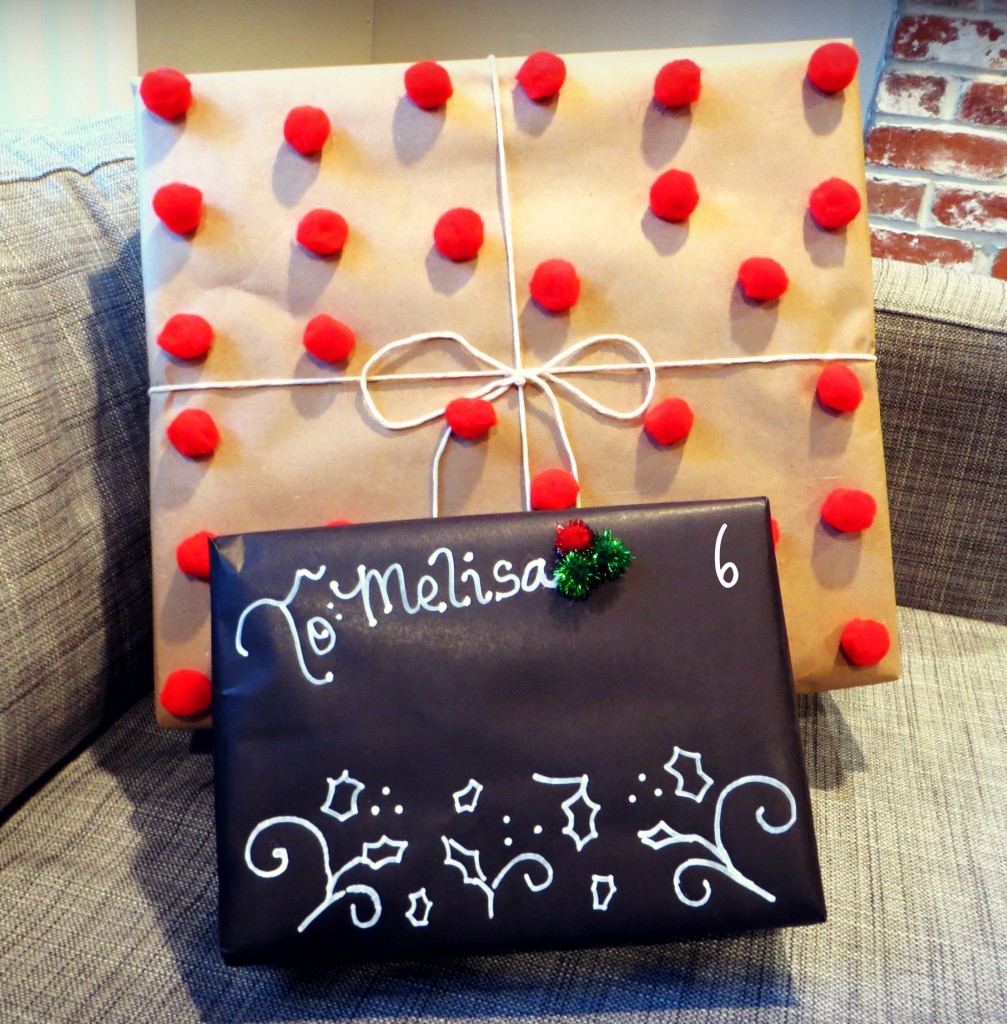 Here are a few things you can try:
Use glitter wrapping paper and add some bows. I picked up the bows for $0.80 at Michael's. I'm sure these things will be marked down even more after Christmas. I plan to go back and stock up on these cute bows.
Use postal shipping paper and add some butcher's twine. I purchased the wrapping paper at Marshall's, and then I added Avery labels to the center of each polka dot.
Use postal shipping paper, arrange some straws in a circular shape, and add some fuzzy pom poms in the center.I accidentally punched a hole in the center of the paper, sooooo the straws were a last minute fixer-upper.
Use wrapping paper, wrap with burlap twine, and glue a pom pom in the center. I purchased the wrapping paper at Target, and the glittery pom poms were a Wal-Mart purchase (3 years ago) for a 2nd grade class project. I'm pretty sure Wal-Mart stocks these glitter poms every holiday season.
Use postal shipping paper (see the pattern?), butcher's twine, and arrange pom poms on the package. I got the idea from this tutorial.
Use black wrapping paper and stencil patterns with a white chalk marker (or you can freehand your drawings). I added some glitter poms, too.
Materials* I used:
Scissors
Invisble Scotch tape (I prefer using this lil' gadget)
Double-sided tape
Various wrapping paper (I love buying paper at Cost Plus, Home Goods, and Paper Source. However, this year my go to is plain ol' Scotch postal wrapping paper)
Round Avery labels (I used red and white)
Hot glue gun
Black butcher paper
You'll have to let me know if you have any other tips or ideas. Like I've already mentioned, I'm no pro. Half of these ideas were spawned from my goofy mistakes, and I had to find a way to mask the errors of my wrapping ways!
Happy wrapping!
*Affiliate links used
5 Responses to 6 DIY Holiday Wrapping Ideas