I'm not going to lie. This whole Modest Style Challenge thing has made it very easy for me to get dressed in the mornings. I pretty much have idea what I'm going to wear, and it saves me a few minutes every day.
A blogger term that sprung forth from the depths of the blogosphere a few years ago was "remix". Let's be honest with ourselves. The bulk of us have items in our closets that we wear often. The term "remix" was birthed from the idea that we should wear what we already have in our closets. Don't go out and buy new things. Instead, try to figure out new ways to wear the items you already own. Even though the term "remix" is kinda' sorta' played out, the idea of wearing items that you already own in a variety of different ways will never go out of style.
Two weeks ago I wore this Bobeau maxi skirt, and for today's portion of the style challenge I suggested that ladies simply remix, or wear, the same maxi skirt from two weeks ago (in a different way).
Here's a quick story about the infinity scarf I'm wearing: Brandon purchased a new sewing machine for me as one of my Christmas presents. I took a sewing class year, but I didn't really get the side-by-side attention I needed. I've had a several yards of fabric lying around our spare bedroom, and on a Saturday evening two weekends ago, Brandon encouraged me to unwrap my new sewing machine. I followed a YouTube video that showed me how to make a pencil skirt, and I ended up messing up TERRIBLY. I simply took the ends of the fabric, sewed them together, and ta-da! I had a scarf. Brandon didn't let me give up that easily, though. Twenty minutes later he had me measuring, cutting, and sewing–together we actually MADE a pencil skirt for me out of the same fabric you see wrapped around my neck. I haven't worn it in public yet, but it makes me laugh. Brandon measured me, cut out the fabric, and guided me as I sewed the skirt. HAAAAA! My own husband who has never touched a sewing machined basically taught me how to sew my first skirt.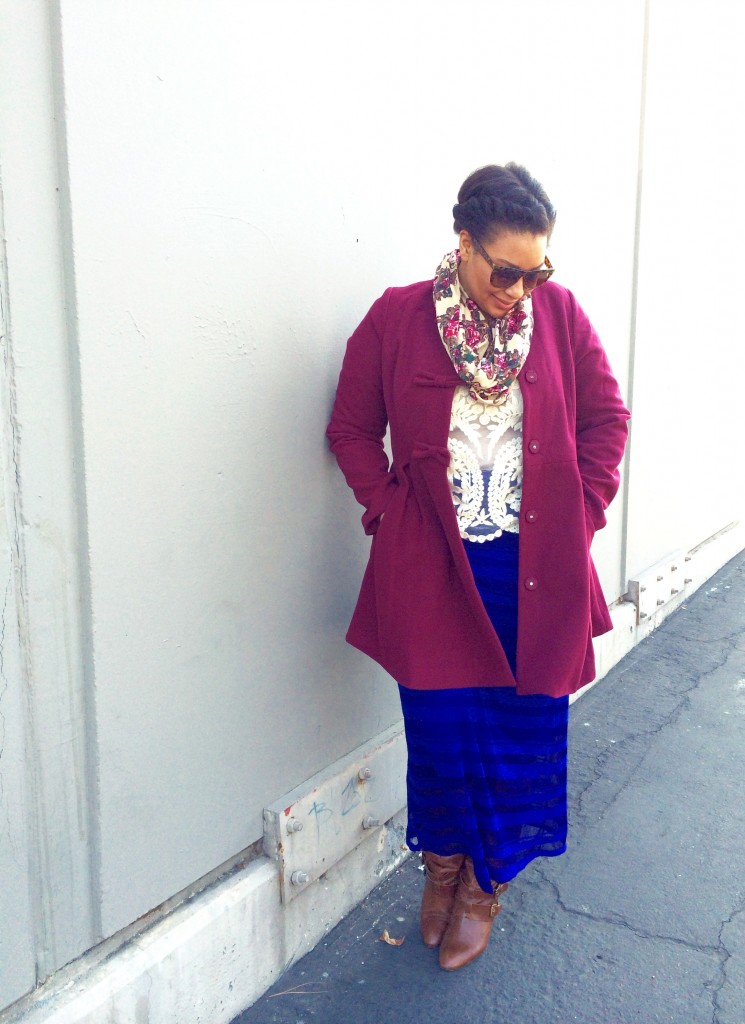 Wearing: ModCloth coat, shirt from eBay, Bobeau Maxi Skirt, handmade scarf, Steve Madden Morgen boots (similar)
9 Responses to Modest Style Inspiration: Maxi Skirt