Here's my Sunday night outfit; this top is from J. Crew Factory Outlet. Now that we've got that out of the way, let's talk about J. Crew's factory outlet merchandise.
Do you shop at J. Crew and/or J. Crew Factory Outlet? I remember buying a J. Crew coat while I was in high school, and I spent $125 on it when it went on sale; I still have it in my closet. While I was in college I thought I'd save some money and buy a few shirts at the factory outlet store. Boy, was I wrong! I didn't save any money–I wasted it! After two washes those 3/4 length cotton tees were done for. It was then that I realized that many outlet stores sell poorer quality clothing and jack up the prices.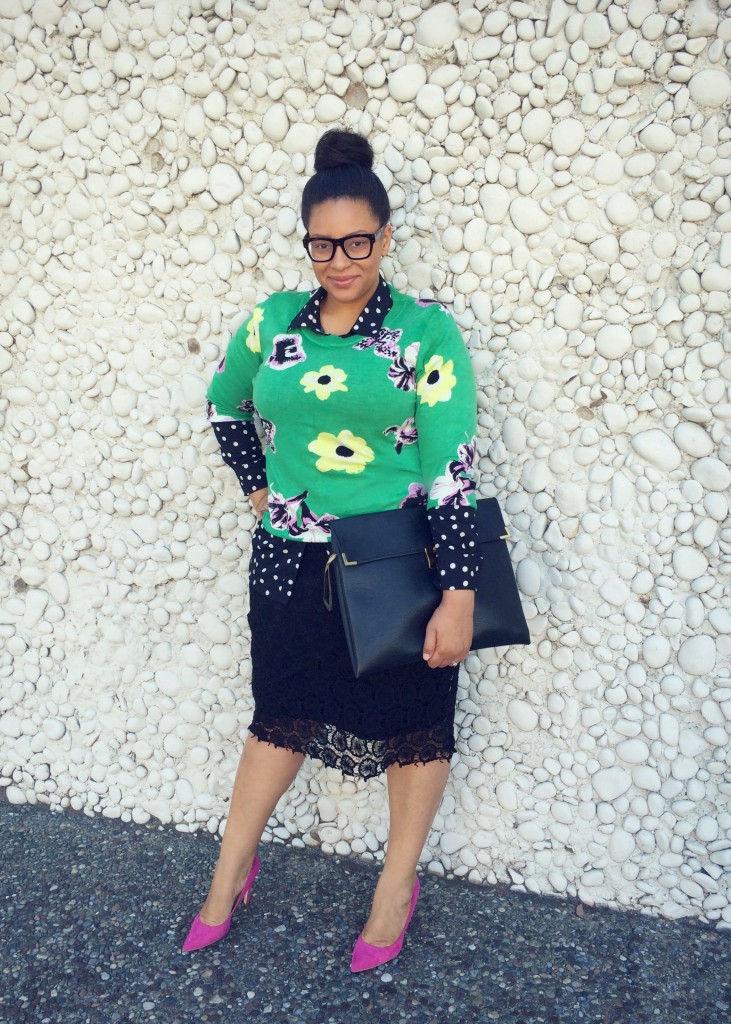 Over the years I've found some pros and cons with shopping at one of J. Crew's factory stores:
Pros:
You can buy items similar to regular J. Crew products at a slightly cheaper price. I really like the fun and playful prints J. Crew Factory offers. I bought the top I'm wearing when it was marked down to about $20. I've only worn it twice and so far it's doing alright.
J. Crew Factory has new markdowns weekly; you can take advantage of sales both in-store and online.
Number 2 leads me to number 3. Most outlets are brick and mortar stores and you have to physically visit them. I tend to do all of my J. Crew Factory shopping online. It's convenient!
The 15% teacher/college student discount that can be used at J. Crew stores can also be used at Factory stores.
Cons
QUALITY. You can actually FEEL the difference between any J. Crew and J. Crew Factory item. I didn't believe it until I tried it myself–especially with the shoes. I have a pair of J. Crew flats and a pair of Factory flats and the difference is totally obvious. The same thing with my sweaters and blouses.
Expensive price for the quality. I'm not going to sit here and pretend that my closet is filled with nothing but quality clothes because its not. I shop every where. However, I just cannot drop $85 on an acrylic sweater.
Some tips:
If you want the higher quality product but can't shell out the cash, shop on eBay or Poshmark.
When shopping on eBay or Poshmark, make sure the seller lists the materials. Factory items tend to be made of acrylic and other cheaper materials.
Make sure the seller shows the label of the item. There are SO many eBay/Poshmark sellers that try to get the best of buyers. They'll post an item as "J. Crew" when it's actually a Factory item. Why do they do this? They want to make more money! If a seller doesn't show a label, or they refuse to, beware. J. Crew Factory labels have two dots (see this post from J. Crew Aficionada).
Wearing*: J. Crew Factory Charley Sweater (similar here, here), Target polka dot blouse (sold online, check in store! Look at these other polka tops here, here, and here.), MikaRose skirt, and Ivanka Trump Carra pumps ($55 and only a size 8 left!)
I posted this outfit on Facebook (Friday) and the blouse can be found here. Oh! I'm also wearing Factory Emery flats. I cannot believe how well these  things have held up. I bought them last summer and have worn them at LEAST three to four times a week. I bought them when they dropped to $30 and I'm hoping the price drops again soon. I also have them in black!
*affiliate links were used in this blog post
17 Responses to Sunday Best: Let's Talk About J. Crew Factory