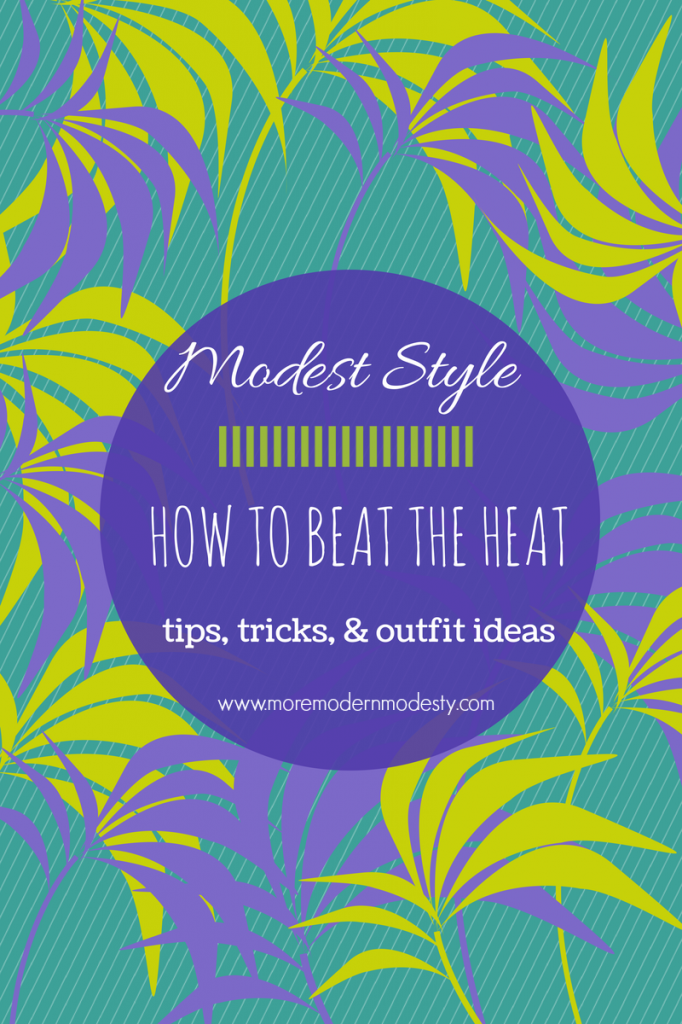 After getting married
(wow, nearly two years ago!), I moved from Central California to Northern California. I left
dry, hot summers
 for
breezy, cool San Francisco Bay Area temperatures
. Summers in Delano meant sweat, sweat, and more sweat, and unlike my friends, I couldn't/didn't wear sleeveless tank tops and shorts.
I played the flute from 3rd-12th grade, and once I got to high school my summers were devoted to band camp. We spent half the day in the blazing sun, and when I wasn't marching and playing my flute, I was fielding questions about my attire. "Aren't you hot in that dress?!" "How can you wear those sleeves in the heat?" "I can't believe you won't even give in to wear shorts!" "Doesn't that skirt make you hotter?"  The odd thing was that while they were marching around in their shorts/tanks, I was somehow able to stay cooler in my 3/4 sleeved calf-length cotton dress. I had somehow learned to beat the heat!
My tricks were simple and were passed on to me by my all knowing mother. I reached out to Facebook, and I received even more tips and suggestions about what to wear and what to use to beat the heat. Check them out below!
>> 
I can't stress
this
enough! Cotton, linen, rayon, silk, seersucker, jersey knit, and chambray are all lightweight fabrics. Chambray might be too heavy for humid climates, and linen will wrinkle if you blink at it. However, you can't go wrong with cotton or jersey knit. I've found jersey knit to be perfect for traveling as well. While denim might be way too hot for the day time, if you live in a place with cooler evening temperatures, a denim jacket or
top
is a great topper for a short sleeve dress. Check out these skirts, dresses, and tops:
maxi skirt
,
tank dress
,
knit kimono dress
,
smocked t-shirt
,
cotton top 
 >> 
If you happen to need to coverup underneath a dress or blouse, opt for a thin cotton tank top.
Seamless tank tops
 and
100% cotton tank
s are also great choices! "Here in Georgia I wear anything 100% cotton with a 100% cotton tank. Not to be gross, but the tank soaks up most of the sweat."–Bambie. I couldn't have said it better myself, Bambie! Alyssa also pointed out that nursing mothers can find
maternity tank tops at Target
; they are stretchy, hold their original shape after washing, and you can wear them when you stop breastfeeding.
>> 
Dresses in the right fabric, hem length, neck length, and arm length can be VERY difficult to find; once you find one, you better hold on to it forever! I have seven and eight year old cotton and jersey dresses that I found at Macy's that I cannot even think about parting with. Dresses make getting dressed easy. They require little to no layering and they are great for summer traveling. Here are a few modest dresses:
Downeast Basics
MikaRose
Kimono Style Dress
3/4 Length Sleeve Dress
>> 
If  you own sleeveless dresses and tank tops, a good way to cover up without bringing on the heat is to opt for sheer kimonos, cardigans, tunics, and coverups. Buttonless kimonos and coverups allow air to flow through the garment while keeping you covered. Try these sheer tops:
Kimonos
Tunics
Blouses
>>
Yes, wear the deodorant of your choice under your arms, but you can also apply it in more private areas (i.e. between the thighs, between cleavage, on your back, etc.). Why? Well, per Facebook user Elle,"Strategically [swiping] men's deodorant eliminates the effects of chub rub". Chub rub = chafing due to thighs rubbing together while wearing skirts and dresses.
Read more here
 about how to keep your thighs from chafing in hot weather. Products to try:
Feminine Deodorant Sprays
Anti-Monkey Butt Powder
(ha!)
If you have any more suggestions, tips, or tricks, be sure to leave me a comment. Tomorrow I'll have some outfit ideas from AshLee (Floridian) and Brittany (Texan).
4 Responses to How to Wear Modest Clothing During the Summer