As I've gotten older I've realized that it's definitely okay to bypass trends. There is absolutely no need to spend money on trendy items just because. One trend that I've tried stayed away from is neon (with the exception of this outfit); I'm not opposed to neon, but I'm definitely scared of it. I've seen many people pull it off well, and that's probably because they are 100% confident in their neon!
I said all of that to say this: I decided to try neon shoes. I initially wanted the
fuchsia
 or
mint color
, but those colors were sold out in my size at the time. They've since restocked, and since I love my bright yellow heels, I think the fuchsia pair needs to join their shoe sibling in my closet.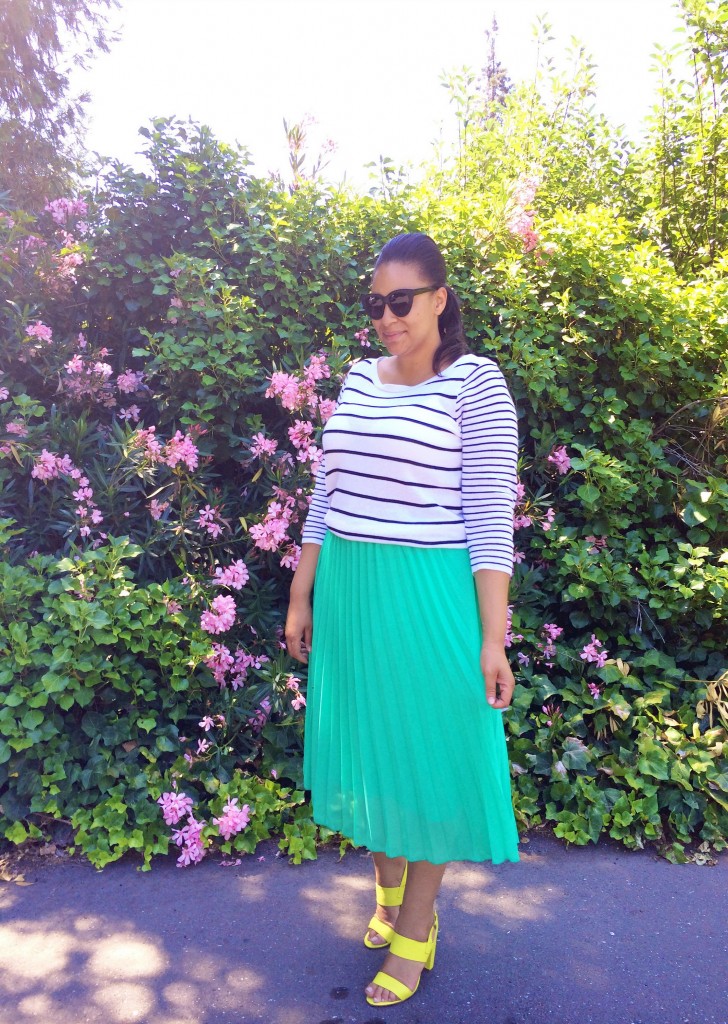 When school starts, I'll definitely be wearing this outfit again. The shoes I wear will be totally teacher friendly (black flats, ho-hum) because I definitely can't see myself parading around a class room for eight hours in these neon heels.
Also, stripes! This top will be so handy in the fall and winter months. I can layer it with a chambray top, a black blazer, under a dress, under a vest…the possibilities are endless! I last wore it with a floral skirt.
Oh, one more thing…I started my swim lessons last Saturday. I can now float, breathe through my nose, and use a kick board. YES!
4 Responses to Modest Style Challenge: Day 2 Stripes (With Neon)