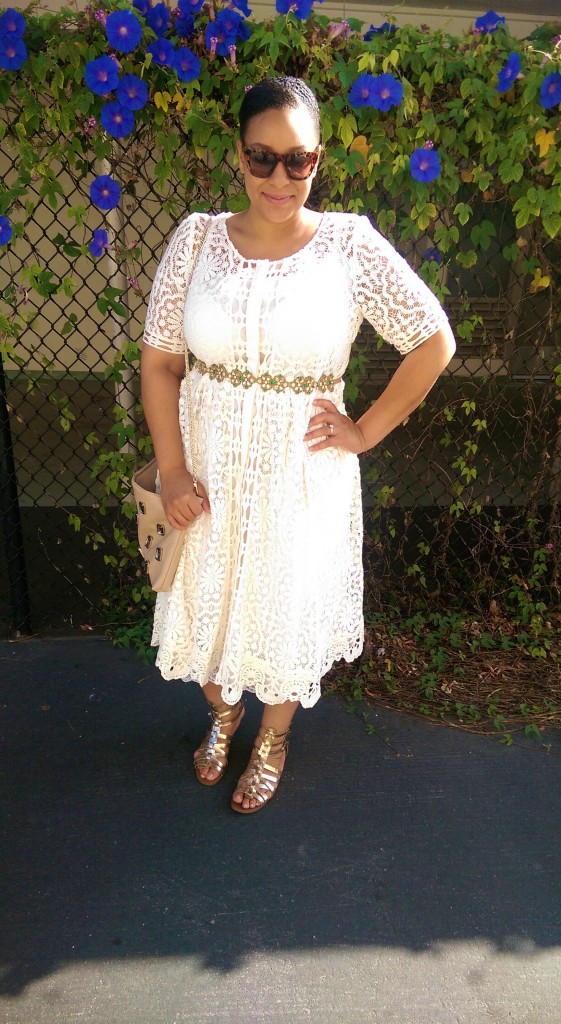 If you've read this blog for any length of time, you know that I'm head over heels for
My mom and sister spent a couple of days with us, and we had a great time. My sister and I can still finish each other's sentences, and my husband looked at me with wide eyes when my sister and I would sing every part of a Disney song (instruments included) in unison.
We spent some time together before they went home, and I decided to wear my ASOS lace dress. It went on sale over a month ago, so I nabbed it while I could. It's available in their
regular
and
CURVE line
s, and when I went back to their site the
regular sized dress
is not on sale, but the
CURVE sized dress is
.
It has tiny snap buttons from the neckline to the hem, and it took me about 45 seconds to a minute to snap 'em all closed. When I wore
this dress
to church a few weeks ago I wore a white tank top underneath the cotton slip dress that comes attached to the dress; I kept trying to figure out why the dress "looked different" this time around, and I finally realized that this time around I wore it without the tank top.
ASOS has a variety of lace dresses; if the slip underneath the dress is too short, you can always cut it out and wear your own  matching longer slip underneath (I do this often).
I'm wearing ASOS's premium lace dress (CURVE version on sale), an Anthropologie belt (similar), a purse I bought in Portugal last year, and Breckelle's gladiator sandals (similar style in silver).
7 Responses to Summer Dress: ASOS Lace Dress