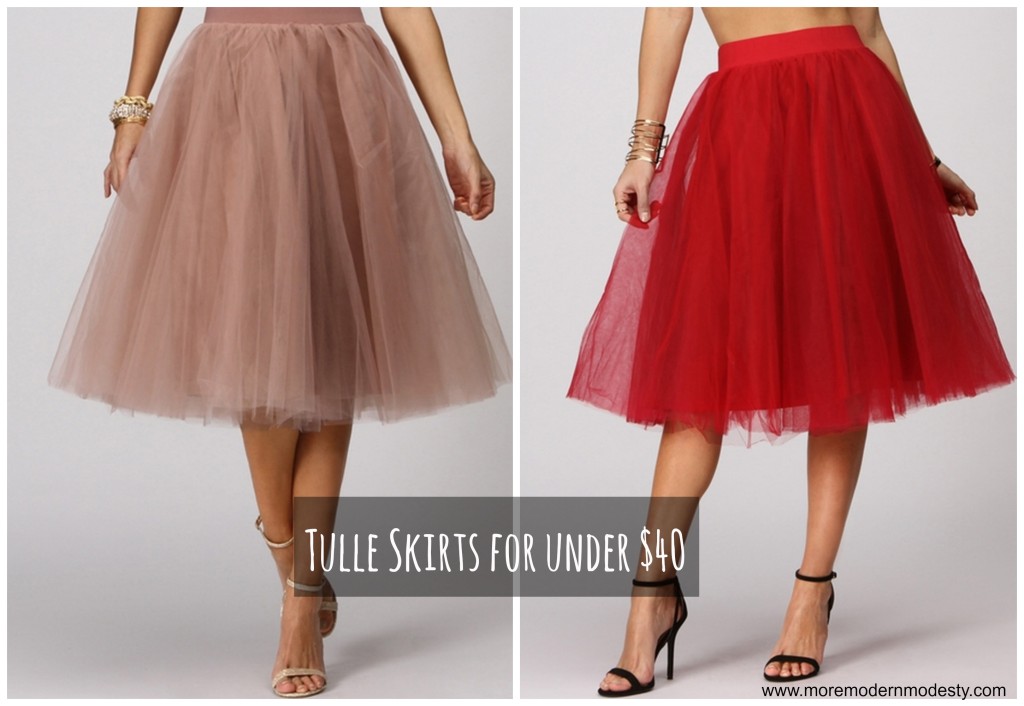 I've already mentioned a few times that tulle skirts were one of those things I've been iffy about wearing. As I approach my 30th birthday (eeeeek! It's less than a month away!), I'm becoming even 
more
aware of age appropriate clothing choices. I always wonder if
tulle skirts
are 
right
for me, and then I get on Pinterest and see so many gorgeous tulle skirts, and I fall in love with them all over again. Then it's like, "Forget about age appropriateness!"
While shopping at some outlet stores with my mother yesterday, we found several gorgeous tulle skirts! My sister recently got engaged, and my mom and I wondered if she would be interested in wearing a tulle skirt for her bridal shower or rehearsal dinner. My sister is a no frills kind of girl, so I was pretty sure that she'd say no. To my surprise she thought the skirts were cute! Her positive response encouraged me to nab a couple of those tulle skirts for myself.
If tulle skirts are your thing, you can find these super affordable tulle skirts on
Windsor
. They are $35, and they come in several colors. The store had every color and had sizes up to XL. The website has most of the colors, but some of the sizes are sold out. There's a
mid-length option here
, and a
maxi tulle skirt here
. You can use code winterwelcome2014 for 10% off your order (I found it on
RetailMeNot
).
This year I wore tulle skirts a couple of times (here and here), and the style widget below has a few other tulle skirt options from various online retailers. The skirts featured below may or may not be under $40.
2 Responses to Tulle Skirts for Under $40