New Year's Eve is two days away, so if you're in need of some modest New Year's Eve outfit inspiration, I hope I can help you! I decided to not fall prey to the idea that New Year's Eve means a new outfit; I'm planning on shopping my closet, and if you're not interested in accumulating more things, you can shop your closet, too.
Over the years I've used Google to search for modest New Year's Eve outfits, and every year I end up frustrated with the choices that end up in my results. I figured it was about time to feature some modest New Year's Eve outfits that don't rely on dresses that are still too short, pants, cleavage baring tops, and excessive amounts of jewelry.
These modest New Year's Eve outfits are built around wardrobe staples: black skirts and black shoes. There's no denying that a black skirt and a pair of black shoes are necessary in one's closet. Over the years I've found that my most favorite outfits were born out of frustration; I had an outfit in mind, it didn't work, and so I ended up relying on one of my black skirts to build an outfit.
The Outfit:
The Details:
This isn't your typical New Year's Eve outfit because it lacks sequins and some glitzy accessories. Most people will suggest that you have to be dripping in sequins and sparkle for New Year's Eve outfit, but as much as it pains me to say it, that's not true. I'm the owner of several sequin skirts and dresses, but even I know that sequins aren't the most comfortable fabric to wear and not everyone loves sequins. If being comfortable is more your style, or if you're not going out for a fancy night, pair your black skirt with a long sleeved top, a vibrant scarf, and the flats of your choice. If you have a metallic belt, you can add it to this recipe.
Other Top Options: chambray (worn under striped shirt or solo), plaid, or cardigan (over top or solo)
Other Shoe Options: pumps, oxford flats, wedge heels
The Outfit: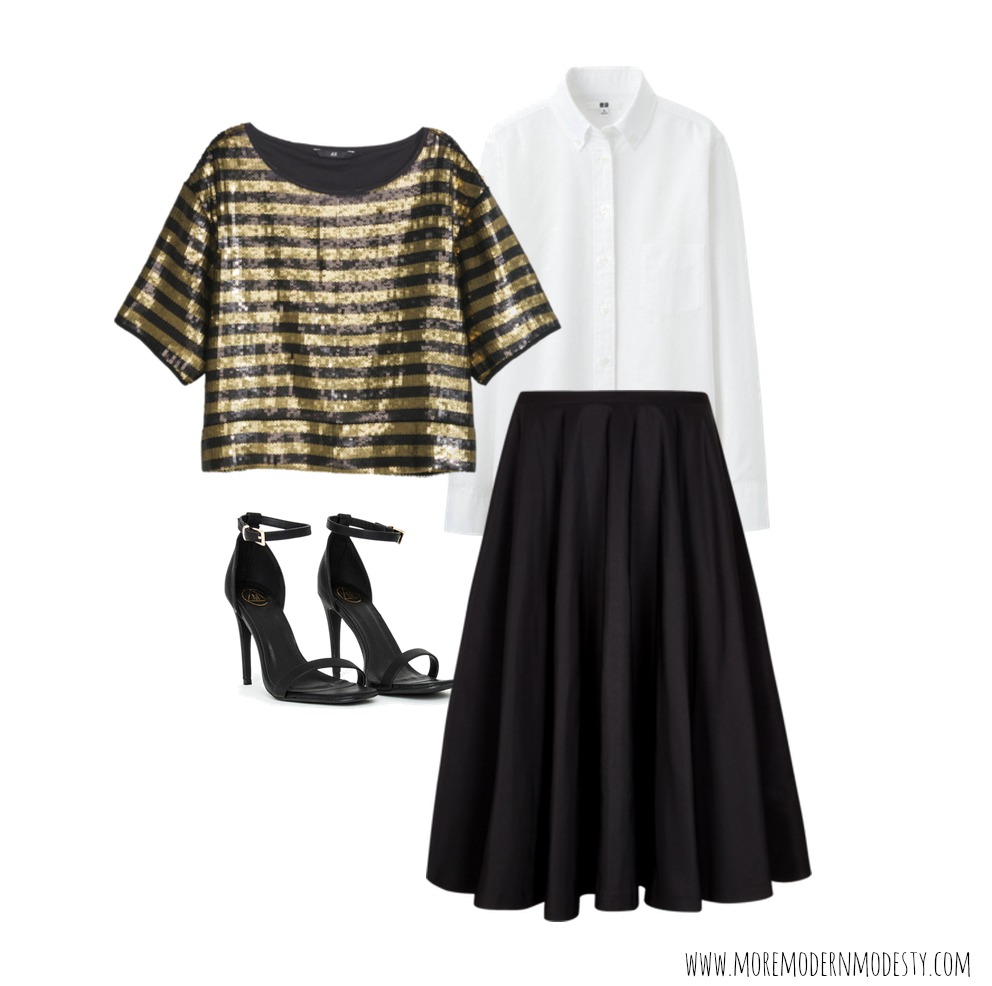 The Details:
If the thought of not wearing sequins on New Year's Eve scares you, you can wear a sequin top with a full midi skirt.
In the past I've purchased too short sequin dresses and worn them as tops; I just pull the dress underneath the skirt to make it look like a top. I don't tend to do this with form fitting skirts because then the dress might bunch up and look odd.
A reader sent me a message about loving sequins, but she hated how itchy they made her arms feels. If straight sequin to skin contact irritates you, you can opt to wear a structured long sleeve collared shirt underneath a loose sequin top.
Other Top Options: any color collard shirt or a sweater
Other Shoe Options: flats or wedge heels
The Outfit: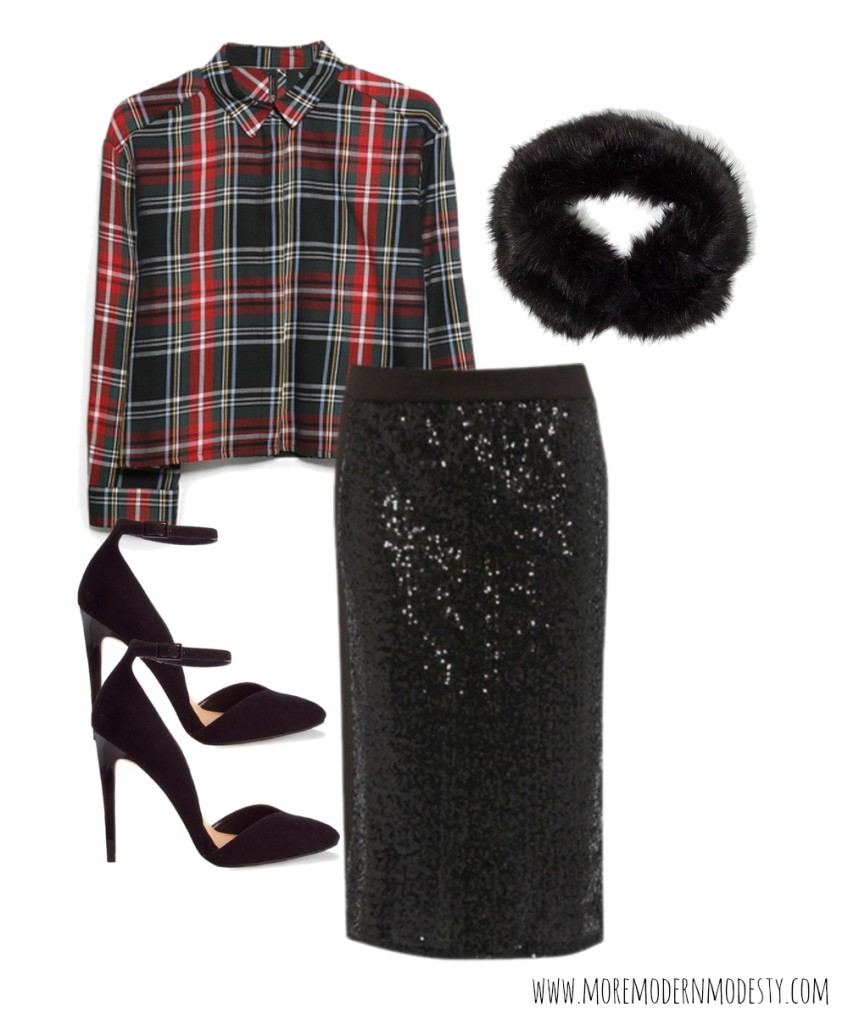 The Details:
 I always giggle to myself when I mesh the words modest and sequins in one sentence because sequins are all kinds of flashy. Nevertheless, modest sequin skirts have been all the rage over the past two to three years. Most sequins skirts aren't budget friendly, but I've scored some great looking (and affordable) sequin skirts from sites like Dorothy Perkins, River Island, and ASOS.
It's easy to wear sequins with more sequins, but after wearing a plaid top with my sequin skirt (read here), I pretty much fell in love with the idea of wearing something that's not over the top with a sequin skirt.
Other Top Options: plaid, gingham, chambray, or denim shirt; a blazer
Other Shoe Options: wedge heels or booties
The Outfit: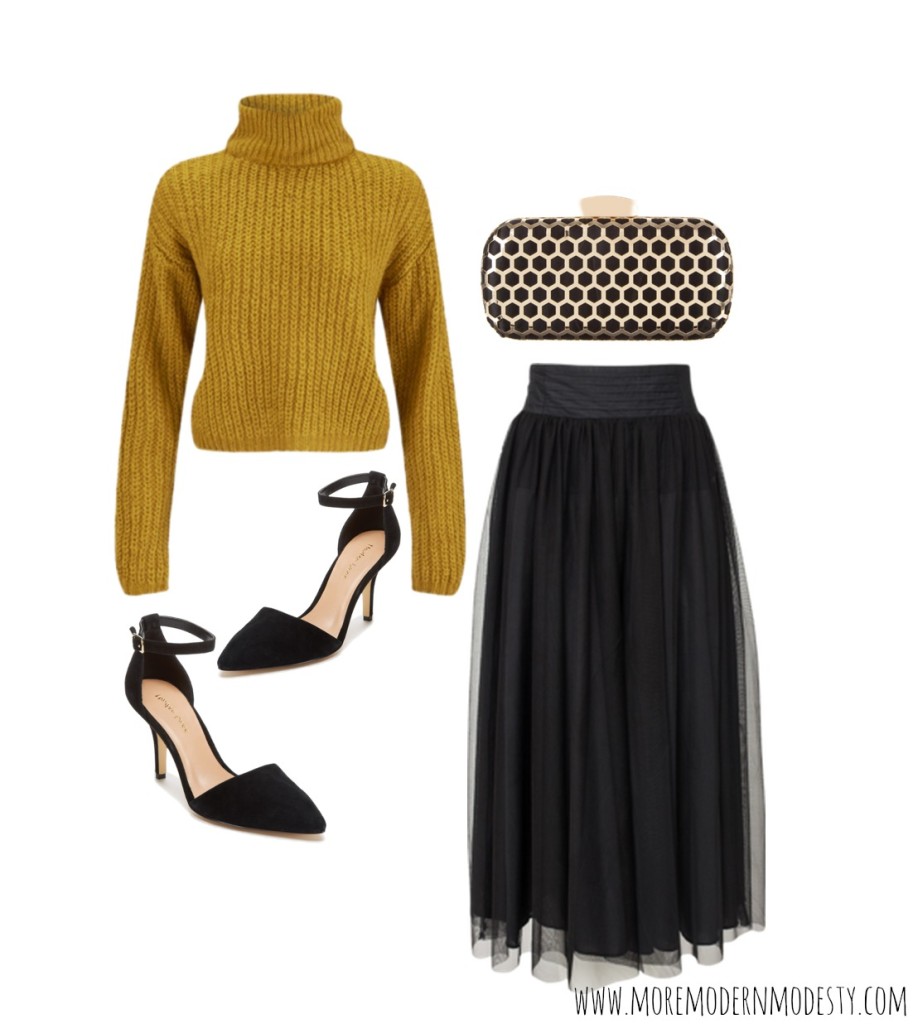 The Details: 
Like sequin skirts, tulle skirts are also very popular. If you have a tulle skirt in your possession, consider wearing it with one of your comfy sweaters.
Other Top Options: printed sweater or a cardigan
Other Shoe Options: flats or open toe sandal
The Outfit:
The Details:
When in doubt, wear all black. I'm thinking of wearing my black turtleneck and leather skirt on New Year's Eve, so this all black outfit idea has definitely been on my mind.
Other Top Options: a blazer, a long knit cardigan, a sweatshirt, a crossover wrap blouse
Other Shoe Options: booties, flats, wedges, or pumps
If you have other suggestions for modest New Year's Eve outfits, please send them my way!
13 Responses to Modest New Year's Eve Outfits