Modest Beauty
You know what I've been doing in my spare time? If you guessed planning a 10 year class reunion, then you are absolutely correct!
I was elected president of my senior class and I have the great honor of planning our class reunion. SIGH.
My friend Suzanne (vice-president!) and I have been texting, emailing, calling, and fundraising for the past several months.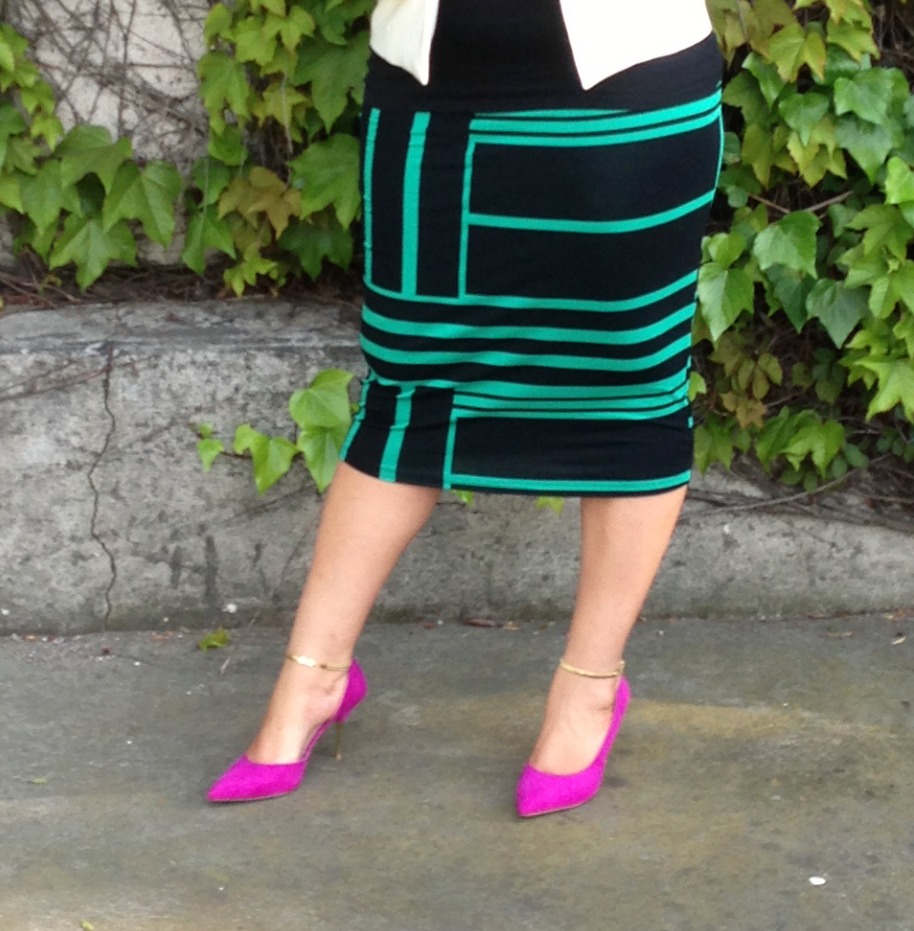 There's so much work going into this shindig that I really feel like I need to add this task to my LinkedIn profile; it's like a part time job!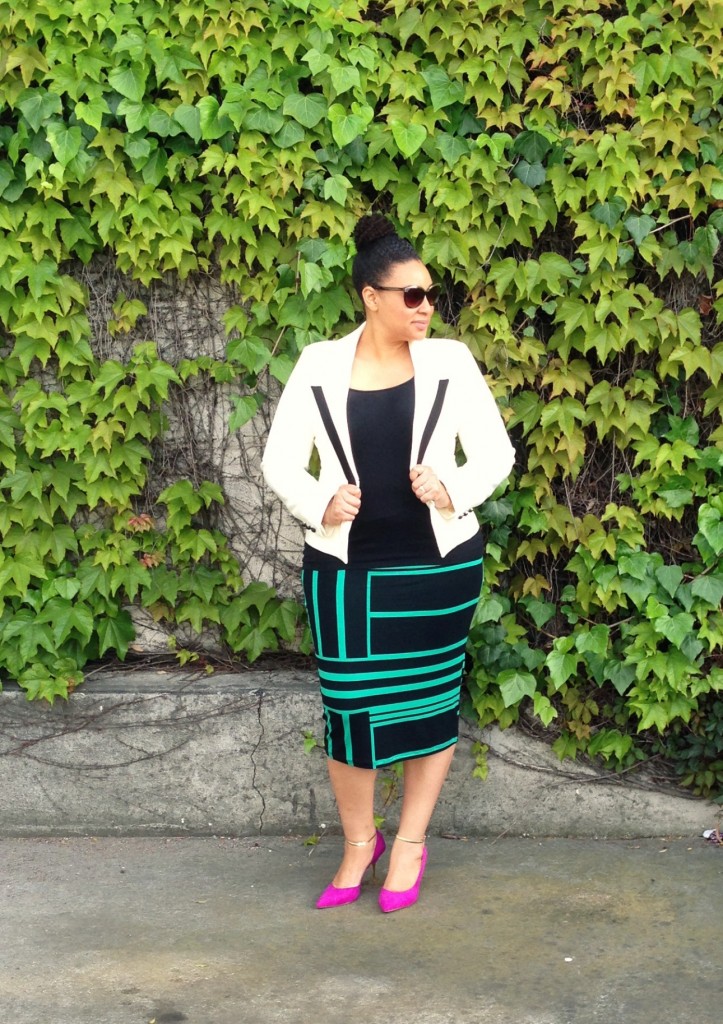 This skirt is another one of my ASOS  purchases. I love the comfy jersey knit material and he comfortable elastic waist band; the fact that the skirt falls a good 2 inches below the knee ain't bad either!
I've got Instagram set up for the blog and I've had  several ladies tag their photos with the hashtag #momomod. I figured it was about time to share a few of those photos in a blog post. (Some of these I found using the hashtag #sundaybest.)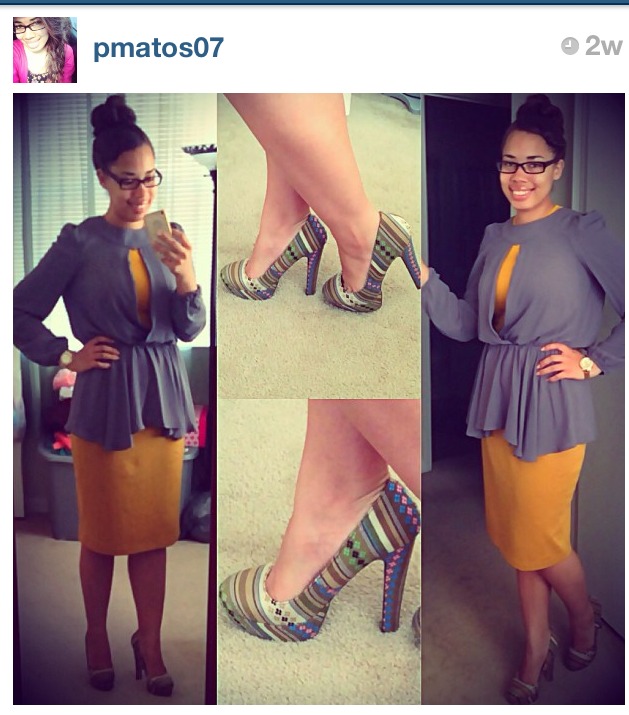 I like how @pmatos07 took a potentially cleavage baring top and wore it over a sleeveless dress; she killed two birds with one stone. Nice.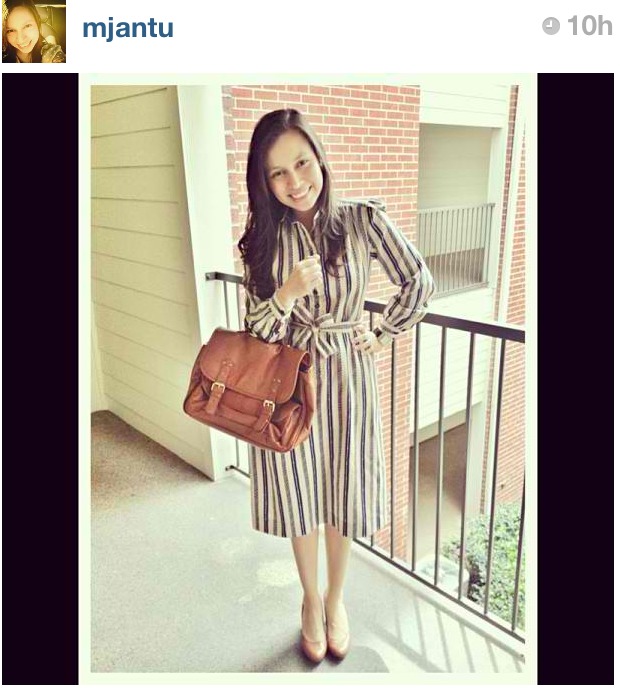 I just love how comfortable @mjantu looks! The stripes are flattering and her shoes and purse complement the dress perfectly.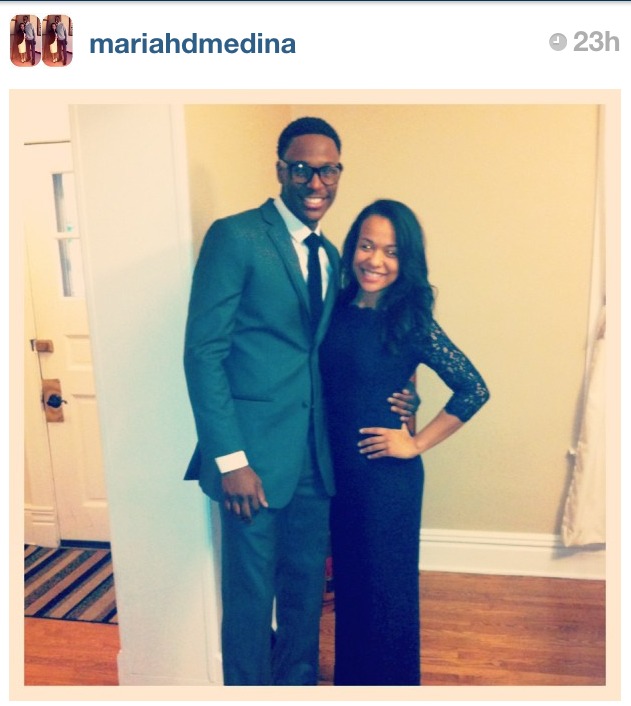 @mariahmedina is a senior and this weekend she went to prom! I'm a fan of lace and this black lace column dress seems to be the perfect choice for prom.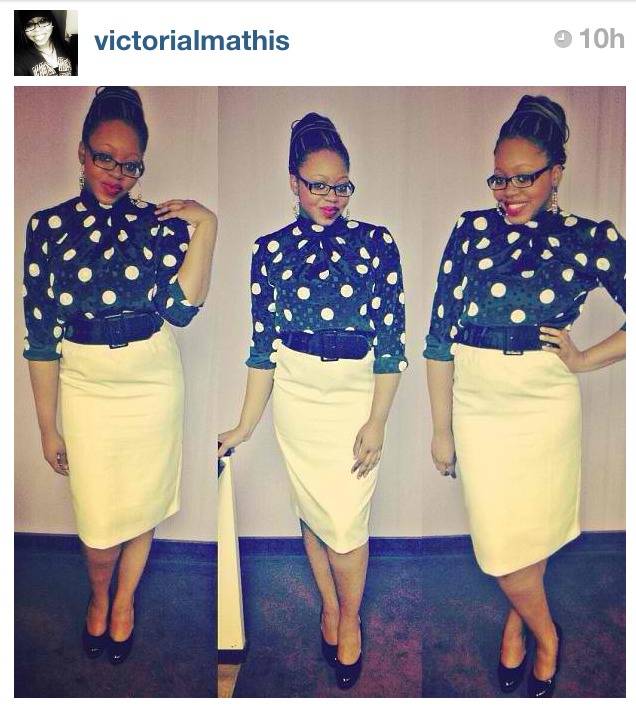 That blouse! @victorialmathis' style is definitely one that I plan to imitate and soon!
Sisters @trishcontreras and @robertacontreras are pictured here with a friend; I just had to show off three ways to wear stripes!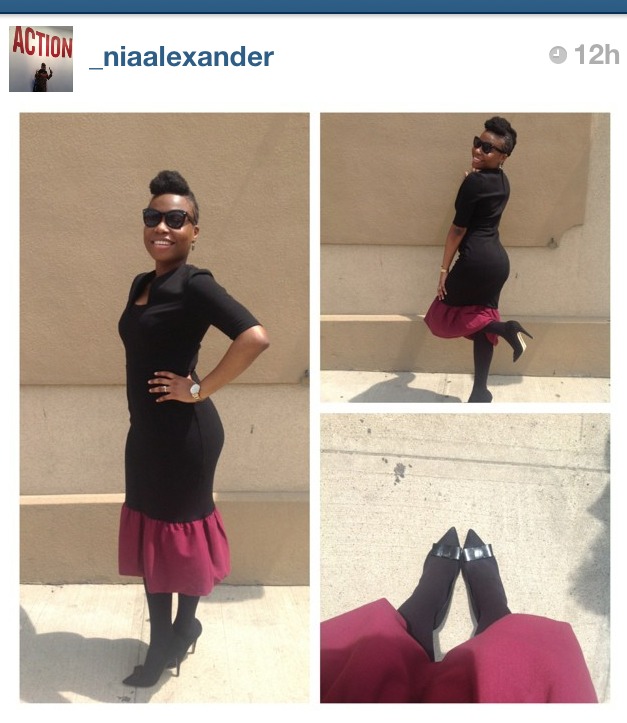 I'm not sure if @_niaalexander added the maroon portion of her dress or not, but can we agree that she looks all kinds of awesome?!
Thanks for sharing your photos with me, ladies!

So, before I begin this hair tutorial, let me just say……..I didn't know I was making the same face the ENTIRE time. Sheesh! Now that that's off my chest, it's good to be back! When Chandra asked that I post a hair tutorial for Valentine's Day, I begin to think of what I would want to see. Valentine's is romantic. Fun. Lovely. Sigh. So, here we go!
I began with hair/curls from the previous day. I definitely recommend starting with volume in your hair.
So whatever you need to do, blow dry, wavy curls, etc. If you're hair is curly already, you're all set! 

Since my hair does not have a natural wave, I curled my "bangs".
My hair is not cut, so I just curled the shortest pieces of my hair in front.
I then secure my hair in a ponytail, leaves out the pieces that I just curled.
I personally think  leaving it there is pretty, but I'm not quite finished!
I take my ponytail and twist it up into a side bun.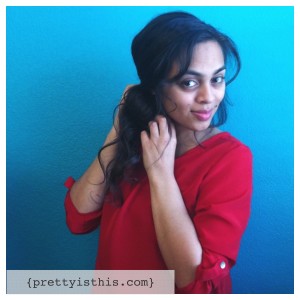 Pull, twist, and secure, and you're done!
Now you have a soft and romantic updo for your Valentine's evening out!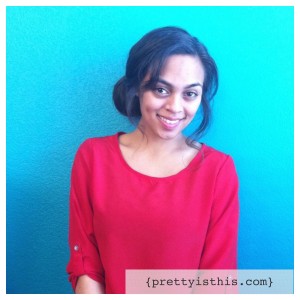 Oh, and you can add a cute headband too!
I added my pearl headband, because in mind, pearls are of ultimate romance. Teehee!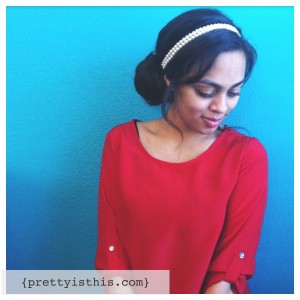 Happy Wednesday, and have a lovely Valentine's Day tomorrow!!
If you have any questions, leave them in the comments.
 Stefanie
My blog: Pretty Is This

Instagram: @prettyisthis
It's been awhile since I've featured a modest beauty here on the blog, but I'm happy to feature the ever so lovely Typhanie Stewart today. Modest Beauty posts are my favorite posts to share with all of you, because you're able to see the style and modest perspectives of other women. Typhanie blogs over at My Garments of Praise and was kind enough to answer some questions about modesty and her own personal style.
Where are you from? Where did you grow up? Where do you currently reside?
I was born in Jamaica and raised in South Florida where I currently reside.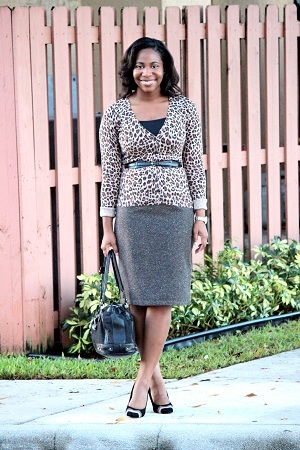 If you don't mind, can you tell the readers your relationship status? Do you currently have any children?
I don't mind at all! I'm married to a wonderful guy, Dwayne Stewart, and I'm proud! No little ones yet

You have a personal style blog called My Garments of Praise. Why did you choose this name? What meaning does it have to you?
The blog name "My Garments of Praise" was inspired by Isaiah 61:3, "…to give unto them…the garment of praise for the spirit of heaviness; that they might be called trees of righteousness, the planting of the Lord, that he might be glorified." In all that I do (even in getting dressed!), my desire is to do it with praise and joy, as unto the Lord.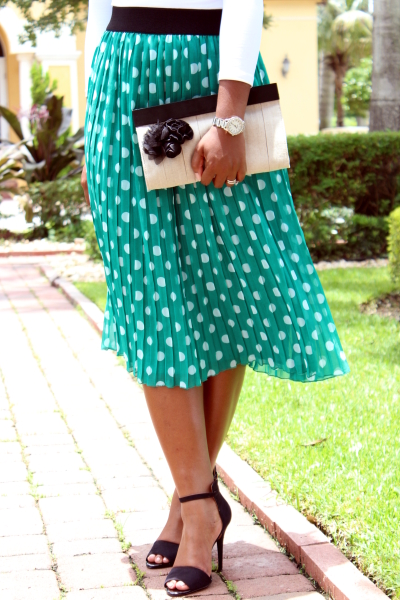 Why do you choose to dress modestly?
I choose to dress modestly simply because it just makes sense! It makes sense to respect my body and take pride in the way that I look. Also, since I consider myself an ambassador of Christ, I strive to represent Him well!
Is dressing modestly something you've struggled with? If so, how have you overcome this struggle?
Dressing modestly has not been a struggle for me. Ever since I made the decision to live for God, dressing modestly has been the least of my struggles. I'm not perfect — sometimes I do make mistakes by not making the most modest decisions when it comes to clothes, but my desire to be modest is always there. I try not to be too hard on myself when that happens and make a better choice next time.

What advice can you offer to women who would like to dress modestly but complain that there aren't enough modest garments?
My advice would be to stay focused. If you walk into a store and focus on the immodest clothing, you won't find what you're looking for. If you focus your attention on gorgeous tops with sleeves and dresses and skirts that cover your knees, you'll be amazed at how many you find in your everyday stores! There are so many modest styles out there right now.

Describe your style advice. What do you own a lot of? What will you never wear? What "fashion mistakes" have you committed?
I like simple, classic styles. I find that these types of clothing are timeless and hardly ever go out of trend.
I own A LOT of dresses and shoes. No, really… I have a problem. They say the first step is admitting it, but I've been stuck on the first step for a while now.
I will never wear anything I don't feel comfortable in. That goes for clothes, shoes, accessories… I've got to feel confident and comfy.
I find that I commit the most fashion mistakes when I try to be too "trendy". Simple, classic looks really help me to avoid looking back at myself and saying, "What in the world was I thinking?!"

Do you have any personal style goals this year?
I really want to work hard at restyling items I already have. It's so easy for me to want to buy three pairs of shoes for one skirt, even when I already have several pairs of shoes that will go nicely with it already. I also want to wear more color and bolder prints.
When traveling what three items do you always pack?
I always pack a black skirt, a fitted white tee, and a toothbrush of course!
Visit Typhanie's blog here. Next week Typhanie will begin contributing here on the blog!
Nominate someone (or yourself) for a Modest Beauty blog post.
Every once in awhile, when I'm feeling fancy, I do my hair like this. It is vintage inspired, just like my first hair tutorial on MoMoMod.
You are guaranteed  to get plenty of compliments and "how did you DO that?!" questions.

(My apologies for a couple of blurry pictures)
Items needed: Hairspray, hair ties, and a few bobby pins.
Step 1: Take the front section of your hair, and split that section in half.
Use hairspray to define strands and tame flyaways.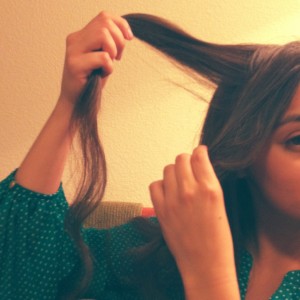 Step 2: Start at your ends, and roll up and inward.
Once you have rolled your strand all the way up, secure with bobby pins.
Tip: if you keep the pins hidden, it will look better in the end!
Step 3: Secure the rest of your hair into a ponytail, and twist into a bun
And you're done! Enjoy your vintage inspired do!

Happy Friday!
Follow my blog, Pretty Is This
My Facebook
My Twitter