Modest Lifestyle
I often get emails from readers with questions about how to find certain types of clothing or asking my opinions on a variety of things (mostly clothing choices); and until today I haven't featured those emails on the blog. Why? Mainly because I don't see myself as some all knowing clothing guru. I wear what I like and (95% of the time) I like what I wear. BUT!!! After some thought (okay, about 10 minutes of thought) I figured I'd post a reader question on the blog (with their permission) with my response. The nice thing about online communities is that readers can be participants and help, too! My purpose for adding this particular segment is two fold: 1. readers can see my answers to questions and 2. readers that ask questions can get more suggestions and tips from other blog readers. Read on:
Question: I have trouble finding modest plus size clothing that isn't a) frumpy or b) ugly. Can you help me find a few these items that are available on the internet? I tend to wear skirts and pants, so your help with either of these would be great. Thanks.-
Ingrid
Answer:  Hey Ingrid, thanks for reaching out to me. I can most definitely help you by providing you with a few links to websites that offer clothing in plus sizes (12+). I've had to purchase plus size skirts or dresses before and when the fit isn't just right (most of the time) I take the items to a tailor to get the clothing altered to fit my body. Here are a few options for you:
Lace Maxi Skirt
Buy here $30 sizes 1x-3x
NYDJ Emma Skirt
Buy here $27 sizes 0-18 variety of colors. I bought this skirt at Nordstrom Rack in a size 12 and the fit was perfect.
Jones New York Knit Skirt
Buy here $48 Sizes s-xl; per their Fit Guide an XL can fit a size 16-18
ASOS Curve Wiggle Dress
Buy here $37 sizes 16-22
Jen Clothing Sweater Dress
Buy here $65 sizes s-xxl
Forever 21 Watercolor Floral Blouse
Buy here $23 sizes XL-3x
Forever 21 Belted Chiffon Tunic Top
Buy here $25 sizes XL-3x available in 2 colors
These are just a few items that I found, but I'll leave some links to places that offer clothing in sizes 12+.
Target (They often have clothing not featured in the store)
A Light (Seems to be hit or miss; some things are overly trendy, but there are one or two diamonds in the rough)
Do you have any other suggestions for Ingrid? Leave your suggestions in the comments! Want to ask me a question? Use this comment form.
It's been awhile since I've featured a modest beauty here on the blog, but I'm happy to feature the ever so lovely Typhanie Stewart today. Modest Beauty posts are my favorite posts to share with all of you, because you're able to see the style and modest perspectives of other women. Typhanie blogs over at My Garments of Praise and was kind enough to answer some questions about modesty and her own personal style.
Where are you from? Where did you grow up? Where do you currently reside?
I was born in Jamaica and raised in South Florida where I currently reside.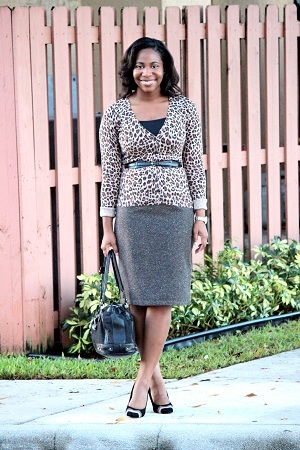 If you don't mind, can you tell the readers your relationship status? Do you currently have any children?
I don't mind at all! I'm married to a wonderful guy, Dwayne Stewart, and I'm proud! No little ones yet

You have a personal style blog called My Garments of Praise. Why did you choose this name? What meaning does it have to you?
The blog name "My Garments of Praise" was inspired by Isaiah 61:3, "…to give unto them…the garment of praise for the spirit of heaviness; that they might be called trees of righteousness, the planting of the Lord, that he might be glorified." In all that I do (even in getting dressed!), my desire is to do it with praise and joy, as unto the Lord.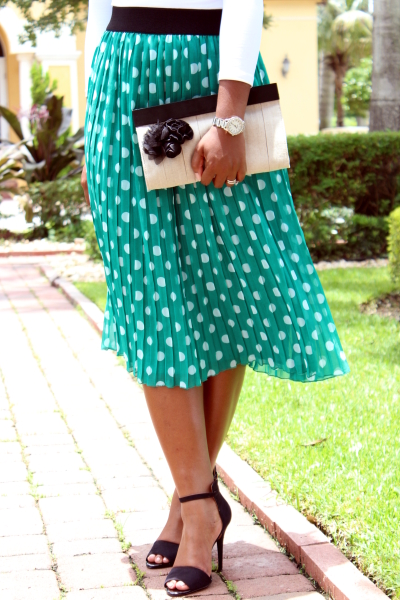 Why do you choose to dress modestly?
I choose to dress modestly simply because it just makes sense! It makes sense to respect my body and take pride in the way that I look. Also, since I consider myself an ambassador of Christ, I strive to represent Him well!
Is dressing modestly something you've struggled with? If so, how have you overcome this struggle?
Dressing modestly has not been a struggle for me. Ever since I made the decision to live for God, dressing modestly has been the least of my struggles. I'm not perfect — sometimes I do make mistakes by not making the most modest decisions when it comes to clothes, but my desire to be modest is always there. I try not to be too hard on myself when that happens and make a better choice next time.

What advice can you offer to women who would like to dress modestly but complain that there aren't enough modest garments?
My advice would be to stay focused. If you walk into a store and focus on the immodest clothing, you won't find what you're looking for. If you focus your attention on gorgeous tops with sleeves and dresses and skirts that cover your knees, you'll be amazed at how many you find in your everyday stores! There are so many modest styles out there right now.

Describe your style advice. What do you own a lot of? What will you never wear? What "fashion mistakes" have you committed?
I like simple, classic styles. I find that these types of clothing are timeless and hardly ever go out of trend.
I own A LOT of dresses and shoes. No, really… I have a problem. They say the first step is admitting it, but I've been stuck on the first step for a while now.
I will never wear anything I don't feel comfortable in. That goes for clothes, shoes, accessories… I've got to feel confident and comfy.
I find that I commit the most fashion mistakes when I try to be too "trendy". Simple, classic looks really help me to avoid looking back at myself and saying, "What in the world was I thinking?!"

Do you have any personal style goals this year?
I really want to work hard at restyling items I already have. It's so easy for me to want to buy three pairs of shoes for one skirt, even when I already have several pairs of shoes that will go nicely with it already. I also want to wear more color and bolder prints.
When traveling what three items do you always pack?
I always pack a black skirt, a fitted white tee, and a toothbrush of course!
Visit Typhanie's blog here. Next week Typhanie will begin contributing here on the blog!
Nominate someone (or yourself) for a Modest Beauty blog post.
One of the things that I'm always having to deal with (for blogging purposes…not with life in general…ha!) is taking pictures for multiple outfit posts throughout the week.
It's difficult for me because
My tripod was a piece o'junk and it has found its final resting place in a landfill somewhere.
A lack of a tripod means that I can't be a blogger goon and smile at my camera by my lonesome.
I feel annoying always having to ask Brandon to take photos for me  (he's a good sport).
I leave to work early in the morning and I don't have time  to snap pictures and when I get home it's dark.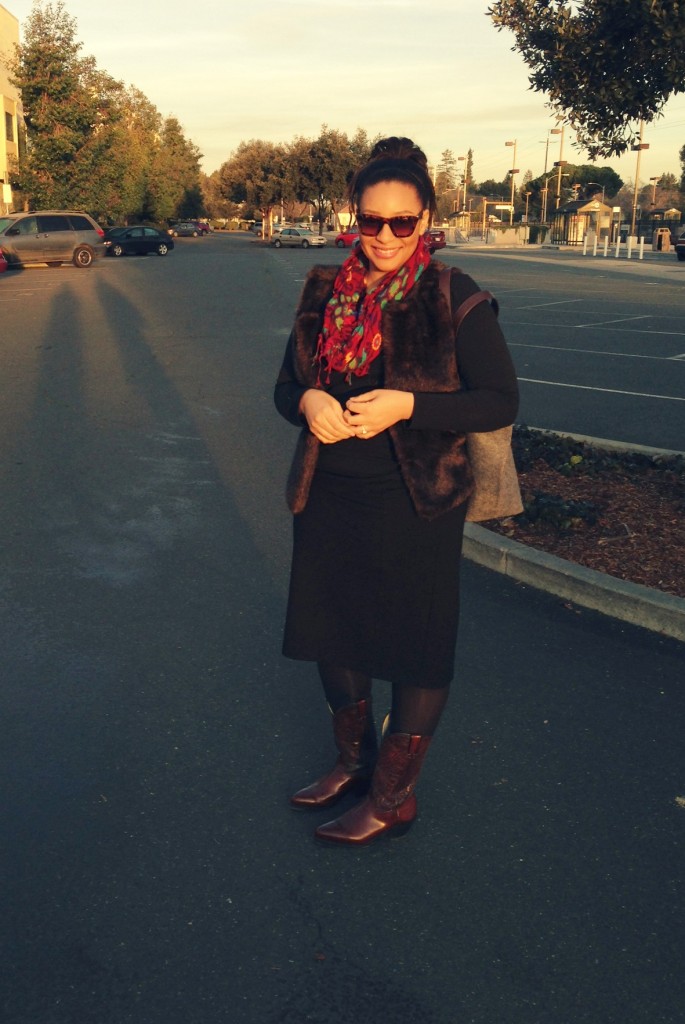 I realize that there is more to me than my Sunday posts and I'd like to show that here on the blog. I'd like to make a bigger effort to do that this year.  It worked out yesterday because Brandon and I had some time to spare while he waited for his train to San Francisco.
I've been thinking about using my dress form to style outfits and then wear those outfits to see if they turned out as well as they did on the form. Lil' Miss Stefanie of Pretty Is This started a new series on her blog using her dress form, and I think I'm going to send her an email and see if she won't mind if I follow through with  the idea that has been swirling around in this big ol' head and play blogger copy cat (i.e. use the dress form here, too).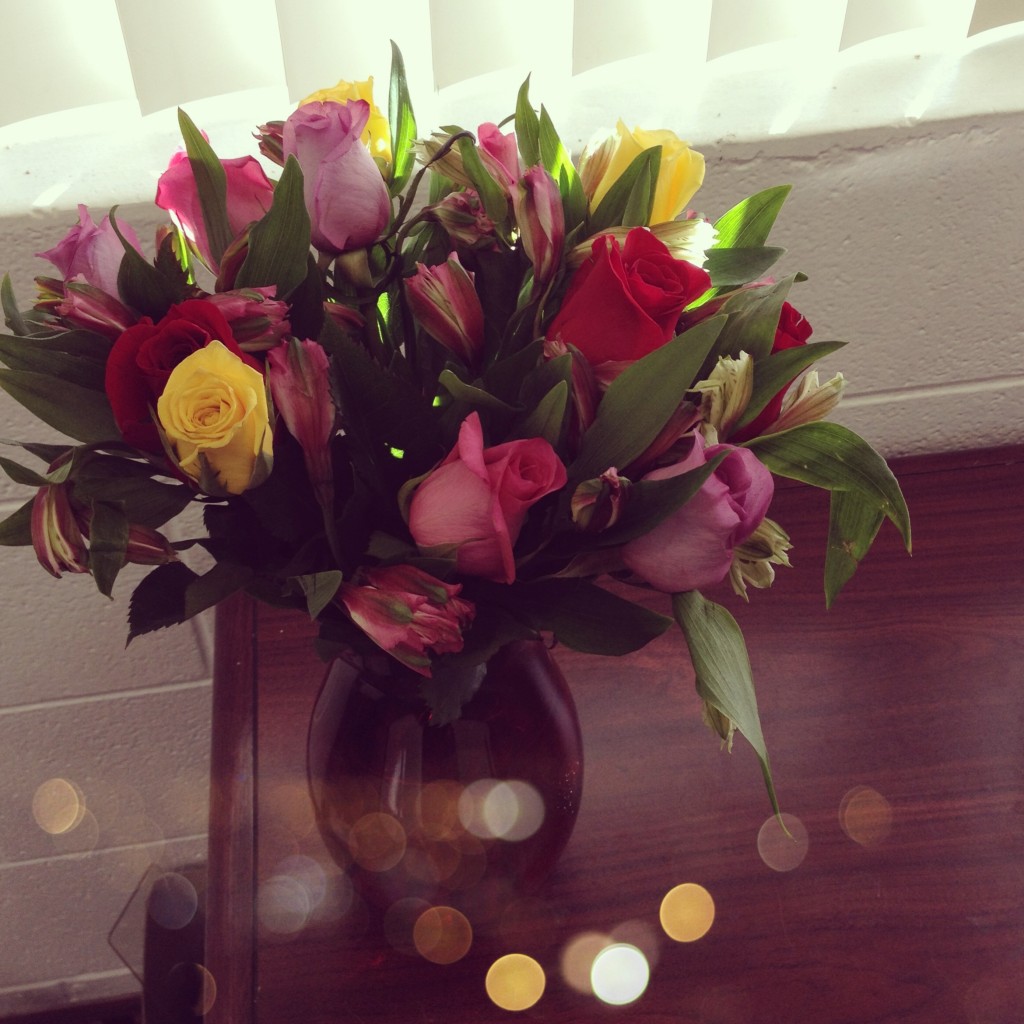 At any rate, yesterday was my birthday. It was a different birthday. Not bad at all, but I'm still attempting to get used to the fact that Brandon and I are creating our own family now. I mean, I lived near/with my mom/dad/sister for 27 years of my life and this was the first day of birth that I didn't wake up to my mom/dad/sister singing to me. Brandon and I plan to celebrate this weekend because our work/commuting schedules were too busy to celebrate all fancy schmancy pants last night. He's so cute, though. I was catching up on blogs and browsing the web last night and he came in with a goofy grin and a yummy cake!
I did spend my birthday evening with a lovely new friend. One of the things I've been praying for and about is making new friends. Annaliza and I go to the same church and she got married a month before me. I'm not even really sure how we struck up a conversation, but I'm pretty sure it was through Instagram. She was kind enough to treat me to a lovely dinner and dessert  for my birthday and I was HAPPY!
Since I'm rambling, let's briefly discuss books. I used to be an AVID reader as child/teen/young adult, but I've drifted away from my book reading roots. While listening to NPR on my way home the other day, I made a vow to get my San Jose Public library card, and… I did! I've been wanting to read Sonya Sotomayor's book, so I requested it when I went to the library. Brandon bought us The Newlywed Cookbook and I plan to browse through its pages sometime this week and plan our meals for next week.
So tell me: direct me to your blog so I can check out your outfit posts (if you have any) and let me know what you've been reading!
Wearing: faux fur vest (similar here and here), skirt that I wore here, rando black Target skirt, and thrifted cowboy boots (similar here)
So. After allllll these years and allllll this talk about how I wish I could sew…I've finally bitten the bullet. I signed up for a sewing class. While perusing everyone's favorite time waster (Pinterest), I realized that I should stop thinking and hoping for sewing skills to magically appear from the sky. I Yelped sewing lessons, found out that the adult school in my area has a series of classes, signed up, paid my fees, and in fives minutes I had my receipt. The class meets every Thursday evening for three hours.
I have no sewing machine, but the class provides a machine for the students. I'll start the Craigslist search for my own machine once I start the class.
I'm tired of having to bypass items for being too short, too this, and too that. Plus, I'm always having to go to my tailor to get things taken in, hemmed, "unhemmed", and so on. Have you ever read MiMi G's sewing blog? She sews some awesome stuff and while I try not to be jealous–I AM! I also adore Shey over at A Skirt a Day. One day. ONE DAY I SHALL BE GREAT *shakes fist*.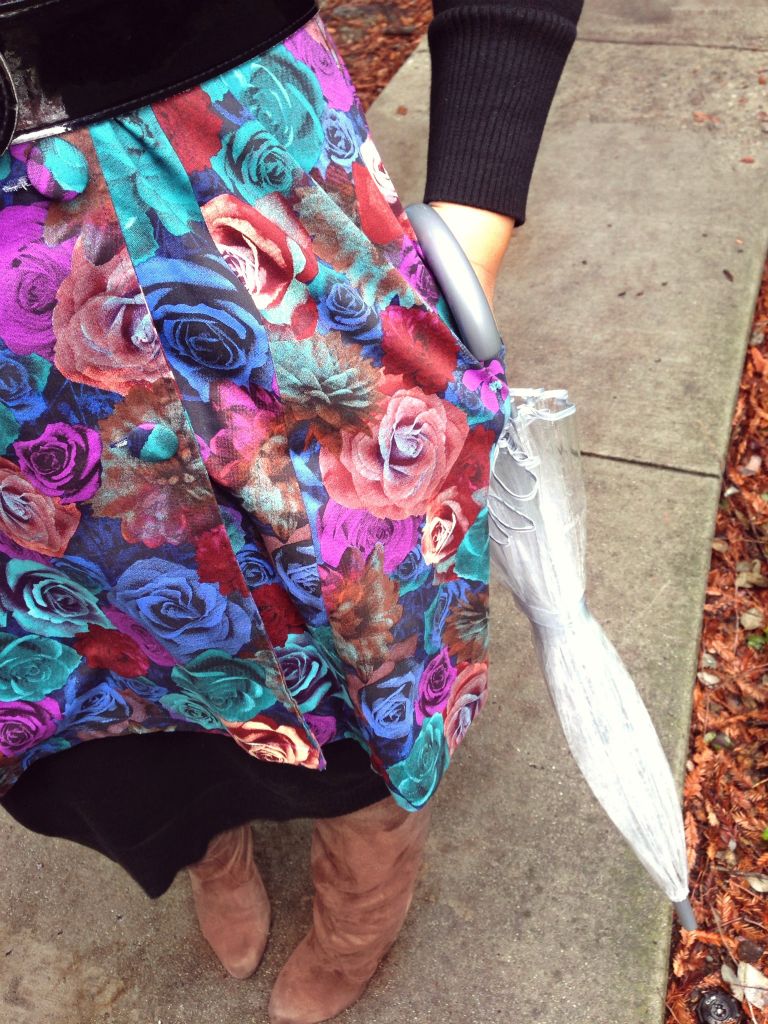 Do you sew? Do you have some tips for me? Sewing blogs to recommend?
Victoria's Secret Dress here, bubble umbrella here, boots old, Forever 21 trench coat ollllllllllllllllld