accessories
I know we did a "3 Ways to Wear…" series last week, but this time I thought I would show 3 ways that I wore headbands. Now let me tell you, I have a great big box full of headbands that I rarely use. I do have a few favorites though, so I'll be displaying those. Headbands are a great way to spice up an outfit, hide bad hair days, or wear when you don't feel like putting any effort into doing your hair. And I know we all have those days!
1: Hair swept to the side with with a bright and unique headband is perfect for evenings out and about!
2: They say the higher the hair, the closer to God.

With my Dainty Button headwrap, I was comfy and ready for summer!
3: This is my Bohemian look!

Relaxed and perfect for when I feel like wearing my hair down.
Do you wear headbands or hair accessories? How do you wear them? I'm always up for fresh ideas!
Happy weekend!
Stefanie
Rain! Is it raining in your neck of the woods today? Rain has pelted Central California and I couldn't be happier. We haven't seen much rain around these parts, and rain is most definitely necessary for food to grow. Central California (well, many parts of California) is home to grapes, peaches, almonds, alfalfa, oranges, and a slew of other products and without rain–well, these crops don't do too well. I know the farmers are thankful for it and I sure hope we get more rain. When you drive around (here) you'll often see signs that say FOOD GROWS WHERE WATER FLOWS. Agreed!
Last week I wasn't in the mood to take pictures for a Sunday Best blog post (it happens) and this week I almost backed out due to the rain. I sucked it up, yanked out an old umbrella from the trunk of my car, and snapped some photos.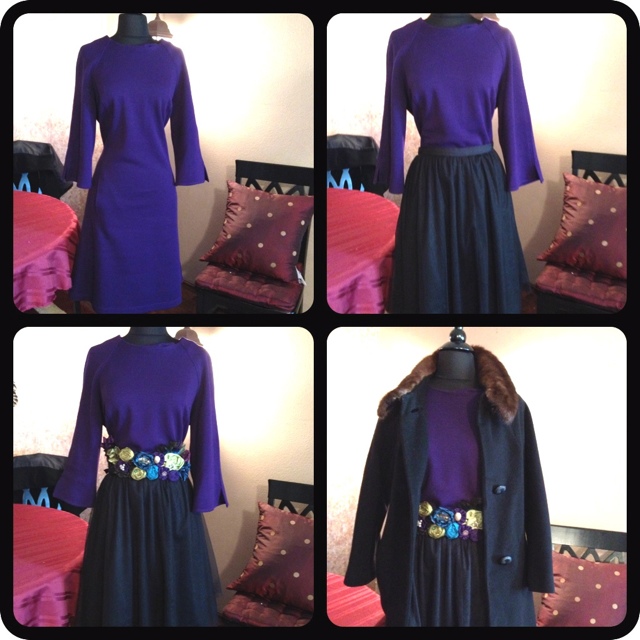 You've seen the skirt here and the purple "top" I'm wearing is actually a dress (see below) that I bought when I bought the dress worn here. I picked up the dress at Goodwill for $5, had it dry cleaned, and decided to wear the dress underneath the tulle skirt today. I topped off the skirt and dress with a fabulous belt from Austenland Hair Accessories and a vintage coat with a fur collar that I bought at Salvation Army for $6.
Watch the video for more information on this belt! Paulina was gracious enough to make this belt for me and I'm glad she did.
Paulina has offered to give the belt below away! You can enter to win this belt by simply leaving a comment in the comment section. I will use Random.org to select a winner next Sunday afternoon.
Paulina will be selling her items at the Modest Clothing Swap on April 28th! Buy your tickets to the swap here
Ps. Can you believe I created this entire post using my iPhone 4S? I used the WordPress app to compile the phone, iMovie to make the video, YouTube to upload the video, and BeFunkyPro and Diptic to edit pics/make collages.
TEAM IPHONE!
WINNER, WINNER!!!!
Shawn-Dell is the winner of the brooch! Please email me at slice.of.life@hotmail.com with your mailing address please. Congratulations!!!
Hello Everyone! I am back this week with an MIY and a special giveaway!
I received lots of comments on my post lat week and wanted to share with you on how to make your own gorgeous flower brooch.
1. Gather your tools.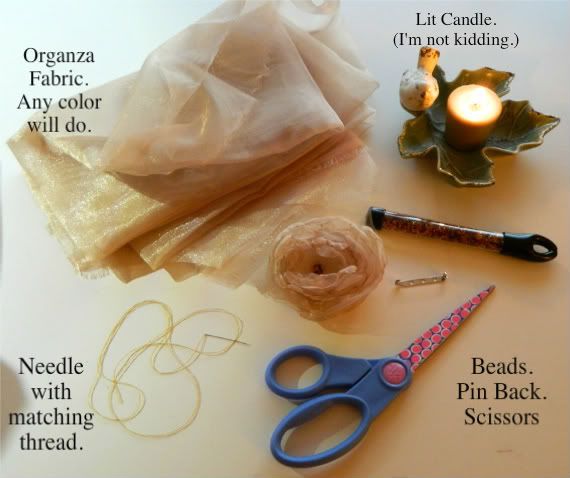 2. Cut out circles of varying sizes from your organza. They don't have to be perfect. They can be as big or as small as you want your flower to be. I always cut a few more than what I think I will need, just in case.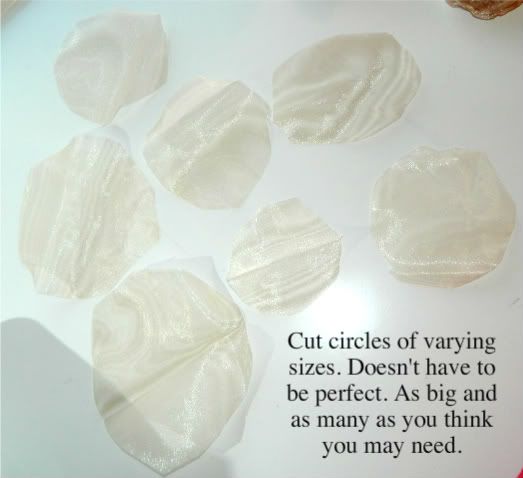 3. Once your circles are cut out. Hold the edges of each one over the flame. This will cause them to curl and crinkle in on themselves.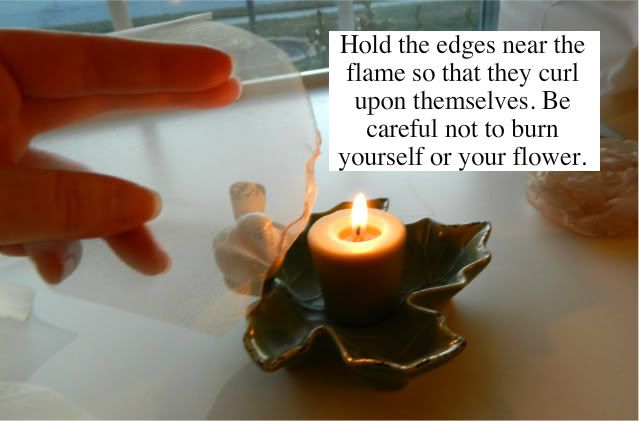 4. Once done, your petals should look like this.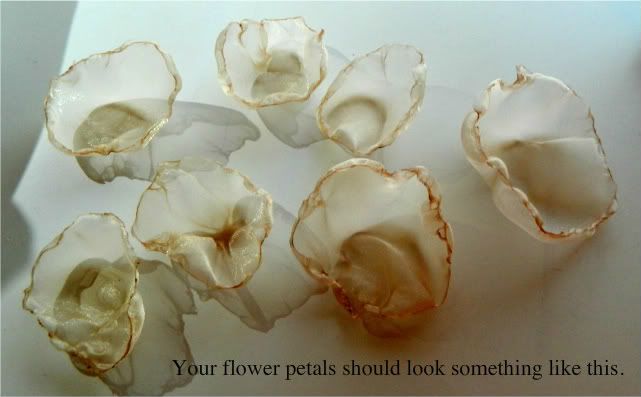 5. Next you want to layer your petals. There is no science behind this, just layer them as they appeal to you. I actually ended up not using two of the petals that I had made.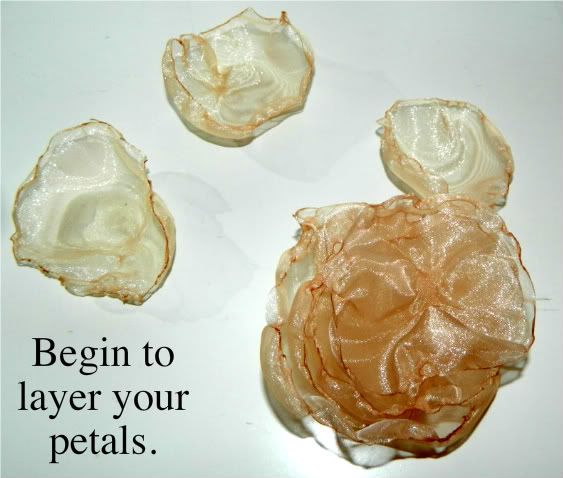 6. Once you have the petals layered, carefully pick them up so you can start the beading.

7. Keep beading. Again, just bead until you are satisfied with the way it looks.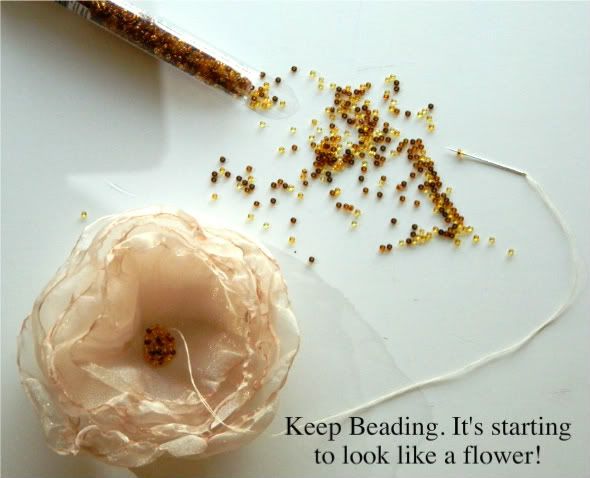 8. Once you are done beading the center of your flower, flip it over and sew on the pin.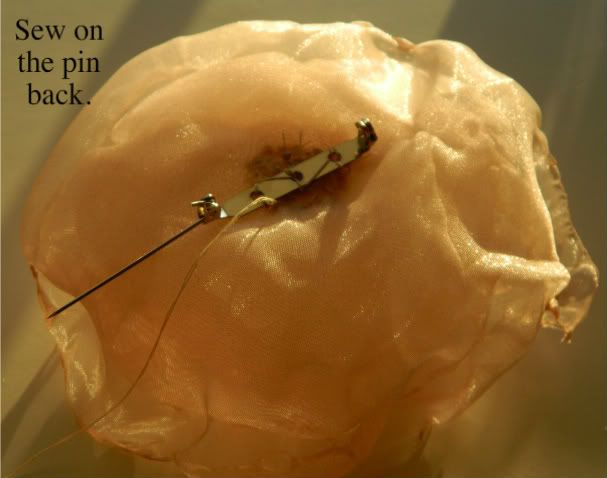 9. And there you have it. Your flower pin is now ready to wear!

Now for the fun part! I am giving away the flower pin above to one lucky reader! All you have to do is leave a comment on this post. (for an extra entry, visit my blog and become a follower! Leave an additional comment here telling me how you follow my blog. Either through Bloglovin or Google Friend Connect.) I will draw a winner on February 9th.
Follow me on Bloglovin here.
You can find my blog here.
My Pinterest boards are found here.
My twitter account is found here.
 Get updated about MoMoMod posts by liking the Facebook page!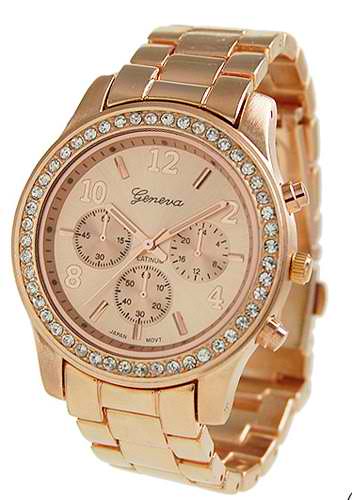 It's no secret that the only watch I own (and wear with nearly every outfit) is a gold plated Betsey Johnson watch. However, after seeing Shey of Modest is Pretty showcase her $16 rose gold watch in one of her blog posts, I knew I had to share her rose gold beauty with you.
Check out how I wore my watch (during the holidays I wore it with some bells around my wrist; my students loved those jingling bells!):
Check out inspiration from Pinterest: