beauty
With Fashion Week recently ending in NYC and starting up in London this week, the internets are alive and well with tweets, Instagram photos, pins, and blog posts referencing fashion as seen and styled on the runway.
I'm not a slave to fashion. I'm not a fashionista. Why, I'm not even a fashion maven!
I take Fashion Week with a grain of salt. Fashion has rules that can change from one season to the next. One year you can wear white after Labor Day, the next year you can't. One year you're allowed to mix a myriad of prints, four months later people question why you're wearing stripes and polka dots (or if you're my mama you always question stripes worn with polka dots). Soon magazines and blog posts will be telling you to rid your closet of all of those oxblood clothes you bought because , "Vogue said so!" in order to make room for the next trendy color. #aintnobodygottimefordat
But style? Oh, your own personal style allows you to interpret fashion any. way. you. want. to.
Style is personal. Style bends rules. Style is a bit more versatile and fun. I've been inspired by a few different ladies on Instagram and of course I'm going to share them with you! (Instagram Edition Episode 1)
@BridgetteNicole: Her layering is pretty much all kinds of fabulous. The denim shirt. The cardigan. The fur stole. The belt. Yeah, I'm loving it. You can check out her blog here.
The blogging buzz words: remixing, shopping your closet. Let's just cut to the chase and call a spade a spade: wearing the same thing more than one time and even different ways every time. I've done it, you've done it, and when Michelle Obama and Kate Middleton do it IT'S ON THE FRONT PAGE OF "FASHION" NEWS. @robertacontreras models what Pentecostal girls everywhere do all the time–wear an article of clothing from Sunday morning church service to Sunday evening church service. Look number one can even be worn with flats for a day time look. Nice going, Roberta!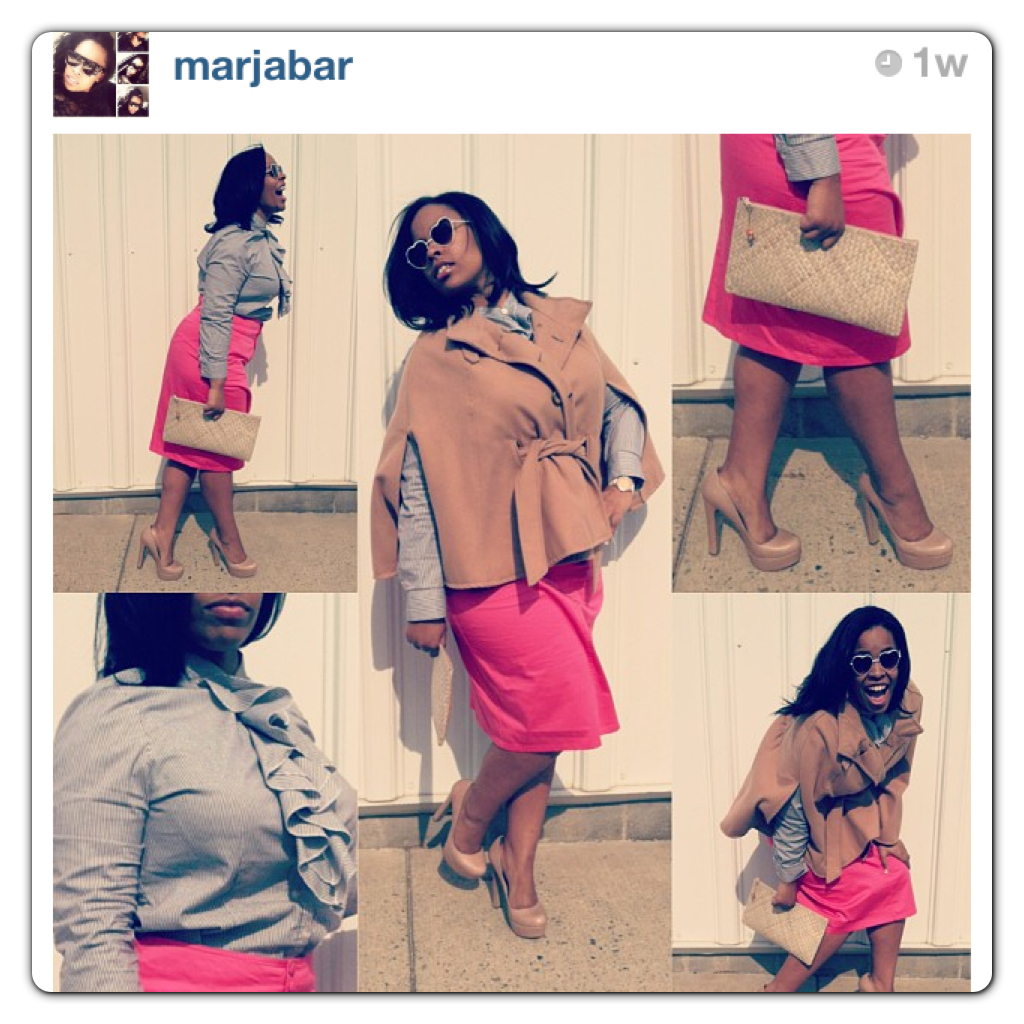 @marjabar is clearly enjoying herself, right?! A contract attorney has gotta have some fun! In her own words, " I strive to disprove the myth that dressing [modestly] means tacky and homely. You can be cute, modest, and fashionable all at the same time." Amen.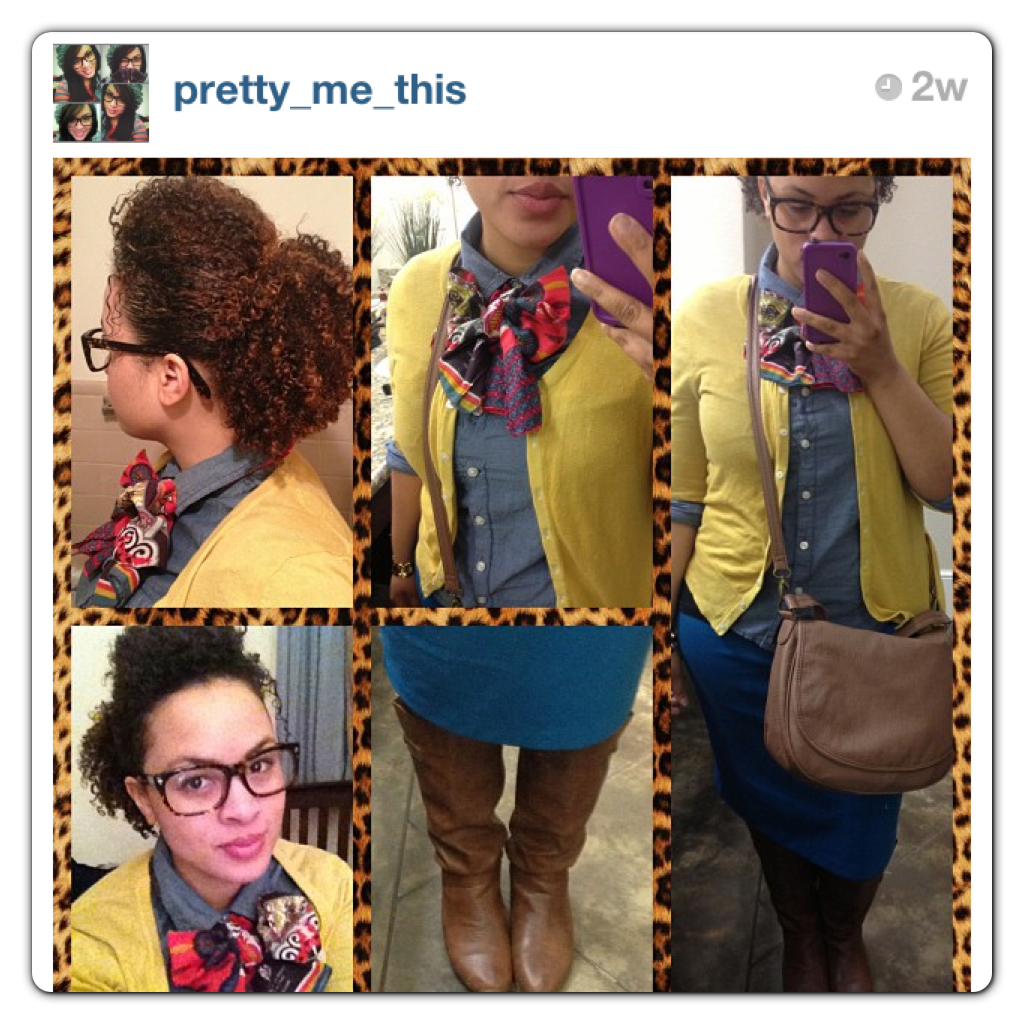 Sheena (@pretty_me_this) could have definitely walked out of her house wearing her outfit sans scarf turned bow neck tie, but adding that scarf added some colorful pizzazz to her outfit.
Where do you stand on the fashion vs. style "debate"? Did you keep tabs on the various shows at fashion week? Do you even care?
How would you define your own personal style?
Follow me on Instagram: @moremodernmodesty and use hashtag #momomod to share your personal style with me.

Every once in awhile, when I'm feeling fancy, I do my hair like this. It is vintage inspired, just like my first hair tutorial on MoMoMod.
You are guaranteed  to get plenty of compliments and "how did you DO that?!" questions. 😉
(My apologies for a couple of blurry pictures)
Items needed: Hairspray, hair ties, and a few bobby pins.
Step 1: Take the front section of your hair, and split that section in half.
Use hairspray to define strands and tame flyaways.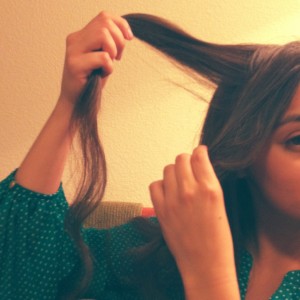 Step 2: Start at your ends, and roll up and inward.
Once you have rolled your strand all the way up, secure with bobby pins.
Tip: if you keep the pins hidden, it will look better in the end!
Step 3: Secure the rest of your hair into a ponytail, and twist into a bun
And you're done! Enjoy your vintage inspired do!

Happy Friday!
Follow my blog, Pretty Is This
My Facebook
My Twitter

Today I will be posting 3 homemade remedies for your skin! It is officially summer, and especially important to take care of your skin! Whether your skin dries out, or gets oily (mine, big time!), it needs to be protected. Here are some simple ways to create your own facials right at home! I love these ideas. PS: thank you, Pintrest.
Remedy 1: Baking Soda Facial
Step 1: Add 3 tablespoons of baking soda, and one tablespoon of water. Mix well. If you need to add a little more baking soda, do so. You want it to be more of a paste.
Step 2: Rub in circles all over your face and let it dry. After the first layer is dry, add a second layer. Once that is dry, wash your face with warm water and a washcloth.
Step 3: Moisturize!! The baking soda acts as a natural exfoliant, so make sure you use face lotion as soon as you're done!
Use: 2-3 times a week.
Remedy 2: Lemon juice, olive oil, and honey.
Step 1: Add equal parts of all ingredients into a small container, and mix well.
Step 2: Apply in circles on your face. Let the facial sit for ten minutes.
Step 3: Wash off with warm water, and it make be a little sticky.
Use: 2-3 times a week.
Remedy 3: 1 cup of oatmeal, yogurt, 1/2 an apple (grated), and 1/2 a cup of lemon juice. 
Step 1: Mix the oatmeal and yogurt, then add the grated apple and lemon juice.
Step 2: Apply to your face and let it sit for 15-20 minutes
Step 3: Rinse clean with warm water and pat dry.
Use: About two times a week.
Simple, right? And really, we all love a little pampering don't we? Yes, yes we do.
How do you take care of your skin? Any secrets to share?
Happy weekend!
Follow my blog, Pretty Is This
My Facebook
My Twitter
I know we did a "3 Ways to Wear…" series last week, but this time I thought I would show 3 ways that I wore headbands. Now let me tell you, I have a great big box full of headbands that I rarely use. I do have a few favorites though, so I'll be displaying those. Headbands are a great way to spice up an outfit, hide bad hair days, or wear when you don't feel like putting any effort into doing your hair. And I know we all have those days!
1: Hair swept to the side with with a bright and unique headband is perfect for evenings out and about!
2: They say the higher the hair, the closer to God. 😉 With my Dainty Button headwrap, I was comfy and ready for summer!
3: This is my Bohemian look! 😉 Relaxed and perfect for when I feel like wearing my hair down.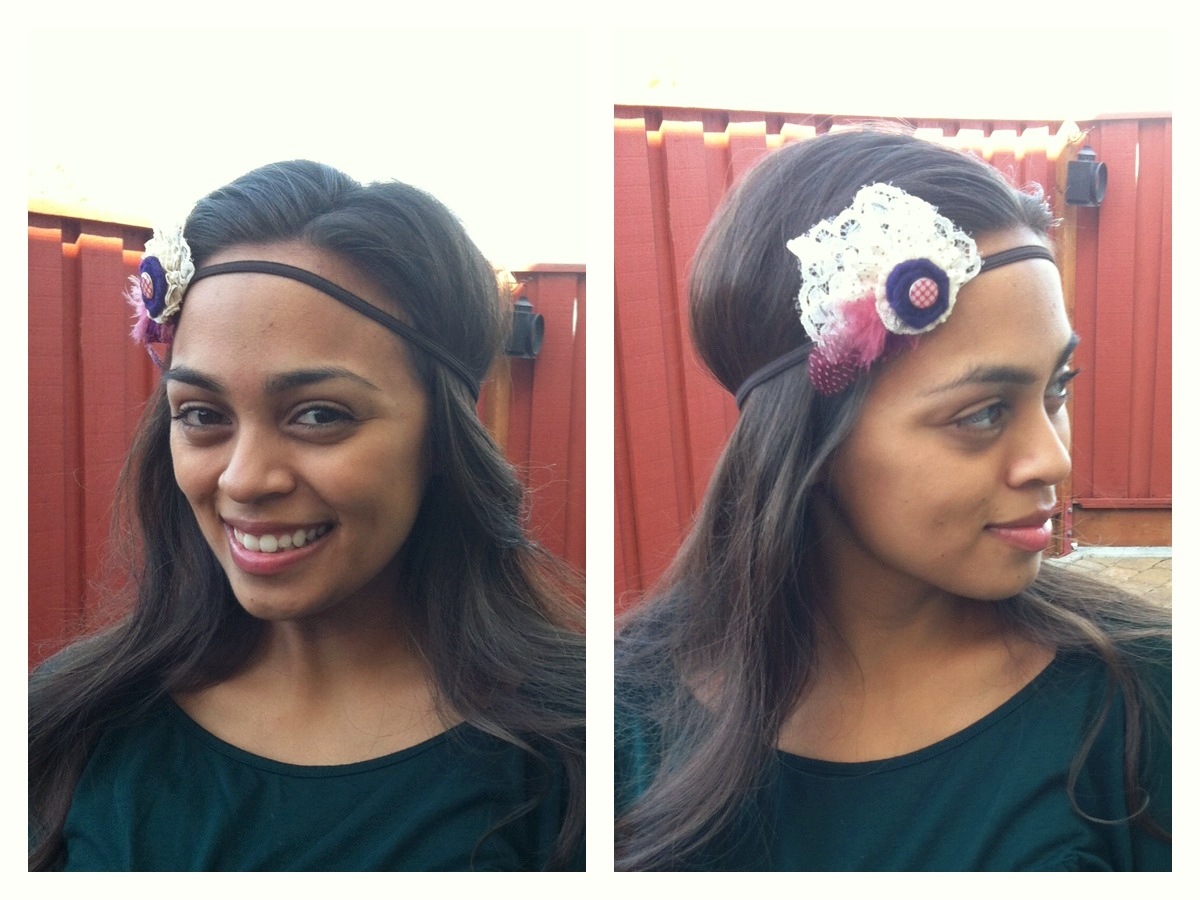 Do you wear headbands or hair accessories? How do you wear them? I'm always up for fresh ideas!
Happy weekend!
Stefanie