Brandon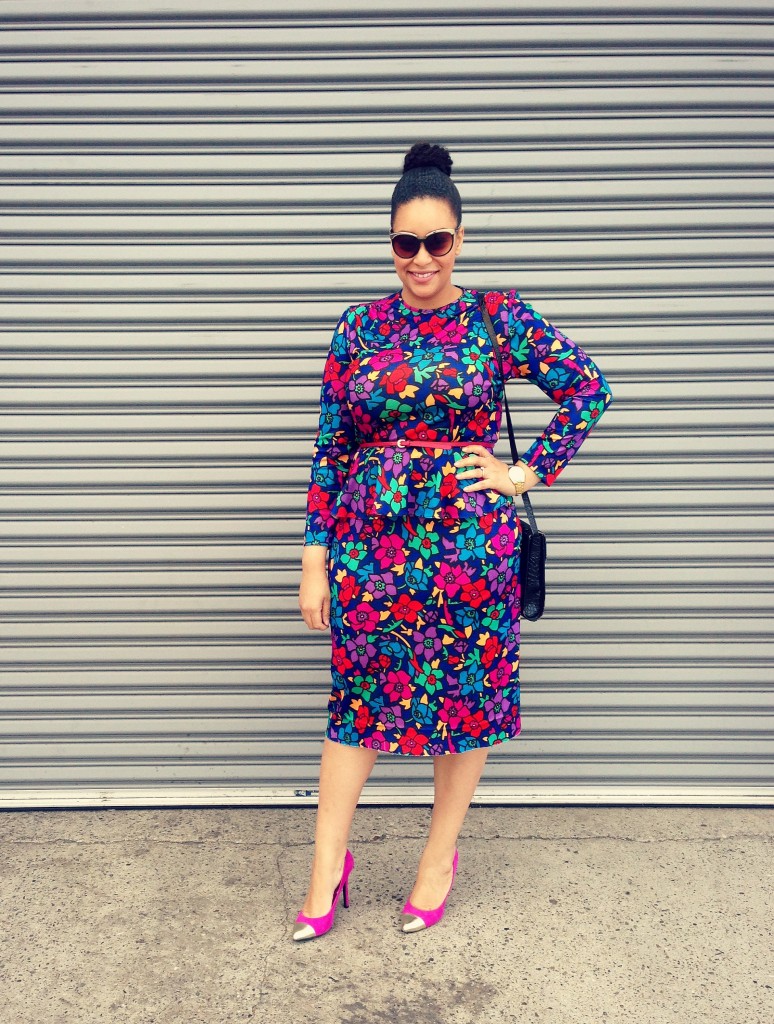 You know I love a good vintage dress. I've said it once (okay, more than once) and I'll say it again: if you're looking for longer hems, sleeves, and higher necklines then buy vintage clothing.
The last time I wore this dress was three years ago; I bought it at Salvation Army and thought the print was over-the-top so I toned it down with black tights and a black blazer. This time around I decided to nix the blazer and tights and wear the dress as is. Ohhh. Risky!
When Brandon saw it he said, "You know what that dress reminds me of? Color by number!" And it so does.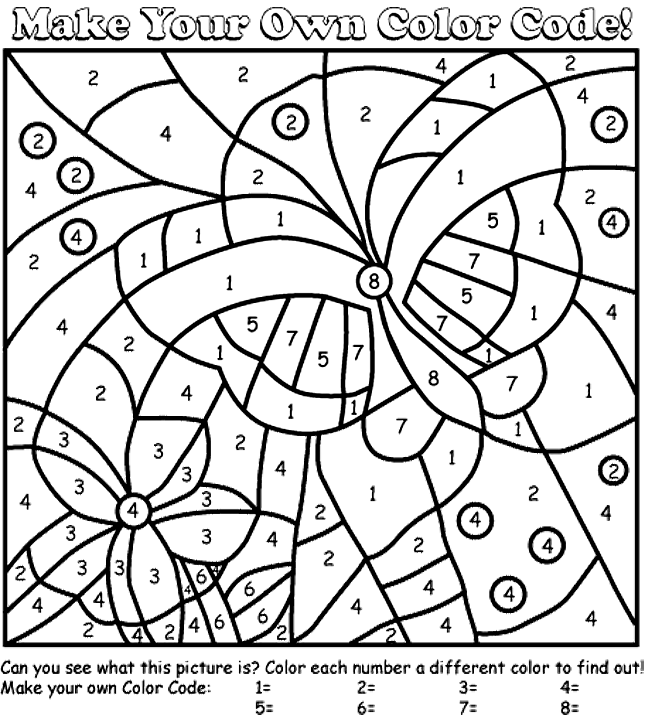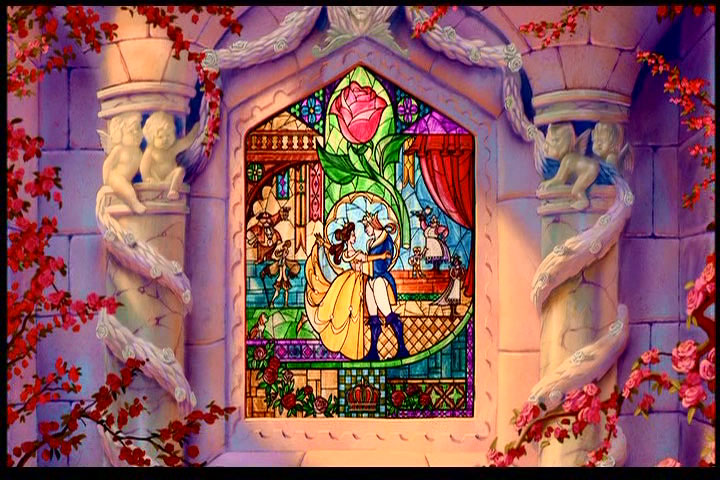 I had to laugh because I used to have a Beauty and the Beast color by number coloring book and so throughout the day I kept slightly humming, "Taaaaale as old as tiiiime…"
I was in good company at church! These girlies from my church were also wearing vintage dresses, so of course I had to share their pic with you.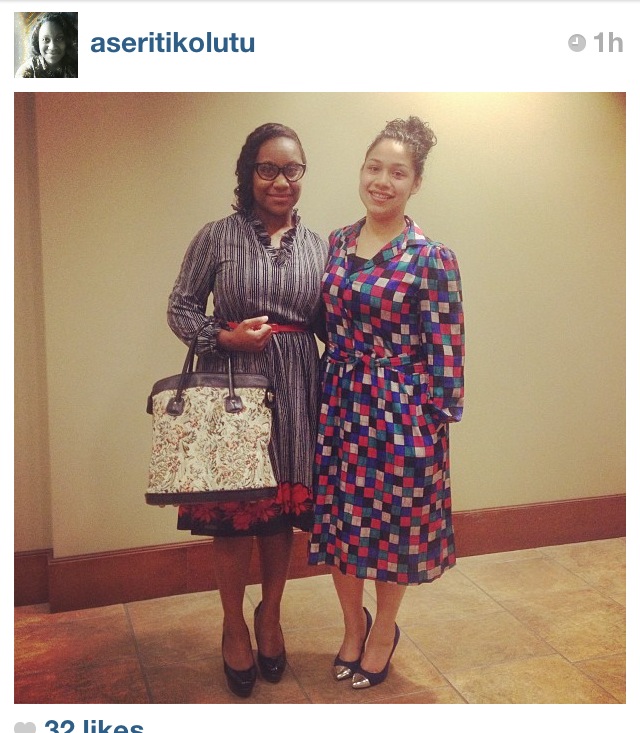 Wearing: granny vintage dress, Target cap toe heels (bought both of my pairs online, but I couldn't find them online last night; I did find them at Goodwill for $3,99 on Saturday!), old school vintage purse.


LINKING UP: Plane Pretty Sunday Style Visible Monday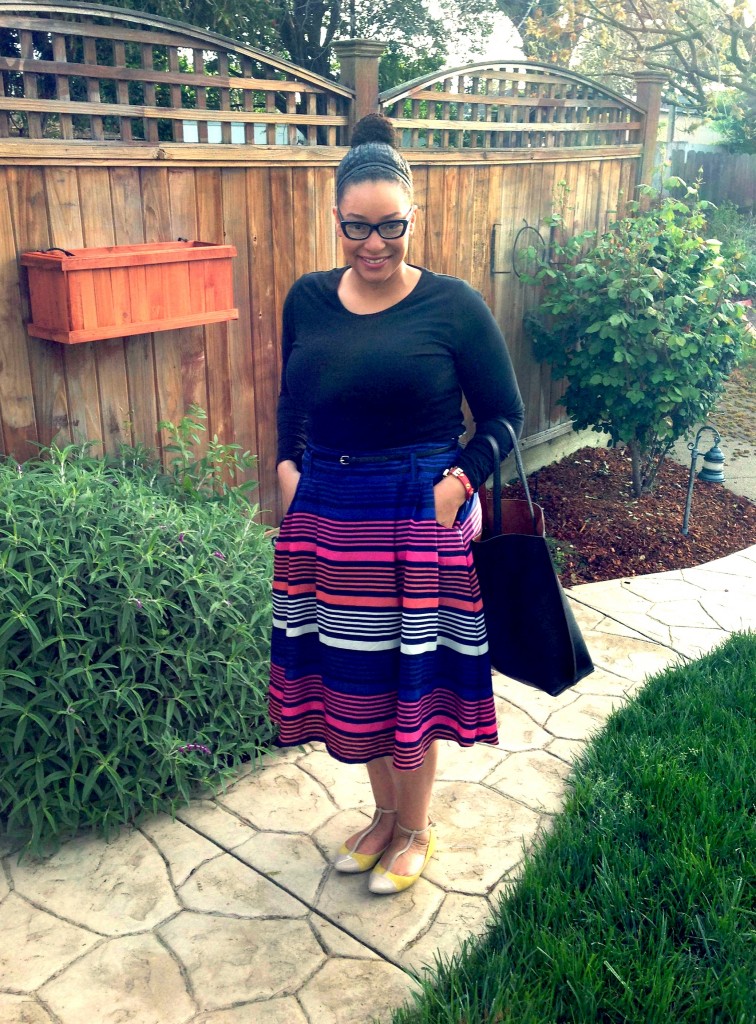 Does anyone else do this: miss out on an item in a brick and mortar store and then surf eBay for 8+ months looking for the item? 'Cause I do!
Seriously, though. I saw this skirt on oldnavy.com sometime last year, didn't buy it because I thought a full skirt and stripes was not a good look for my hips, then decided I wanted to try it anyway, missed out, and then surfed eBay until I found it about two weeks ago for $6! All I did was search for "old navy skirt stripes" and set my size and maximum price. I use the eBay app, so my searches are always saved. I use the app about two to three times a week and I just click on my saved search and if anything is listed–it appears.
I've does this for a few items (reading glasses, a purse, an H&M dress); the longest search I've endured was about two years. I was looking for a pair of L.A.M.B. heels that I liked and ended up finding them for way cheaper about 24 months after they hit the shelves.
One thing I do like about this skirt is the pockets. Dresses and skirts with pockets are right up my alley! I didn't even realize the skirt HAD pockets until I tried it on this morning. Winning!
In other news…I've decided to stop putting heat on my hair. Before Fiji I couldn't stop looking at my terrible split ends. I knew that I had zero plans to maintain straight hair while in Fiji (humidity, people!), so when I got home I just realized that I'd be wash and go and all natural Chandra for quite awhile. I can't say that I'm addicted to heat, but I did/do enjoy having straight hair. I would add heat to my hair (flat iron) a couple times a week, but my hair has had enough of the heat madness. I've been reading Kendra Thaler's Natural Hair Blog to figure out what new hair things I can try with this 'do of mine.
Can you see the mosquito bites on my ankles?! Fiji mosquitoes ain't no joke, ya'll! Brandon got eaten alive; I had a few bites and most of them are gone, but two days ago the bites on my calf and hip were itching like crazy. It took everything within me to not want to reach down my skirt and scratch my hip like nobody's business (TMI?). My scaredy-cat side almost got the best of me, but I refused to Google Fiji mosquitoes. I didn't want to see anything terrible and start diagnosing myself with malaria. Brandon told me he did some research and he thinks we were bitten by some sand flies or mosquitoes because those bites tend to last a bit longer. Ah, well.
Happy Friday!
Wearing: Target top, Old Navy Skirt, Sole Society Shoes, Reversible Harper Tote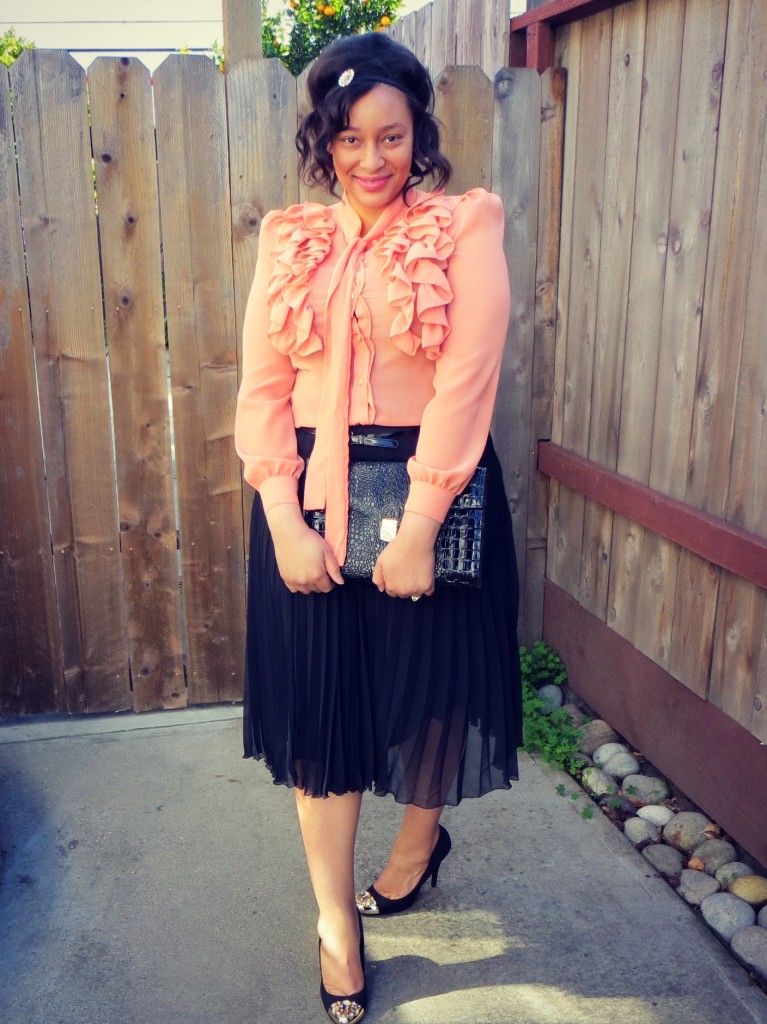 Brandon and I were married back in September, and while we took a brief "honeymoon" in NapaValley for four days, our real deal honeymoon shall commence next month! We were just conversing today about how we've been married for five months. FIVE MONTHS, PEOPLE!!! So after six months of marriage we will be jetting off to one of the glorious islands of Fiji and enjoying ourselves. I always thought that after I was married we would leave our wedding reception and head straight to some exotic locale, and while it didn't plan out that way I'm glad it didn't because "we had time in between the hectic whirlwind of wedding to get back to the real world, de-stress from wedding planning, and now we can really enjoy and appreciate our honeymoon"–Brandon.
When I guest blogged for Typhanie last week I mentioned that my favorite things to purchase while thrifting are vintage blouses. Three months ago I scored this peach colored blouse at my local Savers for $2 (two dollars is, like, my thrifting number or something) and a similar ruffled blouse (cream with pinstripes) for the same amount. I decided to wear it with some new shoes I got from ShoeDazzle and a pleated skirt I bought from JcPenney (thanks to my birthday gift card it was $free.99, but it was on sale for $14!). That clutch purse is also thrifted and vintage annnnnd from JcPenney. When I found it at Salvation Army last year it STILL had the JcPenney tag attached to it! I like that the removable strap instantly transforms it into a clutch purse.
I also tried my hand at this hair tutorial I found on Pinterest. I hate doing my hair and this was the easiest way to take my messy hair and attempt to make it work for me.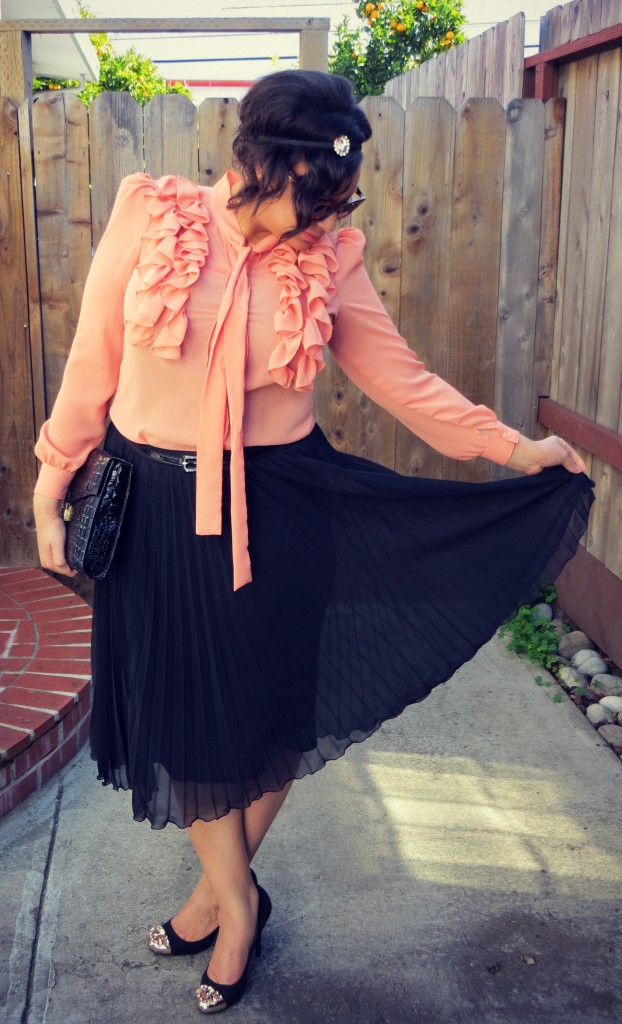 Blog Link Up: Style Showcase
And finally, the new blog link up. I've decided to try my hand at hosting a blog link up. I've seen them on many blogs and I've finally decided to jump in and host my own. I struggled with a title for the blog post. I had Sunday Best, Style Link Up, and a bunch of other names but none them seemed "right". So for now it shall be called Style Showcase.
1. Link up to any (just one) blog post from the past week that depicts your own personal style.
2. Please be sure to check out other blogs on the link up and leave them a comment or two!
3. Please be sure to link back to my blog. A text link (MoMoMod Style Showcase) will do or you can use my button.
I'm linking up with
PLANE PRETTY
 ,
YOLO Mondays
,
Rolled Up Pretty
,
Random Wednesday
,
What I Wore Wednesday
.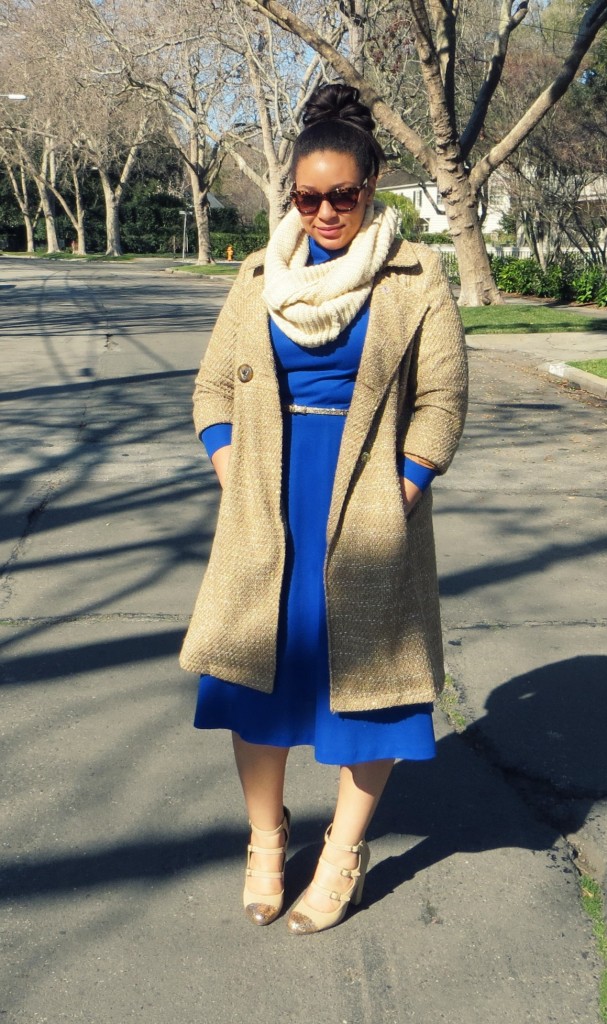 So, let's talk Super Bowl. I have a confession. Are you ready? Okay.
I have never seen a Super Bowl Game.
You read correctly. I've never seen a Super Bowl game and I've never seen Super Bowl commercials.
WHY?!
Well, it's a pretty basic explanation. I don't own a television. Oh…and I've never lived in a home that had a television. Oh, and this has gone on for about, ohhhh…all 28 years of my life. I should specify that I HAVE heard snippets of the Super Bowl via the radio, but from what I've gathered it's kinda not the same.
WHY DON'T YOU HAVE A T.V.?!
I was born and raised in an Apostolic Pentecostal household. We didn't own a T.V. What did my sister and I do with our time? We played outside in the dirt, road our bikes on our five acres of property, climbed trees, read Archie Comic books, checked out 20-30 books from the library on a weekly basis, played "church", I played my flute, she played her clarinet, we recorded "radio shows" on our tape recorder, browsed through our Encylopedia Britannicas, read Highlights, read Scholastic magazine,  we listened to Psalty, we played house, we played with our 100s of Barbies, we played tetherball, we played basketball, we threw rocks at each other, we made mud pies, we used puffy paint to decorate our shirts, we went to church, we had fun (yay!).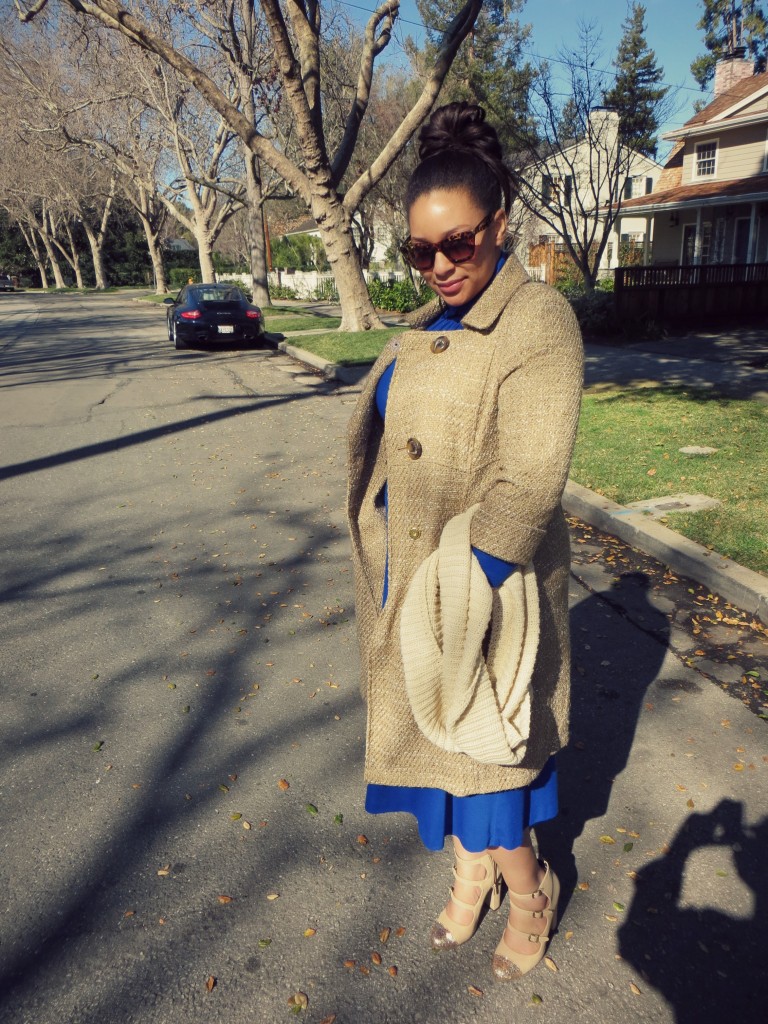 (Hi, Brandon's shadow!)
Wow. That's…weird.
Yeah, my classmates thought so, too. I was already the girl that went to church multiple times a week and didn't wear pants. Add no television at home and I was a recipe for a social outcast. Only…I wasn't! It didn't really bother me until third or fourth grade. My friends would come to school and talk about what happened on T.V. the previous night. I felt kinda-sorta-left out, so I started reading the newspaper's Entertainment section (the television shows page specifically and always right before the comics and the word puzzles) and brought myself up to speed by reading the brief summaries. When I told this to Brandon he laughed.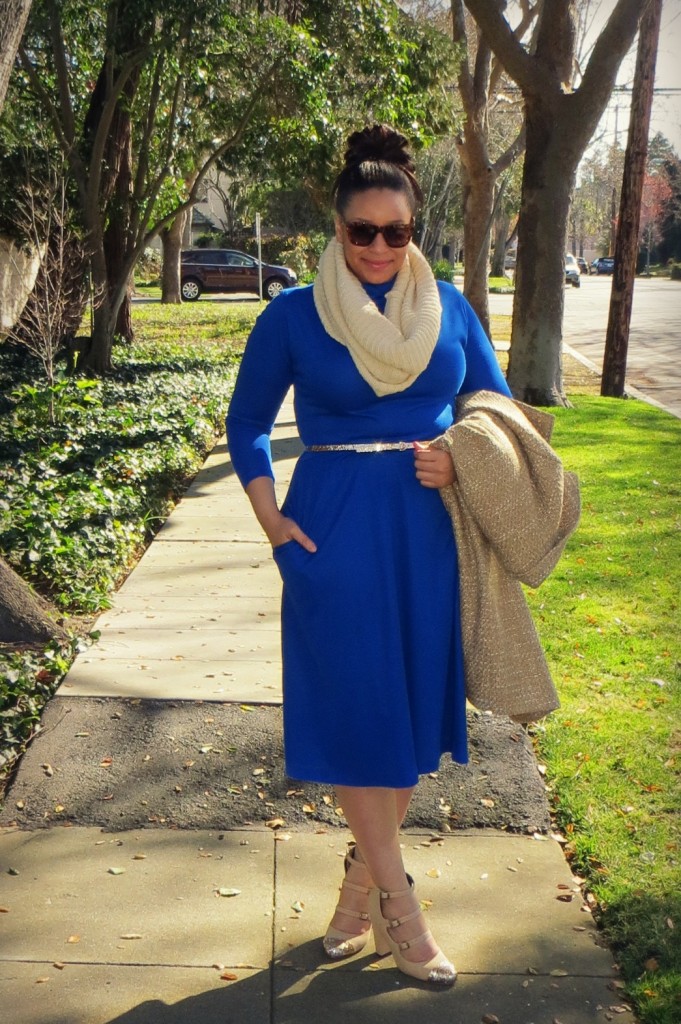 Since I live about an hour south of San Francisco, I wanted to feel something! I wanted to feel pride and love for the 49ers! I didn't. The only thing I felt was the need to do what I do every Sunday (and every Super Bowl for the past 28 years)–take a nap. And nap I did. We still don't have a T.V., but with the internet I really don't feel like I'm missing much of anything.
Oh! And then we woke up late and were late for church part 2, but I'm glad we made it. Otherwise we would have missed the party at church (video below)…!!!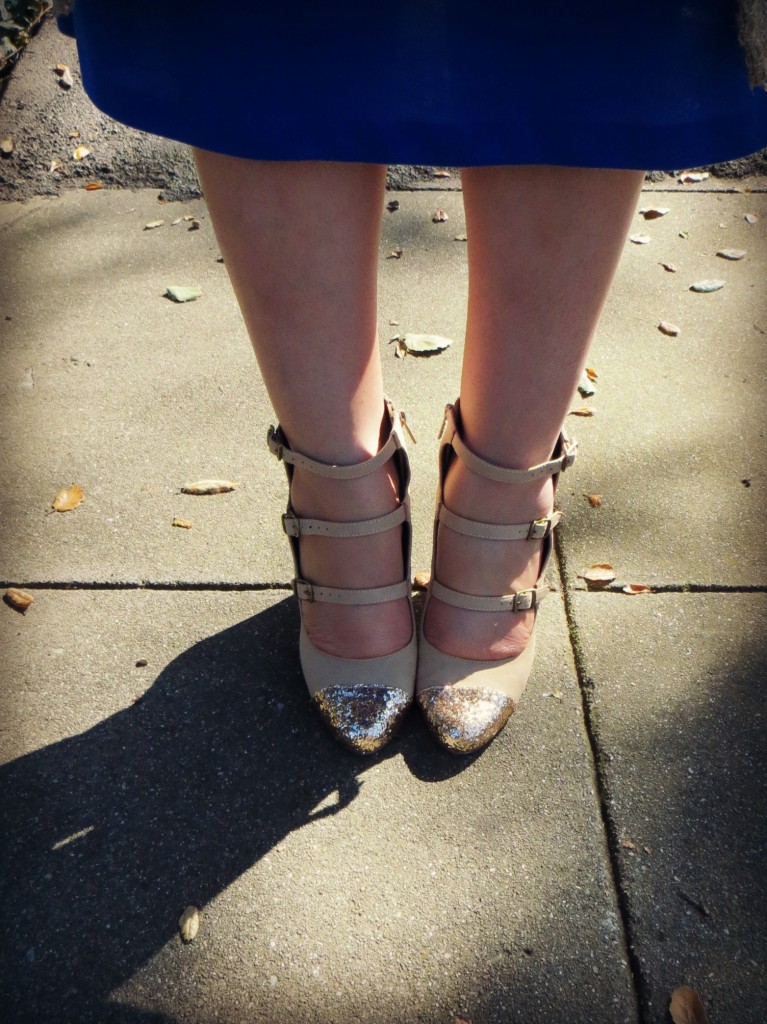 I bought this blue vintage dress for $2 last April and I finally wore it and I don't think I'll wear it again. It has elastic at the waist and it definitely accentuated my gut and upper body and I'm not trying to do alllll of that. No, sir or ma'am, I am not. But these shoes are a keeper. I saw them here for $70, but bought them on ModCloth for $20 during their Cabin Fever Sale. However, Amazon has them, too! The coat and belt are from Target (circa 2 years ago) and my new favorite chunky infinity scarf came by way of eBay for $2.
How was your Super Bowl Sunday?
Linking up with Plane Pretty, My Style, Your Style, What I Wore Sunday, Watch What I'm Wearing, and YOLO Mondays.