church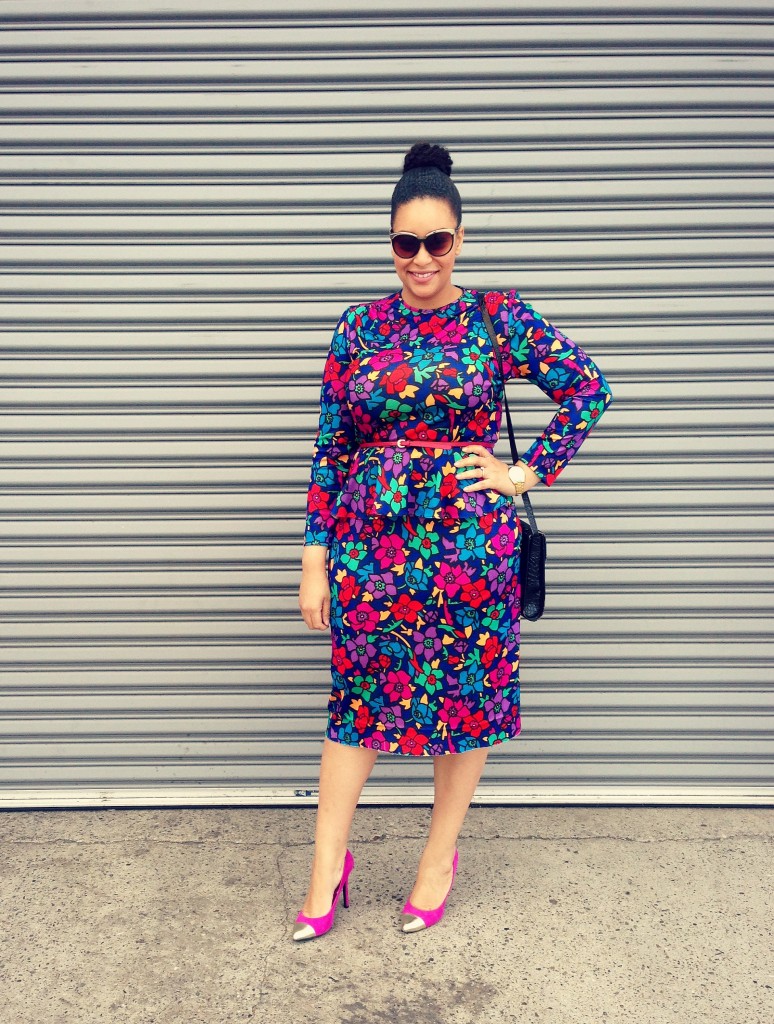 You know I love a good vintage dress. I've said it once (okay, more than once) and I'll say it again: if you're looking for longer hems, sleeves, and higher necklines then buy vintage clothing.
The last time I wore this dress was three years ago; I bought it at Salvation Army and thought the print was over-the-top so I toned it down with black tights and a black blazer. This time around I decided to nix the blazer and tights and wear the dress as is. Ohhh. Risky!
When Brandon saw it he said, "You know what that dress reminds me of? Color by number!" And it so does.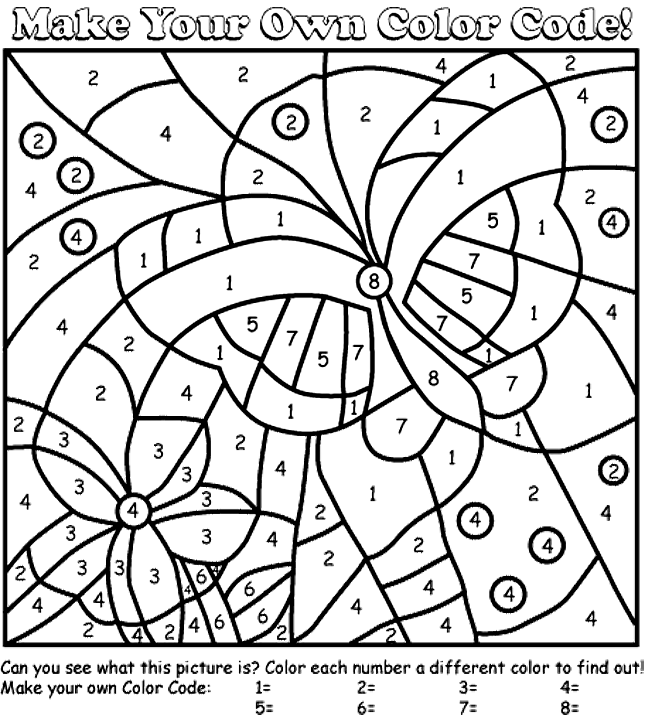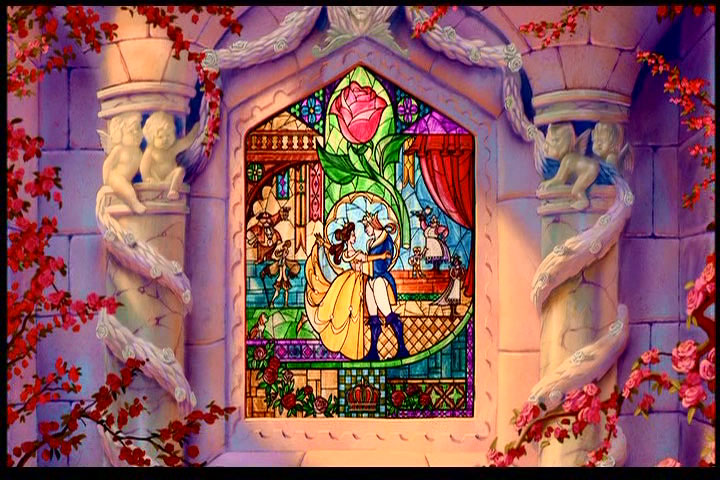 I had to laugh because I used to have a Beauty and the Beast color by number coloring book and so throughout the day I kept slightly humming, "Taaaaale as old as tiiiime…"
I was in good company at church! These girlies from my church were also wearing vintage dresses, so of course I had to share their pic with you.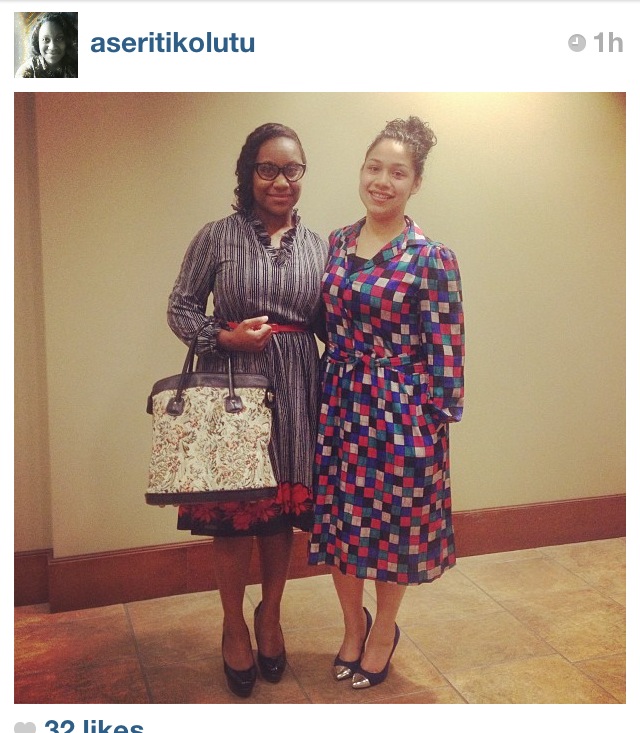 Wearing: granny vintage dress, Target cap toe heels (bought both of my pairs online, but I couldn't find them online last night; I did find them at Goodwill for $3,99 on Saturday!), old school vintage purse.


LINKING UP: Plane Pretty Sunday Style Visible Monday 
Yesterday was one of those days. You know the kind. Nothing fits. Easily irritated. You feel like a heffalump.
BOO.
Salvation Army had one of their oh-so-awesome 50% off sales the other day, and I snagged this skirt for $4. It's my first pleated skirt; I don't own any pleated skirts because I always thought my hips were too wide to wear an accordion pleated skirt. Oddly enough, I wore this skirt because it had a comfy flat elastic waist and it was loose enough to hide my heffalump status. I bought the skirt because I figured I could try it out and see if I liked it.
I did.
You'll definitely be seeing more of this skirt around these parts.
Wearing: Tunic tucked into the skirt as a blouse ($12), orange Forever 21 skinny belt ($3), Zara heels featured here, and vintage skirt ($4).
Also featured in these photos? The home I'll be living in after I get married. It's Brandon's grandmother's old house and we'll be residing there after September 8. I currently live on 5 acres of land (love country livin'!), so I'm going to have to get used to having neighbors and living within city limits.
Other Things of Interest:
My wedding website can be found here and my wedding blog can be found here. Modupe of Hephzibah Bride asked me to guest post on her blog (about wedding ramblings) and you'll find me there starting Wednesday of this week.
Bekki Leigh and I are putting together a Modest Clothing Swap in El Monte, Ca. If you're a Southern California girl you don't want to miss this event! Bring all your unwanted clothing and swap them for other new/gently used clothing. Paulina of Austenland Hair Accessories has agreed to sell some of her items and there will be giveaways from eShakti, Style J, Paulina Carmel, Style Me Fashions, and Apostolic Clothing! Tickets are $12 and you can purchase them here.
Use code MoMoSpring to get 20% off entire order: Shop MoMoMod.
Linky Partay!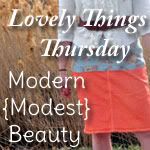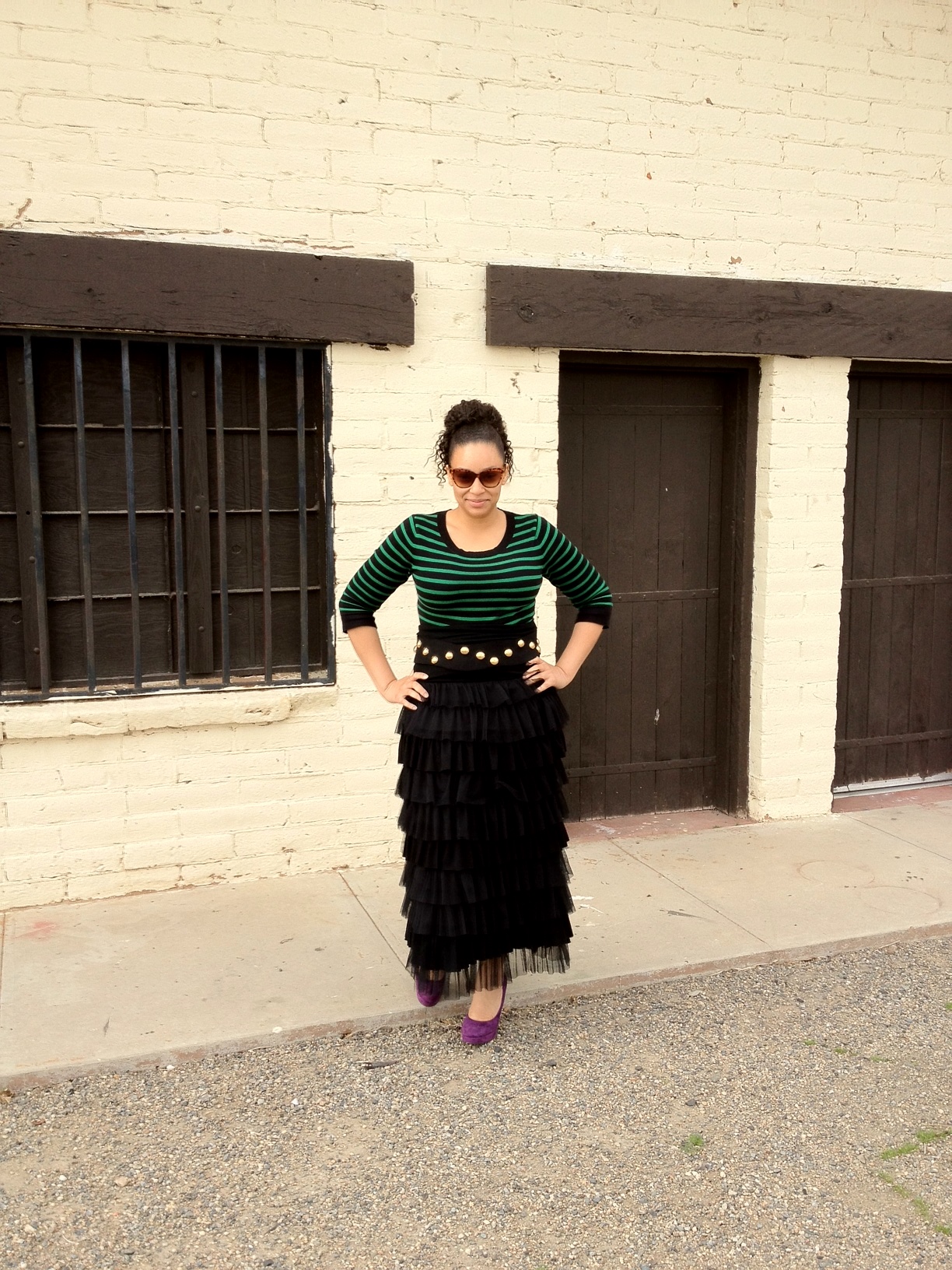 I first wore this birthday cake skirt here and have worn it faithfully ever since. I've worn it to three weddings, two funerals, to church and to a concert. No other skirt in my closet has received so much love. Today I paired it with a striped Old Navy shirt, a vintage belt I found at Goodwill for $1, and suede Nine West shoes.
After mistakenly wearing my blue shoes two Sundays ago I intentionally decided to nix an obvious shoe choice (black) and select these purple shoes instead. I've decided to make sure I wear every item in my closet and use every accessory I own. If I haven't worn something in two months–I'm going to sell it or donate it. 2012 is the year that Chandra rids her closet of the one too manys. I hadn't worn these purple shoes in SEVERAL months; I did NOT want to sell them or donate them, so I placed on my feet and stomped out the house.
Other happenings:
*Did you read Melinda's blog post about surrendering some? Here's a line from it that's been with me since Friday: "What is it that you are not willing to do for God? You will not receive His full blessing until you surrender fully." Please be sure to read her post and visit her blog.
*I listed new items in the MoMoMod store; I also figured out how to fix shipping! Now items ship by weight and heavier items will ship for $11 in a priority flat rate shipping box. Other items will ship first class or parcel post. Use code MoMo20 at checkout to receive 20% off your entire order.
Here are a few new things:
Plaid Ruffle Blouse XL
$10.00
Mossimo Cropped Coat Size Small
$12.00
Vintage Bow Dress Size 8/10
$20.00
Enjoy your week!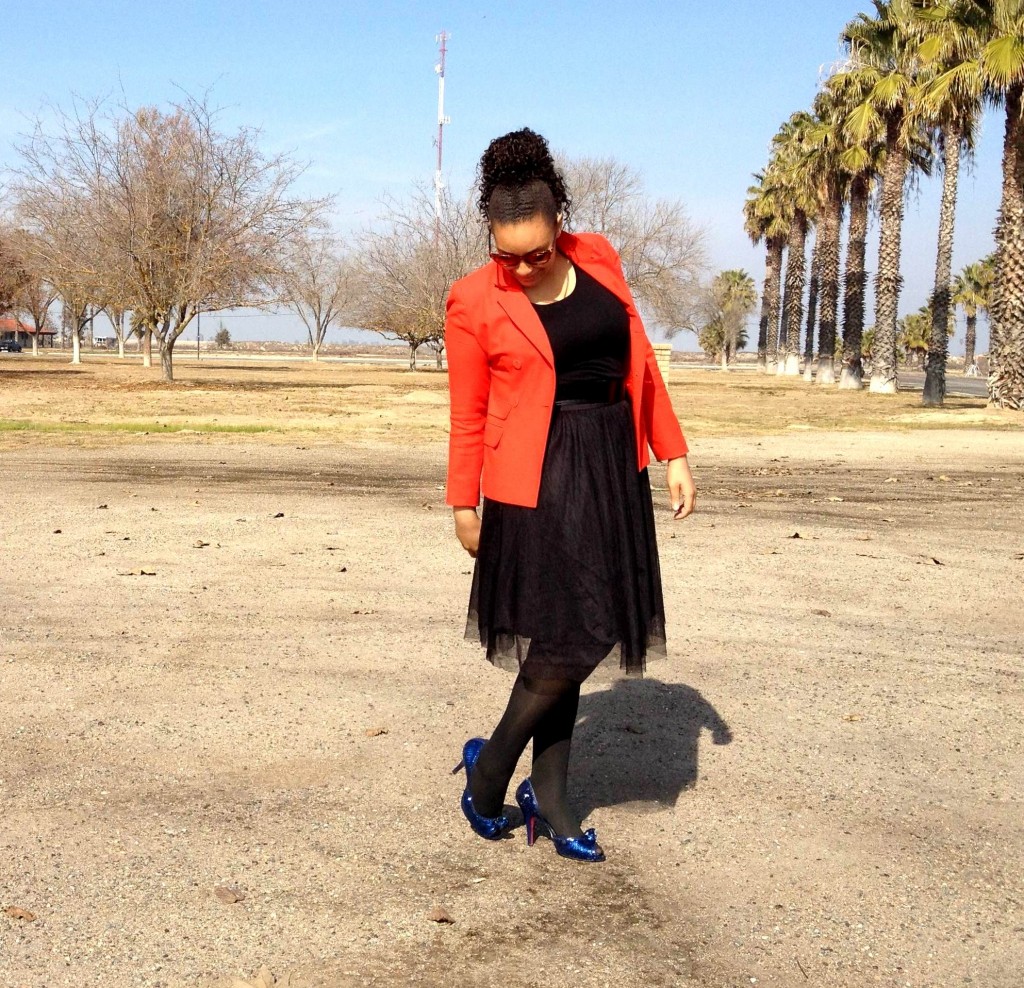 In an effort to avoid tearing through my closet (like most Sunday mornings) like a maniac, I decided to lay out my clothes last night before going to sleep. Meh. It didn't work. The proposed outfit was all wrong; the button on the blouse was missing, I had a snag/hole in a pair of favorite tights, and the shoes I wanted to wear were not in their box.
I tore a blazer off its hanger, zipped up a black skirt, added a belt, and was hurriedly on my way. During praise and worship I looked down and saw that I was wearing blue sequined shoes, with a black tulle skirt, and a bright orange blazer!! In my fit of I-have-nothing-to-wear-rage I forgot to exchange the shoes for a pair of black shoes. To make matters worse I was wearing peep toe shoes with tights. "Oh, woe is me.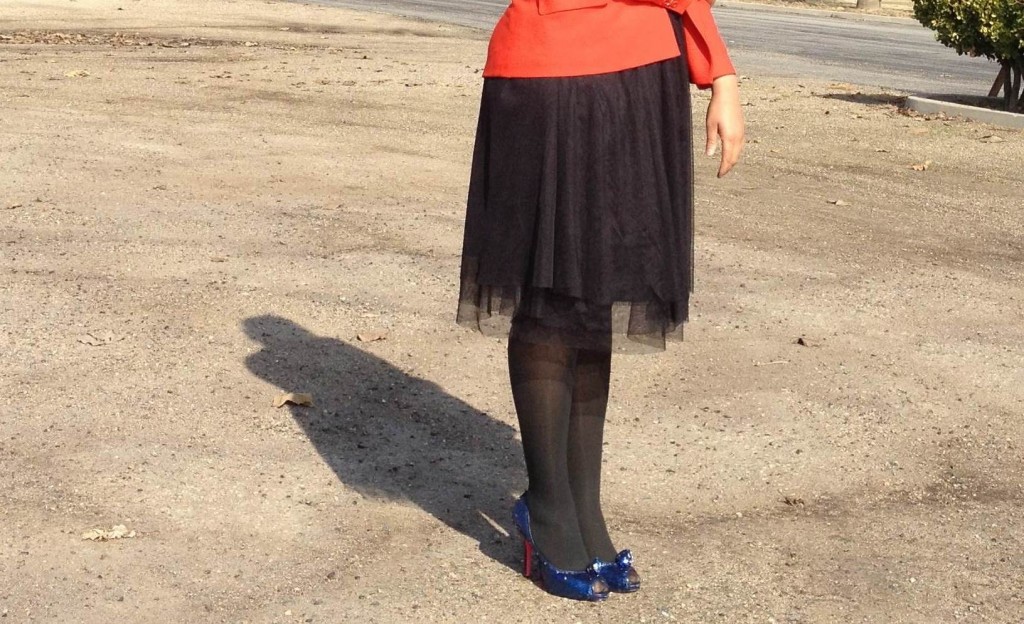 Not! If there's anything I've learned over the past several years, it's this: the fashion rule is that there are no fashion rules.
27 year old teacher wearing a tulle skirt? Rule broken.
Black belt and blue shoes? Rule broken.
Horizontal stripes on a non-stick thin frame? Rule broken.
Growing up I was very matchy-matchy and color coordinated. The color of my shirt had to match my shoes, I refused to wear pantyhose/tights with open toed shoes, and the very thought of wearing anything tulle was laughable times 1,000.
So, while standing in church and looking at my strange choice of shoes, I got over myself and proceeded to do what I went to church to do (it did not involve mulling over some blue shoes).
After all, they're just clothes and shoes.
Thrifted blazer seen here, Issac Mizrahi for Target tulle skirt as found at Goodwill ($3), patent leather belt worn with the belt buckle facing backwards, Betsey Johnson shoes as purchased on RueLaLa
The Week Ahead:
Stefanie will pen her first blog post on MoMoMod.
I'll finish my blog post about FAQs About Thrifting.
I'll reveal my monthly shopping/beauty budget.
I'll showcase modest wedding dresses(no, I'm not engaged. Pinterest made me do it).