D'Rae
I picked up this really great skirt at Talbots for $25! Their skirts are usually about $80-$100. Don't let the photo fool you, it is more of a highlighter yellow. Seriously. I put a highlighter next to it and it is about 1 shade away from being that bright.
Since neon is such a big trend right now, I used Polyvore to create a set to show you how I plan on wearing this bright skirt. One with shades of black and the other with navy blue. What other colors would you pair with neon yellow?
As you all know, I love clothes and I love to shop! I also love finding great deals and bargains. (Don't we all?) I also like shopping on eBay.
I know what you are all thinking…..eBay? Seriously, though. You can get some great stuff on eBay if you know what you are looking for. They have updated their search tools to make it even easier to find things. The other day I was looking for a red skirt. Not a dressy one, but a casual red skirt–kind of like a chino material. (I ended up not finding one that would work for me, but that's okay.) I also decided to search for just skirts in general. I selected the sizes that I wanted to search, the length and the color, and voilà- I found hundreds of skirts to sift through.
Here are some tips to keep in mind when shopping on eBay.
Always know your own measurements! I cannot stress this point enough. Write down your waist measurement, hip measurement, and the length that you like your skirts to be. Most sellers measure the skirts lying flat and the listing will state if it is. (If it is, you just double the measurement)Sometimes, I have found that they will give a waist and length measurement, but not hip. I just email the seller and ask. It is very important for me to have the hip measurement correct. Even if the label says it's a certain size, doesn't mean it will necessarily fit. Measurements are your friend!
Watch the item. Once you find a few items, add them to your watch list. This will let you keep your eye on the auction easier and will alert you to when the auction is ending.
Wait to bid. I always wait until the last few minutes to bid on an item. I recently purchased a lot of 4 skirts for $20 plus shipping. These skirts are normally $20 – $30 each! Also, if you want, you can always make your bid much higher than what they recommend bid is for. In the case of the skirts, the bid was at $11.50. I made my high bid $25. That was the price I was willing to pay for the lot. The auction came down to the last few seconds and someone else started bidding on the skirts. Since my high bid was $25, I came out the winner at $20.
Set your search amount to include the maximum amount you are willing to pay. It's always a bummer to find a wonderful item, only to find out it's out of your price range. If you don't want to pay more than $25 for a skirt set your price range like this: $0-$25.
Specify your location. Many times the cheaper clothing items are not located in the United States. International shipping can take awhile and it can be expensive. The advanced search option allows you to specify which countries you are willing to purchase from. If you are familiar with international sizes visit eBay sites for other countries. The UK eBay site has plenty of good clothing options. REMEMBER: UK sizing is 4 sizes different than US sizing. A US size 10 is equivalent to a UK size 14.
Select Free Shipping for your search to include all items with free shipping.
Select Best Offer for your search to include items that sellers are willing to haggle on.
Buy it now is a great option to use if you don't want to wait and bid.
Don't feel overwhelmed by the number of pages that come up. Choose to have more results per page; this will decrease the number of pages in the search and increase the number of items per page. Also, customize your view by selecting Gallery View. Your images will appear from left to right instead of up and down (list view).
Select your specific size. Remember: Juniors,  Misses, and Women's sizes are DIFFERENT. Read the listing carefully. A size 7 is not the same as a size 8.
Know your eBay acronyms: BIN=Buy It Now EUC=Excellent Used Condition VTG=Vintage SZ=Size LT=Lot PC=Piece
Modest clothing up for bid right now!
1. 3/4 length coral top Starting bid $9.99 size small
2. Liz Lange Maternity Dress size 2XL buy it now $8.99 (Don't let maternity clothing fool you! Order a size or two smaller for appropriate fit.)
3. Pleated Chiffon Dress Vintage size 8/10 starting bid $9.99 (super tiny snag near wrist)
4. I.N.C. Polka dot dress Medium starting bid $14.99 (lightweight nylon fabric; break up the print with a contrasting belt)
Now, go out and find something great on eBay! (just promise to not outbid me. lol!)
Do you use eBay? What are some of your tips?
Follow me on Bloglovin
here
.
You can find my blog
here
.
My Pinterest boards are found
here
.
My twitter account is found
here
.
When Chandra asked us to participate in this styling event, I had lots of ideas running through my mind. What article of clothing could I choose to style in three different ways? I thought about a dress, a scarf or a jacket, but i eventually settled on the basic jean skirt. Why? Because almost everyone has a jean skirt in their wardrobe!
I am going to show three varying degrees of casualness with the jean skirt. Casual, semi-casual, and a more dressed up look.
1. Casual – This look is with a t-shirt and flats. It is the most basic of outfits and anyone can recreate it. It is good for weekend wear or even casual day at the office.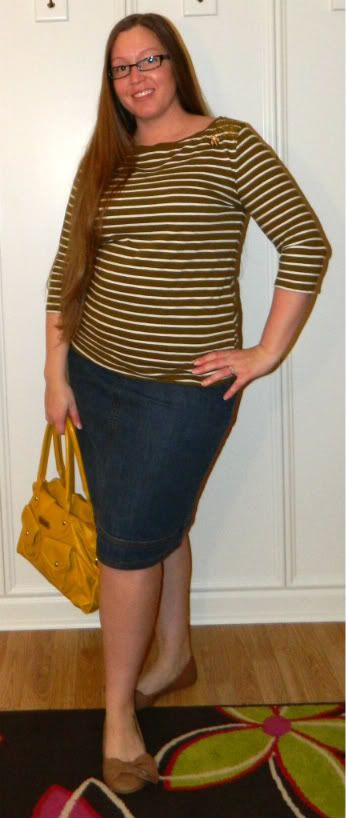 2. Semi-Casual – This one is a little more fun. You still have the basic jean skirt, t-shirt and flats, but I have dressed it up a bit with a shiny pair of flats, a blingy bag and a scarf. Again, this outfit would be good for weekend wear, casual day at the office, parent/teacher meetings, etc.
3. Dressy-Casual – This outfit is more dressy. I have added a button down collard shirt, cardigan and belt over the basic jean skirt.
So as you can see, it is easy to dress up or dress down your jean skirt. I think that the jean skirt is one of the most versatile pieces of clothing that you can have in your wardrobe.
Follow me on Bloglovin
here
.
You can find my blog
here
.
My Pinterest boards are found
here
.
My twitter account is found
here
.
The Series: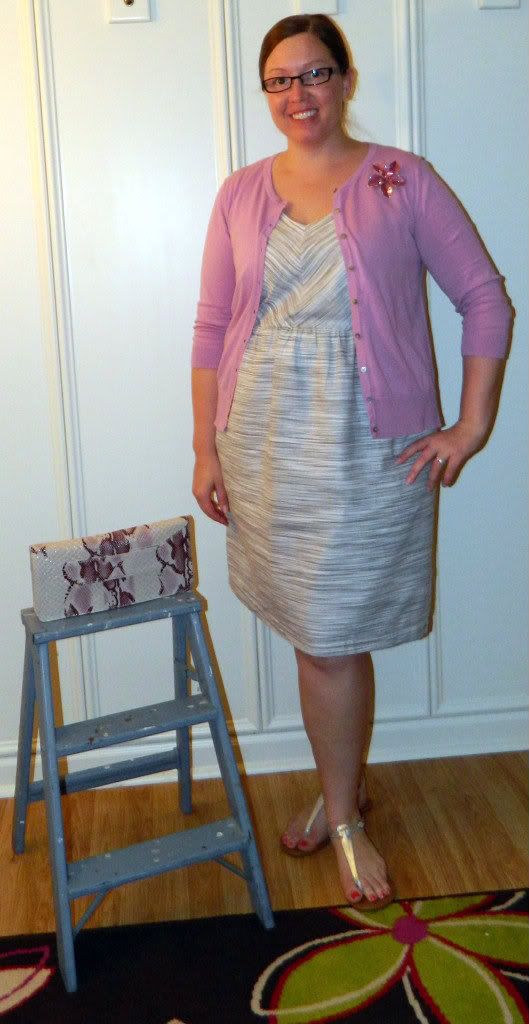 Hello there dear readers! Today I want to ask you something. What questions do you have for me? I will be compiling them into a post here next month! So ask away! Do you want some styling help? Want to know a little more about me? Now is your chance to ask!
Today I have on another great dress for summer! I recently picked this up from Target (online) and I love it! It is a linen/cotton blend and fully lined! I paired it with a very light weight cardigan and silver sandals (you could also sub in heels or cute flats if your place of business frowns upon sandals).
Outfit Details:
Dress – Target
Cardigan – Old Navy
Shoes – Shoe Carnival
Brooch – Gifted
Clutch – DSW
Follow me on Bloglovin 
here
.
You can find my blog 
here
.
My Pinterest boards are found 
here
.
My twitter account is found 
here
.