Dresses
Lately, I've been a lazy when getting dressed (hence the lack of blog posts); I've been wearing the same thing to work and church (kimono over knit dress, skirt and long cardigan, kimono with skirt, basic knit dress, repeat). I've been going through my clothes, and once my summer break starts, my goal is to purge, purge, PURGE like nobody's business and stick to the basics. 
Continue reading →
I honestly thought spring break would never arrive. My school district ended up having a late break, and I'm pretty sure all students and teachers were going crazy!
Brandon was asked to speak at a conference, so he decided to let me join him; we spent a few days in Orlando, Florida at Disney World. We went to Magic Kingdom, EPCOT, and Typhoon Lagoon (a water park). He's actually speaking at the conference today, and since I start back to school today, I came back home a few days earlier.

I guess when I get stuck on a print, I really get stuck! I've really been into floral items lately (
exhibit A
,
B
,
C
), so I've been on the hunt for even more floral patterns. Since I'm on summer break, I have a bit more time to thrift. During the school year my thrifting excursions are limited because I'd rather go home than thrift. When I do hit up the thrift stores, it's on the days we have early dismissal (Thursday!).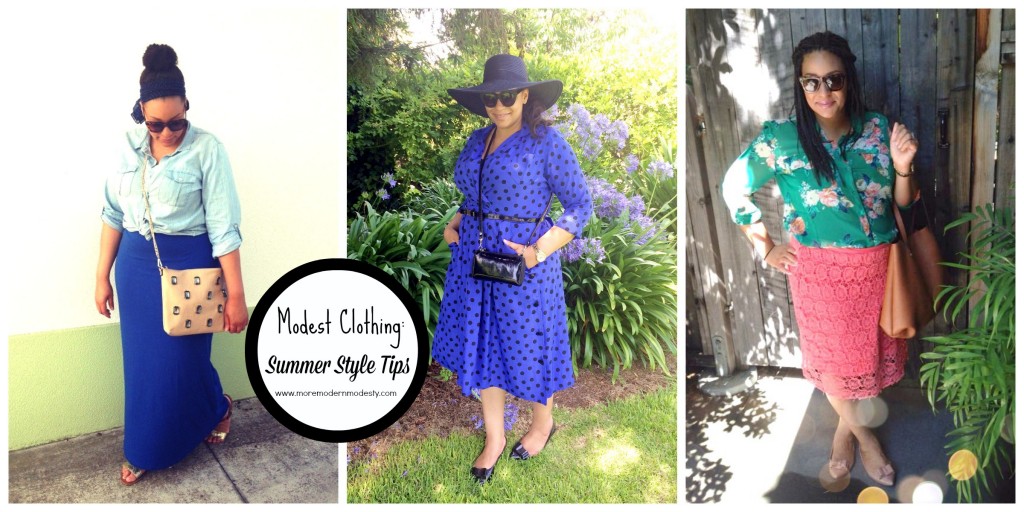 One of yesterday's blog posts discussed some tips on how to dress modestly during the summer months. If you missed it, be sure to check it out. I also showed you one way to wear a sleeveless dress in this post.
Picture 1 and 3 (above) were both taken last year. The first image showcases one of the outfits I wore while in Portugal, and the last one was taken mid-September of 2013. Finally, the middle picture was taken over a week ago on a blazing day in San Jose at Dia de Portugal. All three of these images showcase my summer style pretty well:
Wear a knit dress topped with a chambray top.
Sandals are pretty much a must!
An airy dress makes for a comfy and easy outfit.
A sheer top can be worn over a cotton tank top.
Check out some more outfit ideas from Brittany and AshLee! Continue reading →