family
My modesty journey began almost ten years ago on October 7, 2001, when this scripture literally turned my world upside down. I was a 19 year-old college student who thought the more skin I exposed, the better. Growing up, I can't recall ever being told a particular piece of clothing was off limits — tube tops, miniskirts, halter dresses — I wore them all with no objection from the maternal figures in my life.  But in the months leading up to that "fateful day" in October, I began to find myself becoming uncomfortable exposing my body, putting on so much makeup and wearing body piercings. I even began to think my short, bleached hair (which I had dyed bright red) wasn't exactly the look I should be going for any more.
This process of transformation wasn't motivated by any human source; my family didn't suggest the change and I wasn't going to any particular church at the time. I no longer wanted my old lifestyle and I wanted to dress the part. Eventually God saved me and I began attending church regularly. It wasn't long before I was introduced to the "do's and don'ts." Some of these standards aligned with the way I felt God had led me, while others seemed a little unnecessary. However, I deemed the less needful "standards" as trivial compared to the awesome transformation God had made in my life, so I just went along with what I was told.
Over time, though, I began to notice individuals who didn't feel they were given the opportunity to possess their own convictions or had a difficult time aligning with the standards — and who could blame them?  Most times they were given a list of regulations — in place of biblical teaching. This group seemed to be well-versed in the do's and don'ts but completely oblivious to the "why's" and "how come's". As a parent, I've been thinking of how we will instill modest convictions in our daughters, rather than a dogmatic list of rules and regulations.
I know that I want to share my personal testimony and experience with my daughter, but my prayer is that she never has to wear a miniskirt to develop an appreciation for modesty. With so many colliding ideologies and opinions, how does one put a love for godly principles in the heart of a child so they learn to form their own convictions? How do I take Hebrews 5:14 and put it into practice so that my daughter, "through training [has] the skill to recognize the difference between right and wrong?"
When I came across MoMoMod a couple years ago and saw fashionable, modest, young women who enjoyed the way they dressed and seemed to have personal convictions related to their standards, I rejoiced! As a mother this gave me hope.  The women who are a part of the MoMoMod community intrigued me. How had these individuals come to value modesty and what role did their mothers play? Were they taught why they should dress modestly as a child? Or were they given the regulations of a particular assembly? Is their mother an example of modesty or has God used them to be an example to their mothers? Was their relationship with God cultivated by their parents — therefore leading them to make personal decisions about their appearance?
This post isn't my way of opening the gates to bash any particular standard or assembly (or to learn the specifics of your personal convictions) but to explore the role of mothers in the modesty journey of their daughters. Do you dress modestly and enjoy it? If so, what role, if any, did your mother play in your journey…inquiring moms want to know!
When I'm not busy with my family I blog here, tweet here, pin here, and occasionally update my FB status here— stop by and say hi! 
First off, I have to say this: I write because I love writing.  When I write it's raw, it's real, I stand behind my words and I don't write to be a part of the popular crowd.  Here is one of those *raw, real* moments.  Hold on to your panties.
So, I'm a young mother.  I have NO idea what I'm doing.  The messes I make in the world of parenting are embarrassing and humbling.  Let's get all the pretense out of the way.
Hello from the newbie
However, I'm a quick study.  The mental notes I take are copious and I don't forget.  As my oldest is only 6, I have a long, long way to go on all fronts.  Over the years, I've gotten close to a few women and watched their parenting skills, I've admired how their children are highly educated and making their way in the world successfully.  Their children are younger than I am.
But what I've grown most envious of is the relationship they have with their children.  It's amazing.  Watching a twenty-something year old confide, sheepishly, but trustingly, in their mama while she smiles, encouraging them through their mistakes is heart warming.  Mamas are wise (as I can not speak from the standpoint of a man, I'm going to keep this on the ladies' side of the tracks).
  I have a dear friend who has three children, two boys and a girl, the youngest is 14, a girl, and the oldest is 20.  All of her children confide in her knowing that even if they make horrible, horrible mistakes she's there for them.  Recently, one of her children got into some scary trouble.  And even though she and her husband were terrified, in the end, they felt the best way to handle the situation was to allow the transgressor to pay for the mistake.  Literally.  The bill came in the mail and over the course of a few months, it was taken care of and a huge, important lesson was learned.
That is the type of mom/parental unit I want to be.  That right there.
**Hi, I am your mother, but I will not allow you to escape from your mistakes, you MUST take responsibility for your actions!**
Pray to God that I never become the type of parent who lets their child get away with just about everything, only lightly disciplining them for fear that they will *hate* me or I will *lose* them.  Just as I have women I look up to, I also have parents who I observe with disappointment.  Like I said, I'm new, but I'm a quick study.
When your *child* is 15, 16, 17, 18 … it seems logical that there should be an expectation for accountability.  (I could scream as I'm typing this)
Last year I wrote a post on denial and how detrimental it is to any familial relationship.  I live that post.  No joke.
It is more important for me to maintain a trust with my children that follows into their early adulthood, than to be their best friend and lose their respect.  Let my child blush from embarrassment, cry from shame, or weep from guilt, during our private moments together but please, don't let them lie to my face and me believe it, willingly.  Believing their lies willingly will make me a failure (in my eyes).  I'm failing them by not calling them out in love.  In spite of what I may think, my child will come back to me years later and thank me for stopping the cycle.  I just know it, because I've seen it happen before.  Remember my friend I mentioned earlier and the scary incident?  Yeah, she and her young adult child are closer than ever because there was a firm, nurturing love in their parenting choice — not denial or fear to encourage their offspring to accept responsibility!
And, if you managed to get to the end of this post, bless your soul
  I told you I do not write for the approval of others, I write what I'm passionate about.
Parenting my children with all my love and good will is my goal in life.
Live so that when your children think of fairness, caring and integrity, they think of you. -H. Jackson Brown Jr
Join me on FB
Follow me on Twitter
Visit me over at
1. As a child how did you picture yourself as a mother? How have your views about motherhood changed over the years?
As a child I didn't picture myself as a mother, but rather as a lawyer because lawyers made a lot of money and were happy, right? Well, in college while interning at a prominent law office in D.C. I realized it was not for me! The October after that internship God saved me and my views on MANY THINGS started to shift. I began to value the spiritual blessings over worldly success—which is good, right? But as a new Christian who was "on fire for the Lord" I secretly judged the mothers of the church who did not attend every service, missed prayer retreats, and didn't participate in the ministry. Didn't they love God? Did they even have a "sacrificial prayer life?" It wasn't before long I was knocked off my high horse! I humbly learned that mothers are involved in full time ministry, 24/7! I've learned that every prayer is sacrificial and that the Lord even answers the prayers whispered while washing the dishes and wiping snotty noses. I have come to realize that a mother who is yielded to God should be held in high regard after all "he that is greatest among you shall be your servant" (Matthew 23:11).
2. When did you have your first child and how did you prepare for your firstborn's arrival?
Physical preparation- My son Caleb was born June 2008 (11 days before our one year wedding anniversary!). When talking about childbirth I had a very spiritual/ anointed woman of God tell me " Jesus gave the doctors the wisdom to create epidurals…don't try to be super woman, take the drugs!" This comment and others like it made very interested in the idea of natural birth vs. medicated birth. I did a LOT of research and familiarized myself with pain management techniques, took classes, and used this site A LOT. I studied the biblical principles related to childbirth and watched the documentary, "The Business of Being Born." I also created a birth plan and organized my "birth team" which included my husband and good friend LaSandra. You can read more about Caleb's birth story here on her blog.
Spiritual Preparation- I prayed a lot. I prayed for myself and had others pray for me. I had to conquer fear of the unknown "Would I be a good mother?" "Would I survive the pain of child birth?" etc. I gathered scriptures that encouraged me and listened to music/ sermons that were edifying.
Financial Preparation- My husband and I agreed that I would be a full time homemaker after the birth of our first child. So, we lived below our means in a studio apartment, pushed to pay off our debts (including credit cards and wedding expenses), and built our savings using my income as a teacher and used his income for our living expenses. We also saved aggressively to buy a safe car for precious cargo and cheerfully gave to the church and those in need. So, when our son arrived we were ready to live on one income.
3. Looking back: what mistakes did you make and how did you change them?
I ate out way too much during my first pregnancy, and didn't make the healthiest choices, but I did better the second time around. I would have definitely used a midwife rather than a doctor for the birth of my son. With my daughter I had a midwife and found midwives to be more patient and compassionate—two things you definitely need during childbirth! Looking back, I could have prepared my mind for the transition from working mother to homemaker more. I should have done more praying and reading about life after the birth…but isn't that what we tend to do? We focus on the event rather than the life that follows (ie. weddings vs. marriages). I have since come to terms with the transition but it was on the job training!

4. How is your child's lifestyle and childhood different than your childhood? How are they the same?
My children's lifestyle and childhood are MUCH different from my own, thank the Lord! They have two married loving parents who serve Jesus. So, they do not experience a lot of the drama I did growing up. They are able to be kids, and are not exposed to some of the harsh realities of this world before their time.
5. Think about your own mother (or someone that served as your mother). How are you different from your mom? How are you the same?
God has blessed me with many women who have served as mentors in my life, my grandmother being the most prominent. She is one of the most giving people I know. She loves sending greetings cards to everyone for all sorts of occasions "Congrats on your new job, sorry you lost your pet, etc." She has taught me to remember people, especially those who may otherwise be forgotten. Along with her card giving she is always on time! She knows exactly when to mail a card to be sure it arrives ON your birthday. She has always told me to be early and never make anyone wait for me when they pick me up. Unfortunately, I do not have her knack for timeliness…and it drives her crazy!
6. What is one tip your mother gave you and you use? 
My mother-in-law often tells me "you can't give what you don't have." This is her way of telling me to make sure I am taking care of myself. It's a gentle reminder that neglecting to care for myself spiritually, physically, and mentally to serve those around me, actually hinders my service rather than benefit it.
7.How do you plan to teach your son to treat a lady? How do you plan to teach your daughter to act like a lady?
My son is learning how he should treat a lady by watching how his dad treats me…and he treats me pretty well! He witnesses his dad love me as Christ loves the church and gave himself for it (Ephesians 5:25). As he grows we will encourage him just as Paul encouraged Timothy to treat "elder women as mothers, the younger as sisters, in all purity and to honor the widows" (Timothy 5:2-3). My daughter is learning what it means to be a lady from my example—I think is important to exemplify beauty, femininity, and meekness for my daughter, in a world that tries to blur gender lines and encourage women to be boisterous and seductive.
8.It's been said that once children enter your home time for yourself is not a priority. How do you make time for yourself? What are some of your favorite hobbies?
I believe that the Lord is a proponent of self care " love they neighbor as thyself" echoes my mother-in-laws advice that I "can't give what I don't have." So, taking time for myself and my interests helps me give more lovingly and freely to my family and those around me, but it's a constant balancing act, and I sometimes drop the ball. Unfortunately I am not a good planner/ time manager, but with the Lord's help I'm working on it. I believe there is enough time in the day to cultivate my relationship with the Lord, my husband, and my children while also maintaining my household and pursue my interests. I believe the key to this is balance (there's that word again!). Currently, I am staying up way too late blogging and crafting. I love all things creative, from sewing to reusing coffee bottles!
9. Describe one easy meal you've made that your family enjoys.
Homemade pizza…every Friday! I make pizza from scratch every Friday and my family loves it. It's simple and economical. I follow a foolproof crust recipe my friend gave me and add toppings (which are usually leftover) veggies, tofu, etc. It's always a big hit. I also double the recipe so there's enough for Saturday!
10. Describe your perfect family outing. What tips can you give families about planning budget friendly family day activities?
Pack your own lunch and snacks and avoid the gift shops! Take advantage of free days/ passes to parks and zoos—we're able to get these from the public library. Get creative with family vacations. We have planned our family vacations around my husband's travel schedule at work. We have been able to go to Disney World (twice) and Atlanta for a fraction of the cost. He has to go to meetings for part of the time but it's worth it.
11. Let's discuss your "mom-style". Do you put a lot of thought into what you wear? Do you care more about how your husband and children are dressed? If you have tips for moms in regards to clothing…do tell!
Since the birth of my children I have had to reinvent my style. If you think stylish + modest clothes are hard to come by, you've never tried to buy modest + stylish maternity or nursing accessible clothes! After the birth of my children, even after losing baby weight, the shape and firmness in certain areas was drastically different so I have had to wear more structured pieces. I usually managed to look nice on Sundays for church, but my main issue is during the week. I have to force myself to get dressed, do my hair, and wear shoes when most of my time is spent at home! When I was a teacher I would often wear heels especially when I taught middle school because my students were taller than me. So, with my new occupation I am working on finding modest, stylish, and comfortable clothes. Currently, I wear a lot of straight skirts, flats, flowy tops and cardigans/ blazers. I also try to accessorize with fun scarves and (age appropriate) headbands. Also, in an attempt to keep my style I have invested in nice diaper bags. Some of my favorite brands include Kate Spade and Petunia Pickle Bottom (and I never pay full price!). Next on my list is a Mia Bossi diaper bag.
12. Name one or two Bible scriptures that have helped you during times of distress.
Isaiah 28:23-29 talks about the wisdom of the farmer. He knows when to plow and when to plant. He knows the best spot for each crop. Then verse 26 says God instructs him and teaches him! The passage concludes with "The Lord of Heaven's armies is a wonderful teacher, he gives the farmer great wisdom" (Isaiah 28:29 NLT). This passages always gives me hope when I'm not sure which way to go next as a wife and mother. The Lord helps the farmer in his occupation and gives him great wisdom in things that seem natural. When I come to a point in this walk when I don't know how to do something I remind myself that the Lord is a wonderful teacher!
MoMoMod is now composed of two contributing mommies–Tiffany and Misha! I wanted to honor both of these ladies today. This post will feature questions as answered by Misha. Happy Mother's Day, Misha!
1. As a child how did you picture yourself as a mother? How have your views about motherhood changed over the years?
I never spent a lot of time thinking about what kind of mother I wanted to be. I didn't ever really feel maternal. Life was very tumultuous for me and a lot of times I just couldn't wait to turn 18. But, my mom was the best mom she could be. I remember loving how she took the time to make things for us; she was always creating. She did flannel boards with Bible stories, silly puppets, costumes, clothing, she wrote a lot, she would read to us, and she always made sure we went places with the youth even when money was tight. She was a very good mom. Looking back at my childhood, I swore that there were certain ways I would never be as a parent. I don't feel comfortable sharing them, but let's say that you can either look at your surroundings and be sucked in (because that's all you ever knew) or you can look at your surroundings and make.a.choice!
2. When did you have your first child and how did you prepare for your firstborn's arrival?
I had my baby boy, Cy, when I was 26. I was NOT ready. Yes, I knew I was pregnant and that I had to be a mom, but I didn't become his mom, or connect with that fact until years later. It was really, really hard for me. I loved my baby boy, but I didn't see myself as a mom, therefore my mom skills were lacking. My love was not lacking–just my skills.

3. Looking back: what mistakes did you make and how did you change them?
I wasn't patient enough. I'm still not as patient as I want to be and I wish that I was. If I were to answer this question in earnest, we could be here a long time. Let's just say that I started holding myself accountable for my actions. After making a parenting boo-boo, or even DURING my misstep, I would talk to myself and try to redirect my emotions and turn the situation into a positive. It didn't always work, but when it did, I felt a million times better about myself for having controlled my *reaction*. I have written extensively on my blog about the way my husband and I choose to raise our children; it's such a learning process. Goodness!
4. How is your child's lifestyle and childhood different than your childhood? How are they the same?
My children are growing up in a home where the mama and papa love each other deeply (very different from my childhood). My husband and I see life quite the same, we approach it differently, but our views complement each other. Our relationship is VERY symbiotic. David is very mathematical, detailed and can be a little more hard-nosed than I. I am very much into literature, I procrastinate (thus making me a little more like a chicken-with-my-head-cut-off-esque) and, at times, I can be more lenient.
I strive to be the super crafty mom, just like my mom was for me. I don't always nail it, but I do a lot to make it happen. And just like my mama raised me, we have books, books, and books everywhere!

5. What is one tip your mother gave you and you use?

My mom has always encouraged me to raise my children with a love for God and the things of God…and boy do I ever try.

6. How do you plan to teach your son to treat a lady? How do you plan to teach your daughter to act like a lady?
Oh lordy! I really don't have a plan of attack on this one. I can tell you that we work with our son about loving. May sound odd, but we really really emphasize loving his mama and his nana (his little sister). If we can show him how to love it will translate over into how he treats other women. Gratitude, kindness, care–these are all traits we try to nurture in him and it's working. He's not perfect, but he's slowly growing into a respectful little man.
And as far as Roma goes, she is in ballet. HAH. That will teach her good posture and how to cross her legs at the ankles! No, but seriously…God is going to have to give me wisdom, because I haven't a clue.

7. It's been said that once children enter your home time for yourself is not a priority. How do you make time for yourself? What are some of your favorite hobbies?
Oh, gosh! What a struggle. I can honestly say that I was SO stressed out that I didn't know how to find time for myself. And when I did find time, I couldn't stop thinking about my babies. So, it wasn't time at all. Ugh! Most recently, I found the rhythm of our home and ever since then, it's been easier for me to *take time out* and not feel extremely stressed or guilty and race to end my girls' night out date to get back. Now, I have it down to a science. Mondays and Wednesdays are the days that I get out and go to the gym. I start cooking dinner (yes, dinner) at 2:30pm, it's done by 4pm, my son comes home, I feed him and Roma a snack and then shoot off to the gym. My husband picks the children up after work, roughly an hour after my arrival, and they leave for the house and have dinner. I return around 8pm. Those are my two days of me time
Happily spent sweating and grunting like a fat turkey on a treadmill.
If I had more time, I would write books, take a cooking class to help my meager skills, take language courses in French, Spanish, (more Russian!!), and Italian. And I would start my photography business up again…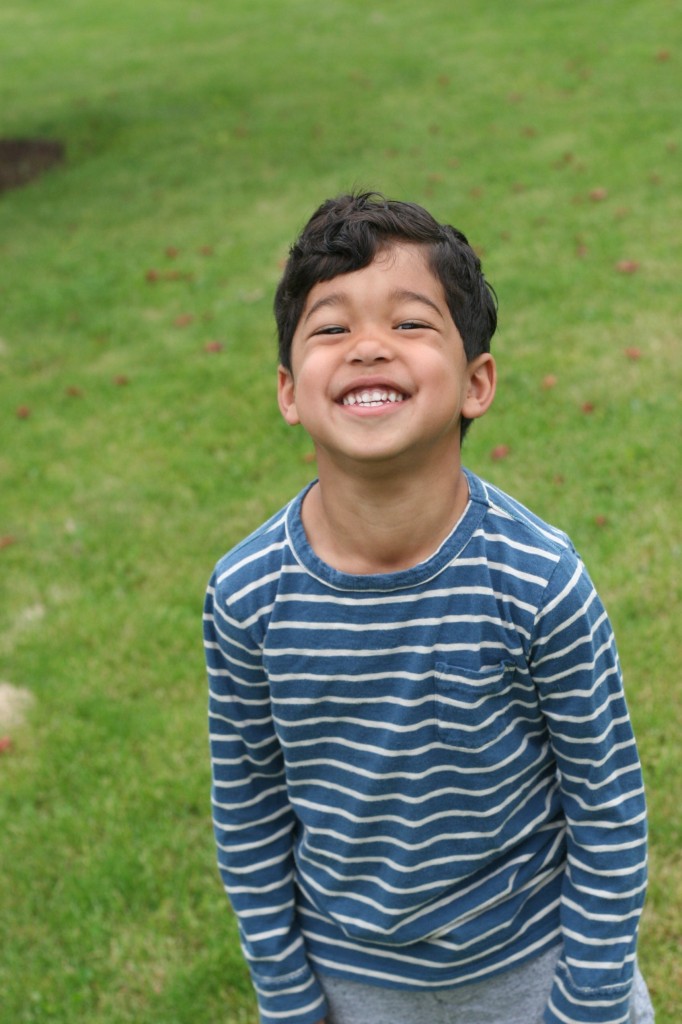 9. Describe one easy meal you've made that your family enjoys. You can post a link to a blog post if you have one.
Oh! We LOVE eating and I love cooking. Goodness!
Pizza: We eat this EVERY Friday! My kids always look forward to pizza Fridays

Mexican Skillet:
Noodle Bake:
Honey Grilled Pork Chops
Those are just a few.
10. Describe your perfect family outing. What tips can you give families about planning budget friendly family day activities?
The perfect family outing?? It would be in D.C running through all the museums or in NYC playing in fountain in Washington Square park (which we've done both). Those are a bit hectic, but our family loves doing things like that. however, if you were to ask my son he would immediately say, "let's go on an uhventure!" My sweet boy. We love packing picnics and throwing a blanket out on the the front yard. We stuff backpacks full of useless toys and walk down the street in search of something great. Sometimes, we pile the kids in the bike carriage and D will pedal along side me while I run. When the occasion arises we go to the beach because my kids were born half fish. I promise! That's what we love to do.

11. Let's discuss your "mom-style". Do you put a lot of thought into what you wear? Do you care more about how your husband and children are dressed? If you have tips for moms in regards to clothing…do tell!
Ahh, clothing. Growing up, I didn't really know how to dress, I just copied other people. Most, if not all, of the time I was SO uncomfortable. Ugh. My trip to Europe really started the ball rolling between me and clothing and there was a definite change. Now, I care a lot about how I dress. I don't like looking frumpy (but I'm not into looking perfect either). I was raised to make sure I was presenting myself well. Now, I'm careful to make sure my hair is done and I'm dressed for the day when my husband comes home. Looking nice for him AND me makes me feel better.
Tips for clothing? Don't buy it until it screams your name as you walk by. A lot of times, I will grab an item and walk around with it in my cart as I shop. Eight times out of ten it finds its way back to the shelf and I save myself the $20 and just make do with what is in my closet. But, then again, if you were to hold me down for the truth…I would have to say that I love shopping online, I still let things sit my in *cart* but online shopping is so much more to my liking.

12. Name one or two Bible scriptures that have helped you during times of distress.
To be honest, I don't have any specific verses that have helped me. I tried to think of something, but the truth is, I have WHOLE BOOKS. I just fall short in so many little ways that God has really just used his word to hold me up and guide me. The tears I've cried. Proverbs, James…two of my favorite…Ecclesiastes.
Like Mommy Hobbies on Facebook