floral
*affiliate links are used in this post*
 I've been talking about
eShakti
ever since I started blogging way back in 2010. I've ordered several
customized dresses
and
skirts
from them, so when I was offered the chance to try out one of their dresses, I said, "Sure!"
I've been on the hunt for a 50s style floral print dress for awhile, but I haven't been able to find one. eShakti has this bold floral print summer dress on their site and its available in two colors. It's sleeveless, but because you can customize your clothing on eShaki, I requested 3/4 length sleeves. The bold floral print summer dress is also available in above the knee, below the knee, and mid-calf lengths; I chose the midi option.. Another great feature? POCKETS. Yes, yes, yes!
Agnes and Dora
 sent a floral skirt to me, so I knew I had to wear it for
day 6 of the style challenge
(floral). Speaking of Agnes and Dora,
Shon
sent me an email about their skirts last week! I love when you guys send me tips via e-mail!
Mondays are usually my "Sunday Morning Best" posts, but it's kind of hard to blog about Sunday morning best when you spent your entire Sunday in bed. Booooo!
My plan was to wear this dress to church yesterday (sans faux fur vest and flats) with a belt and some black pumps, but that didn't happen. What usually happens (and what I rarely document here) is that I wear what I wore to church on Sunday to work on Monday. Of course for work I skip sky high heels, clutch purses, and all that riff raff. So here is what I'm wearing to work today. Thanks to the i-Phone I was actually able to snap pics and blog while sitting in the parking lot at work. Woooowww.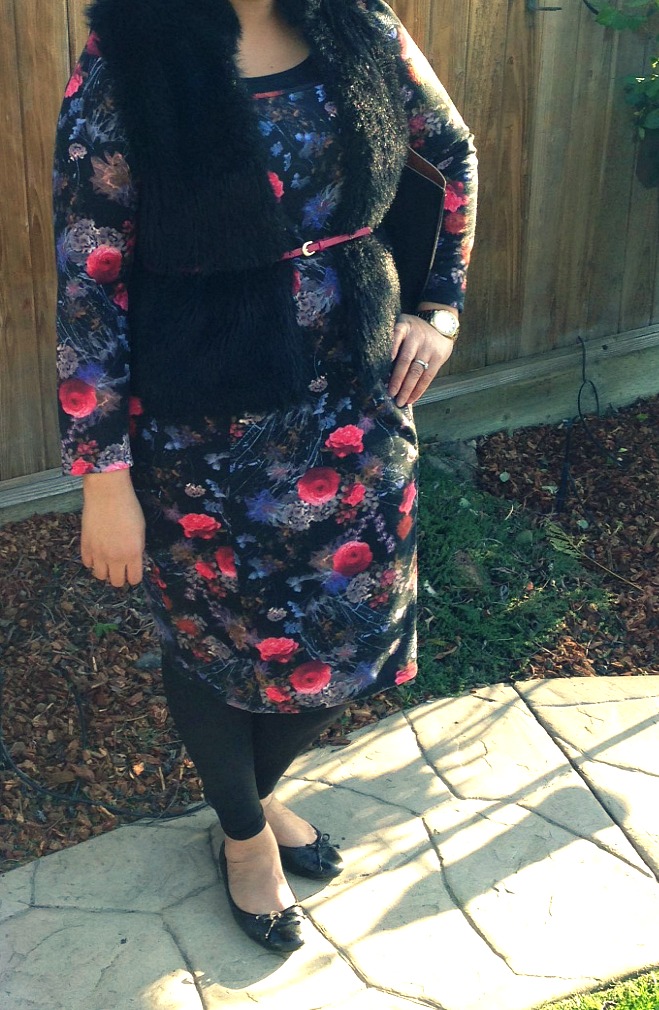 I'm pretty much on my feet all day, so I rotate between the three pairs of flats that I own on a daily basis. I have the flattest feet in the world and flat shoes do not help me. My feet are most comfortable in heels; when I wear flats I have to wear arch supports and cushions. You don't even want to see the insides of these black flats. Foot Petals and Dr. Scholls' inserts are must haves for my flats.
I started a discussion about comfortable flats on Facebook, but I'd love for you to give me some suggestions about your favorite comfortable flats. A lot of people recommended Sperry Topsiders, but I just don't think those shoes are for me. I've never owned a pair, but so many people say they are comfortable! Let me know what you think.