J. Crew Factory
I've been on a J. Crew and a J. Crew Factory kick lately. I found out sometime last year that both stores allow you to use your teacher I.D. for a discount, so if I decide to make a purchase in store, I definitely use my I.D.! My
top,
skirt
, and
shoes
are a mix of J. Crew and J. Crew Factory.
I've talked about J. Crew and J. Crew Factory several times; if you're someone who balks at the idea of paying full (or even sale price) for items from J. Crew, then J. Crew Factory might be a better option for you. And if you still want deeper discounts? eBay and thrift stores. It might take you a bit longer to find a specific item, but I don't think that really matters.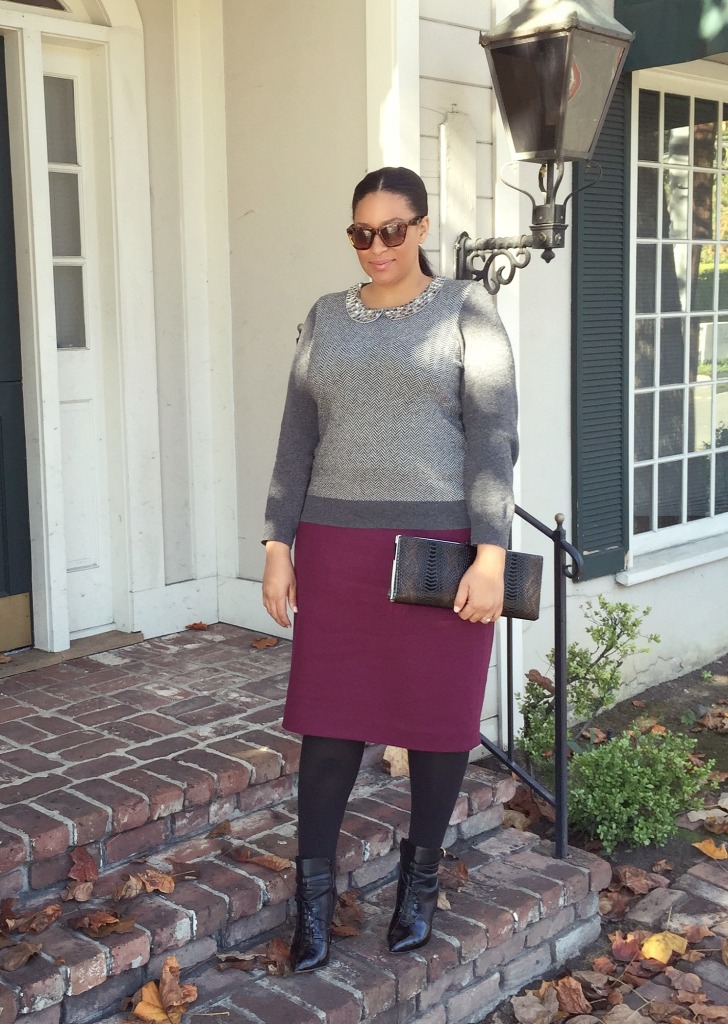 I've been waiting to wear this
J. Crew Factory
herringbone sweater I bought last January, and I figured yesterday was finally the right time to bust it out of the closet. I knew that I didn't want to wear it with a boring ol' black skirt, so I paired it with one of my new
J. Crew Factory wool skirts
.
Continue reading →
Since it seems like the only time I wear
this skirt
is on Sundays, I've decided to call this my Sunday Sequin Skirt!
I went to a water park with my husband this weekend, and I got banged up on one of the slides. I got several bruises on my legs and arms, but I had a great time!
Today is my first day back to work (students come back next week), so I'll be in professional development for the rest of the week. Anybody willing to help me finish decorating my sixth grade classroom? ANYONE?!
Two of my co-workers and I stumbled upon some knit fabric at a teacher discount store, and each bolt of fabric was $15! That's an awesome price.  So, I tried fabric instead of paper for one of my walls, and it took me over an hour to finish. I should have used a woven instead of stretch knit. I ended up using paper for the rest of my walls.
Here's the fabric we purchased.
You can see the fabric I used on the far left. It's so crooked; I'm too embarrassed to show a close up! Ha!
I'm wearing a J. Crew Factory top, a Target sequin skirt, Forever 21 heels (similar), and a clutch I purchased at a flea market.
I've been on summer vacation since June 6th, and I had all these grand plans to, well, plan. I'm moving down a grade this year (7th to 6th), and I wanted to make some changes to my syllabus, classroom rules, and so on. I realized this week that I didn't follow through with my ornate ideas, and school starts in two weeks! Crunch time!
I was able to attend two teacher conferences (one of them the Google Apps for Education conference…AWESOME), and I've got another conference this coming week.
Today, however, I am en route to a birthday party for my friend's daughter. The party doesn't start until this afternoon, but I'm leaving early to spend some time with my friend. I haven't seen her since my wedding, and can you believe she's invited me to visit her in Hawai'i and I've YET to accept that invite? Something is wrong with my head!
When I bought this striped J. Crew Factory top, I bought the polka dot top, too. After spending some time looking at fruit salad recipes on Pinterest last night, I ended up pairing my polka dot top, with my Kelly green maxi skirt, and my neon shoes. I think I had watermelon on the brain.
I'm wearing a
J. Crew Factory polka dot top
(
similar here
), a maxi skirt I
purchased from Jane.com
(sold out), a clutch purse I thrifted, and Charlotte Russe heels.