MIY
Today I will be posting 3 homemade remedies for your skin! It is officially summer, and especially important to take care of your skin! Whether your skin dries out, or gets oily (mine, big time!), it needs to be protected. Here are some simple ways to create your own facials right at home! I love these ideas. PS: thank you, Pintrest.
Remedy 1: Baking Soda Facial
Step 1: Add 3 tablespoons of baking soda, and one tablespoon of water. Mix well. If you need to add a little more baking soda, do so. You want it to be more of a paste.
Step 2: Rub in circles all over your face and let it dry. After the first layer is dry, add a second layer. Once that is dry, wash your face with warm water and a washcloth.
Step 3: Moisturize!! The baking soda acts as a natural exfoliant, so make sure you use face lotion as soon as you're done!
Use: 2-3 times a week.
Remedy 2: Lemon juice, olive oil, and honey.
Step 1: Add equal parts of all ingredients into a small container, and mix well.
Step 2: Apply in circles on your face. Let the facial sit for ten minutes.
Step 3: Wash off with warm water, and it make be a little sticky.
Use: 2-3 times a week.
Remedy 3: 1 cup of oatmeal, yogurt, 1/2 an apple (grated), and 1/2 a cup of lemon juice. 
Step 1: Mix the oatmeal and yogurt, then add the grated apple and lemon juice.
Step 2: Apply to your face and let it sit for 15-20 minutes
Step 3: Rinse clean with warm water and pat dry.
Use: About two times a week.
Simple, right? And really, we all love a little pampering don't we? Yes, yes we do.
How do you take care of your skin? Any secrets to share?
Happy weekend!
Follow my blog, Pretty Is This
My Facebook
My Twitter
I am happy to announce that I have completed my skirt! While finishing the waistband I was reminded of a comment left on my initial post. The lovely reader, Melinda, mentioned a flat waistband in the front with an elastic back….a brilliant yet simple solution. My entire waistband is still elastic but I sewed accordion pleats in the front to minimize bulk.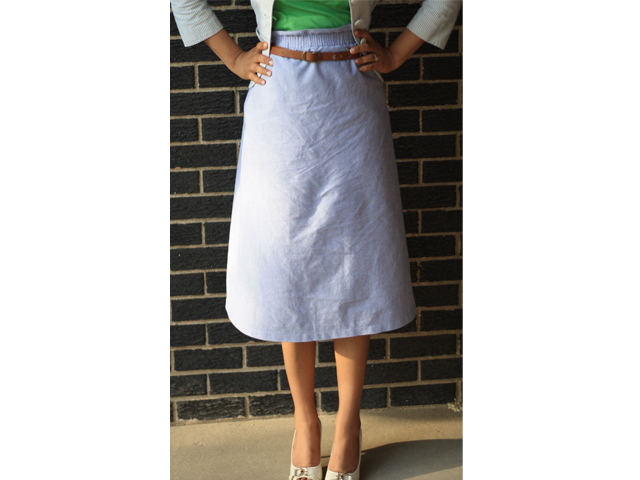 I pulled the elastic slightly as I sewed the pleats in front, but stopped stretching when I reached the back of my skirt. The accordion pleats resulted in a smooth and bulk free front (near my stomach) which is exactly what I wanted!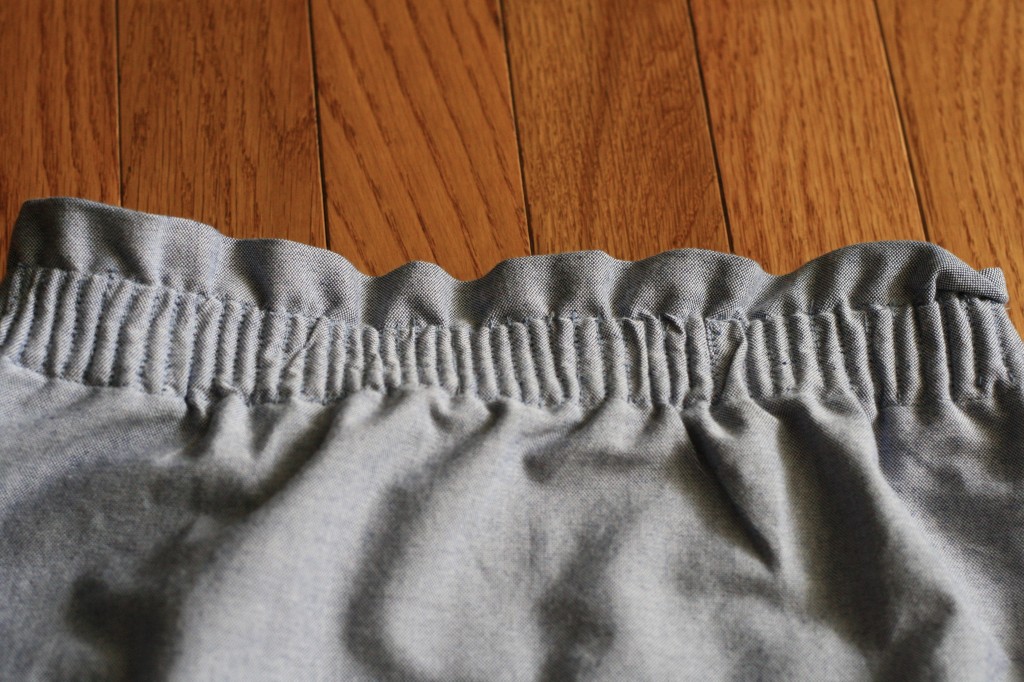 BUT the back of the skirt became more gathered than I intended. It would have been nice to continue the accordion pleats all the way around the skirt, but that would have caused the waist to be way too big…and a modest skirt around the ankles is not a modest skirt..
Next time I'll adjust the length of my elastic and width of my waistband so I can continue the pleats around the entire skirt.
Until then, I'll just enjoy my new handmade skirt with a half accordion pleated waistband!
Check out my other crafty pursuits on my blog meek+chic as well as my ramblings on Twitter
So, let's get this modest skirt sew along started! The most important part of this process is drafting a pattern. I had to study the book Sew What! Skirts and plan, plan, plan. It's not very difficult to understand, but it does require concentration and a little problem solving.  I will give you an overview of the process I'm using, but you really need to pick up the book to understand some of the techniques. I hoped to sew my skirt  ahead of time then share it with you, but that didn't happen; you actually get to follow along as I sew a modest skirt. (Lord, please let this work)
Because I'm making an elastic waist skirt, I only needed two measurements: width of the widest part of my hips and my desired length.  I will add my own twist to the process to create pockets as well as the paper bag waistline.  Also, there aren't specific instructions on making a straight skirt with an elastic waist, so I'm making it up as I go along. (Lord, I really need Your help)
Materials
I used a roll of wrapping paper, a ruler, tape measure, and a marker to create my skirt pattern
A little bit of math
After determining my hip measurement and my desired length, I used the formula found on page 17  of the book:
Hip measurement + 2 inch seam allowance + 2-4 inches of ease = _____  divided by 4
Desired length + 1 inch hem+ 3 inch seam allowance at the waist (for 1 inch elastic)+ 1 inch for my paper bag waistline = ______
Next, I plotted my measurements onto my wrapping paper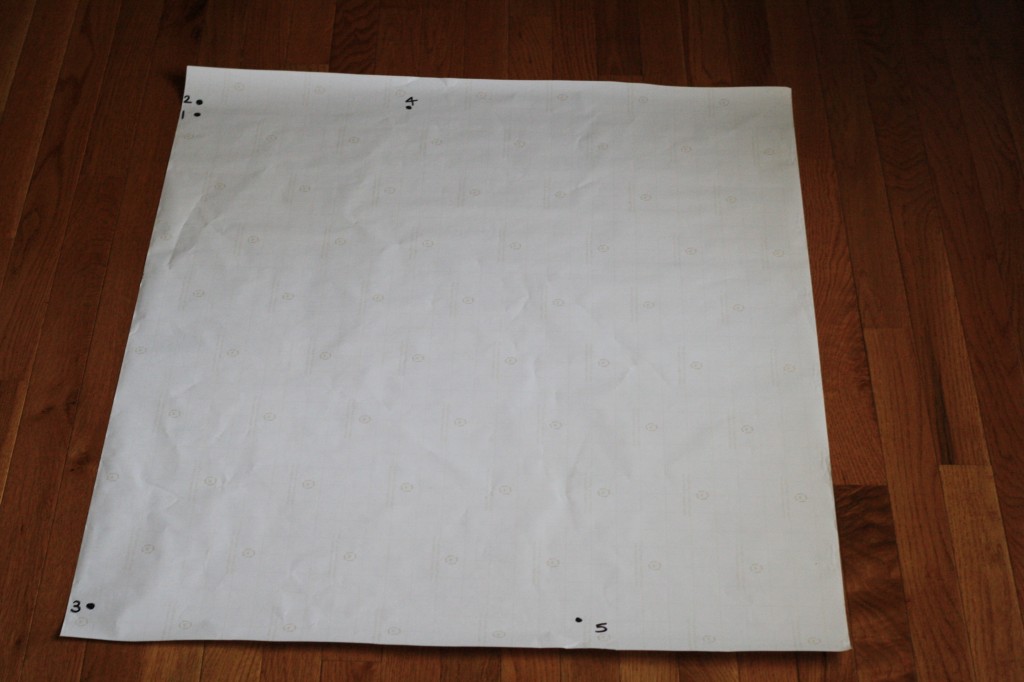 Point 1- Is my starting point on my wrapping paper
Point 2- Is about a 1/2inch to an inch above (this will help make the waistline curve)
Point 3- My desired length
Point 4- My hip measurement (from point 2 to point 4)
Point 5- The book did not include this point. I added this width based on the bottom of another skirt I had. I wanted to make a somewhat straight skirt while making sure I will be able to walk without a split or kick pleat.
Connect the dots: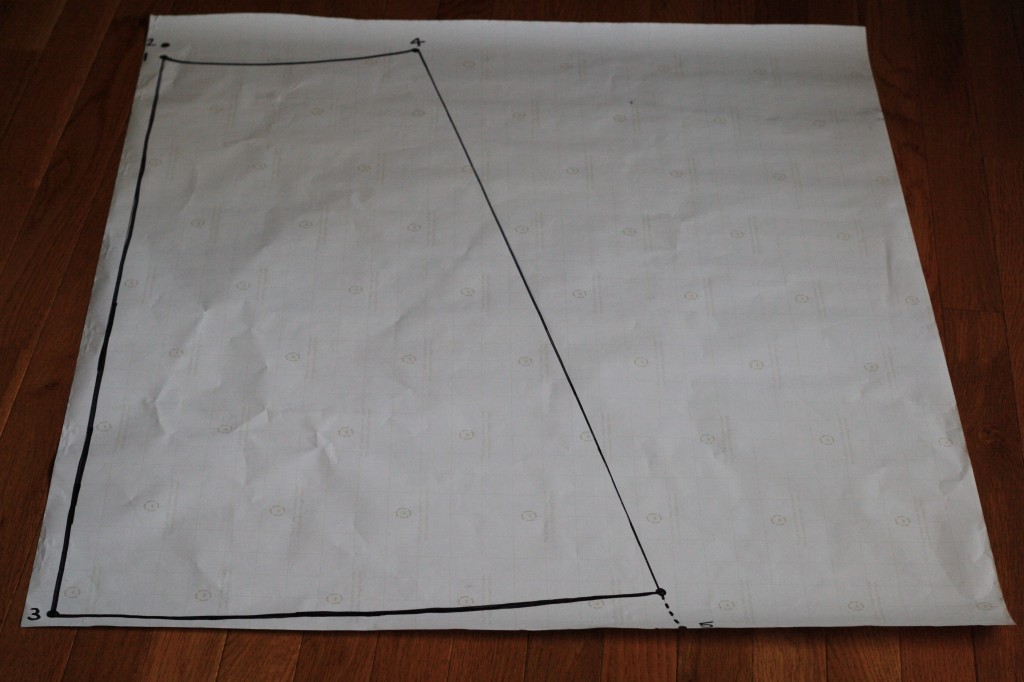 I drew a curved line from 1 to 4. Then, I drew a line from point 4 to the hemline. This is going to be my seam and determines if I have a straight or a-line skirt. I think I may want my skirt to be a little straighter, more like pencil skirt but we'll see.  Finally, I used a  long ruler, to make points following the curve of my waistline to the hemline.
Cut the pattern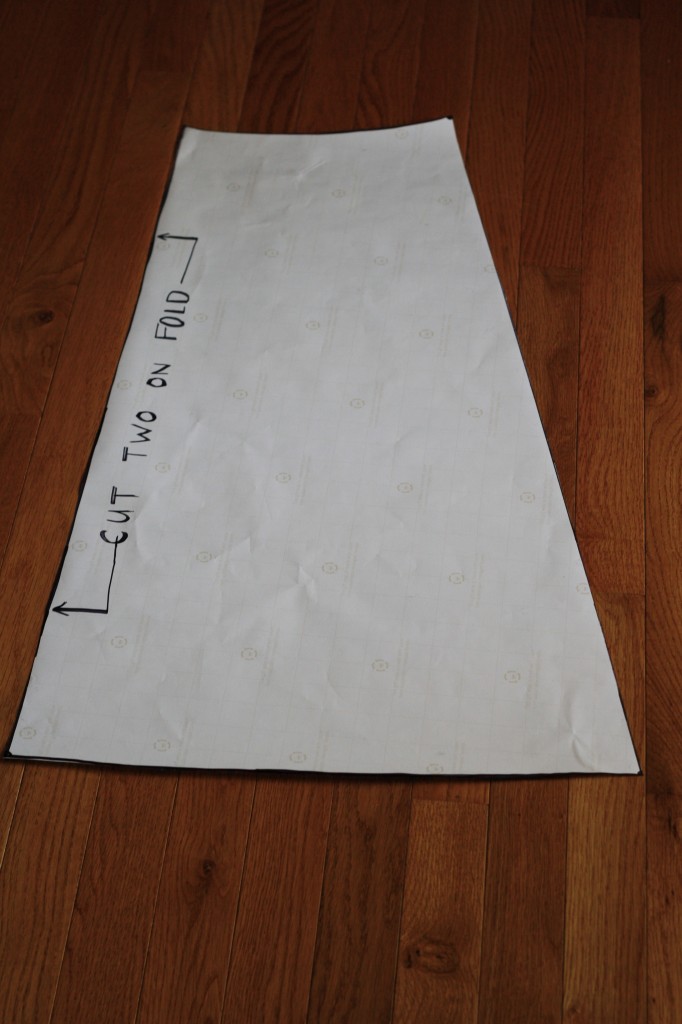 I now have a customized pattern I can use over and over again!
Next steps
My next steps include prewashing my fabric, cutting the fabric, and using this tutorial to create pockets. I'll be back soon with more progress!
Imagine how much time and money you could save if you created your own skirt pattern! You should really consider giving this a try.
 Check out my other crafty pursuits on my blog meek+chic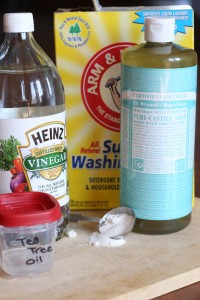 As much as I'd like to think I'm living a Proverbs 31 lifestyle, I fall short.  Waaayyyy short.  My childhood was filled with Proverbs 31 women; you know the kind — waking up with praises on their lips to Lord, a kind face, gentle, soft answers to all the irritations around them, seamstresses, fabulous cooks, tidy homes, perfect hostess, ladylike.  Hah.  Well, we've come a looonnng way baby and send me someone who can present 5 women between the ages of 25-35ish who can attribute most of those characteristics to herself.
*crickets*

Who can find a virtuous and capable wife?
    She is more precious than rubies.
11 Her husband can trust her,
    and she will greatly enrich his life.
12 She brings him good, not harm,
    all the days of her life.
Exactly.  It's a lost, dying art.  Unbelievable.  A Proverbs 31 woman should not be a rarity; we should have them in excess (in my opinion)!
So, over the last year I really took Proverbs 31 personally–really personally.  I read and re-read it, dissected it and started applying it to my life, actively.
It just made so much sense to me.
Like I said, I really fall short, but because I've read the guidelines and know what is expected of me. I'm confident I'll grow into each characteristic over time.
13 She finds wool and flax
    and busily spins it.
14 She is like a merchant's ship,
    bringing her food from afar.
15 She gets up before dawn to prepare breakfast for her household
    and plan the day's work for her servant girls.
Part of my commitment to live as closely to these principles as possible includes saving money.  Doing what I can to pinch valuable pennies here and there so our family can live comfortably — it's a lot of fun.
16 She goes to inspect a field and buys it;
    with her earnings she plants a vineyard.
17 She is energetic and strong,
    a hard worker.
18 She makes sure her dealings are profitable;
    her lamp burns late into the night.
This noble woman was savvy.  She knew how to find a good deal, she took care of herself, she knew how to make money right along with spending it wisely.  My kind of woman, I tell ya.
19 Her hands are busy spinning thread,
    her fingers twisting fiber.
20 She extends a helping hand to the poor
    and opens her arms to the needy.
21 She has no fear of winter for her household,
    for everyone has warm[c] clothes.
Who wouldn't want to be like her?  So, I set to work.  I scoured the internet and found recipes for making homemade supplies.
Household cleaning supplies, laundry supplies, fragrances, facial care products — I just became enthralled with all the possibilities and since then I will never buy these particular supplies from the store again:
Bleach for my clothing
Fabric Softener
Laundry Detergent
Multipurpose cleaning spray
Air Fresheners
Toilet Bowl Cleaner
Dish-washing Detergent
Liquid Dish Soap
Ointment (for cuts, scrapes, burns, scarring etc…)

There are so many other recipes I will be showcasing soon, so stay tuned.  (you can click HERE for all the recipes, or you can click on the item above for the individual recipe on my blog)
22 She makes her own bedspreads.
    She dresses in fine linen and purple gowns.
23 Her husband is well known at the city gates,
    where he sits with the other civic leaders.
24 She makes belted linen garments
    and sashes to sell to the merchants.
Most of these recipes take all of 5 minutes or less to make.  The longest one will take you 20 minutes.  With the economy playing dirty, saving $12 on laundry soap, $3 on dish soap, $7 on ointment, $5 on air fresheners, $6 on softener can go a long, long way.
25 She is clothed with strength and dignity,
    and she laughs without fear of the future.
26 When she speaks, her words are wise,
    and she gives instructions with kindness.
27 She carefully watches everything in her household
    and suffers nothing from laziness.
My goodness, I really pray that one day my children WILL –
28 Her children stand and bless her.
    Her husband praises her:
29 "There are many virtuous and capable women in the world,
    but you surpass them all!"