modest solution
When thinking over my options for this series, I had several ideas. I did a post very similar to this on Pretty Is This, but for today's post I chose my $7 denim shirt from Target. I wear this shirt all-the-time, I want to wear it with everything! When I first bought this item, I felt a little out of my comfort zone. When I think of a denim shirt, I think of high waisted jeans, the denim shirt tucked in, and frizzy permed hair. It's either that, or with overalls. Ha! After my purchase, I was determined to stay away from those images!
Here are the three ways I chose wear it:
Option 1: With an printed A-line skirt. Spicing up the shirt with a pattern makes for a fun and comfortable outfit.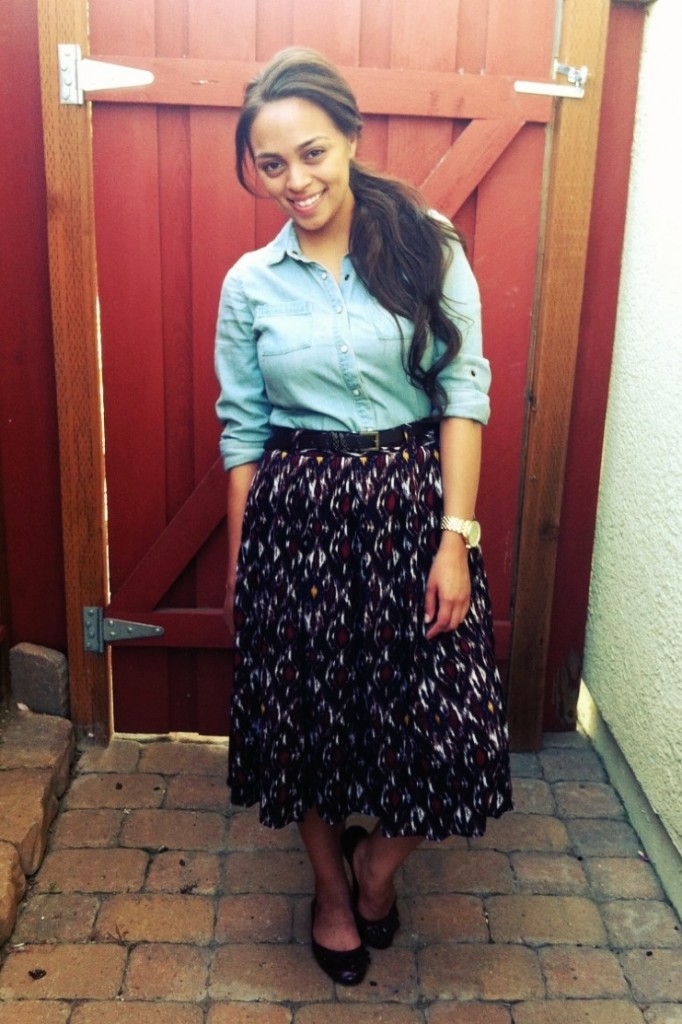 Option 2: Under a summer dress. Simple and perfect for the warm days! This is the dress that I wore three ways a few weeks ago. This makes my fourth way! Love this combo!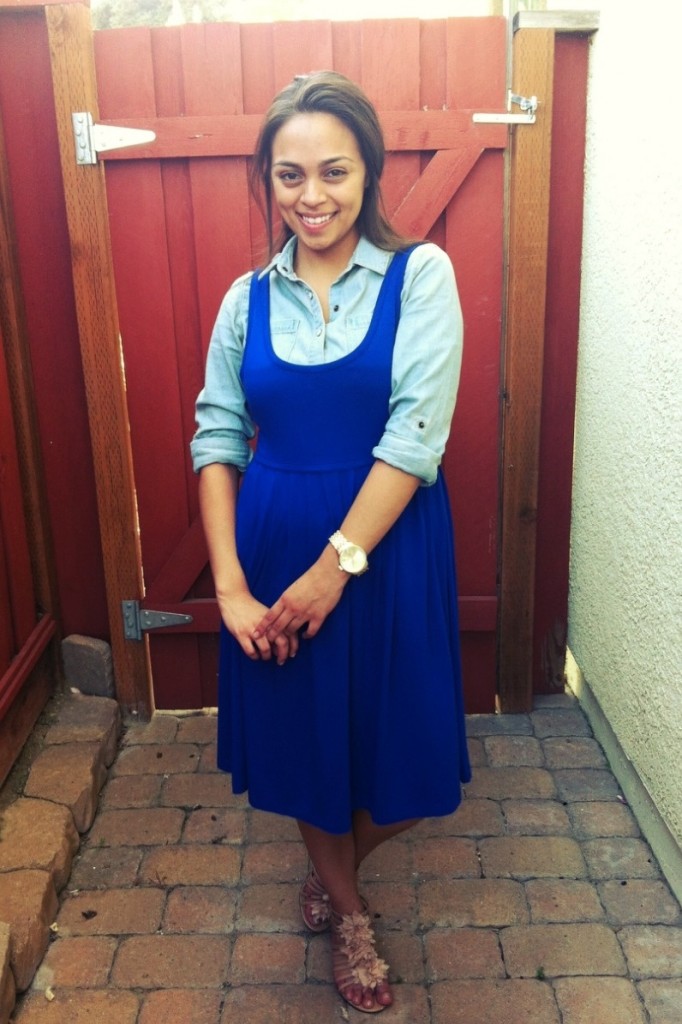 Option 3: With a slim belt and a maxi skirt. I am almost positive that I have worn every single one of my maxi skirts with this top!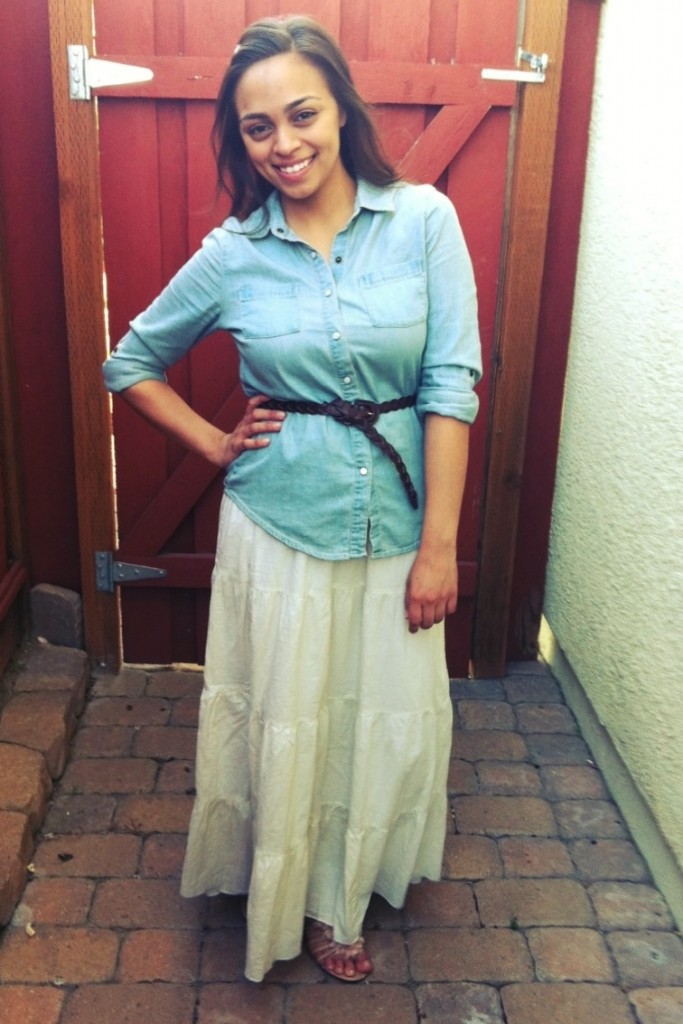 I am happy with my purchase, and it continues to serve me well! Don't you love the pieces in your closet that you can wear multiple ways?
It's worth taking a second look at what you have!
Follow my blog, Pretty Is This
My Twitter
My Facebook
2. One Jean Skirt 3 Ways
3. How to Wear Stripes. Confidently.
4. One Skirt, 3 Seasons (of life)
I know that Chandra has already done a post about summer dressing but I wanted to touch a bit more on it.  Summer can be hard, especially for those of us who like to layer.  Summer dressing  can be done and you can still look good without overheating.
I like simple jersey/knit tank dresses in the summer. I have 6 of them now in all different colors and patterns and I am hoping to pick up some more this summer. They are easy to wear with a summer weight cardigan or even layer over a t-shirt or those half tees that Stefanie reviewed.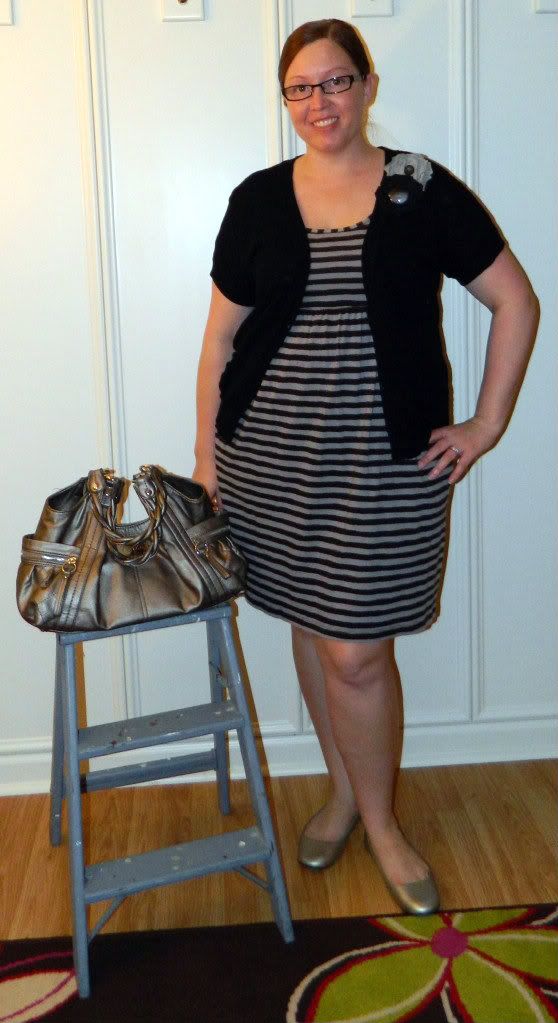 Here, I am wearing a tank dress that I picked up from Kohl's a few years ago; my cardigan is very lightweight and comes from Target. Target usually has a lot of great summer weight cardigans to choose from in all different colors. I know that I wore a variation of this outfit last year on vacation in Tennessee. It was HOT! I stayed comfortable in this all day.
Another trick I use in the summer is that I wear bicycle shorts under my skirts and dresses. Especially if I am going to be outside a lot. (It helps with the friction) If you have a darker color dress this usually negates the need for a slip under your dress. Especially if you use the bike/exercise shorts that are more silky or Lycra like. I have cotton ones and am actually on the hunt for some silkier ones, because sometimes, the slip layer is just a little too much in the hot summer sun!
Follow me on Bloglovin 
here
.
You can find my blog 
here
.
My Pinterest boards are found 
here
.
My twitter account is found 
here
.
My Polyvore account is found 
here
.
Good Friday to all! This last week I got the opportunity to try out the
Halftee
, and oh-my-gosh! They are genius! I had heard about this product before, but never thought I would get the chance to review one.
Tami from
Half-Tee
was gracious
enough to send the halftee of my choice over for me to review
. There are many different styles (long sleeved, 3/4 sleeve, boyfriend) and colors to choose from. What makes the Halftee stand out from other layering basics is that, well, it's a half  tee! No bunching, scrunching, rolling, and unflattering lines will drive you nuts. If modesty is as important to you as it is to me, then you will find MUCH use for the Halftee. Halftees are easy to wear, they are comfortable, and versatile. Halftee products consist of the
original, body, maternity,
and
girlee.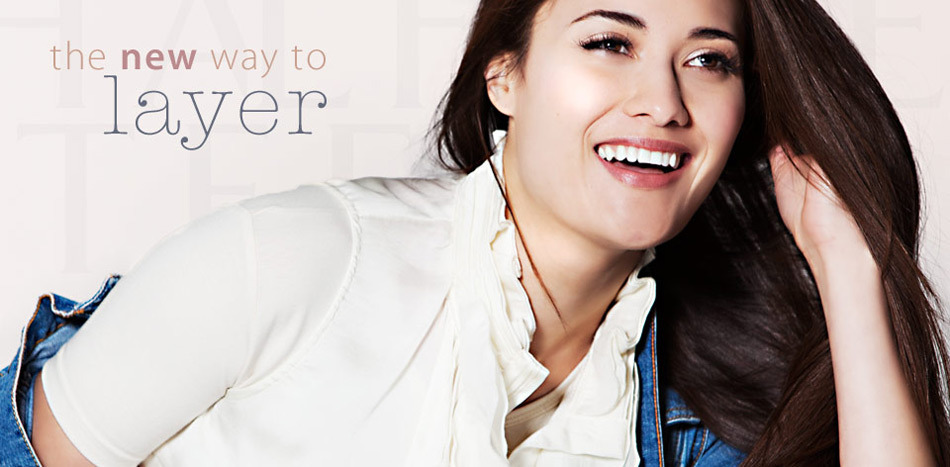 Photo credits: 
Halftee.com
These pictures are examples of the couple different ways that I chose to wear the
Halftee
. My preference was the cream colored Halftee ($23), but they do give you a handful of color options. I'm thinking of buying the black one; I'm convinced I would get
plenty
of use out of it. The shirt is soft and comfortable, and fits
perfectly
. AND it gets extra bonus points for the modest neckline!
I am most excited to wear the
Halftee
with my maxi dresses this summer. It will now be possible to wear the Halftee, Spanx, 
and
a slip without getting all those layers bunched up! Ha!
Have a great weekend!
Since becoming a mother my "Sunday's best" has shifted a bit. My knit tops, maxi skirts and cute high heels have been replaced with structured blazers, cardigans, midi skirts, flats and kitten heels. (Unfortunately, denim skirts and Pumas have become my weekday staples — but I'm working on that!) It's not that I no longer enjoy my old go-to pieces; they're just not very practical or flattering right now. After having my children, anything that gave the appearance of a wider waist quickly made the "Do Not Wear" list — no matter how trendy. The last thing a young mom wants is to be mistaken for a expecting mother when she's not.
So when I was at Nordstrom Rack and found this blazer on the clearance rack, I had to think quick. My new wardrobe rule said "keep walking," but the color, fabric and price said "take a chance" … so that's exactly what I did. I know blazers can be instant modest solutions.  If the blazer is structured, it can be modest and slimming — as it could cinch the waist  and quickly trim inches off the midsection. But unstructured blazers like the one above tend to offer extra bulk in exchange for their modest form, something I definitely don't need. I tried adding a belt and even tied a ribbon around the waist but the need for constant adjustment made it more of a liability than an asset.  So, I made this bow clip hoping it might be the simple, fuss-free solution I was looking for.
With this tutorial you can take advantage of all the beautiful colors and fabric choices of popular unstructured blazers (open front cardigans and boxy button down shirts)… without adding inches to your waist.
supplies: Fray check, ribbon, hot glue gun, scissors, (2) suspender/ mitten clips
step 1: Slip mitten clips on your ribbon
Step 2: Turn ribbon over
Step 3: Tie a bow
Step 4: Adjust your bow. The distance between your clips determines how much you are able to gather your blazer (meek confession: the first time I created the bow my clips were too close together and would unsnap if I moved the wrong way, so more space is best. )
Step 4: Add dot of hot glue to clips
Step 5: Glue clips to your bow. I placed glue on each clip as well as underneath the middle section to be sure my bow was secure
Step 6: Add fray check to the edges of your bow so your ribbon doesn't unravel
Step 7: Add your clip to a boxy blazer, shirt, or cardigan!