old navy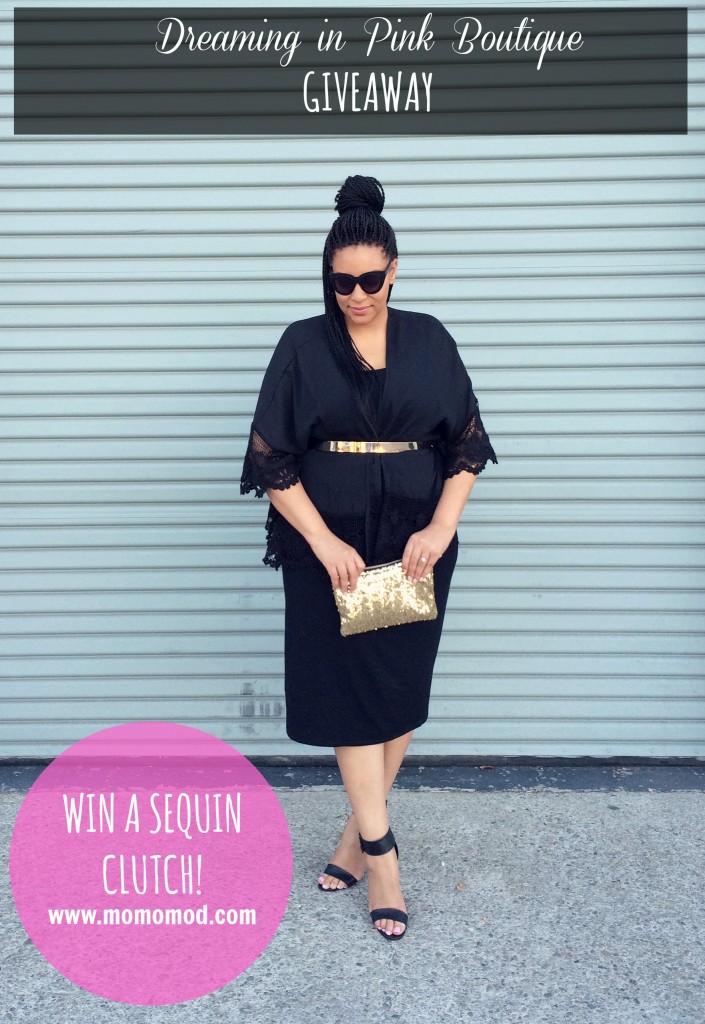 Is there anything easier than wearing an all black outfit? I wore this outfit to Sunday morning and evening church services, and guess what? I'll be wearing it to work today with my black flats.
My gold ASOS belt helped me keep the kimono closed, and this super cute sequined clutch purse from Dreaming in Pink Boutique added a touch of pizzazz.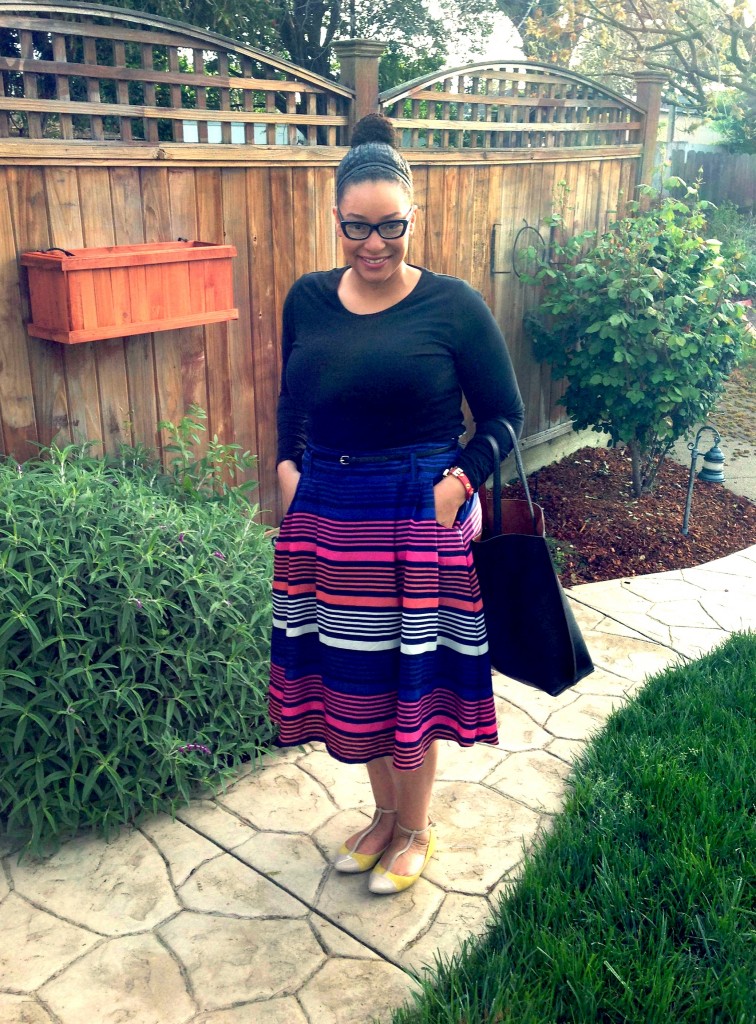 Does anyone else do this: miss out on an item in a brick and mortar store and then surf eBay for 8+ months looking for the item? 'Cause I do!
Seriously, though. I saw this skirt on oldnavy.com sometime last year, didn't buy it because I thought a full skirt and stripes was not a good look for my hips, then decided I wanted to try it anyway, missed out, and then surfed eBay until I found it about two weeks ago for $6! All I did was search for "old navy skirt stripes" and set my size and maximum price. I use the eBay app, so my searches are always saved. I use the app about two to three times a week and I just click on my saved search and if anything is listed–it appears.
I've does this for a few items (reading glasses, a purse, an H&M dress); the longest search I've endured was about two years. I was looking for a pair of L.A.M.B. heels that I liked and ended up finding them for way cheaper about 24 months after they hit the shelves.
One thing I do like about this skirt is the pockets. Dresses and skirts with pockets are right up my alley! I didn't even realize the skirt HAD pockets until I tried it on this morning. Winning!
In other news…I've decided to stop putting heat on my hair. Before Fiji I couldn't stop looking at my terrible split ends. I knew that I had zero plans to maintain straight hair while in Fiji (humidity, people!), so when I got home I just realized that I'd be wash and go and all natural Chandra for quite awhile. I can't say that I'm addicted to heat, but I did/do enjoy having straight hair. I would add heat to my hair (flat iron) a couple times a week, but my hair has had enough of the heat madness. I've been reading Kendra Thaler's Natural Hair Blog to figure out what new hair things I can try with this 'do of mine.
Can you see the mosquito bites on my ankles?! Fiji mosquitoes ain't no joke, ya'll! Brandon got eaten alive; I had a few bites and most of them are gone, but two days ago the bites on my calf and hip were itching like crazy. It took everything within me to not want to reach down my skirt and scratch my hip like nobody's business (TMI?). My scaredy-cat side almost got the best of me, but I refused to Google Fiji mosquitoes. I didn't want to see anything terrible and start diagnosing myself with malaria. Brandon told me he did some research and he thinks we were bitten by some sand flies or mosquitoes because those bites tend to last a bit longer. Ah, well.
Happy Friday!
Wearing: Target top, Old Navy Skirt, Sole Society Shoes, Reversible Harper Tote