sequins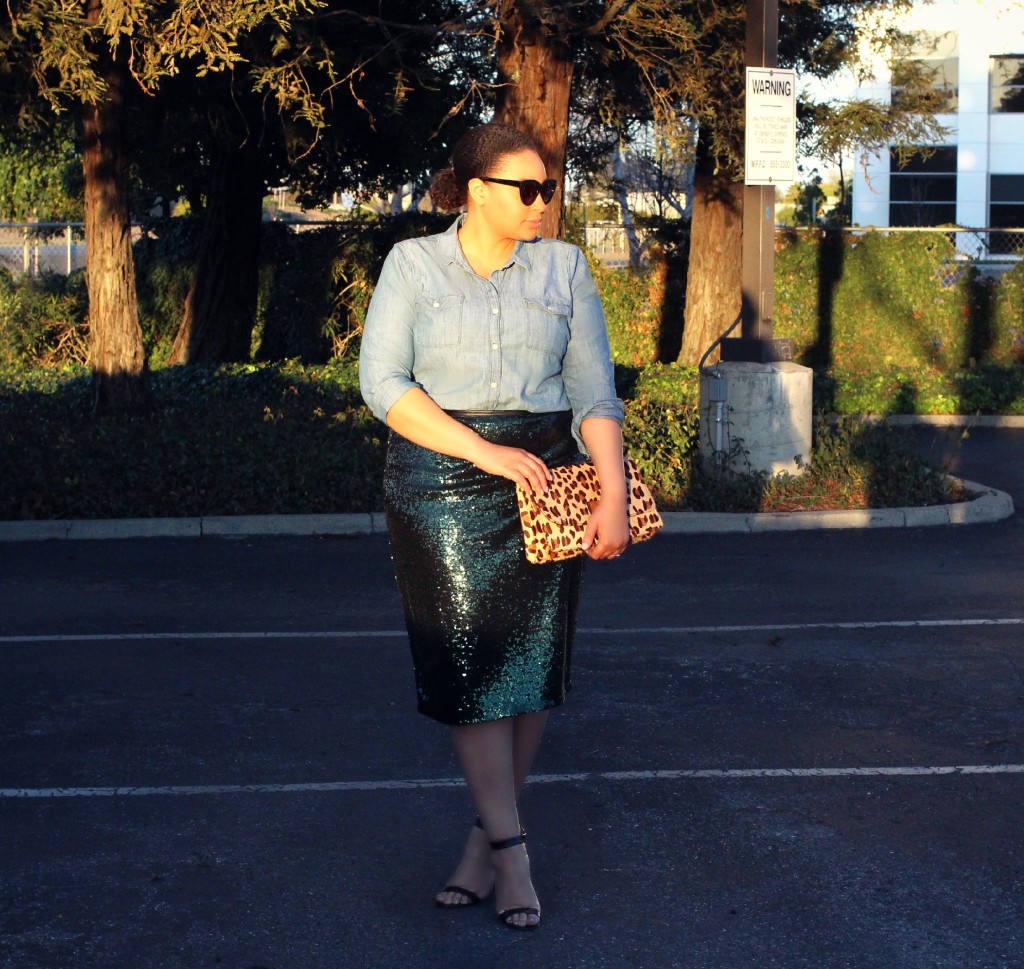 It's been said that you don't have to wonder, or ask, if someone is from California. Why? They'll most definitely let you know. I'm guilty of bragging about my lovely California winters online from time to time…okay. Fine. Every winter.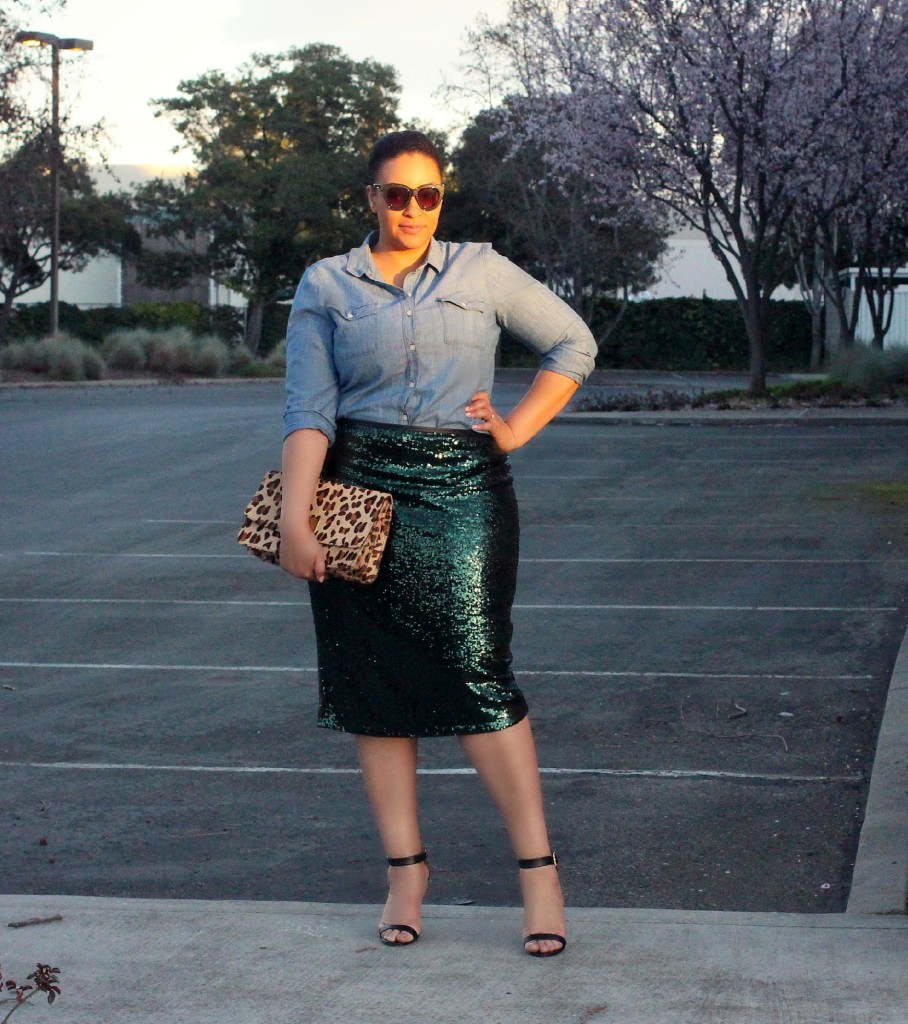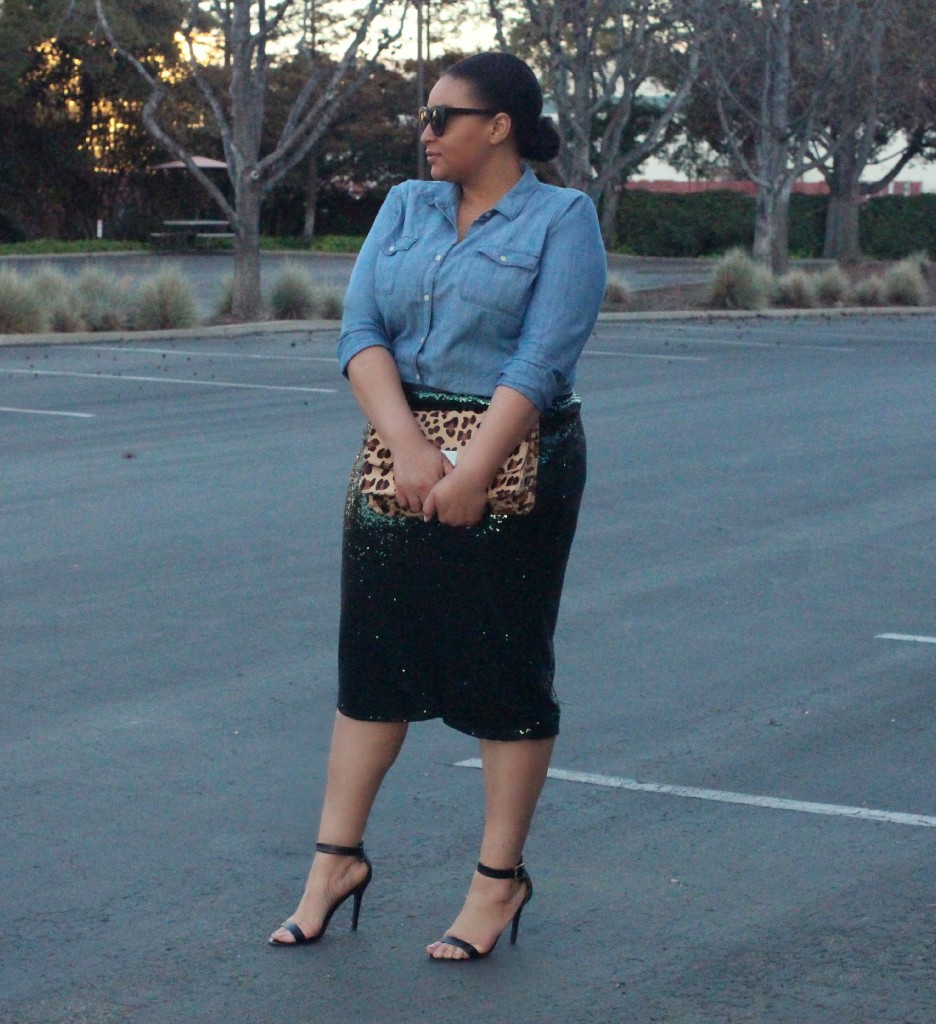 I must admit that as much as it's oh-so-nice to enjoy sunny 70 degree days, I continue to pray for rain. The drought here is pretty terrible, and as a Central California girl, I know how important water is to this state and its agriculture.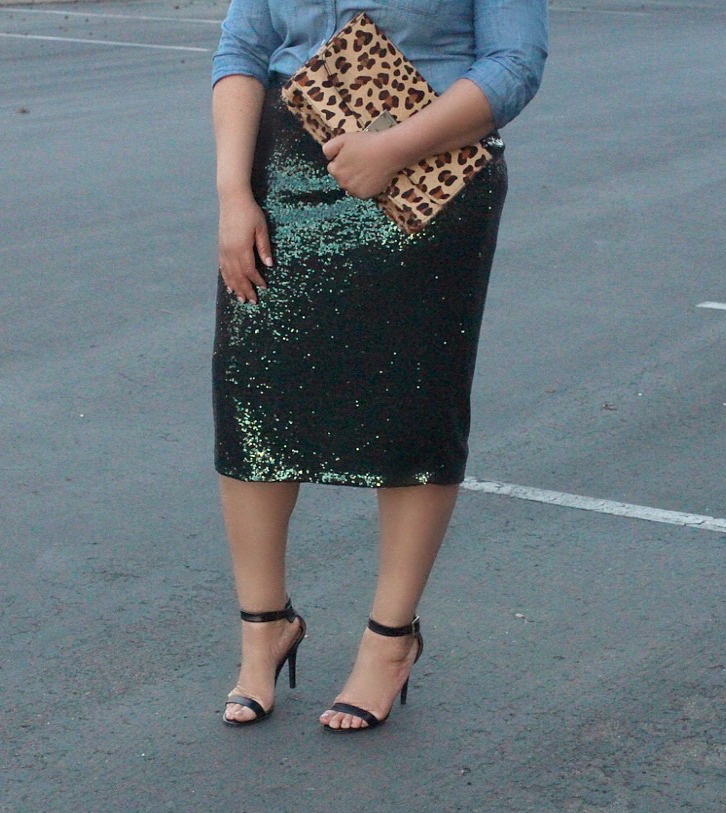 While I can appreciate the fact that I can wear my open toed sandals in February, I would most definitely appreciate having to wear my rain boots!
I'm wearing a GAP chambray shirt, a Dorothy Perkins sequin skirt (sold out in green), a clutch purse I thrifted while in NYC, and some random black heels that actually broke after church yesterday.
I like sequins. I like fur. As I got dressed for church last night, I decided to wear my faux fur collar with my sequin skirt. Brandon looked at me and said, "No."
"Really?" I asked. "Why not?"
"It doesn't go. It's too much," he replied.
(affiliate links are used in this post)
For the past three years, I've nabbed a sequined skirt or two around the holiday season, and I always get asked, "WHERE DID YOU GET THAT?" The holidays are still a month away, but now is a great time to score a sequin skirt before they are all sold out!
Since it seems like the only time I wear
this skirt
is on Sundays, I've decided to call this my Sunday Sequin Skirt!
I went to a water park with my husband this weekend, and I got banged up on one of the slides. I got several bruises on my legs and arms, but I had a great time!
Today is my first day back to work (students come back next week), so I'll be in professional development for the rest of the week. Anybody willing to help me finish decorating my sixth grade classroom? ANYONE?!
Two of my co-workers and I stumbled upon some knit fabric at a teacher discount store, and each bolt of fabric was $15! That's an awesome price.  So, I tried fabric instead of paper for one of my walls, and it took me over an hour to finish. I should have used a woven instead of stretch knit. I ended up using paper for the rest of my walls.
Here's the fabric we purchased.
You can see the fabric I used on the far left. It's so crooked; I'm too embarrassed to show a close up! Ha!
I'm wearing a J. Crew Factory top, a Target sequin skirt, Forever 21 heels (similar), and a clutch I purchased at a flea market.