shoes
Dress: Forever 21 | Jacket: Guess | Belt: Thrifted, Plato's Closet | Shoes: Zara
My bright mango-colored dress is totally saying "Spring". Unfortunately, here in Florida, Winter lasts a week, Spring lasts a weekend, and Summer is already in full swing by now. Even long flowy dresses feel like a winter coat and boots in this mid-80 degree weather. I suppose every season wherever you are has its quirks.
How are you enjoying Spring in your state?
- Typhanie
My blog: My Garments of Praise
 Shirt: Zara | Skirt: East 5th, JCPenney | Shoes: Zara | Clutch: Express
I always admired people who could layer well, but for me — the simpler the better. Perhaps I've adopted that mentality because I live in hot and sunny South Florida. My steps to getting dressed usually consist of putting on a top, a skirt, and some shoes. If I can narrow those steps down to a dress and some shoes, even better! When I happen to add other items to the outfit, like a blazer or vest (not counting undergarments, of course!), then most likely I'm counting that as "putting in a little extra effort" or "getting fancy". Another fun fact about me. I think we're learning quite a lot in these posts.
You may be wondering why I'm posting here today. (Or perhaps you're not wondering, and you are just happy to see me… You're my favorite.) Starting today, I will be posting every other Wednesday instead of Thursday. Hope you don't mind
- Typhanie
My blog: My Garments of Praise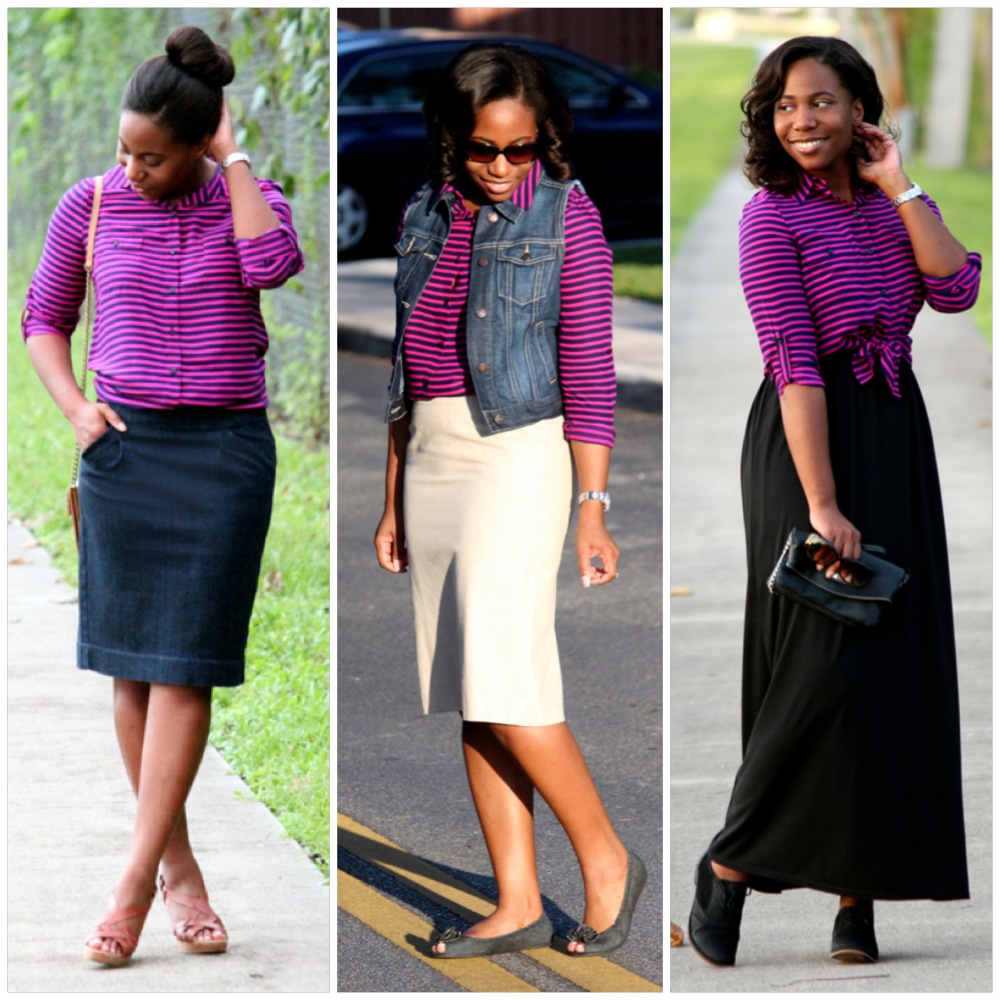 Hello! It's me again, just dropping by for another post
This shirt from Old Navy is one of the most comfortable shirts I own. Here, I show you how I've styled it for three different casual looks.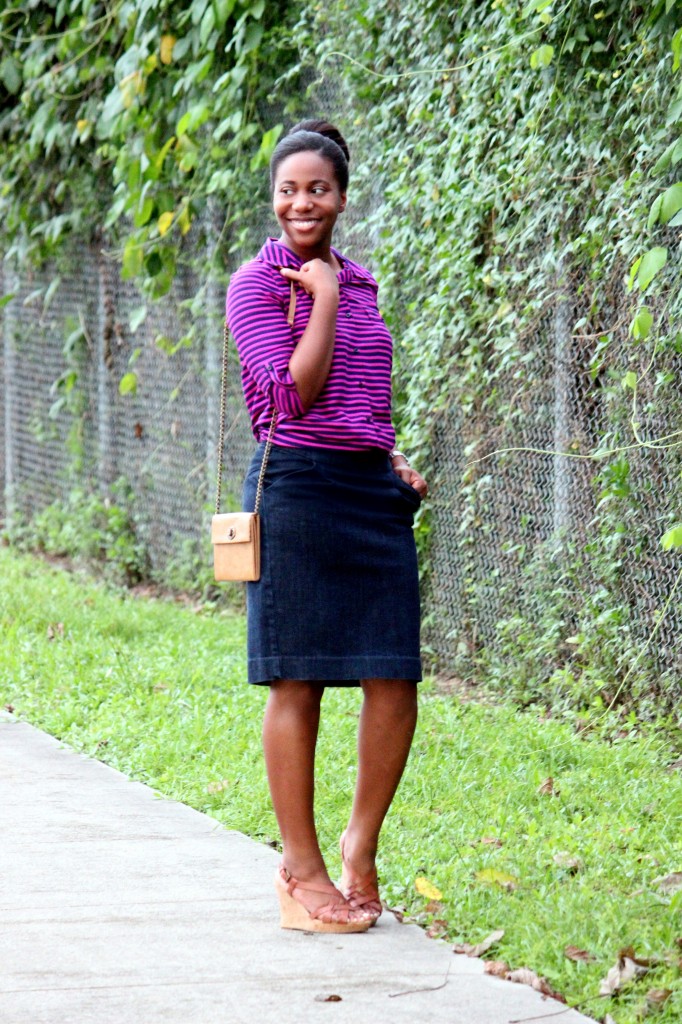 Outfit 1: Shirt: Old Navy | Skirt: JCrew | Shoes: Thrifted, Guess via Plato's Closet | Crossbody: Forever 21
Outfit 2: Shirt: Old Navy | Vest: Old Navy | Skirt: Banana Republic | Shoes: Payless
Outfit 3: Shirt: Old Navy | Dress: Thrifted, Plato's Closet | Shoes: Thrifted: Plato's Closet | Bag: Thrifted, Ninewest via Plato's Closet
Any other ideas as to how I can style this bright striped shirt??
- Typhanie
My blog: My Garments of Praise
Salvation Army tends to have a "Moonlight Madness" sale (50% off everything) on the third Friday of the month, and last month I bought this green skirt and planned to list it on eBay because it was too big.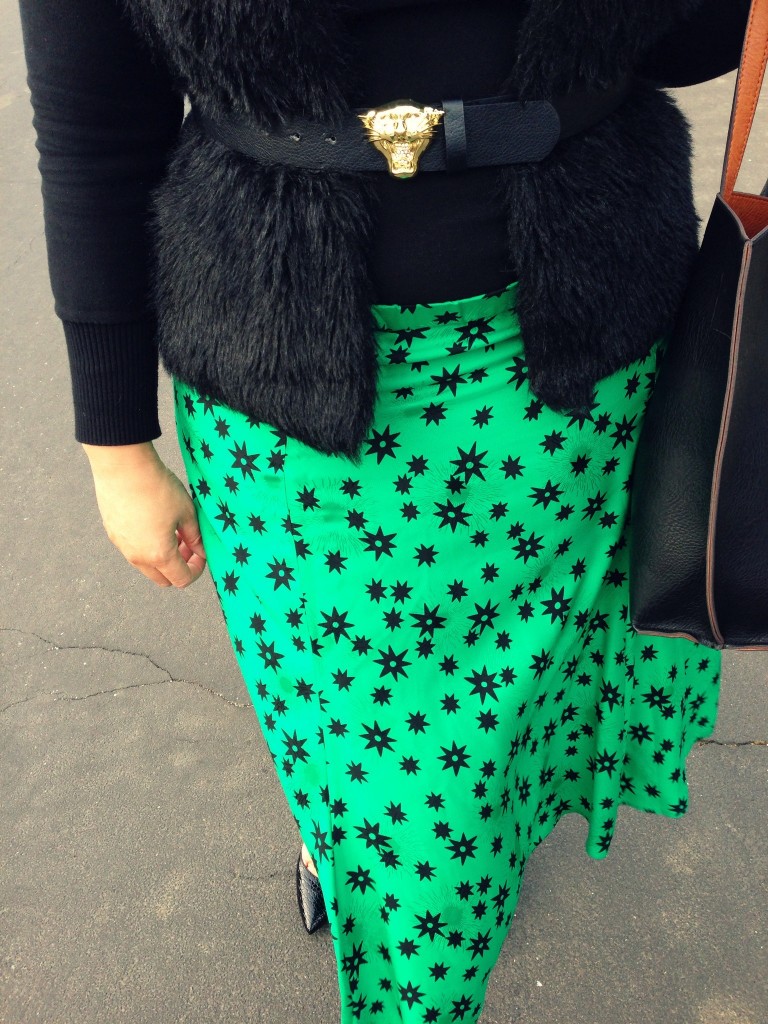 As I was getting dressed for church yesterday I panicked because I thought I was going to wear a dress, but the dress had some kind of ink pen stain on it, I tried on another skirt and it didn't look right, and an entire sequence of first world problems ensued. In a hurried fit of desperation I yanked this dress out of my to-sell-on-eBay pile, threw on a black shirt, and a belt and was off to Sunday morning church.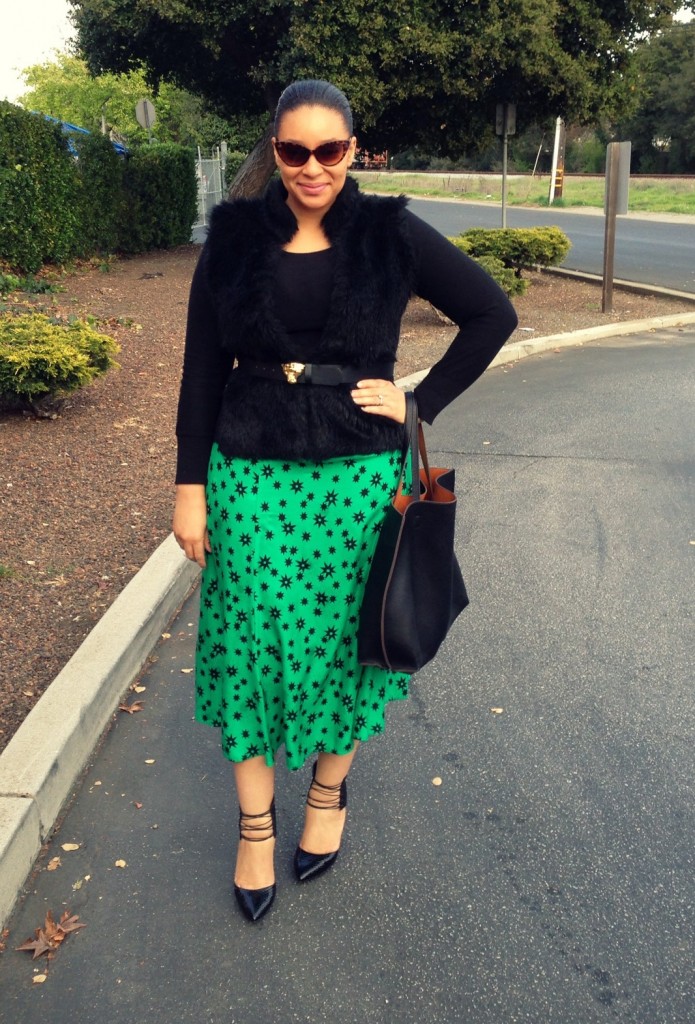 I didn't want a repeat of Sunday morning madness, so I wore the skirt again to Sunday evening service. I made some adjustments: I wore a black knit dress underneath (since the waist of the skirt was too big, I figured that if the skirt fell off during church I'd be safe..ha!!), safety pinned the skirt in several different spots because the waist was falling to my knees, I wore a different belt, and added a faux fur vest. Oh, and I changed my shoes.
When we got to church (morning) a friend pointed to my skirt and asked if I wore green for St. Patrick's Day…I didn't, but my green skirt was all kinds of festive.
So, this skirt is no longer going on eBay, but I am going to take in the waist and I shall be good to go!
Wearing: thrifted skirt, Victoria's Secret dress as a top…last worn here…since then I ripped off the turtle neck part because it fell apart after several washes…boo, faux fur vest from Macy's (old), H&M belt, reversible tote bag (black/cognac) from Francesca's ShoeDazzle shoes (have you seen their updated site and shoes?! I'm impressed.)

Linking up with: Plane Pretty Watch What I'm Wearing What I Wore Sunday