Skirts
You know what I've been doing in my spare time? If you guessed planning a 10 year class reunion, then you are absolutely correct!
I was elected president of my senior class and I have the great honor of planning our class reunion. SIGH.
My friend Suzanne (vice-president!) and I have been texting, emailing, calling, and fundraising for the past several months.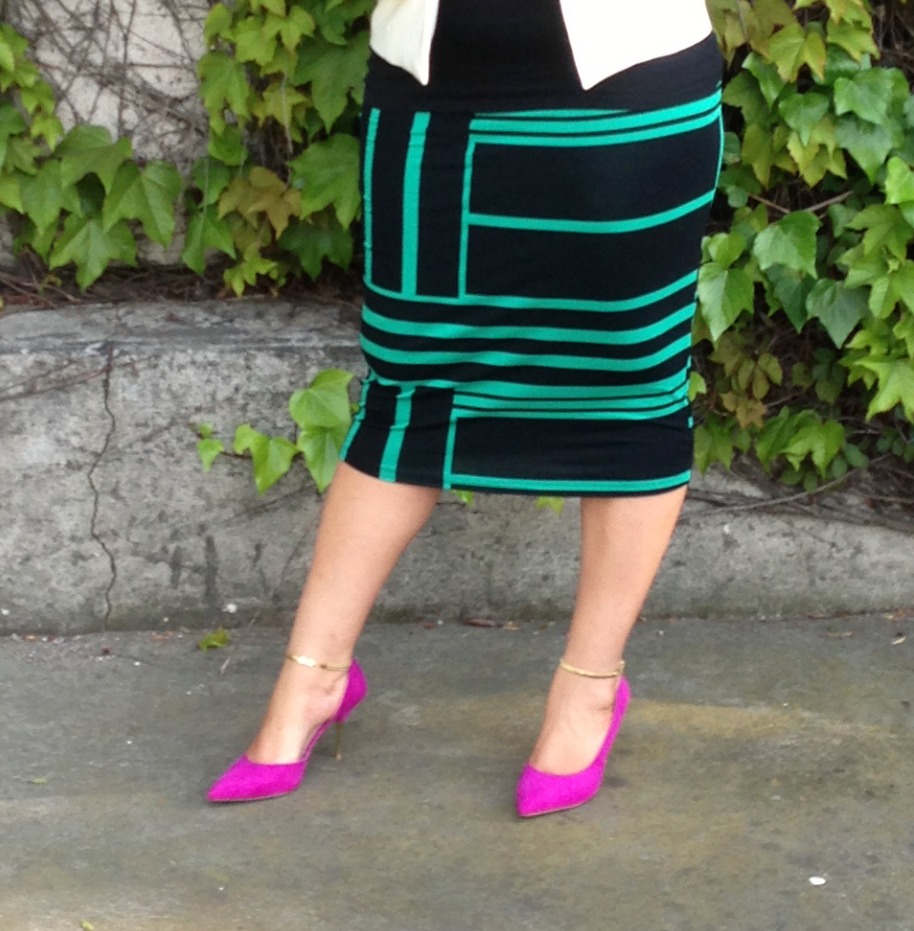 There's so much work going into this shindig that I really feel like I need to add this task to my LinkedIn profile; it's like a part time job!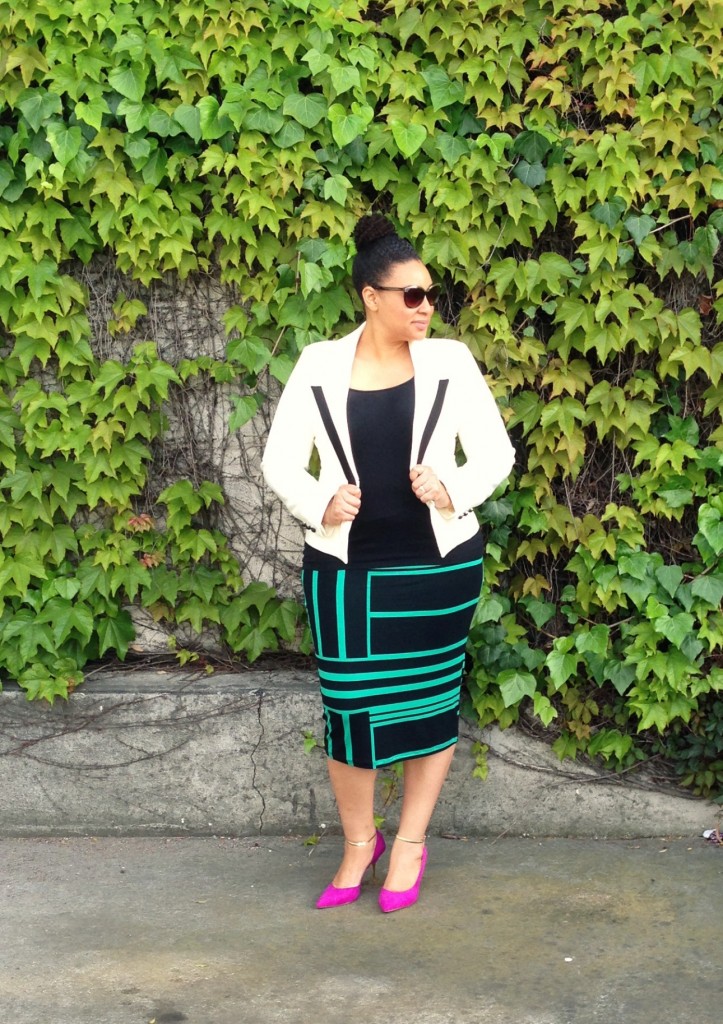 This skirt is another one of my ASOS  purchases. I love the comfy jersey knit material and he comfortable elastic waist band; the fact that the skirt falls a good 2 inches below the knee ain't bad either!
I've got Instagram set up for the blog and I've had  several ladies tag their photos with the hashtag #momomod. I figured it was about time to share a few of those photos in a blog post. (Some of these I found using the hashtag #sundaybest.)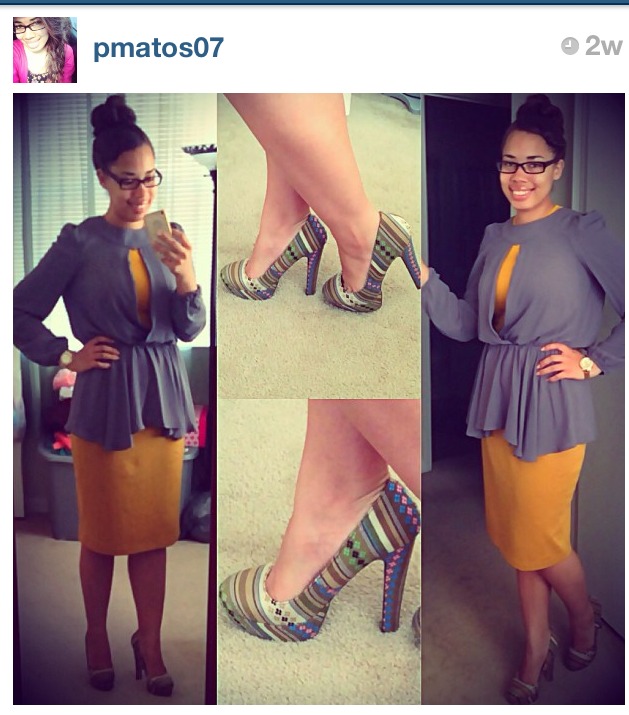 I like how @pmatos07 took a potentially cleavage baring top and wore it over a sleeveless dress; she killed two birds with one stone. Nice.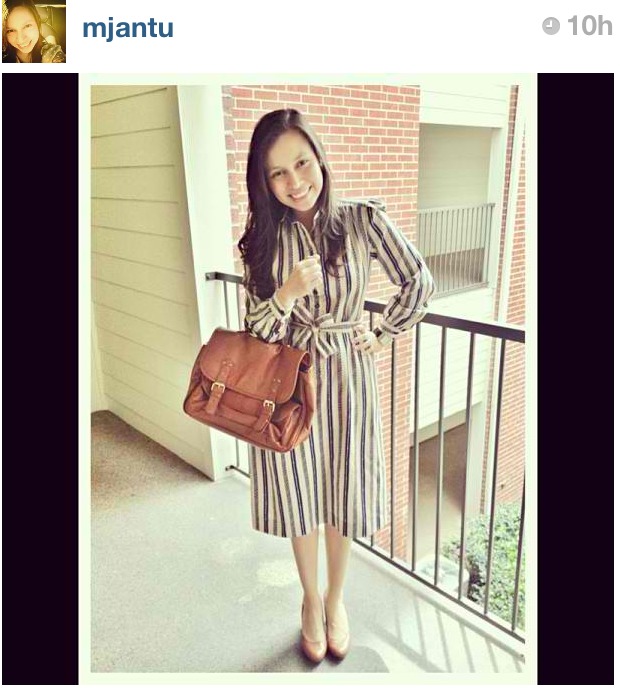 I just love how comfortable @mjantu looks! The stripes are flattering and her shoes and purse complement the dress perfectly.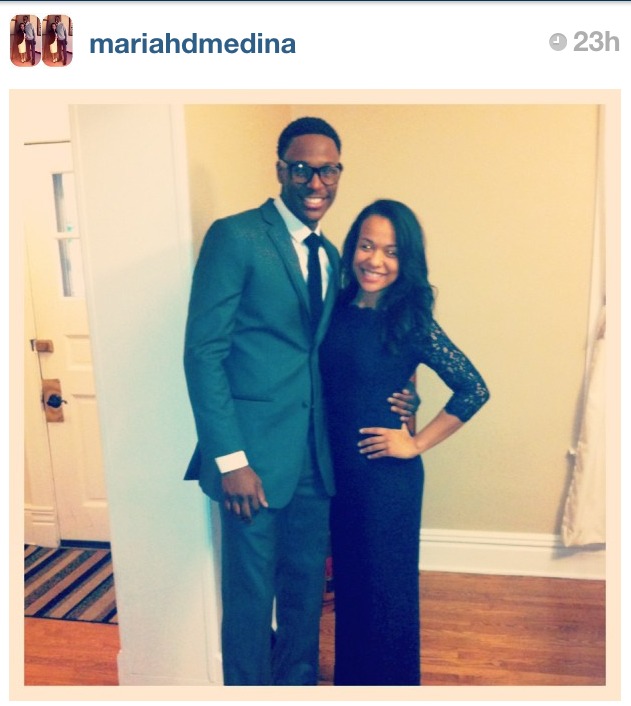 @mariahmedina is a senior and this weekend she went to prom! I'm a fan of lace and this black lace column dress seems to be the perfect choice for prom.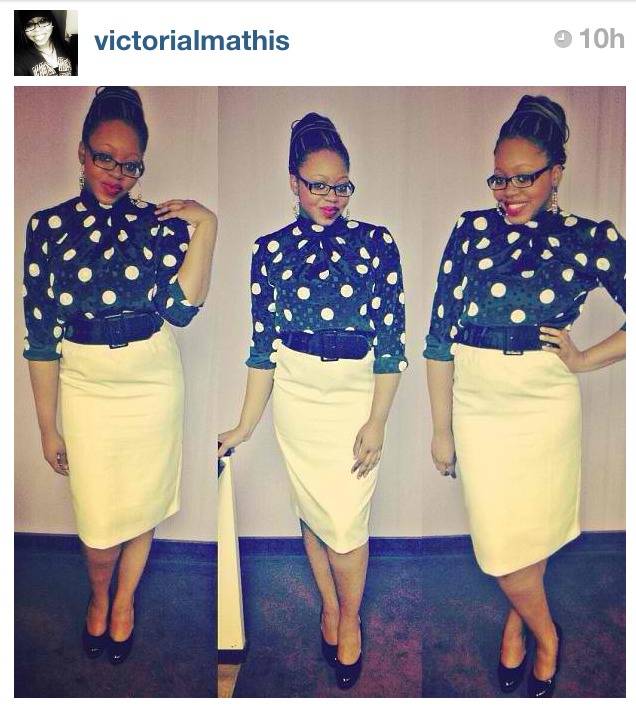 That blouse! @victorialmathis' style is definitely one that I plan to imitate and soon!
Sisters @trishcontreras and @robertacontreras are pictured here with a friend; I just had to show off three ways to wear stripes!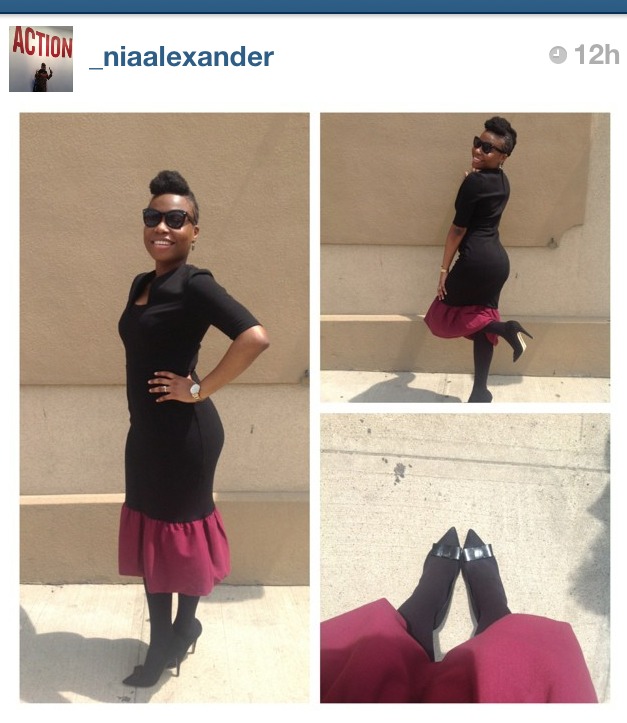 I'm not sure if @_niaalexander added the maroon portion of her dress or not, but can we agree that she looks all kinds of awesome?!
Thanks for sharing your photos with me, ladies!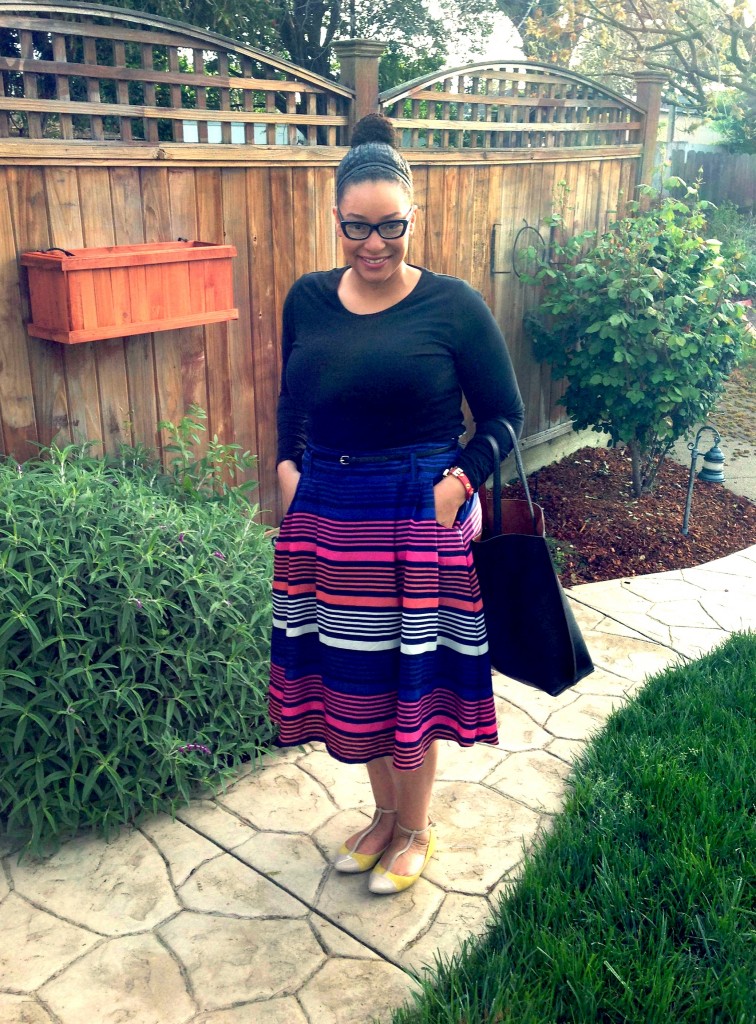 Does anyone else do this: miss out on an item in a brick and mortar store and then surf eBay for 8+ months looking for the item? 'Cause I do!
Seriously, though. I saw this skirt on oldnavy.com sometime last year, didn't buy it because I thought a full skirt and stripes was not a good look for my hips, then decided I wanted to try it anyway, missed out, and then surfed eBay until I found it about two weeks ago for $6! All I did was search for "old navy skirt stripes" and set my size and maximum price. I use the eBay app, so my searches are always saved. I use the app about two to three times a week and I just click on my saved search and if anything is listed–it appears.
I've does this for a few items (reading glasses, a purse, an H&M dress); the longest search I've endured was about two years. I was looking for a pair of L.A.M.B. heels that I liked and ended up finding them for way cheaper about 24 months after they hit the shelves.
One thing I do like about this skirt is the pockets. Dresses and skirts with pockets are right up my alley! I didn't even realize the skirt HAD pockets until I tried it on this morning. Winning!
In other news…I've decided to stop putting heat on my hair. Before Fiji I couldn't stop looking at my terrible split ends. I knew that I had zero plans to maintain straight hair while in Fiji (humidity, people!), so when I got home I just realized that I'd be wash and go and all natural Chandra for quite awhile. I can't say that I'm addicted to heat, but I did/do enjoy having straight hair. I would add heat to my hair (flat iron) a couple times a week, but my hair has had enough of the heat madness. I've been reading Kendra Thaler's Natural Hair Blog to figure out what new hair things I can try with this 'do of mine.
Can you see the mosquito bites on my ankles?! Fiji mosquitoes ain't no joke, ya'll! Brandon got eaten alive; I had a few bites and most of them are gone, but two days ago the bites on my calf and hip were itching like crazy. It took everything within me to not want to reach down my skirt and scratch my hip like nobody's business (TMI?). My scaredy-cat side almost got the best of me, but I refused to Google Fiji mosquitoes. I didn't want to see anything terrible and start diagnosing myself with malaria. Brandon told me he did some research and he thinks we were bitten by some sand flies or mosquitoes because those bites tend to last a bit longer. Ah, well.
Happy Friday!
Wearing: Target top, Old Navy Skirt, Sole Society Shoes, Reversible Harper Tote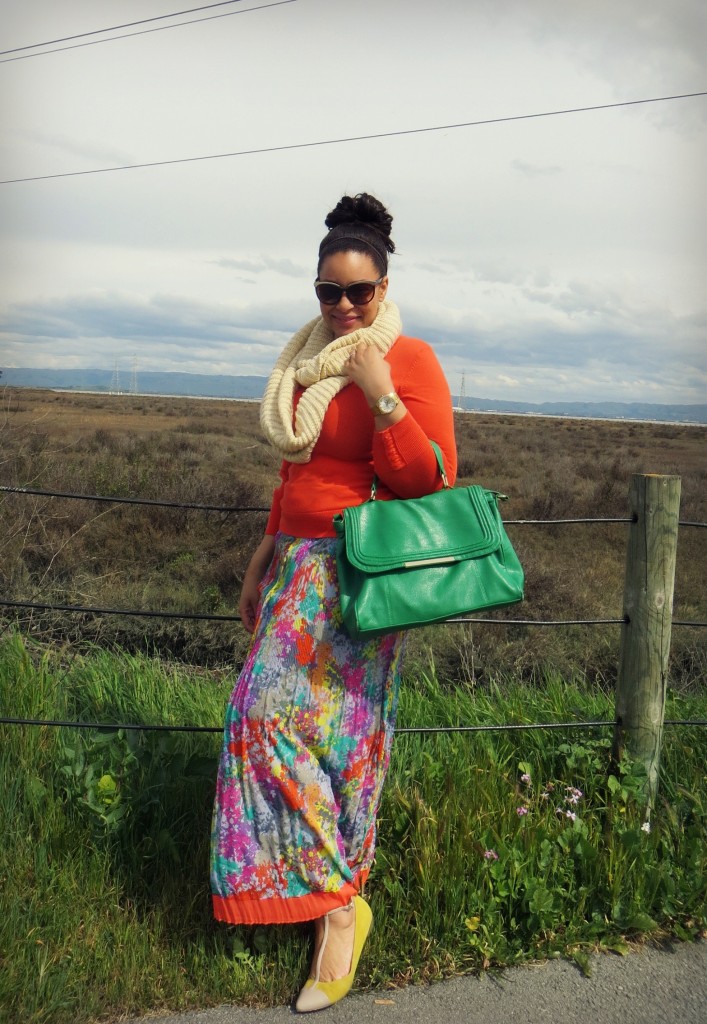 Guess who has two ashy thumbs and armed herself with her tripod and went down the street from school during lunch time and took her own photos in the freezing cold? YES. Me.
I work in the hood and I wasn't too sure if I should be rollin' down  the streets of East Palo Alto trying to snap pictures of myself for blogging purposes, but after driving a few blocks away from school, I ran into drove by this trail and decided that I should put my point and shoot to good use.
I've been attempting to get myself all squared away for our trip to Fiji (two weeks and some days, yay!), so when I saw this maxi skirt  on Target's website a few weeks back I knew I wanted it for our trip. It's comfortable, colorful, and perfect for Fiji. These citrine flats are not too shabby, either.
This week we moved to Redwood City and I'm super happy about the transition. Instead of it taking an hour to drive 16 miles  north(Bay Area traffic is ugh) it now takes me 10 minutes to drive eight miles south and so you know what that means, right? I GET TO SLEEP IN! I've already discovered my new dry cleaner, a new homemade ice cream shoppe, my tailor, three new thrift stores, and a hiking/running/walking trail. What I have not discovered is the art of successful unpacking. I have trouble focusing (for all of you that sit behind me in church you know why I shift around so much. Sorry.) and I've been trying to unpack things, but it ain't working!!
In the middle of all of the packing I ended up selling a big chunk of my wedding decor on Craigslist. I really wanted to hang on to this couch, but I had to let it go. The woman who came to buy the wedding junk is getting married in April; I let her buy the couch, a trunk, candles, and all of my vases. A guy came and bought this dresser that we used for our wedding favors and that was that. I think I held on to the items for a long time because, c'mon, I planned that crazy wedding in seven months and it was over in, like, eight hours and I'm sappy and I wanted them for memories. Alas, the time came for us to part ways with said wedding items and now they are gone. Well, the big items are gone. Luckily, I get to keep Brandon! He's a sweet part of the wedding deal. I mean, this guy seriously SENT ME FLOWERS this week because we moved into a new house. Ha! Whatta gem.
Tell me: what unpacking tips do you have for me? Am I weirdo for being sentimental about my wedding decor?
wearing: H&M v-neck sweater (I covered up the deep neckline with the scarf; last seen here), Target chiffon floral maxi skirt, Sole Society flats, random vegan leather bag (similar here, here, and here)

linking up with Penniless Socialite
Sunday Style @ Plane Pretty
After glancing at some of the photos from London Fashion Week F/W '13, I became an instant fan of Burberry Prorsum and the looks that were showcased on the runway. David Bailey seemed to revisit classic looks that weren't too revealing or outlandish for the sake of "fashion". While most of us won't be able to afford any of the items in the ready to wear line this coming fall, we can definitely look at the runway looks for inspiration.
This is definitely something I can do NOW, no need to wait for Fall 2013. I've got one or two oversized sweaters hanging in my closet and a similar skirt that I have NEVER thought about wearing together.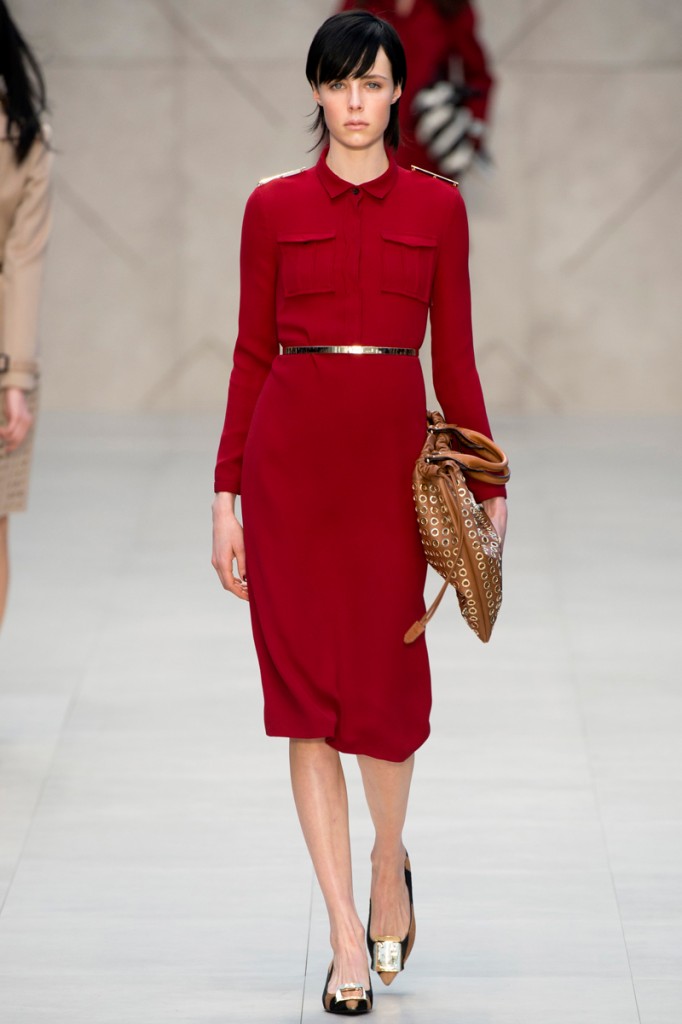 I think this might be my favorite look from the show. The length of the dress, the color, the pockets, the belt…all of it is perfect.
These sweaters! I love how comfortable they look.
This monochromatic burgundy (I refuse to refer to it as its trendy term, oxblood) ombre look is definitely something I'd like to try.
This past fall it was all about trenchcoats with leather sleeves. It looks like animal print will be all the rage this time around.
What are your thoughts? Do you like these looks? Do you even care about fashion week (I admit that I couldn't care less…I just stumbled across several of these photos while wasting time on Pinterest)? Did any other designers catch your eye?