style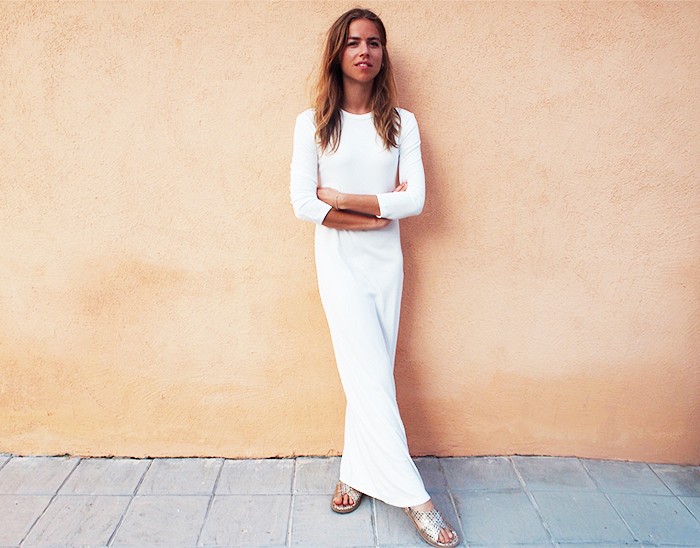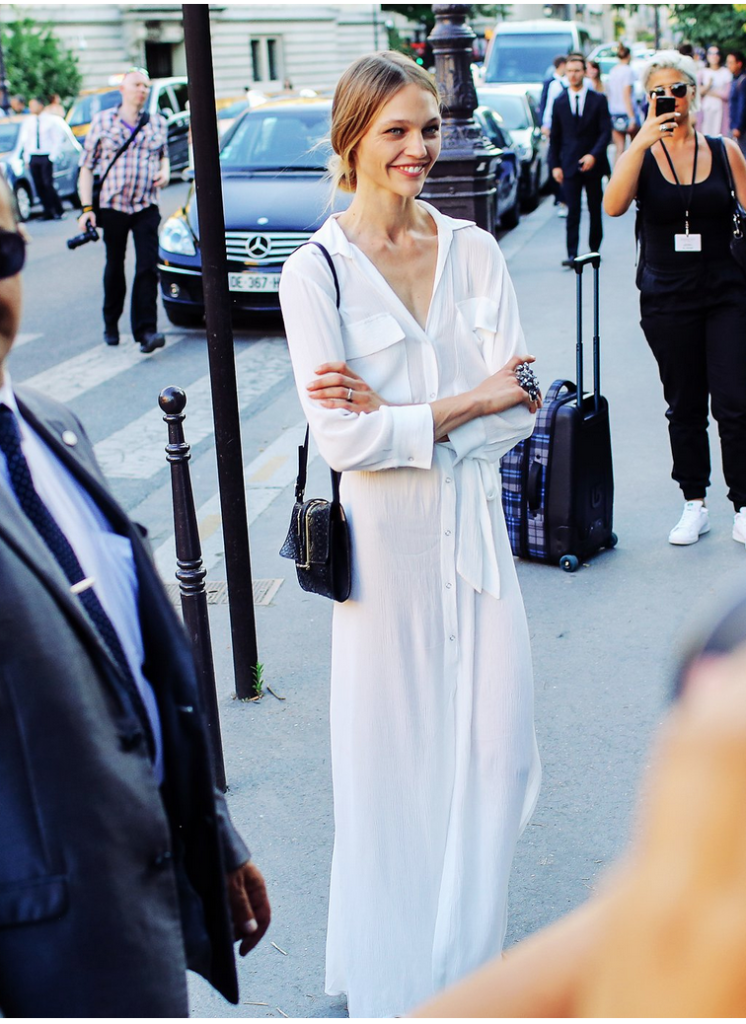 Sleek, crisp white dresses scream summer to me! You can wear a white dress with a belt, paired with flat or high sandals, a summer hat, and they are perfect for the beach. I pinned these two modest style snapshots to my Pinterest board earlier this year, so when I found this LOFT beach coverup dress for 70% off the sale price, I nabbed it. The slits are a little high and the dress is sheer, but I'm taking it to a tailor this week to get a slip sewn in and the slits sewn up.
As an Apostolic Pentecostal teenager, finding a
long denim skirt
was like hitting the jackpot. When I got older, I nixed all my long denim skirts because I thought they were super frumpy. Like most things in the fashion realm, nothing is new, so I wasn't surprised to see denim maxi skirts become "trendy" again. In order avoid looking too frumpy, avoid a-line denim skirts, shun ruffles and embellishments, and wear a structured top. I'm also a fan of
this denim midi skirt
with buttons down the front.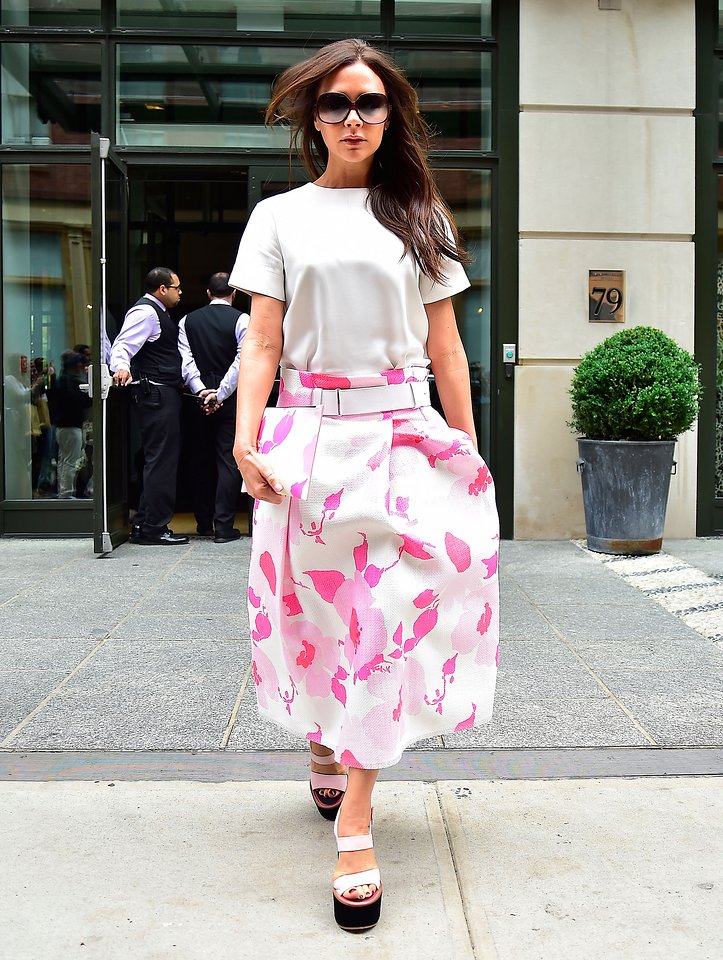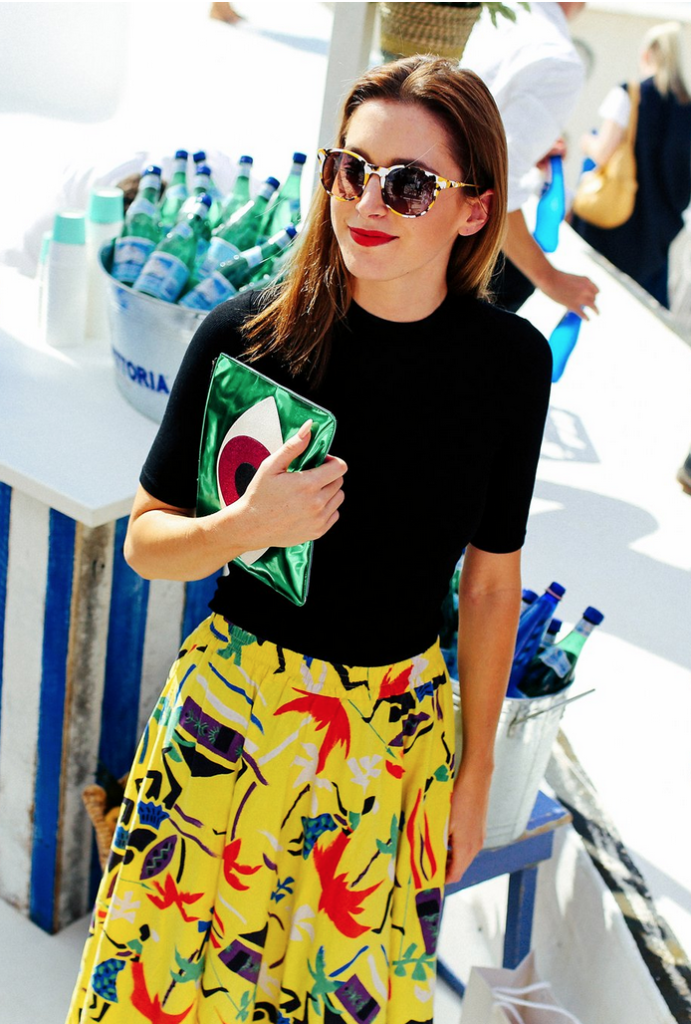 Source 1, Source 2, Source 3
Let's all cross our fingers and hope midi skirts remain on trend for.ev.er. I've never seen so many awesome midi skirts in all my dayyyys! Midi skirts are flattering on virtually any shape, they are great for every season, and you can wear them to work, church, on the weekend, on vacation–okay. Midi skirts are a great modest style option for any place!
This $16 floral print midi
is super adorable. And
Eliza J's skirt game
is always on point.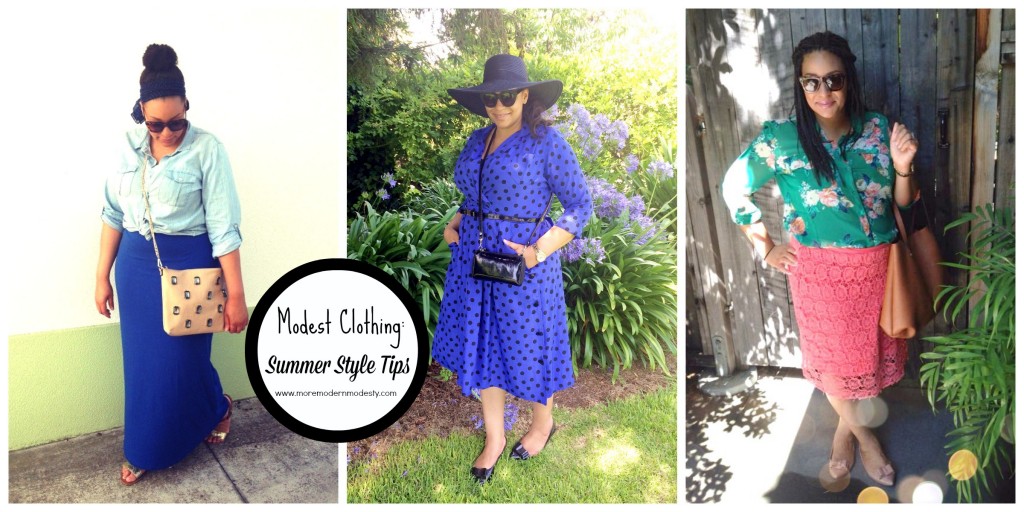 One of yesterday's blog posts discussed some tips on how to dress modestly during the summer months. If you missed it, be sure to check it out. I also showed you one way to wear a sleeveless dress in this post.
Picture 1 and 3 (above) were both taken last year. The first image showcases one of the outfits I wore while in Portugal, and the last one was taken mid-September of 2013. Finally, the middle picture was taken over a week ago on a blazing day in San Jose at Dia de Portugal. All three of these images showcase my summer style pretty well:
Wear a knit dress topped with a chambray top.
Sandals are pretty much a must!
An airy dress makes for a comfy and easy outfit.
A sheer top can be worn over a cotton tank top.
Check out some more outfit ideas from Brittany and AshLee! Continue reading →
With Fashion Week recently ending in NYC and starting up in London this week, the internets are alive and well with tweets, Instagram photos, pins, and blog posts referencing fashion as seen and styled on the runway.
I'm not a slave to fashion. I'm not a fashionista. Why, I'm not even a fashion maven!
I take Fashion Week with a grain of salt. Fashion has rules that can change from one season to the next. One year you can wear white after Labor Day, the next year you can't. One year you're allowed to mix a myriad of prints, four months later people question why you're wearing stripes and polka dots (or if you're my mama you always question stripes worn with polka dots). Soon magazines and blog posts will be telling you to rid your closet of all of those oxblood clothes you bought because , "Vogue said so!" in order to make room for the next trendy color. #aintnobodygottimefordat
But style? Oh, your own personal style allows you to interpret fashion any. way. you. want. to.
Style is personal. Style bends rules. Style is a bit more versatile and fun. I've been inspired by a few different ladies on Instagram and of course I'm going to share them with you! (Instagram Edition Episode 1)
@BridgetteNicole: Her layering is pretty much all kinds of fabulous. The denim shirt. The cardigan. The fur stole. The belt. Yeah, I'm loving it. You can check out her blog here.
The blogging buzz words: remixing, shopping your closet. Let's just cut to the chase and call a spade a spade: wearing the same thing more than one time and even different ways every time. I've done it, you've done it, and when Michelle Obama and Kate Middleton do it IT'S ON THE FRONT PAGE OF "FASHION" NEWS. @robertacontreras models what Pentecostal girls everywhere do all the time–wear an article of clothing from Sunday morning church service to Sunday evening church service. Look number one can even be worn with flats for a day time look. Nice going, Roberta!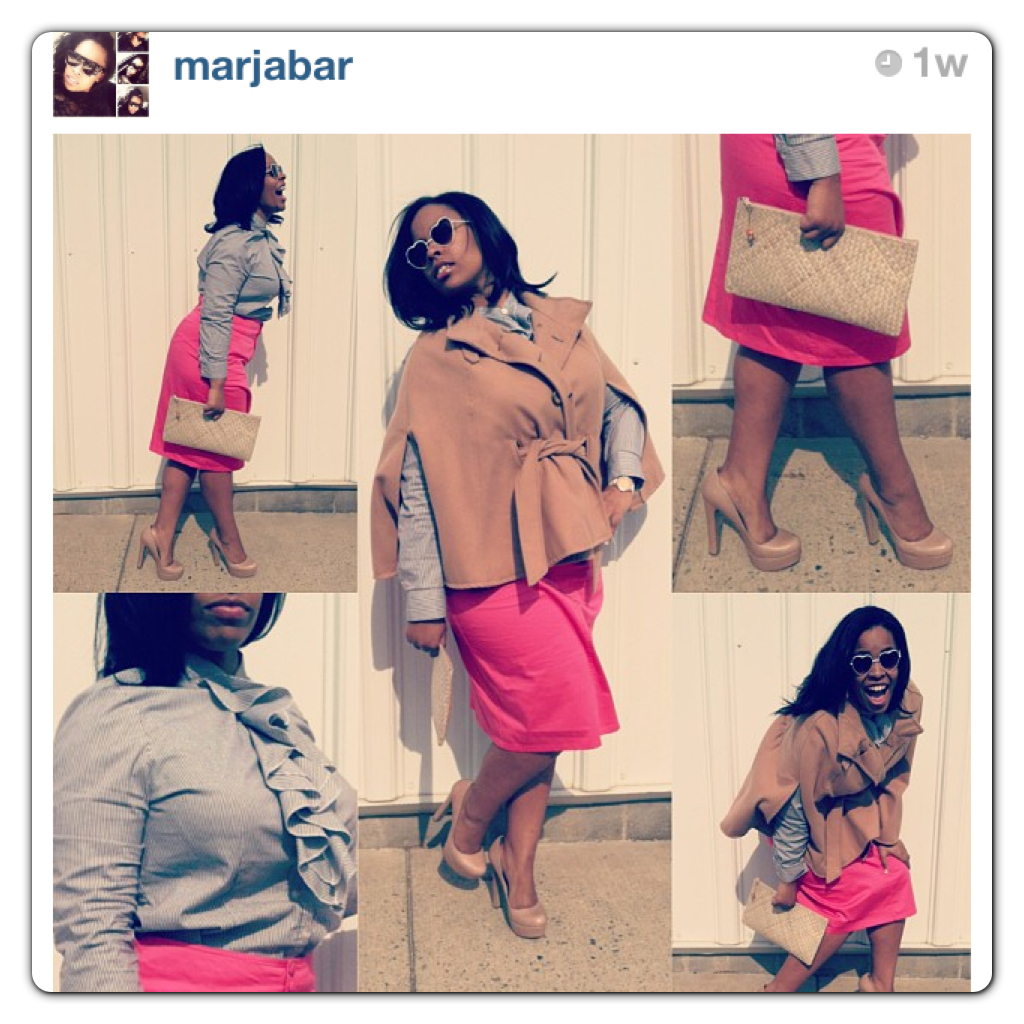 @marjabar is clearly enjoying herself, right?! A contract attorney has gotta have some fun! In her own words, " I strive to disprove the myth that dressing [modestly] means tacky and homely. You can be cute, modest, and fashionable all at the same time." Amen.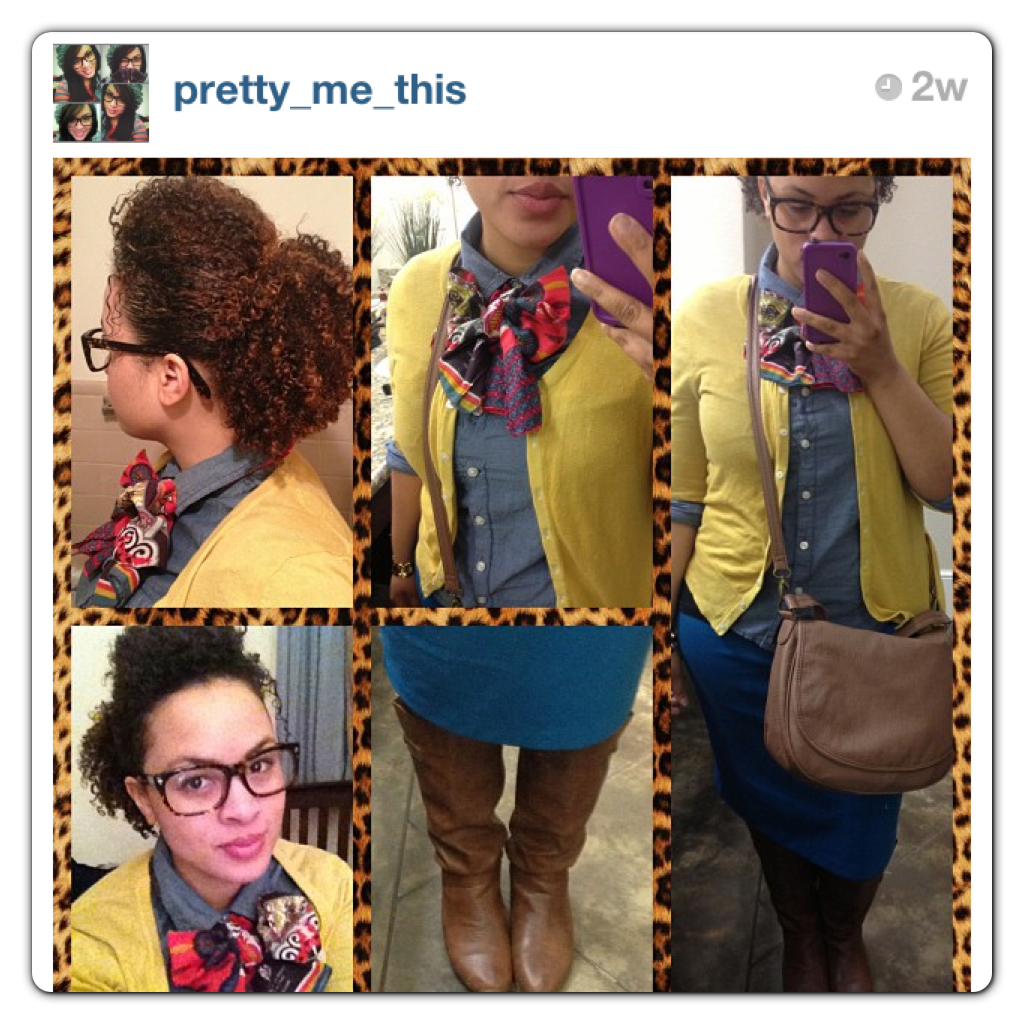 Sheena (@pretty_me_this) could have definitely walked out of her house wearing her outfit sans scarf turned bow neck tie, but adding that scarf added some colorful pizzazz to her outfit.
Where do you stand on the fashion vs. style "debate"? Did you keep tabs on the various shows at fashion week? Do you even care?
How would you define your own personal style?
Follow me on Instagram: @moremodernmodesty and use hashtag #momomod to share your personal style with me.

Last Saturday I created an Instagram account specifically for the blog (I'd been using my personal Instagram feed…oops)! Luckily the hashtag #momomod had never been used and I decided to claim it and use it. I've been encouraging followers to tag their outfits with #momomod so anyone can get some styling inspiration or options by looking at others' photos. The great thing about the hashtag is that you can go back and tag old photos! So, if you're on Instagram you can go back to your old pictures and tag them with #momomod and they'll come up in the feed.
2 Tips: 
Make sure your pictures are clear and not too overdone. I can't use photos with text, labels, and all kinds of fancy schmancy cutesy things because I want to make sure readers can clearly see what you're wearing!

If your account is set to private your photo will not show up in the feed! If you go to the #momomod feed it says there are 66 photos, but only 52 show up! Where are those other 14 photos?! They are protected from those that are not following you!
Without further ado…the photos!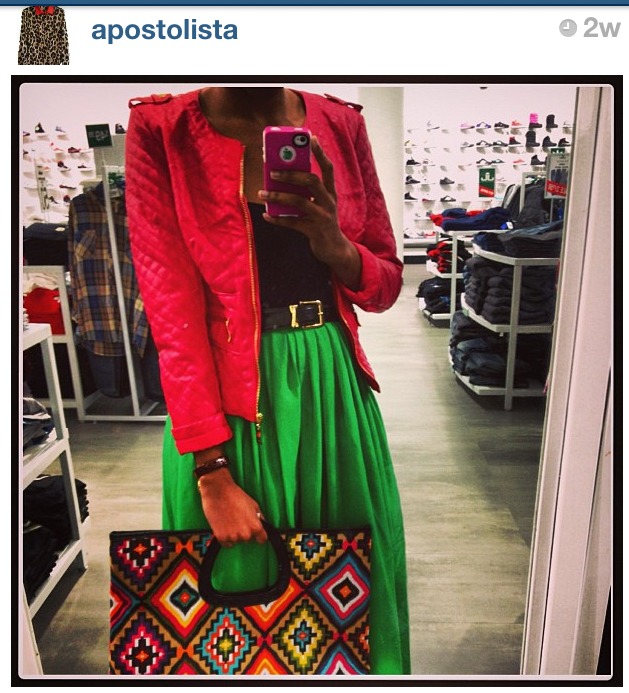 Apostolista is a thrifting goddess with a knack for vibrant colors and pairing super cool prints together.
Why I'm inspired: I have two Kelly green skirts, but now I've got my thrifting eyes open wide for a flowy maxi or midi version. I'm a fan of belting skirts and just mid-size or thin belts in general, so I can definitely  get on board with the balancing act that she achieved here (flowy on bottom, slim on top). Don't EVEN get me started on that purse! LOVE. Similar skirt: here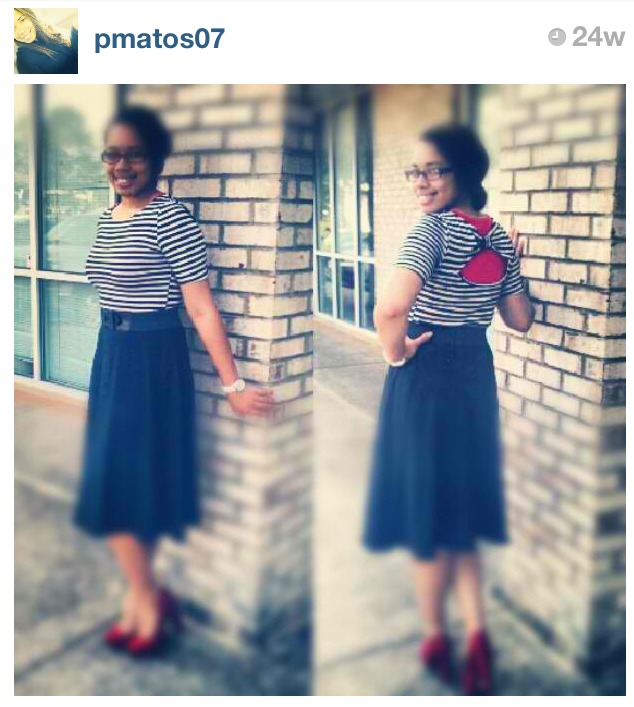 I reached out to Paoloa to see if she had a less blurry picture for ya'll, but she said this photo was on her old phone and she no longer has it. *weep* Good thing you're still able to see why I got inspired by pmatos07!
Why I'm Inspired: When I see backless shirts I pretty much bypass them. I've seen plenty of cute shirts and it's like, "Business in the front, PARTAY in the back!" So, since I pretty much only get my party on at church (have you been to an Apostolic Pentecostal church?) and since I don't think it would be a partay for the sets of eyes that are behind me while I'm at church…no party shirts for me. I DID by a backless shirt once and wore it under a blazer, but if I run into another backless shirt I just might buy it and wear a contrasting colored shirt underneath it instead.
Paralegal lache1 is always looking so cute that I have to feature two of her photos! Here's the first one.
Why I'm Inspired: GINGHAM. I've associated gingham print with picnic blankets, and I've just never felt confident enough to wear it without looking like a picnic blanket. But this? This I can do! More gingham here, here, here, and here.
lache1 again!
Why I'm Inspired: I've got a mustard skirt and a ruffle shirt and methinks I shall pair them up! Similar skirts: here and here
The lovely imbonkkers tagged a photo of an outfit she planned to wear.
Why I'm Inspired: The colors. Coral, taupe, and turquoise. This color scheme is something I'm stowing away for spring!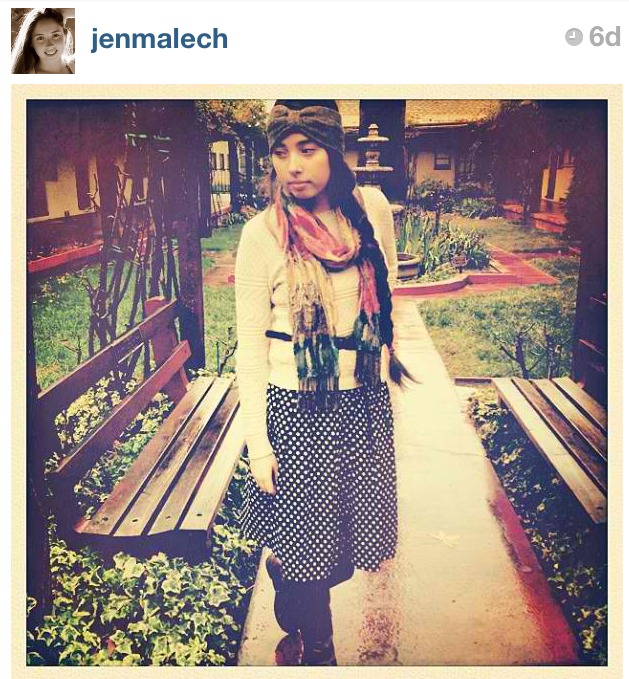 Hey, jenmalech! I like your style!
Why I'm Inspired: This is an easy way to mix up some patterns. Throw on a scarf! Scarves I like: here, here, and here.

So, what do you think of the first post for this series? Let me know! Thanks to all of these ladies for allowing me to use these photos with their permission!