summer
So, before I begin this hair tutorial, let me just say……..I didn't know I was making the same face the ENTIRE time. Sheesh! Now that that's off my chest, it's good to be back! When Chandra asked that I post a hair tutorial for Valentine's Day, I begin to think of what I would want to see. Valentine's is romantic. Fun. Lovely. Sigh. So, here we go!
I began with hair/curls from the previous day. I definitely recommend starting with volume in your hair.
So whatever you need to do, blow dry, wavy curls, etc. If you're hair is curly already, you're all set! 

Since my hair does not have a natural wave, I curled my "bangs".
My hair is not cut, so I just curled the shortest pieces of my hair in front.
I then secure my hair in a ponytail, leaves out the pieces that I just curled.
I personally think  leaving it there is pretty, but I'm not quite finished!
I take my ponytail and twist it up into a side bun.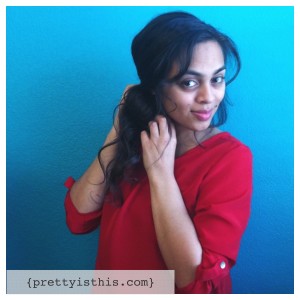 Pull, twist, and secure, and you're done!
Now you have a soft and romantic updo for your Valentine's evening out!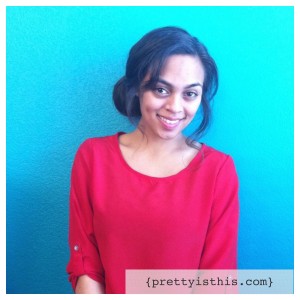 Oh, and you can add a cute headband too!
I added my pearl headband, because in mind, pearls are of ultimate romance. Teehee!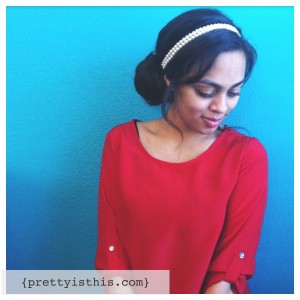 Happy Wednesday, and have a lovely Valentine's Day tomorrow!!
If you have any questions, leave them in the comments.
 Stefanie
My blog: Pretty Is This

Instagram: @prettyisthis
When the temperature hits the three digit mark, I'm all about making sure I keep cool. Thankfully, Central Californians have the "pleasure" of experiencing dry heat. If I'm going to choose the type of heat I'd rather swelter in, dry heat is the way to go. I've experienced wretched humid weather in the southern states/in Chicago (last summer), and I vowed to never complain about California heat. However, heat is heat and when you have to endure it you want to make sure you're as comfortable as you can be.
I've been a fan of wrap dresses ever since I bought one over 12 years ago, and I've found them to be excellent closet staples. In the summer they are easy to put on on and are a comfy to wear. For winter I like to layer up with tights, boots, and one of my chunky knit sweaters or a nice blazer. When traveling I like to pack basic wrap dresses because they are easy to fold and pack; plus, with the right accessories you can easily change your look (sandals by day, heels by night…that sort of thing).
I've not done much clothing shopping in recent months, but when I passed the GAP store on Friday I popped in to see if they had anything worth purchasing. I found two wrap dresses: navy blue and this navy dress with Kelly green polka dots. I also saw a hot pink wrap dress, but I bypassed that dress because all I could think was Pepto Bismol.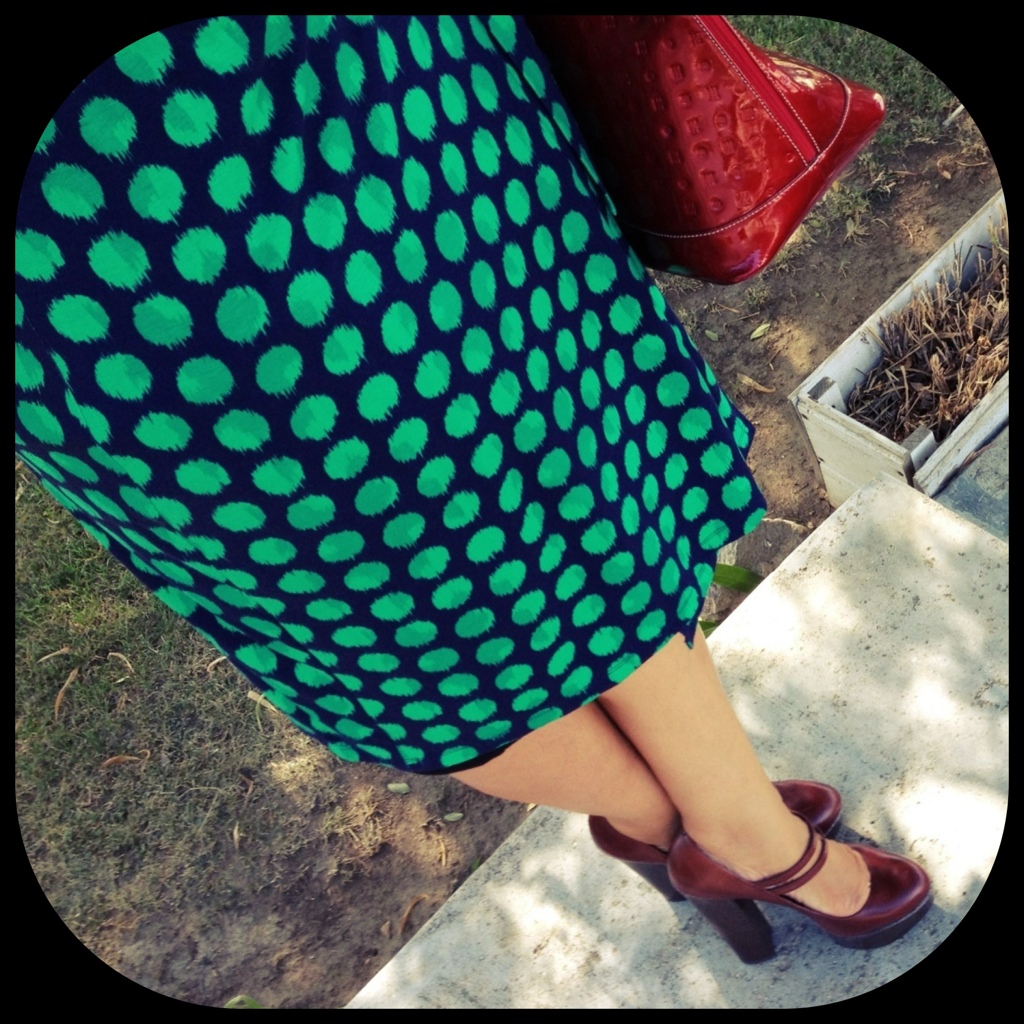 After the additional 30% off, each dress cost me a little over $16. I figured this wasn't a bad price to pay for the reasons I mentioned above If you've got a GAP store nearby and you're in the market for a comfortable dress, I suggest you stop by and see if you can find this wrap dress hanging in their clearance section. I'm not sure when their sale ends, but hopefully you don't miss it!
What's your easy summer go to item?
Search for wrap dresses:
I know we did a "3 Ways to Wear…" series last week, but this time I thought I would show 3 ways that I wore headbands. Now let me tell you, I have a great big box full of headbands that I rarely use. I do have a few favorites though, so I'll be displaying those. Headbands are a great way to spice up an outfit, hide bad hair days, or wear when you don't feel like putting any effort into doing your hair. And I know we all have those days!
1: Hair swept to the side with with a bright and unique headband is perfect for evenings out and about!
2: They say the higher the hair, the closer to God.

With my Dainty Button headwrap, I was comfy and ready for summer!
3: This is my Bohemian look!

Relaxed and perfect for when I feel like wearing my hair down.
Do you wear headbands or hair accessories? How do you wear them? I'm always up for fresh ideas!
Happy weekend!
Stefanie
I don't know about you ladies, but wearing my hair down in this summer heat is killing me! High temperatures already, y'all! Today I decided to put my hair in a loose braid to keep it up and away from my face. Braids are all the rage right now, don'tcha know?
Items needed: Volumizing hairspray (I use TRESemme'), bobby pins, and a rubber band.
Step 1: Spray all of your hair with a light hairspray to create volume.
Step 2: Take two sections from the center of your hair, and loosely braid them.
Step 3: Take the front section of your hair, twist it back, and pin.
Step 4: Take your remaining hair and create another loose braid, and secure.
Done! This doesn't have to be neat or perfect, it is just a fun, yet simple way to keep your hair back.
I don't wear braids very often, but I loved this!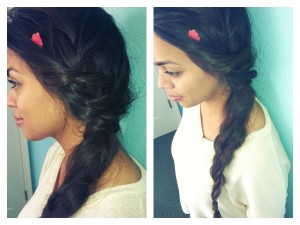 Hope you enjoyed! Happy Friday!
Visit my blog, Pretty is This
My Facebook
My Twitter