thrifted
Salvation Army tends to have a "Moonlight Madness" sale (50% off everything) on the third Friday of the month, and last month I bought this green skirt and planned to list it on eBay because it was too big.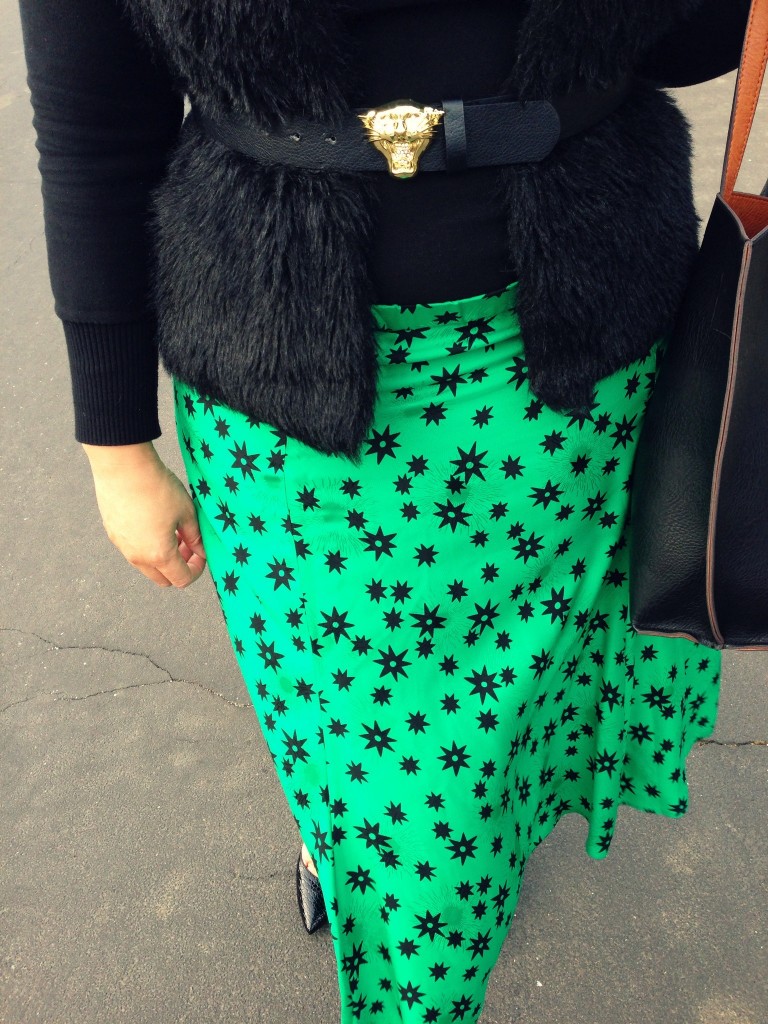 As I was getting dressed for church yesterday I panicked because I thought I was going to wear a dress, but the dress had some kind of ink pen stain on it, I tried on another skirt and it didn't look right, and an entire sequence of first world problems ensued. In a hurried fit of desperation I yanked this dress out of my to-sell-on-eBay pile, threw on a black shirt, and a belt and was off to Sunday morning church.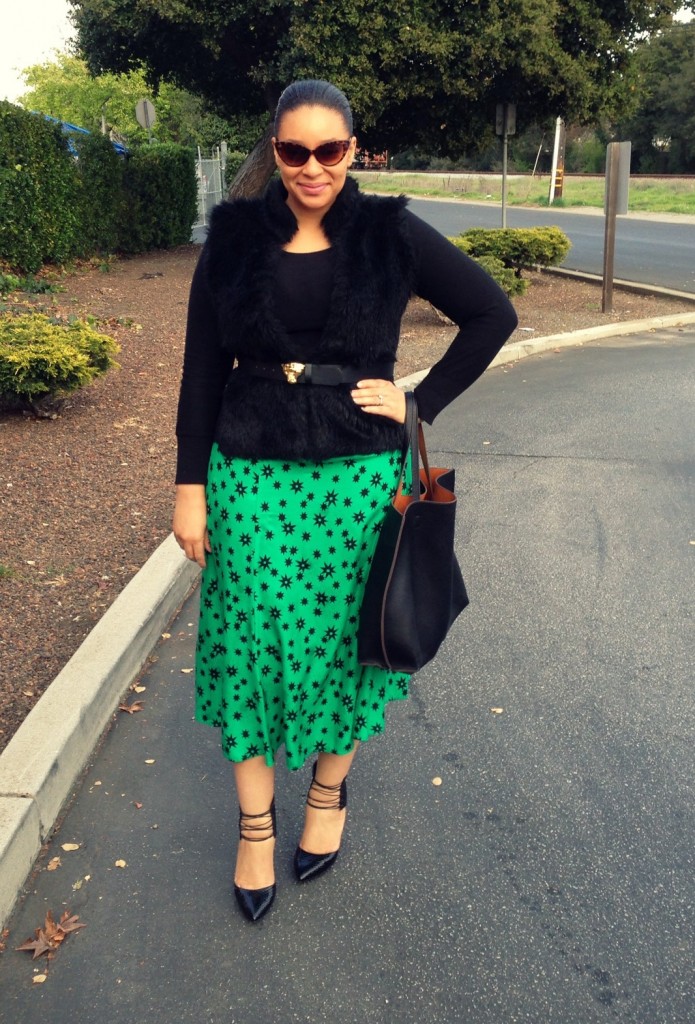 I didn't want a repeat of Sunday morning madness, so I wore the skirt again to Sunday evening service. I made some adjustments: I wore a black knit dress underneath (since the waist of the skirt was too big, I figured that if the skirt fell off during church I'd be safe..ha!!), safety pinned the skirt in several different spots because the waist was falling to my knees, I wore a different belt, and added a faux fur vest. Oh, and I changed my shoes.
When we got to church (morning) a friend pointed to my skirt and asked if I wore green for St. Patrick's Day…I didn't, but my green skirt was all kinds of festive.
So, this skirt is no longer going on eBay, but I am going to take in the waist and I shall be good to go!
Wearing: thrifted skirt, Victoria's Secret dress as a top…last worn here…since then I ripped off the turtle neck part because it fell apart after several washes…boo, faux fur vest from Macy's (old), H&M belt, reversible tote bag (black/cognac) from Francesca's ShoeDazzle shoes (have you seen their updated site and shoes?! I'm impressed.)

Linking up with: Plane Pretty Watch What I'm Wearing What I Wore Sunday
I've said it once…no, no. I'm sure I've said it a dozen times: I. AM. IN. DEEP. LIKE. WITH. VINTAGE. DRESSES. When I hit up my favorite thrift stores my eyes are always seeking out dresses, blouses, and skirts, but the greatest of these is dresses. When I woke up for church it felt like a dress kind of Sunday, so dress it was.
I know my face looks sad and downtrodden, but I kid you not. I was quite happy to be wearing this 1980s dress. I honestly can't remember where I bought it, but it was either Savers, Goodwill, St. Vincent De Paul, Salvation Army, a lil' thrift store downtown, another lil' thrift store around the way, or a yard sale….no. I'm pretty sure it was Savers, though.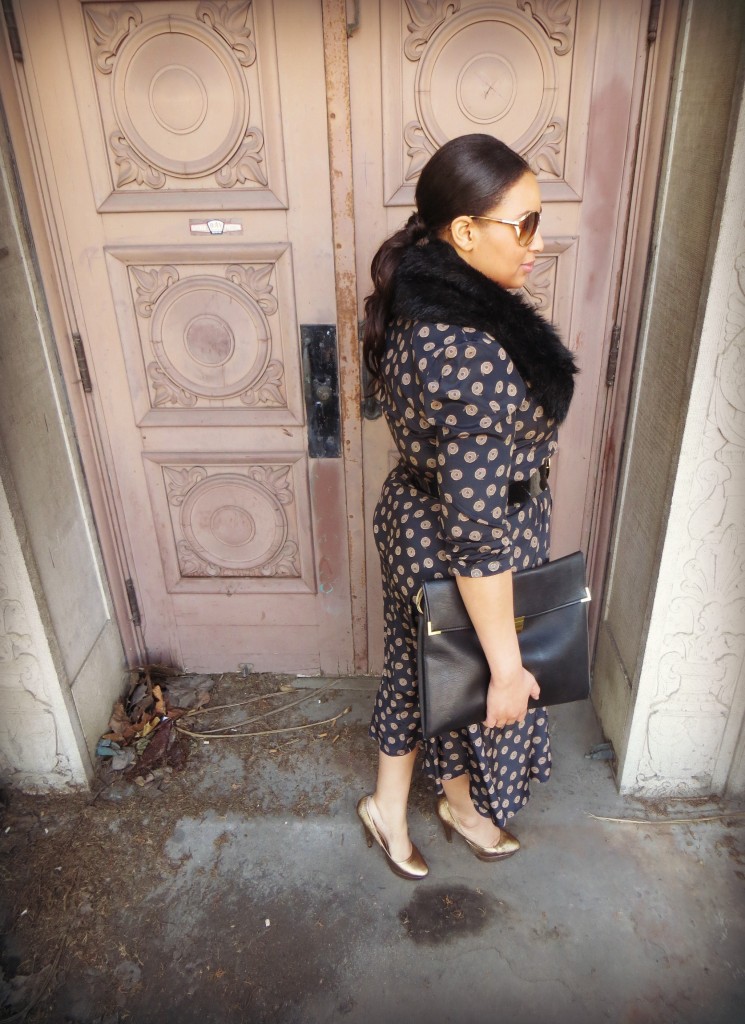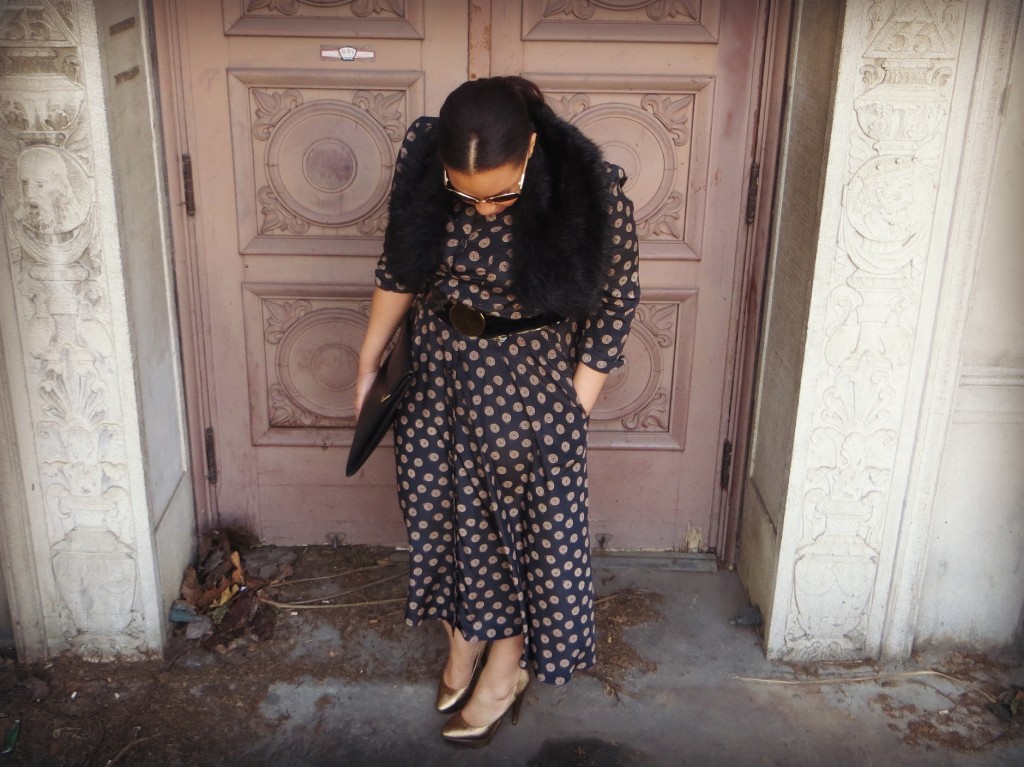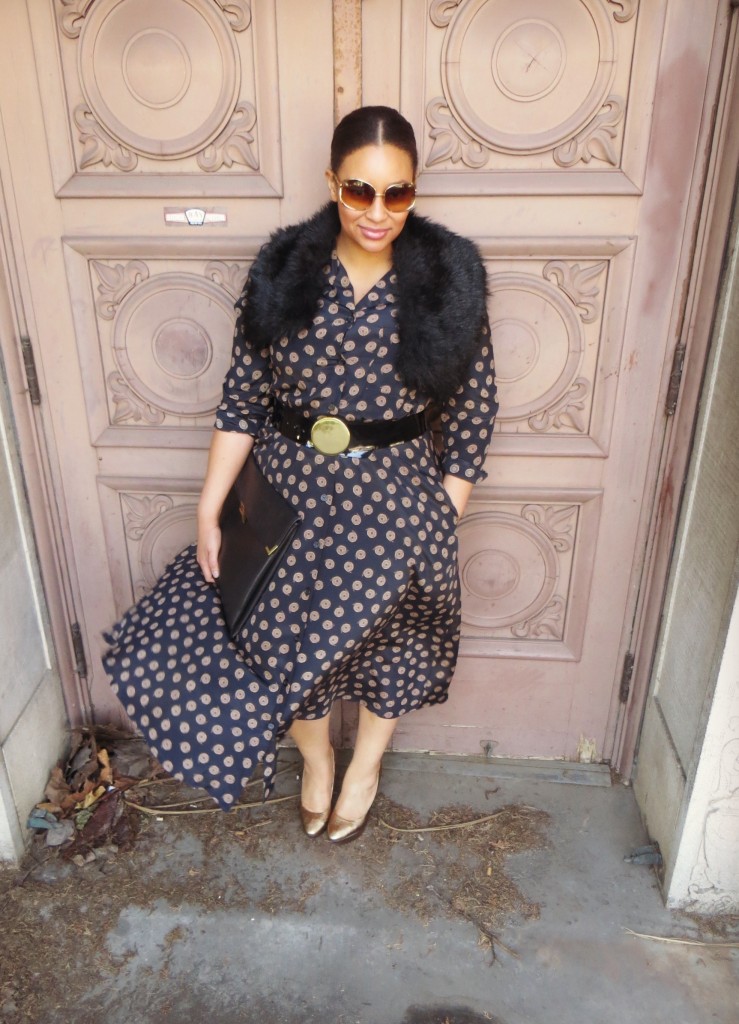 This dress came with a belt (and massive shoulder pads) but I usually skip the dresses (and I always yank out those shoulder pads) that come with vintage dresses and use to them to wear with other outfits (I throw the shoulder pads away, but I'm sure there's a pin on Pinterest that encourages you to use shoulder pads as baby burp clothes or something).
Are you a fan of vintage dresses? What about dresses in general?
wearing: 1980s vintage dress, Target belt I found at Goodwill, clutch purse last worn here and here, beat up ol' fur from a coat, and beat up ol' shoes from Victoria's Secret. location: San Jose Athletic Club
I'm linking up with Plane Pretty Watch What I'm Wearing What I Wore Sunday YOLO Mondays Miscellany Mondays
What I Wore Wednesday KIWI Women's Style Style Sessions My Three Sisters

Have you ever visited a blog and your mouth dropped in surprise at a blogger's thrifting find? "$5?! How did she do that?!" You were convinced that you, too, could visit your local second hand store and find some super cute items only to leave the store clothing-less and smelly like, well, a thrift store.
Thrifting has become super popular and for good reason (check out this blazer I just got last week!). You can definitely get more bang for your buck(s) by shopping at second hand stores. Sadly, for newbies it might be disheartening to thrift because walking into a massive thrift store can be a daunting task, but you can do it!
I'm guest blogging on Typhanie's blog today, so jump click on over to My Garments of Praise to read the rest of my tips!
LINKING UP: Look What I Got With My Sisters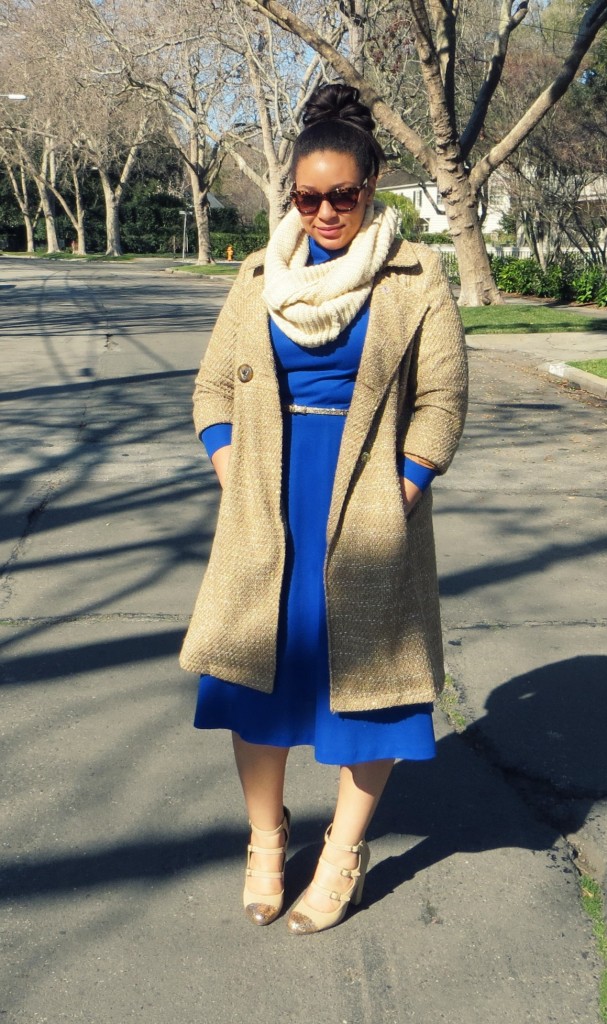 So, let's talk Super Bowl. I have a confession. Are you ready? Okay.
I have never seen a Super Bowl Game.
You read correctly. I've never seen a Super Bowl game and I've never seen Super Bowl commercials.
WHY?!
Well, it's a pretty basic explanation. I don't own a television. Oh…and I've never lived in a home that had a television. Oh, and this has gone on for about, ohhhh…all 28 years of my life. I should specify that I HAVE heard snippets of the Super Bowl via the radio, but from what I've gathered it's kinda not the same.
WHY DON'T YOU HAVE A T.V.?!
I was born and raised in an Apostolic Pentecostal household. We didn't own a T.V. What did my sister and I do with our time? We played outside in the dirt, road our bikes on our five acres of property, climbed trees, read Archie Comic books, checked out 20-30 books from the library on a weekly basis, played "church", I played my flute, she played her clarinet, we recorded "radio shows" on our tape recorder, browsed through our Encylopedia Britannicas, read Highlights, read Scholastic magazine,  we listened to Psalty, we played house, we played with our 100s of Barbies, we played tetherball, we played basketball, we threw rocks at each other, we made mud pies, we used puffy paint to decorate our shirts, we went to church, we had fun (yay!).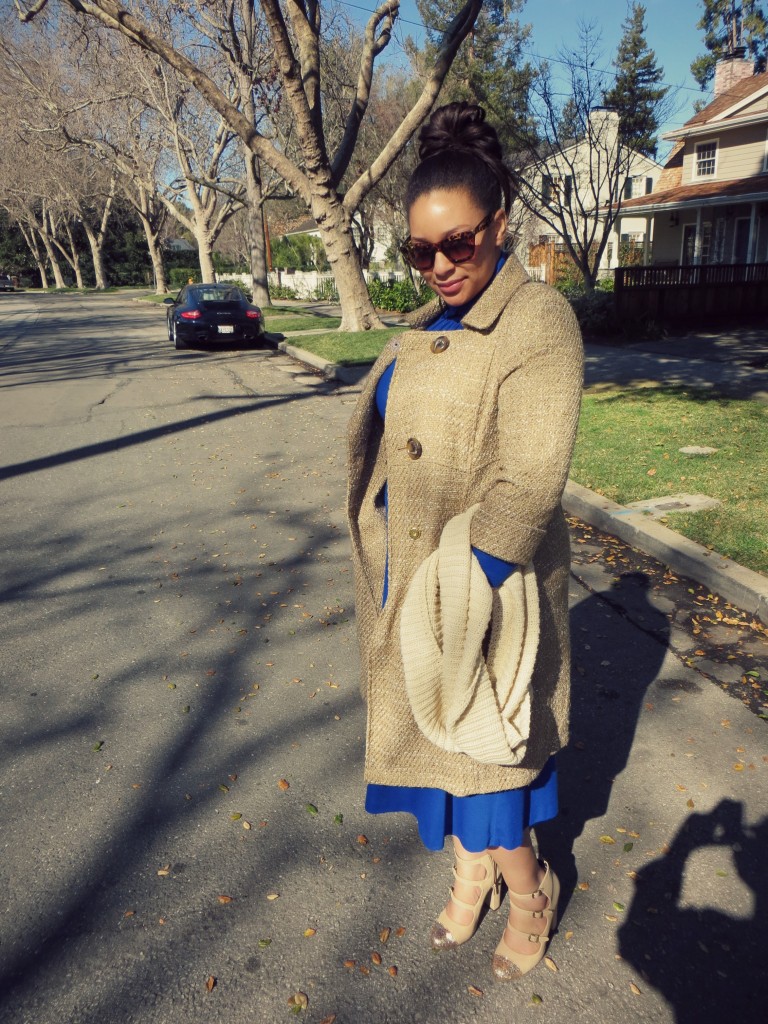 (Hi, Brandon's shadow!)
Wow. That's…weird.
Yeah, my classmates thought so, too. I was already the girl that went to church multiple times a week and didn't wear pants. Add no television at home and I was a recipe for a social outcast. Only…I wasn't! It didn't really bother me until third or fourth grade. My friends would come to school and talk about what happened on T.V. the previous night. I felt kinda-sorta-left out, so I started reading the newspaper's Entertainment section (the television shows page specifically and always right before the comics and the word puzzles) and brought myself up to speed by reading the brief summaries. When I told this to Brandon he laughed.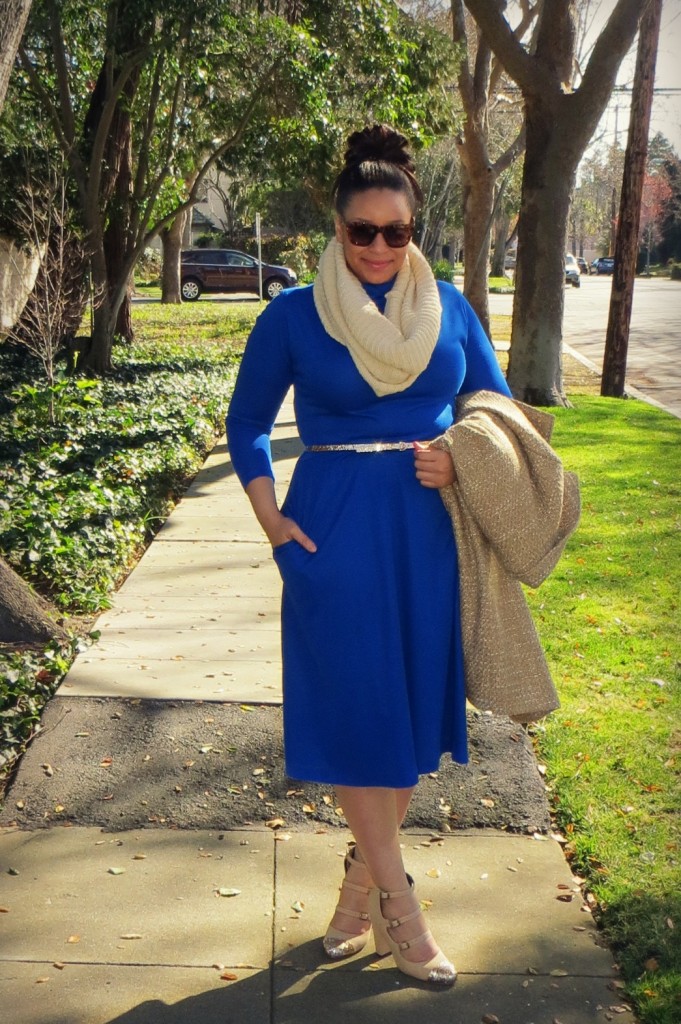 Since I live about an hour south of San Francisco, I wanted to feel something! I wanted to feel pride and love for the 49ers! I didn't. The only thing I felt was the need to do what I do every Sunday (and every Super Bowl for the past 28 years)–take a nap. And nap I did. We still don't have a T.V., but with the internet I really don't feel like I'm missing much of anything.
Oh! And then we woke up late and were late for church part 2, but I'm glad we made it. Otherwise we would have missed the party at church (video below)…!!!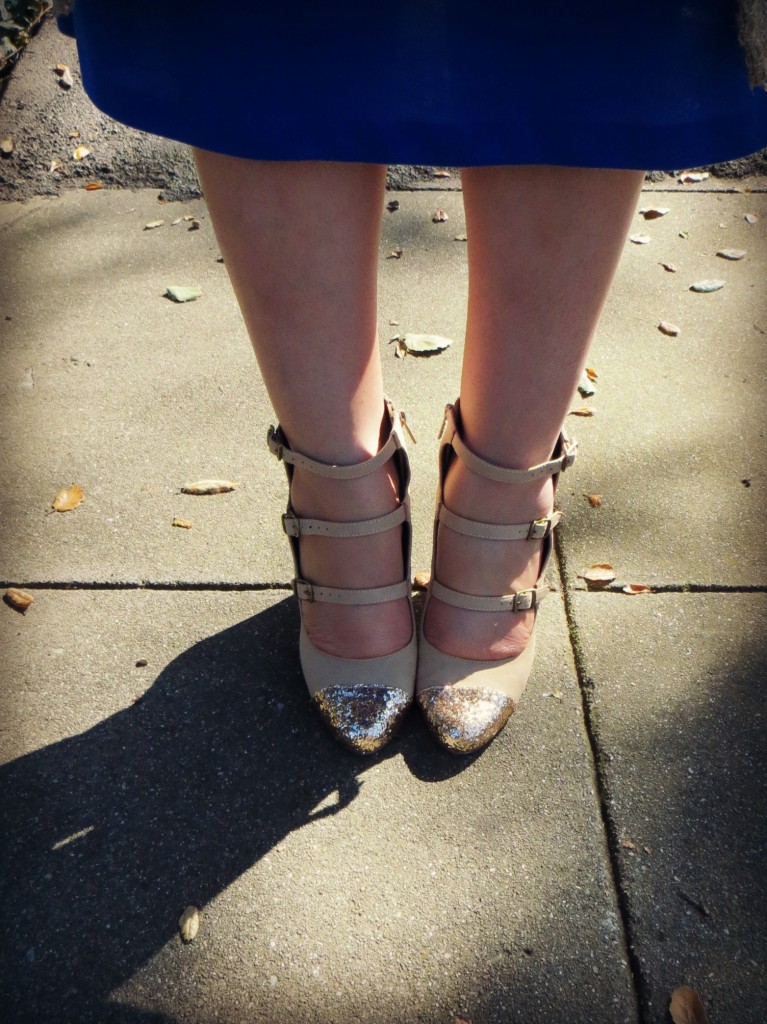 I bought this blue vintage dress for $2 last April and I finally wore it and I don't think I'll wear it again. It has elastic at the waist and it definitely accentuated my gut and upper body and I'm not trying to do alllll of that. No, sir or ma'am, I am not. But these shoes are a keeper. I saw them here for $70, but bought them on ModCloth for $20 during their Cabin Fever Sale. However, Amazon has them, too! The coat and belt are from Target (circa 2 years ago) and my new favorite chunky infinity scarf came by way of eBay for $2.
How was your Super Bowl Sunday?
Linking up with Plane Pretty, My Style, Your Style, What I Wore Sunday, Watch What I'm Wearing, and YOLO Mondays.