thrifting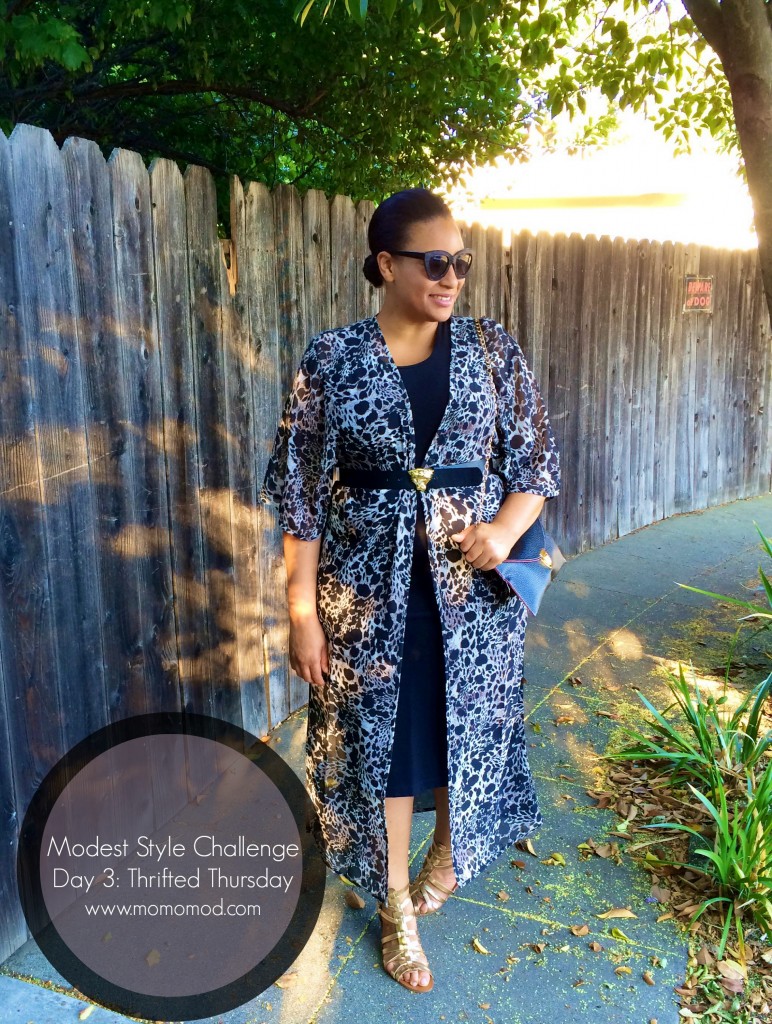 Over the past week I have been in full thrifting mode. I'm talking 8-10 vintage dresses, and several skirts. I cleaned up at Savers on Sunday after church (50% off!), and then I headed up to Berkeley on Monday to take advantage  of the same sale at a different Savers.
I found these cute brand new clutch purses for $1.50, so I picked up two (coral and black). I like that the chain is removable and can easily be tucked inside the purse. My Eileen Fisher skirt is also thrifted, but I picked it up months ago. Technically, I should have worn this skirt for day 1 of the challenge (favorite skirt). This skirt is awesome. I bought it for $8 with the $175 tags still attached, it's the perfect fit, and the fabric is great. In May alone I remember wearing this skirt over a dozen times!
Continue reading →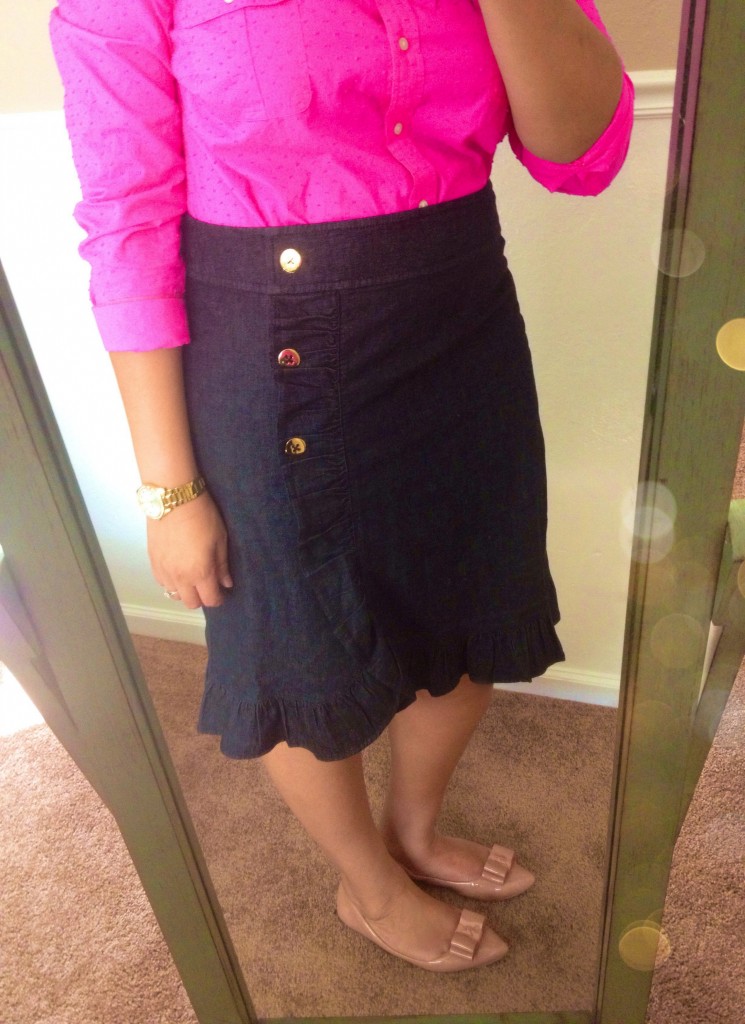 After searching for a knee length denim skirt (not too short, not too long, not frumpy, no rhinestones, no frayed hems/edges, no slits…the list goes on…), I finally found one! Of course it was at Salvation Army!
I've had a handful of denim skirts throughout my life and used to wear them often. If you know anything about Apostolic Pentecostal women, then you know that they pretty much go nuts for denim skirts.
My major problem with the denim skirts I've come across is that they usually look…frumpy. They're either sweeping the floor, frayed at the hems (what IS that all about?!), or they are bedazzled on the pockets (NO!). As soon as I think I've landed the perfect denim skirt I seem to also find a slit up to the hip bone and that's no bueno.
The tag has been cut out of the skirt I found, so I'm not sure about the brand.
Why did this skirt make the cut?
a. The length
b. The gold buttons
c. The ruching along the hem and to the side
d. The color
What's your take on denim skirts? If you can lead me in the right direction to more denim skirts, please fill me in!
Wearing: Gap button up, thrifted denim skirt, J. Crew Emery flats
Have you ever visited a blog and your mouth dropped in surprise at a blogger's thrifting find? "$5?! How did she do that?!" You were convinced that you, too, could visit your local second hand store and find some super cute items only to leave the store clothing-less and smelly like, well, a thrift store.
Thrifting has become super popular and for good reason (check out this blazer I just got last week!). You can definitely get more bang for your buck(s) by shopping at second hand stores. Sadly, for newbies it might be disheartening to thrift because walking into a massive thrift store can be a daunting task, but you can do it!
I'm guest blogging on Typhanie's blog today, so jump click on over to My Garments of Praise to read the rest of my tips!
LINKING UP: Look What I Got With My Sisters
I never set out to be a blogger that thrived on telling tales of thrifted treasures. After I started blogging and taking outfit pictures for my blog I realized that many of the things I wore were from Goodwill, Salvation Army, and local thrift stores. Thrifting is a fairly new term, but the act of buying gently used clothing is an old one.
This is a follow up to a previous post (FAQs About Thrifting) and the start of a feature here on the blog. After some quick research I found that Jentine over at My Edit has already started Thrift Thursday on her blog; while I won't post thrifted items every Thursday (*cough*budget*cough*) I'll attempt to showcase a few goodies I've found so that you'll have a point of reference when I wear them and how I modify the items to make them "mine". Read on to view my finds and see how I thrift.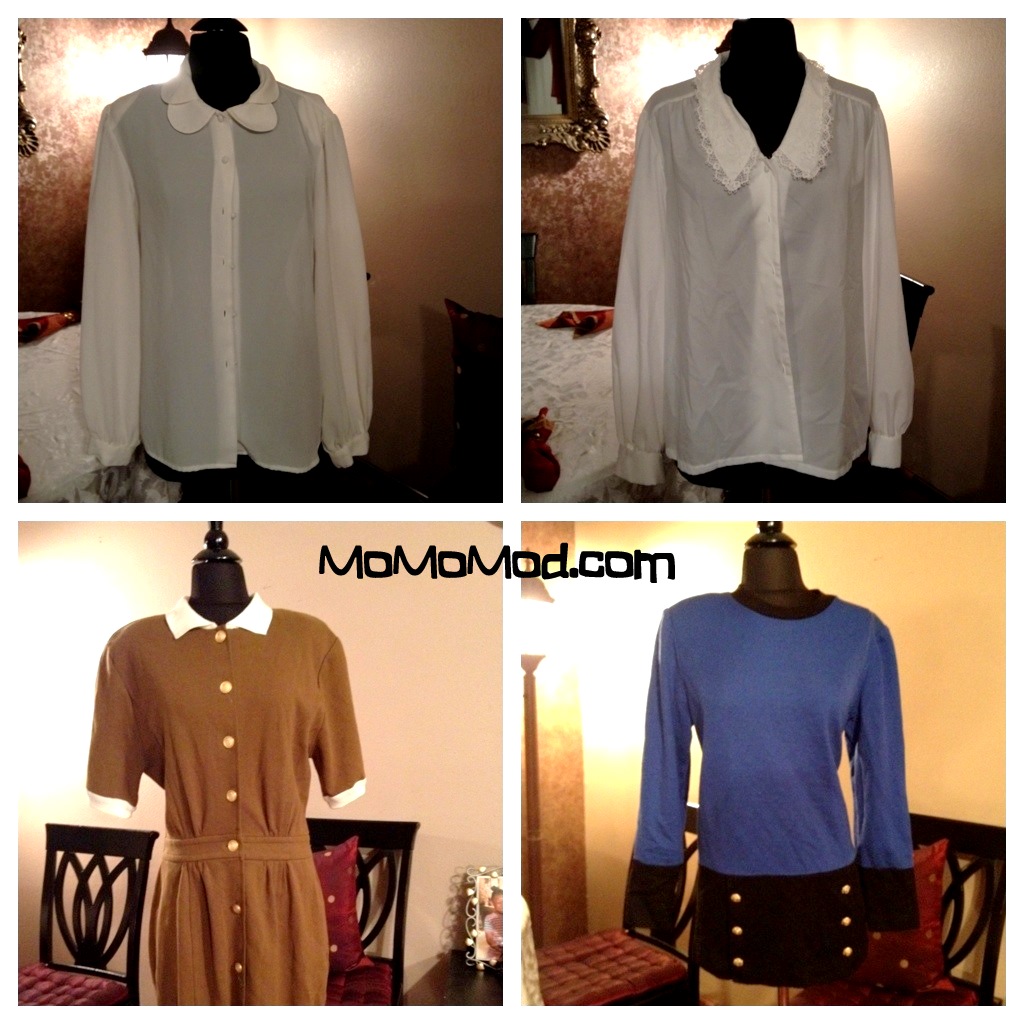 Pictured from L-R starting from the first box:
1. White vintage blouse I bought at Salvation Army. I planned to add some life to the collar.
2. White vintage blouse I bought at another thrift store. I plan to wear this one under another sweater with the collar poking out.
3. Liz Claiborne dress circa 1995; the Marshall's tags were still in the pocket.
4. Long sleeved vintage sweater. I plan to wear it over a long black skirt to give it the look of a dress.
Two long skirts that I plan to take to my tailor and have shortened (below the knee). I can already see myself wearing one of these skirts with a nice blouse and belt.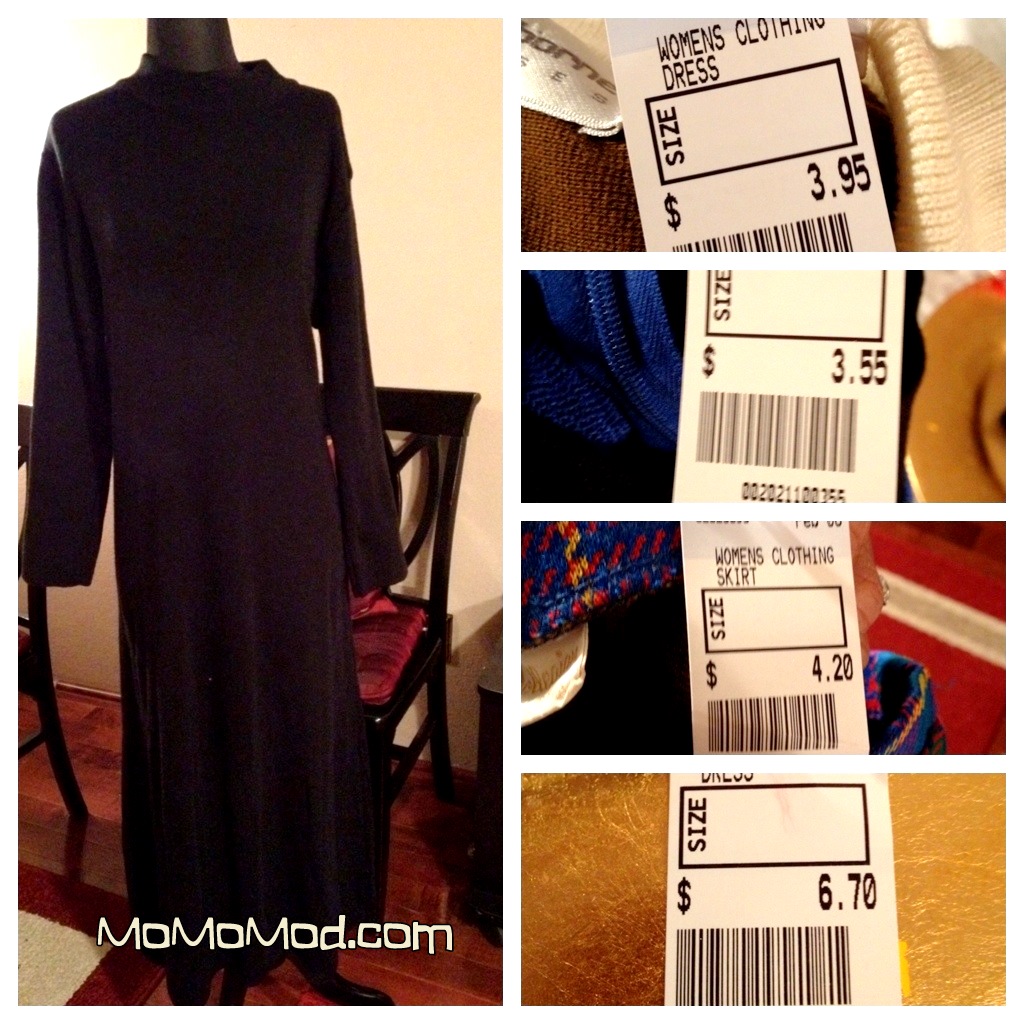 I found this dress for $6.70 at Salvation Army and I had to get it. It will be the perfect layering dress for fall and winter. I've already worn it once and I have mighty big plans to wear this dress until I can't wear it no mo'!
Question: What plan should I have when thrifting?
Establishing a Plan
1. I subscribe to Lucky Magazine. My budget won't allow me to pay $500 for a skirt, so I browse the magazine, tear out clothing ideas I like, and set them aside.
2. Prior to shopping I take a look at those photos. Depending on my mood I might set a goal: Today I am looking for a cropped blazer.
3. I used to thrift for the thrill of the hunt, and while I still love hunting I am beginning to be more consciencie about what I am buying and why. Don't shop/thrift/purchase without a plan. You only need so many black skirts, denim skirts, and ruffled blouses.
4. Know your spending limit.I don't like to spend more than $10 per item and I don't like to spend more than $20 during one trip. I'm not a cash carrying kind of girl, but I am considering carrying $20 in cash and when that cash is gone the thrifting day is done. Don't get too caught up in the price. Just because it's $5 doesn't mean you need it.
5. My general rule of thumb is quality first. I don't purchase Forever 21 and H&M branded products too often at thrift stores. Second hand stores mark these brands up because they know people coming in will see Forever 21 and purchase the item for the name. There are exceptions to every rule, but only break the rules if you really must.
6. Know your thrift store. Saturday mornings and afternoons are the busiest days of the week to thrift. I found that Saturday pm is an excellent time to browse. Normal people with lives are busy doing exciting things and thrift stores are empty. I stumbled into a Goodwill at 5pm on a Saturday and pretty much had the store to myself.  Most people donate their clothing on the weekend and second hand stores tend to have their racks updated with those goods by Tuesday. Check with your local store and find out with Senior Citizens Appreciation Day is—and then avoid the store.
7. Shop during the "off season". People donate after a season has passed because they are preparing for the upcoming season; I found all of my fur coats in May-July.
My Plan of Attack

If you're a thrifting newbie second hand stores can be a tad bit scary. There are tons of items to sift through and you might not know where to start. Listed below is my plan of action:
1. I enter the store and glance around for specials (50% off, Sales on certain tags, Specials). If a board doesn't show a special I ask a store associate if they have a certain special for the day.
2. I head toward the skirts or dresses first. Why? Well, I don't wear pants or shorts! That's a pretty simple answer. I'm always on the lookout for knee length and longer skirts because finding them in department stores can be a difficult task. After the skirts and dresses I browse blazers and blouses.
3. Things I typically skip: shoes and purses. I'm not a purse fiend. I LOVE shoes, but I tend to buy my shoes brand new. I have this thing about used shoes, but I am not against buying them. I avoid shoes with toe prints, bad scuff marks, ruined heels, and loose insoles. I tend to scan the shoes at Goodwill closely because Target donates their shoes and I can find my flat teacher shoes for about $5. I don't like to spend too much money on the clothes I wear to school because I am an active teacher (read: marked up, running with my students, chasing kiddos at recess, and so on).
4. After browsing the skirts/dresses/blazers/blouses, I will quickly scan the belts and then head to the front of the store and take a look in the class cases.
6. By the way: I grab first and decide later. I place everything in a cart or over my arm and make my decision at the end. I don't have time to put something back and then go back and get it if I decide I want it.
There is no right or wrong way to thrift. Find the method of attack that works best for you and follow it.
Thrifty Bloggers I love
If you have tips to add leave them in the comments below. I'd love to hear how you thrift. Or maybe you don't thrift. I'd like to know about that, too.