vintage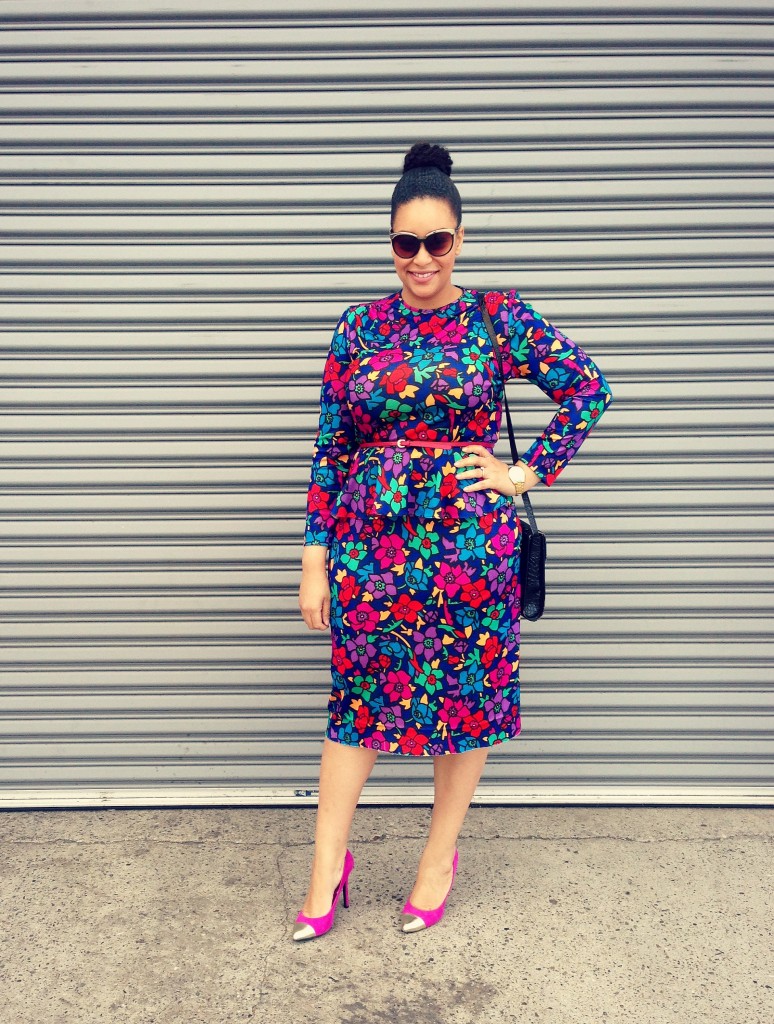 You know I love a good vintage dress. I've said it once (okay, more than once) and I'll say it again: if you're looking for longer hems, sleeves, and higher necklines then buy vintage clothing.
The last time I wore this dress was three years ago; I bought it at Salvation Army and thought the print was over-the-top so I toned it down with black tights and a black blazer. This time around I decided to nix the blazer and tights and wear the dress as is. Ohhh. Risky!
When Brandon saw it he said, "You know what that dress reminds me of? Color by number!" And it so does.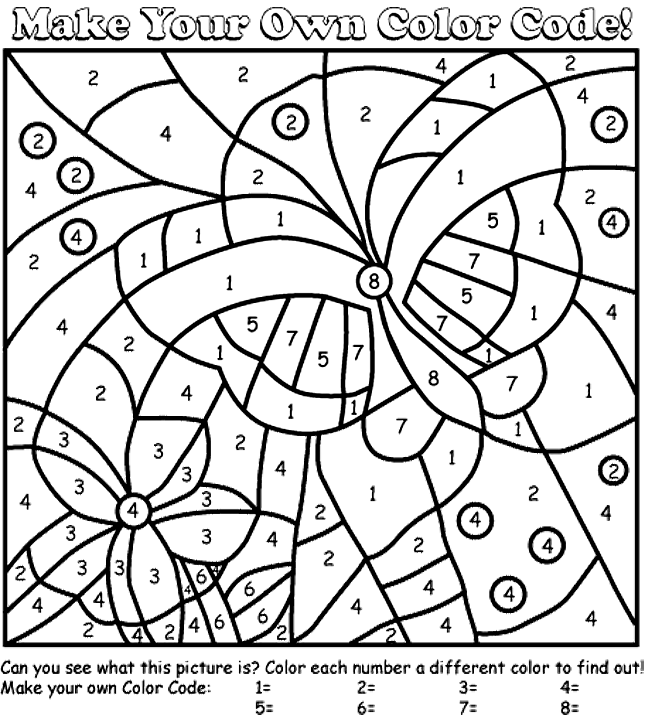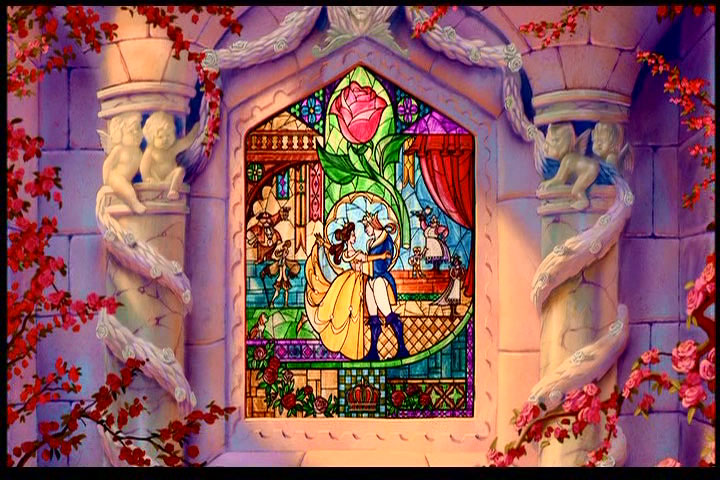 I had to laugh because I used to have a Beauty and the Beast color by number coloring book and so throughout the day I kept slightly humming, "Taaaaale as old as tiiiime…"
I was in good company at church! These girlies from my church were also wearing vintage dresses, so of course I had to share their pic with you.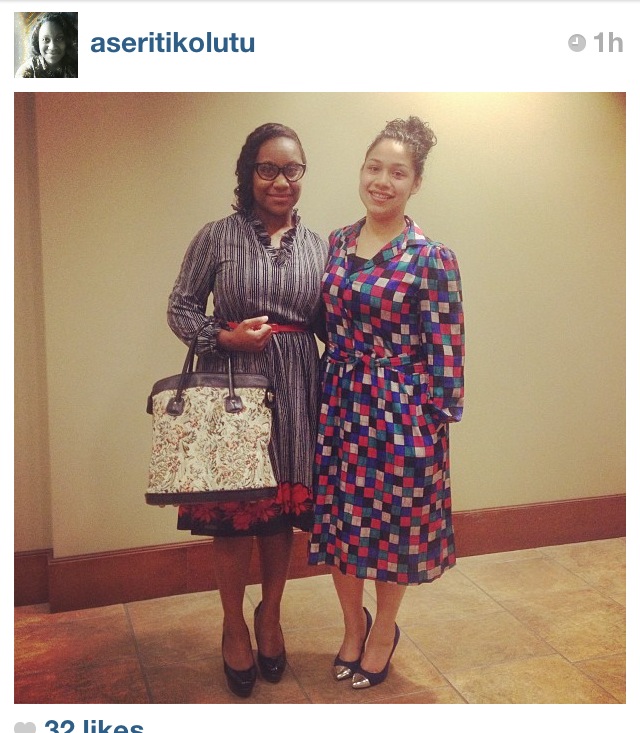 Wearing: granny vintage dress, Target cap toe heels (bought both of my pairs online, but I couldn't find them online last night; I did find them at Goodwill for $3,99 on Saturday!), old school vintage purse.


LINKING UP: Plane Pretty Sunday Style Visible Monday 
Salvation Army tends to have a "Moonlight Madness" sale (50% off everything) on the third Friday of the month, and last month I bought this green skirt and planned to list it on eBay because it was too big.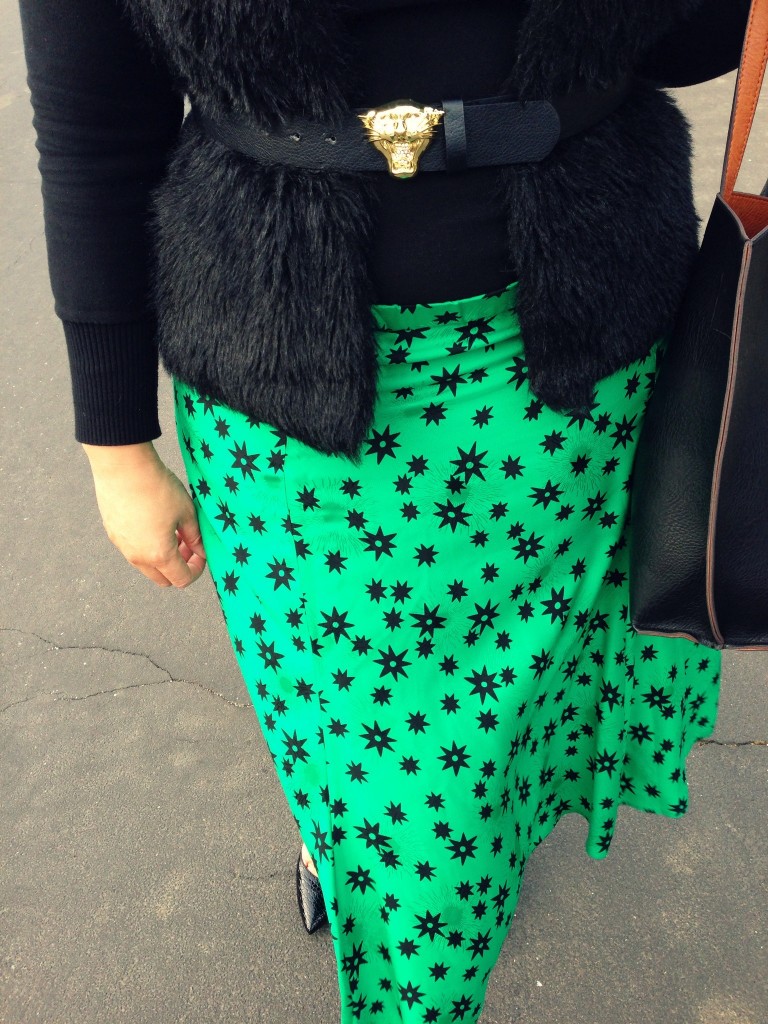 As I was getting dressed for church yesterday I panicked because I thought I was going to wear a dress, but the dress had some kind of ink pen stain on it, I tried on another skirt and it didn't look right, and an entire sequence of first world problems ensued. In a hurried fit of desperation I yanked this dress out of my to-sell-on-eBay pile, threw on a black shirt, and a belt and was off to Sunday morning church.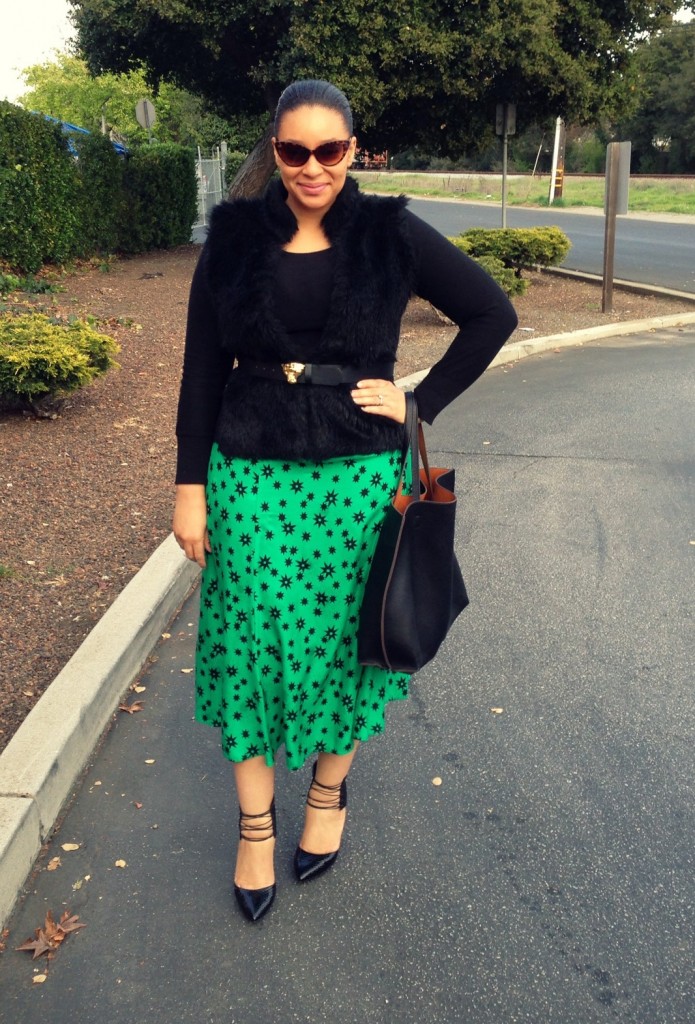 I didn't want a repeat of Sunday morning madness, so I wore the skirt again to Sunday evening service. I made some adjustments: I wore a black knit dress underneath (since the waist of the skirt was too big, I figured that if the skirt fell off during church I'd be safe..ha!!), safety pinned the skirt in several different spots because the waist was falling to my knees, I wore a different belt, and added a faux fur vest. Oh, and I changed my shoes.
When we got to church (morning) a friend pointed to my skirt and asked if I wore green for St. Patrick's Day…I didn't, but my green skirt was all kinds of festive.
So, this skirt is no longer going on eBay, but I am going to take in the waist and I shall be good to go!
Wearing: thrifted skirt, Victoria's Secret dress as a top…last worn here…since then I ripped off the turtle neck part because it fell apart after several washes…boo, faux fur vest from Macy's (old), H&M belt, reversible tote bag (black/cognac) from Francesca's ShoeDazzle shoes (have you seen their updated site and shoes?! I'm impressed.)

Linking up with: Plane Pretty Watch What I'm Wearing What I Wore Sunday
I've said it once…no, no. I'm sure I've said it a dozen times: I. AM. IN. DEEP. LIKE. WITH. VINTAGE. DRESSES. When I hit up my favorite thrift stores my eyes are always seeking out dresses, blouses, and skirts, but the greatest of these is dresses. When I woke up for church it felt like a dress kind of Sunday, so dress it was.
I know my face looks sad and downtrodden, but I kid you not. I was quite happy to be wearing this 1980s dress. I honestly can't remember where I bought it, but it was either Savers, Goodwill, St. Vincent De Paul, Salvation Army, a lil' thrift store downtown, another lil' thrift store around the way, or a yard sale….no. I'm pretty sure it was Savers, though.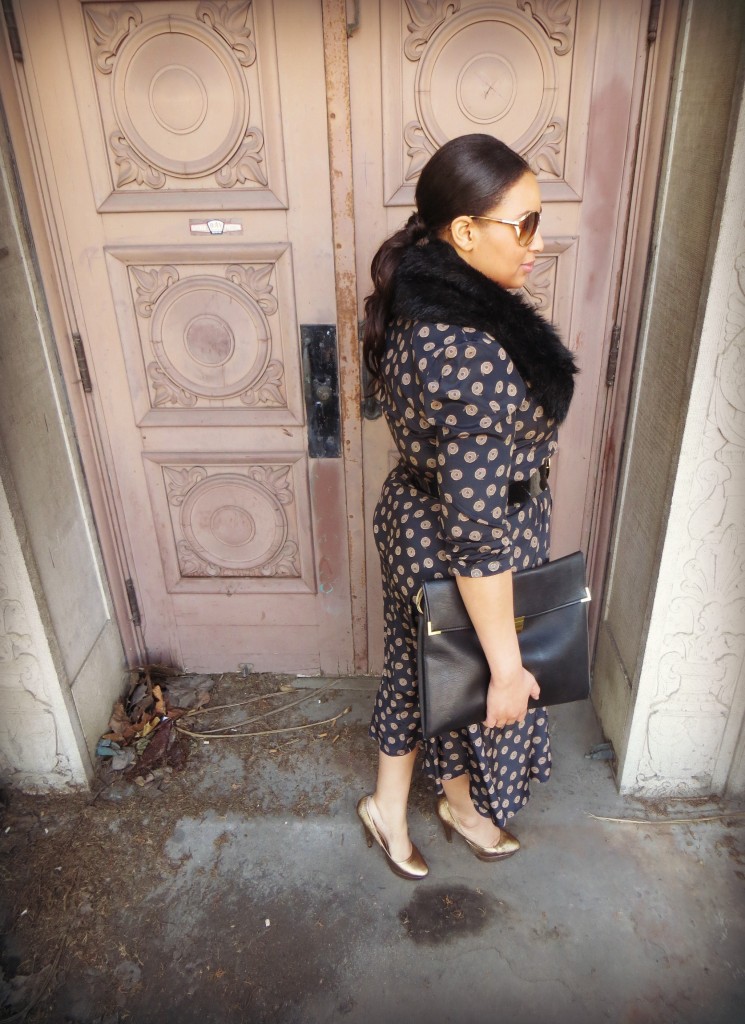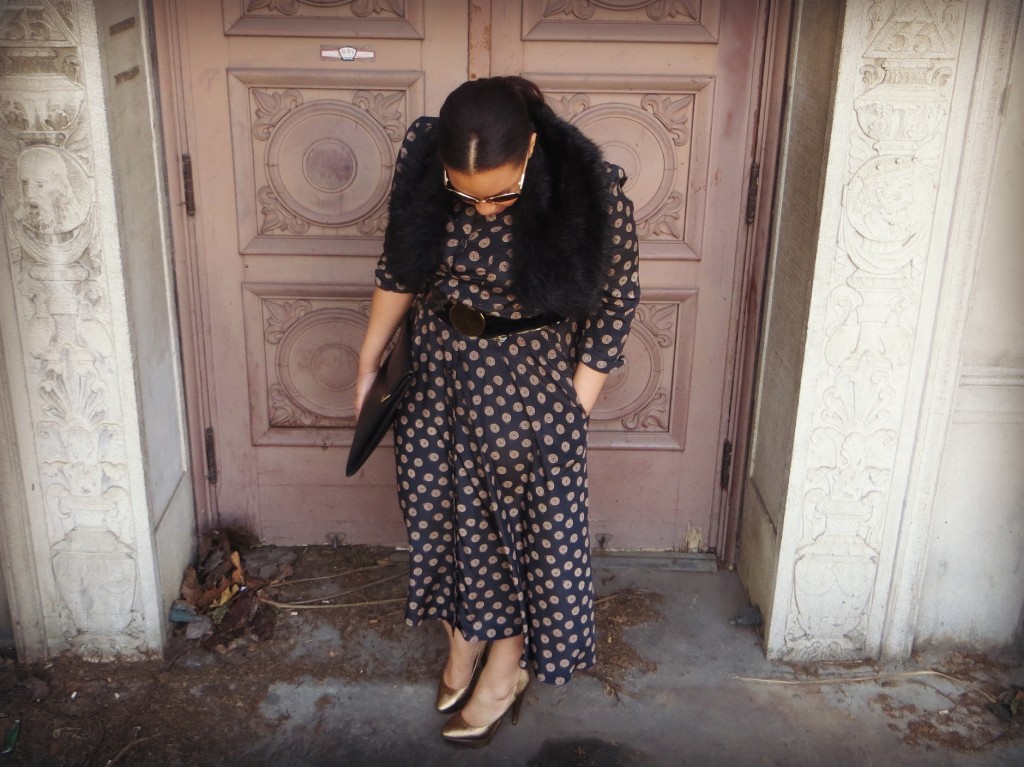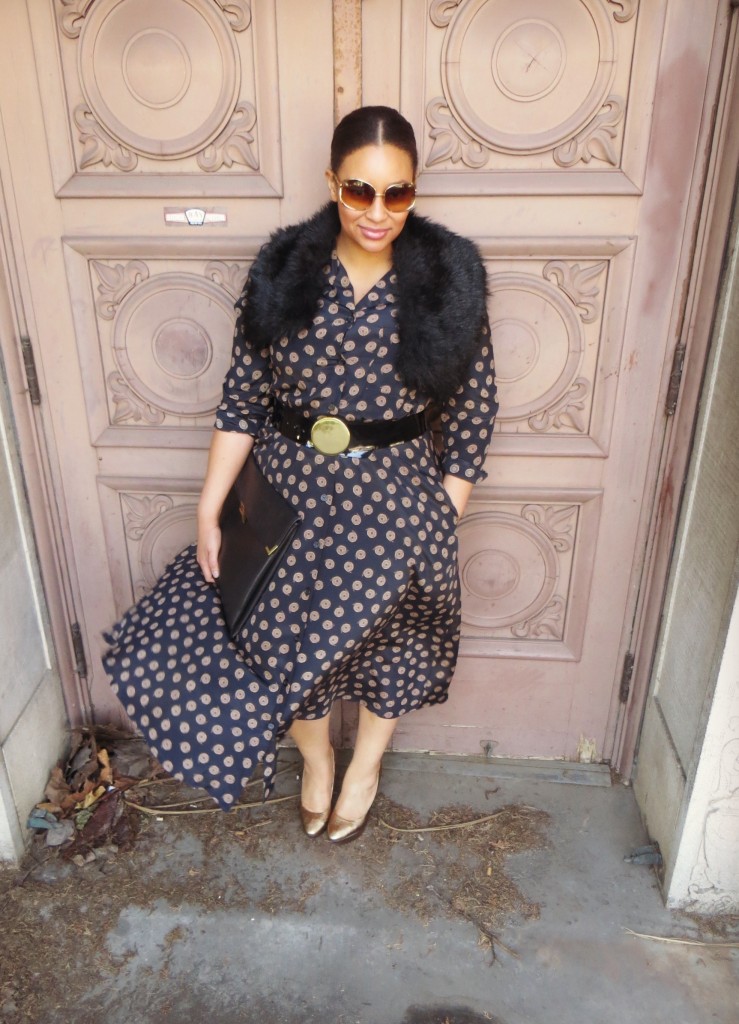 This dress came with a belt (and massive shoulder pads) but I usually skip the dresses (and I always yank out those shoulder pads) that come with vintage dresses and use to them to wear with other outfits (I throw the shoulder pads away, but I'm sure there's a pin on Pinterest that encourages you to use shoulder pads as baby burp clothes or something).
Are you a fan of vintage dresses? What about dresses in general?
wearing: 1980s vintage dress, Target belt I found at Goodwill, clutch purse last worn here and here, beat up ol' fur from a coat, and beat up ol' shoes from Victoria's Secret. location: San Jose Athletic Club
I'm linking up with Plane Pretty Watch What I'm Wearing What I Wore Sunday YOLO Mondays Miscellany Mondays
What I Wore Wednesday KIWI Women's Style Style Sessions My Three Sisters

Have you ever visited a blog and your mouth dropped in surprise at a blogger's thrifting find? "$5?! How did she do that?!" You were convinced that you, too, could visit your local second hand store and find some super cute items only to leave the store clothing-less and smelly like, well, a thrift store.
Thrifting has become super popular and for good reason (check out this blazer I just got last week!). You can definitely get more bang for your buck(s) by shopping at second hand stores. Sadly, for newbies it might be disheartening to thrift because walking into a massive thrift store can be a daunting task, but you can do it!
I'm guest blogging on Typhanie's blog today, so jump click on over to My Garments of Praise to read the rest of my tips!
LINKING UP: Look What I Got With My Sisters